Sep, 2018
Med-tech Market Updates
Preventive Healthcare: The current USD ~12 Bn fitness market is set to grow at an annual rate of 27% to become 2.6x time the current size by 2022
Published on: Sep 2018
The fitness market currently dominated by the recreational sports and fitness formats is set to grow at a rate of ~30% with the increased interest of people in multiple sports activities thereby increasing the sports equipment sale. The recreational sports targeting all age groups, is expected to grow the most with the emergence of online venue aggregators, pay & play services, sports academies and large scale government initiatives like Khelo India Program.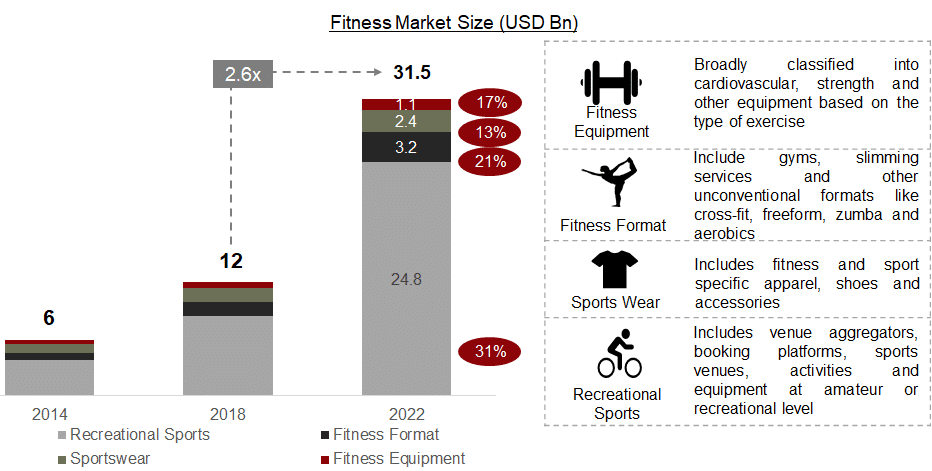 ---
E-pharma: The E-pharma space in India is facing challenges like the lack of coverage, awareness and trust in the players and supply is also an existing problem
Published on: Aug 2018
The online medicine market's growth is having barriers of not having extensive presence across cities, low awareness and trust in the existing players. Also the current users are highly disappointed with with the delay in delivery of the ordered medicines
Customers buy medicines mostly for family members on online platforms
Published on: Jul 2018
Majority of the customers of online pharma are young and digital savvy who buy medicines for their parents online. Thus in online pharma, we see a clear distinction between the customers and the consumers. The online medicine delivery players have been able to showcase value to the young tech savvy customers who are able to take care of the need of their parents without taking out much time from their busy schedules.
---
Med-tech: Healthcare expenditure of metro city households is more than double of tier 1 city households
Published on: Apr 2018
The amount of money spent on healthcare by households every year is more than double in metros than it is in the tier-1 cities. Within metros, Delhi-NCR spends the most while Kolkata spends the least. While in the tier-1 cities Amritsar spends the most and Coimbatore spends the least. Households spend the highest amount of money in medication followed by consultations and diagnostics spend. The med-tech players thus target the metros with online medicine delivery having the highest market size.
E-pharmacy market is expected to reach INR 1000-1200 cr. by FY 2020
Published on: Jan 2018
The e-pharmacy market is expected to reach INR 1000-1200 cr. by 2020. We believe the major drivers of this growth would be rising smartphone penetration, changing consumer lifestyle, increasing spend on healthcare and change in consumer mind-set from 'reactionary' approach to 'preventive' approach.
Despite regulatory hurdles, the ePharmacy market has been growing rapidly for the last four years
Published on: Jan 2018
The ePharmacy market in India is thriving with players aggressively expanding and innovating to drive mass adoption of these services. However, industry needs to solve its unique challenges e.g. the high cases of order loss by platforms due to prescription errors (>12%) to attain the next level of growth.
INSIGHTS
Talk To Our Expert