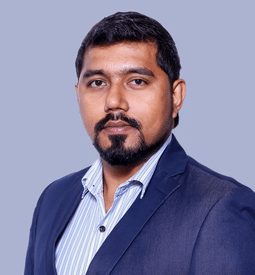 Ramesh Kumar
Associate Director – Middle East & Africa
Bengaluru, India
Ramesh is responsible for Sales, Business Development & Managing Client Relationship across industrial sectors in Middle East & Africa. He has 15+ years of research & consulting experience covering broad range of industrial sectors, leveraging long-standing working relationships with leading industry players.
"It is amazing to see the pace at which complex consulting engagements are executed and delivered to clients… Having a strong, young & energetic in-house research team does make a big difference at RedSeer."
Get to know Ramesh
Ramesh is Associate Director at RedSeer Consulting for Middle East & Africa Region, and has significant exposure in administering research & consulting operations and driving initiatives to achieve business goals in the Building, Construction and other Industrial sectors.
Ramesh has expertise in devising Feasibility Studies, Market Development & Expansion Plans, Workshop to Evaluate New Growth Opportunities, Business Plan Development, Partner Prospecting for Technical Collaboration / JVs, Strategy Building & Implementation, etc.
Prior to RedSeer, he was heading and managing Frost & Sullivan's Bahrain Operations and was responsible for Business Development in Bahrain, Kuwait and Rest of GCC. During his 14-year tenure at Frost & Sullivan, he handled various leadership roles. He was involved in successfully conceptualize and organize various industry events in the Building Solutions space and played a key role in bringing together various experts and thought leaders. He also holds the merit of being quoted in most of the leading Industry Magazines by providing expert opinion on market trends, and participated as Speaker / Moderator / Panelist in many external events like World Future Energy Summit, FM Expo, Water World Middle East, District Cooling Summit, etc.
Ramesh loves cooking, enjoys travelling and is a huge movie buff. He loves spending most of his free time with his family and friends.
Education:
B.E, Electronics and Communication Engineering – University of Madras, Chennai