Jan, 2018
Brand Extension Building Loyalty
Introduction The following article discusses a case study about leveraging a potential brand extension for industrial product major in India. Company employed 'brand extension' strategy on its core product offering in order to enhance customer loyalty. This was attained by introducing a complementary product having high synergy with its core product and hence providing a … more
---
Introduction
The following article discusses a case study about leveraging a potential brand extension for industrial product major in India. Company employed 'brand extension' strategy on its core product offering in order to enhance customer loyalty. This was attained by introducing a complementary product having high synergy with its core product and hence providing a more comprehensive solution to the existing customer base
Traditionally a lot of Consumer-Goods companies have successfully used brand extension exercises to sustain, leverage, and revamp their brand equity. Brand extension (an extended form of product extension) for consumer goods companies is relatively a natural exercise, where changing needs of consumer demographics and competition asks for constant renewal of product portfolio.
In case of organizations with industrial product line, more specifically for the products which need higher R&D input, manufacturing expertise and brand recollection, – brand extension becomes a challenge. Often, companies end up with JVs, acquisitions or white labelling. This whole proposition makes the brand extension exercise time consuming and risky.
Company in consideration (Let's call it Zaq), an Abrasives manufacturing company, is a leading player in Indian market. Indian market for Abrasives is growing at 10% annual rate (2010-15). While Zaq had a similar growth rate, they were not able to increase their market share despite consistent effort on improving sales process and technology initiatives. Client was under pressure to create strategic differentiators to command better loyalty from its existing customer base.
 
Overview of Indian Abrasives Market
Abrasives market in India is pegged at a total of US $266 Million with a potential expected cumulative growth rate of ~ 10% (2010-2015). The current Indian market for abrasives is highly consolidated with around 60% of market being commanded by top 5 Players. Imports accounts for 19% of market share, which includes high end products from Europe and low cost mediocre products from China.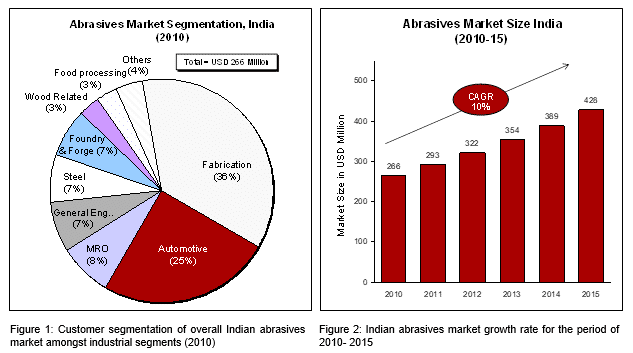 Abrasives product finds a vast application across numerous industrial segments these segments stretch from organized segments like Steel, Automotive and to largely unorganized sectors like construction and fabrication
Sustaining growth in a Oligopolistic Competition
Operating in a highly competitive oligopolistic market, like the one described above, increasing market share is a challenging task. Organizations have tried breaking out of this scenario by focussing more on their sales effort or by enhancing product quality.
In such a market it is imperative for an organization to have a sustained sales push in order to maximize their market share. Even a sustained sales push hits the wall at some point of time. Hence it is necessary to create a value proposition amongst the customers by generating product differentiation from competitor products
Secondly, company could focus on attaining a differentiation so as to improve its brand value amongst customers and subsequently strengthening their brand equity. This can be achieved by various possible ways.
1. Sustainable Innovation: By developing a disruptive technology and hence creating an unforeseen competitive advantage to achieve customer preference. The example of TATA Nano can be given here. TATA, by successfully being able to supply a low cost passenger vehicle which is nearly 70% cheaper to its closest competitor, has created a platform in the emerging Indian market where no international player can think of competing with it
2. Product Development: Brand sustainability by a steady approach towards new product development and increase product relevance to customer segments which were not being addressed previously can hence help improve the overall market share. For example, Coca-Cola follows a strategy of diversifying and developing its products continuously to meet the changing customer needs.
3. Customer Service: Under such an oligopolistic market any product is subjected to the same quality standards as its competing products. Most companies are well equipped to combat on the product quality; hence customer service can act as the real differentiator for a brand against its competitors. For example, Maruti Suzuki India Limited currently owns more than 3000 after sales service centres which are stretched in approximately 1,400 cities in India. Indian passenger car industry experts believe that after sales service is of paramount important for a car manufacturer to survive in India.
4. Addressing Customer Pain Points: Answering to customer's pain areas can play a crucial role creating brand value amongst customer and act as a strong product differentiator. Answering to the voice of customer gives them a level of confidence in the brands product increasing existing customer's loyalty and attracts non customers
In order to sustain market share in an oligopoly, brands strive hard to create the differential by using these non-price marketing strategies. But the above mentioned strategies can be fast replicated. This is due to the fact that oligopolistic market is governed by interdependent decision making by brands based on rivals marketing strategy. Thus in a business-to-business market, the logic of continually increasing customer value leads in itself to brand extension, once the above discussed strategies have already been applied.  Brand extension serves the purpose of creating a surprise factor in the market. It's a meaningful way of delivering value to the customers and addressing their key pain areas in a short duration.
Brand Extension: Enhancing Brand Equity
In the above discussed scenario client had chosen brand extension as a possible way of strengthening its customer base in abrasive market. Client had set out clear goals to be achieved through this exercise, which were:
1. Generating Customer Pull: By creating value added comprehensive solution to the customer
2. Generating Channel Push: Offering higher incentives for channels by creating additional revenue stream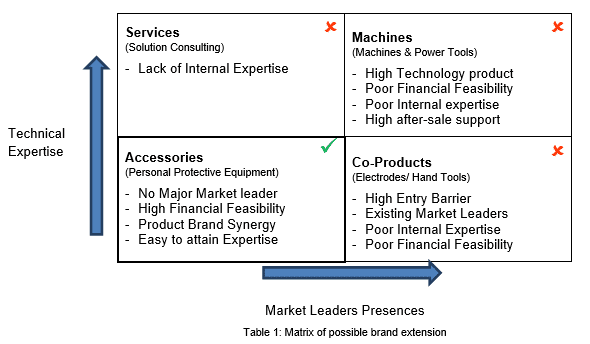 The company wanted to leverage its existing infrastructure with minimized additional financial inputs while maximizing the impact on customer base. By providing a holistic solution company would be able to increase customers brand loyalty towards its core product, essentially leading to enhanced market share.
Being an abrasives manufacturer the company had a various potential solutions, having high synergy with the core product-line that they could opt in order to achieve the brand extension.
Brand Extension Feasibility
A potential brand extension evaluation exercise should not merely evaluate the financial feasibility and the enterprises capability to successfully deliver the product/ services. It's crucial to understand the fit of the new product with the company's brand perception amongst customers.
The potential extension should have at least a minimal fit across the following criteria. The product needs to be evaluated across the three dimensions both qualitatively and quantitatively.
In order to gather these insights a market research study was hence carried out to understand the compatibility of Personal Protective Equipment (PPE) with the Abrasives market, Financial feasibility and capability evaluation of the supplying quality Personal Protective Equipment concurring to the quality associated with the brand name of the company,
Personal Protective Equipment market in India is small but growing at a fast pace of nearly 18% CAGR (2010- 2015). The PPE market has a low entry barrier and is highly fragmented, with no single market leader in PPE business it is easy for a big brand name to enter and establish their brand by quality. The PPE market has high overlap with customer base with abrasives market.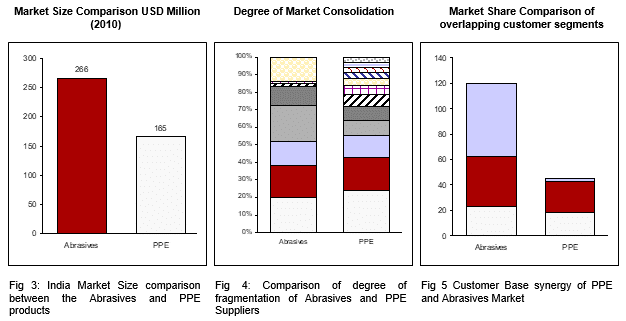 Brand Image Fit
Brand extension should be able to make a positive impact on the brand equity. Brand image fit evaluation should clearly understand the synergy of the brand extension with the existing core product line. It's also important that the extension aligns with an overall perception of the brand amongst the customers.
PPE associated with abrasives as it finds high application across the industry segments consuming abrasives. Increased brand awareness can be established amongst customers with PPE product being used across shop-floor within the customer industry. The Abrasives manufacturer portrays an image of strong focus on safety and PPE products align with this image perfectly
Capability Fit
Capability fit evaluation should answer key questions on whether the   existing business has synergy with new product in domains like product marketing, existing sales force and channel partners, logistics and distributor locations.
A majority of companies channel partners either already stock PPE or are willing to stock as a high percentage of their customers are regular PPE consumers suggesting high synergy of PPE with Channel partners. With an existing network of channel partners spread across major locations in India this synergy can be easily leveraged. Easy to attain technical expertise and a small size of dedicated marketing and after sales support teams add to the product company's capability fit.
Financial Fit
A financial fit evaluation should answer questions like – if the company has the financial capability of producing the product? Can it attain some level of profitability objectives while sustaining the competition? Or is the new product worth addition to bring business to its core product line?
PPE as a potential brand extension had minimal additional financial investment for the company as the option for sourcing the product form various international standard manufacturers was readily available. Developing expertise and attaining the required industrial safety certifications are the only non-recoverable costs faced by the company. White labelling and distributing product from existing channels partners would not require significant infrastructure upgrade.
With channel partners already having a sizable revenue influx and company's other SBUs being consumers of PPE the venture has high feasibility of a rapid break-even
Shortlisting & Positioning of Extension
The potential list of brand extensions was derived from a capability fit as per company's available resources.  With the available options for a potential brand extensions Zaq evaluated them primarily on the basis of a strategic brand image fit within the bounds of certain maximum limit of the financial commitment required for the product extension. PPE products were found to have high synergy with the abrasives usage, along with relatively lower financial investments and effort in capability development to successfully deliver PPE products.
Customer Point of View
1. Companies with long past relationship anticipate good quality product "We have a long standing relationship with Zaq, If it meets our requirement Zaq could play a major role in our group of companies as a PPE Supplier" – Auto Parts Manufacturer
2. Customers value the quality of the product delivered by Zaq. Despite the good quality customers agree that the brand charges premium for its product. "Zaq provides high quality products, but have the prices slightly on the higher side" – Auto Part Manufacturer
3. Zaqs brand name is associated with quality customers anticipate good quality products. "Expect Zaq to provide good quality PPE Products"- Steel Company
4. Due to a premium image of Zaq, price point of PPE product by Zaq is a concern amongst the minds of customers. "If available at suitable pricing we will surely consider the Zaqs( PPE products" – Large Fabrication company
5. Large MNC companies stick to best in class products and it is very difficult to persuade them to switch to alternated products – "being a global automotive company we use same brand for PPE across all our manufacturing units" – Automotive Multi-National Company
Results
Given the oligopolistic scenario the company can benefit significantly from brand extension. With a highly fragmented market and absence of a clear market leader company could leverage its well know brand image to enter as a high quality PPE product supplier. The study supports the argument as illustrated by these key findings:
INSIGHTS
Talk To Our Expert