Jul, 2016
Employee Empathy in COVID
Short-form content, especially video, has been a big hit in the Indian market over the last few years.
---
Short-form content, especially video, has been a big hit in the Indian market over the last few years. The potential of the market can be gauged from the number of TikTok clones that surfaced within a span of a week after the Government banned TikTok among other Chinese apps on 29th June evening.
To fill the void, a number of home-grown companies have been competing against each other for this proven lucrative market. While short-form content has been gaining market share over the years, the surge during the lockdown period was riveting. Redseer Consulting research shows that Indians spent 109 minutes of a day on short-form content apps including over the top (OTT) audio, video and news, before Covid-19 that is in February. On the contrary, in May during the lockdown, the time increased upto 176 minutes. While the time spent on audio decreased by 7%, the time spent on video-content increased by 102% and also on news increased by 93%.
1. Short-form content and news have gained significantly from the current lock-down
Content Consumption – During Covid
% of respondents, N =1040
Q. How much time do you spend on an average per day on Digital content platforms?
(questions administered in the week following 1st May 2020)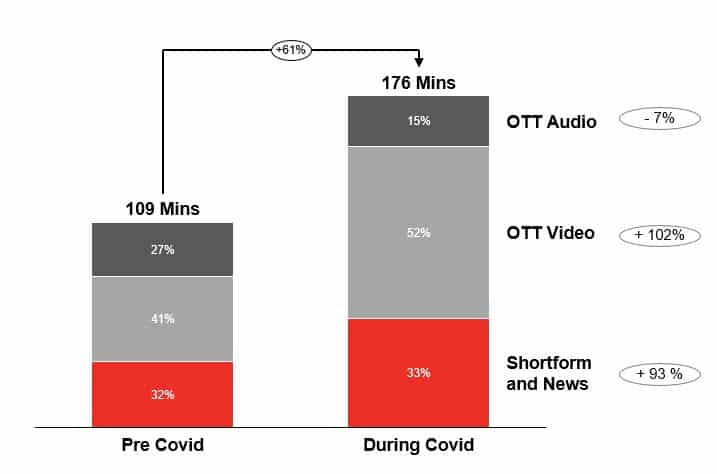 Notes:
1. Excluding YouTube
Highlights
Overall content sentiment has turned positive

Shortform and OTT Video are big winners

OTT Audio is experiencing transient dip as customers sit at home and engage in Youtube, OTT Video, and Shortform
The market has so far largely been dominated by US-based Facebook, Dailyhunt, TikTok, Glance, Facebook-owned Instagram, Helo, Likee, ShareChat, UV Video.
But, the models of these platforms differ from one another. While Dailyhunt and Glance are publisher-based content, TikTok and Helo are user generated and Facebook and Instagram are more reliant on Google. YouTube here largely competed with TikTok and Instagram in terms of content creators. TikTok and Instagram also competeled largely to acquire the influencer marketing space in order to bag more deals. To add on more perspective, A category influencers on Youtube earned over Rs 25 lakhs, about Rs 5 lakhs on Instagram and Rs 3-4 lakh on TikTok.
2. The Shortform sector is dominated by 'Big-6'
Shortform MAU, May'20
Mn (Indexed to highest player)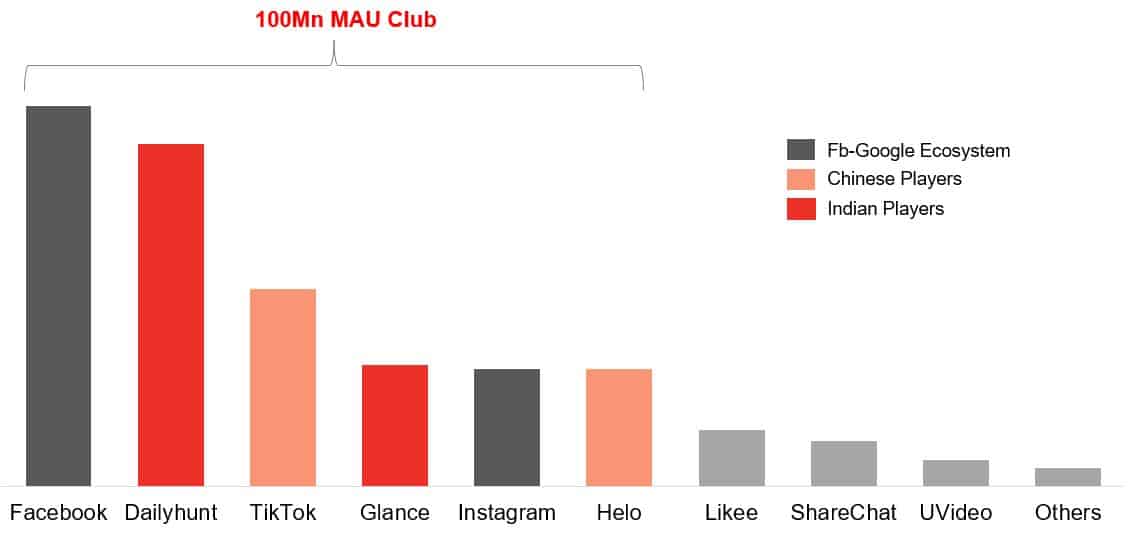 Notes:
1. Others include smaller shortform Apps – Bigo Live, Mitron, Roposo, Chingari, etc.
2. Excluding YouTube
However, the market changed overnight after the ban. Homegrown apps like Chingari, Inmobi's Roposo, Chingari, Mitron among many more are now at the forefront to acquire the new hot space. But, sustainability of these apps and their monetization strategy to acquire influencers and brand deals will be the deciding factors for the success of these apps. Four pillars that will emerge as these apps' sustainability factors are:
1. Cost effective user acquisition and growth– TikTok's parent company ByteDance has been aggressive with its marketing campaigns over the last few years and spent millions to acquire new users. But, this may not turn out feasible for the homegrown apps without any deep pockets yet. Therefore, acquiring new users and organic growth will remain a challenge for these nascent apps in such a hypercompetitive market.
2. Clean content generation– An app like TikTok or Bigo Live drew a lot of criticism for its content moderation flaws despite having a strong team based in India. This has also been a challenge, many a time for Facebook or even YouTube.
3. High quality user engagement– Positioning these apps right in the market will drive the user engagement for these apps. The time spent on these apps in a day will be a major part of its success story as these are highly engaging apps and that will remain a key component to drive its monetization strategy as well.
4. Path to monetization– This will remain a challenge for homegrown apps till they build the influencer ecosystem on their apps which will eventually drive advertisements and brand deals for the top creators. However, the challenge remains that these creators prefer Instagram on which they have already created a certain reach making it easier to acquire brand-deals.
Over the years, we have seen that the top six players have held onto their market share. While Facebook has an early mover advantage in the Indian content ecosystem, the company has been struggling to acquire new users as the new generations are now moving to apps like Instagram, Snapchat among others. Lack of engagement on the platform for the larger vernacular audience has also been a major setback for Facebook's growth.
Quality and clean content has also been a challenge in terms of growth for many Chinese apps like Likee, Helo, Bigo Live. Indian platforms like ShareChat, Roposo have showcased better content compared to Chinese counterparts.
The next few months will define the leaders of the segment, as few from the current front runners will emerge with scalability and monetization models.
INSIGHTS
Talk To Our Expert