Dec, 2016
Insights on fashion e-tailing -Q4 CY16
The Indian e-tailing industry is looking up after three quarters of slump Quarterly Trends in Indian E-Tailing Market Market sizes in $ billion Indian E-tailing Industry Annualized GMV Run Rate Growth (For The Quarter, Pre-cancellation , USD Bn) Fashion is a key contributor with ~20% of industry GMV share… Category Share within E-Tailing % of … more
---
The Indian e-tailing industry is looking up after three quarters of slump
Quarterly Trends in Indian E-Tailing Market
Market sizes in $ billion
Indian E-tailing Industry Annualized GMV Run Rate Growth
(For The Quarter, Pre-cancellation , USD Bn)

Fashion is a key contributor with ~20% of industry GMV share…
Category Share within E-Tailing
% of Gross GMV
Indian E-tailing Industry Split By Category
(For The Quarter, Pre-cancellation , USD Bn)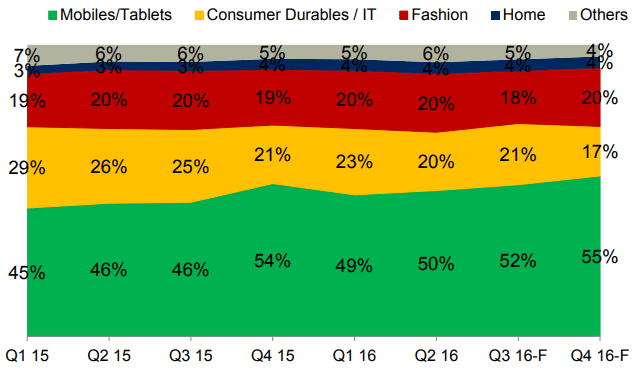 Key Insights
Electronics continues to dominate the industry, with a large share of sales coming from exclusives
Share of fashion category has remained broadly stable over the last year but is expected to grow going forward, being a high margin category
…In revenue terms fashion is the largest category in Indian online market
Revenue Share by category
% of E-Tailer Revenue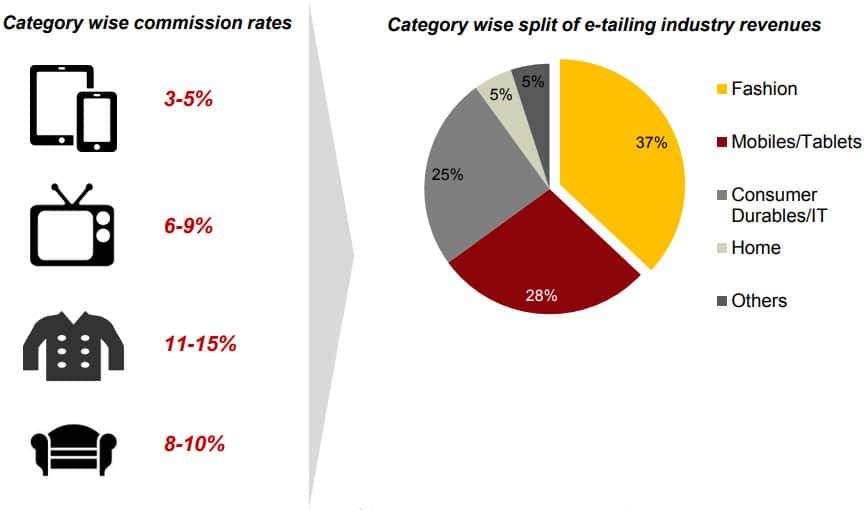 GMV for e-tailers with a heavy dependence on electronics category is essentially flimsy because of low category contribution to revenues
E-Tailers would need to diversify a greater chunk of the sales to other higher margin categories like fashion and home to move towards profitability
Going forward, Fashion will be a key growth driver for the e-tailing market
Category-wise opportunity
Shares in %, Market size in USD Billion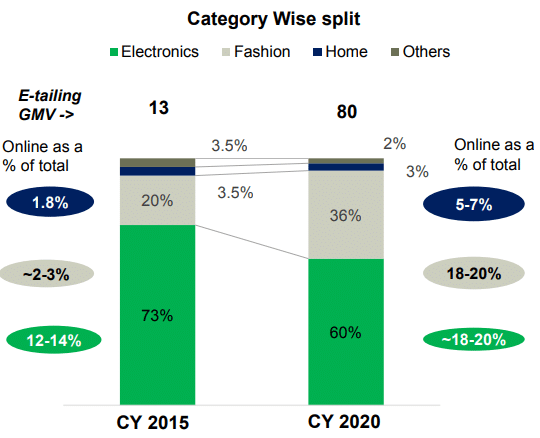 Insights
Online fashion market has a very low penetration in India, whereas for mature markets like China and US the penetration of Fashion to the overall industry is as high as 30-35%
Going forward, we expect fashion to be a pre-eminent category in e-com, and especially strongly purchased by customers in Tier 2+ cities who come online to avail the greater selection in this category
'Better product range', 'heavy discounts' and 'convenience' are key reasons why respondents shop for fashion online
Top reasons for shopping Online (2015)
In %,N=877
Q. Tell us the top most important reasons why you shop online ?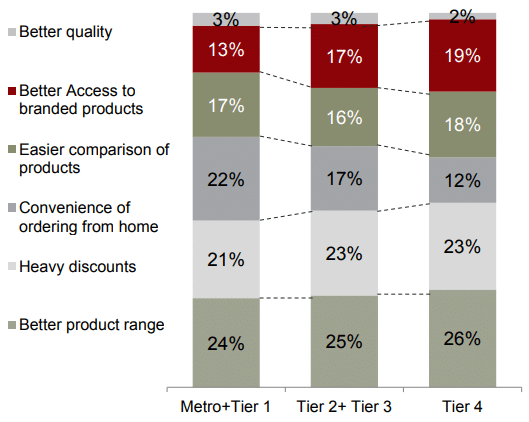 Points of Discussion
For respondents in smaller (Tier 2 and beyond) access to branded products and availability of a wider product range are key reasons for shopping online
'Convenience of ordering from home' loses importance as we move from Tier 2 cities to Tier 4 cities
…primarily driven by addition of new online shoppers
Evolution of the Indian e-tailing market
No of monthly Shoppers in Millions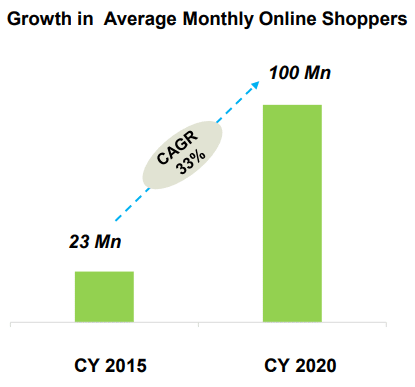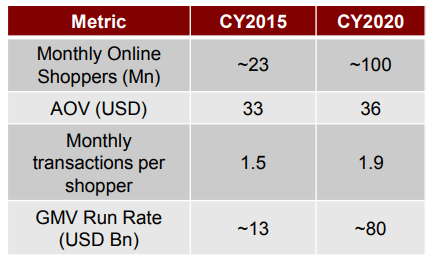 AOV trend till 2020
To increase due to inflationary effect and increased shopping of premium items while new user addition brings it down
Transactions trend till 2020
To increase as consumers shop online more for high frequency categories like fashion and FMCG
Leadership Index: What does it take to have a great consumer experience
1) Customer service centre locations
2) Size of customer service team (inbound & outbound)
3) In-house or outsourced (vendor if outsourced)
4) Average # of calls / tele caller/day
5) Average wait time (Time taken to transfer the call to an available frontline agent)
6) % Agent utilisation
(Total no. of hours spent on call by the agents as a percentage of total no. of hours logged in)
7) % First time resolution
(% instances where a first time resolvable issue is successfully resolved within the first attempt itself)
8) Time spent per call
9) Order to contact ratio
10) Split of queries by channel
11) Customer Satisfaction Score
12) Customer Satisfaction Score (Number of responses)
13) Repeat Contact (Call/mail/chat) Rate by customer by Order ID
(Average % Instances where the customer contacts the customer care more than once)
14) Escalations %
15) Contacts per month (Calls+Mails)
16) Calls per month
17) Headcount of Call Centre team
18) L1 to Team lead ratio
19) L1 to QA Ratio
20) Number of calls internally audited/month
21) Average Hold Time
22) Top 5 Contact Issue Types
23) Resolution Rate_Customer Response
(Percentage people responding to the feedback mail/notification sent on query closure)
24) QCR ratio (Queries – Complaints – Requests)
This document covers the key trends on fashion e-tailing covering the growth of the category, consumer shopping trends and delivery performance.
INSIGHTS
Talk To Our Expert