Oct, 2015
Oct-15 E-tailing Festive Sale Insights
Study Background Objectives of the study Key points to be covered Gathering insights on multiple aspects of the festive sale period from 13th-17th of October 2015 including :- Industry sales performance and impact Customer experience and perspective on the sales Seller experience E-Tailer benchmarking on supply chain and sales performance Key methodologies used Assessing industry … more
---
Study Background
Objectives of the study
Key points to be covered
Gathering insights on multiple aspects of the festive sale period from 13th-17th of October 2015 including :-
Industry sales performance and impact
Customer experience and perspective on the sales
Seller experience
E-Tailer benchmarking on supply chain and sales performance
Key methodologies used
Assessing industry and player level performance during the sales period through:
Secondary research and primary research with industry experts
Mystery shopping on 750+ items
Primary Interviews with 100+ sellers
Primary Interviews with 500+ customers
Note: 1. Most of the figures are for festive days, which refer to 13th-17th October 2015
2. Sales/GMV related performance numbers are broad estimates
3. USD 1=INR 60 has been assumed across the deck
Disclaimer: The numbers and analysis quoted in the report have been developed through RedSeer research with industry experts and sellers, online reports and mystery shopping. The report is a fact-based study and should not be interpreted as a recommendation document
Average order values for the industry grew by ~50% compared to the presale period
Growth in industry AOV
During the sales period from 13th-17th October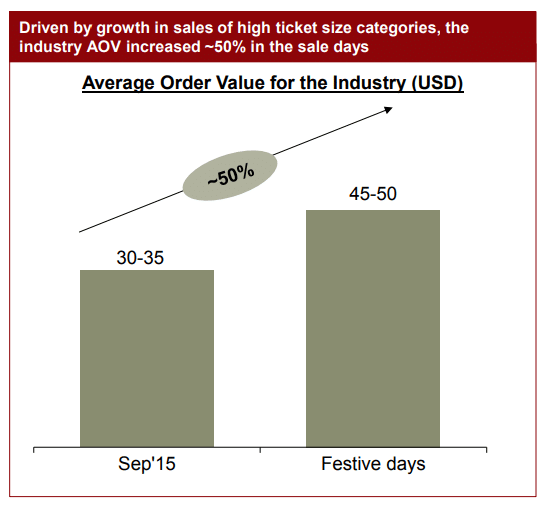 Key growth drivers
Increased volumes sold of high ticket size categories like mobiles and tablets
Increased sales of premium items across categories, driven by:
1. Availability of good deals on multi-item combos across product categories
2. Availability of multiple cashback schemes across banks and categories
Customers feel that the app centric initiatives of e-tailers are helping to improve their online shopping experience
Customer shopping experience on app
N=500 unique shoppers interviewed
Q. Do you think that app-centric initiatives by e-tailing companies are improving your shopping experience?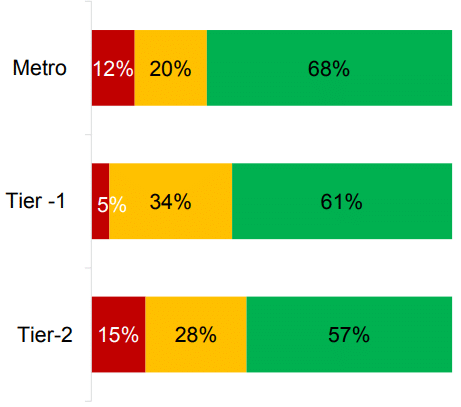 What customers liked about shopping on apps
Easy sharing of products and faster access of views by friends and family
Push notifications for available sales and product availability as per browsing history and wishlist
Browse anywhere anytime
Customer Wishlist from apps
Better navigation and browsing features
Easier way to compare products
Easy sharing of wishlist with friends
Note: 1. Agree rating is classified as Agree / Strongly agree, Doesn't Matter rating as Neither agree nor disagree & Disagree rating as Disagree / Strongly disagree
2. Distribution of respondents across Metro, Tier-1 and Tier-2+ is 54%, 33% and 13% respectively.
The sellers were split across metros and the product categories
Respondent profile
By product category and region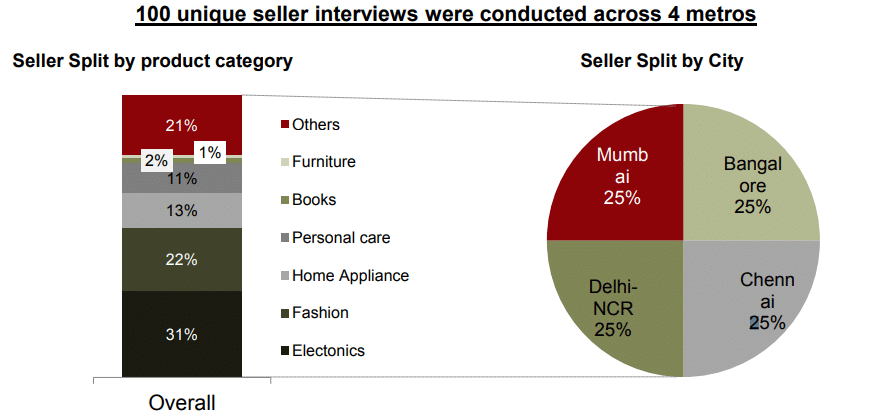 A statistically significant sample of sellers was chosen that gives 96% confidence level and 10% of error margin on the findings
Note: Single platform sellers were 15%, Double platform : 24%, Triple platform : 22% and Four platform : 39%
Inspite of the high volumes dispatched by e-tailers during the sales period, their compliance levels did not decline
Impact of high sales volumes on compliance
Comparison between pre-sales vs. sales period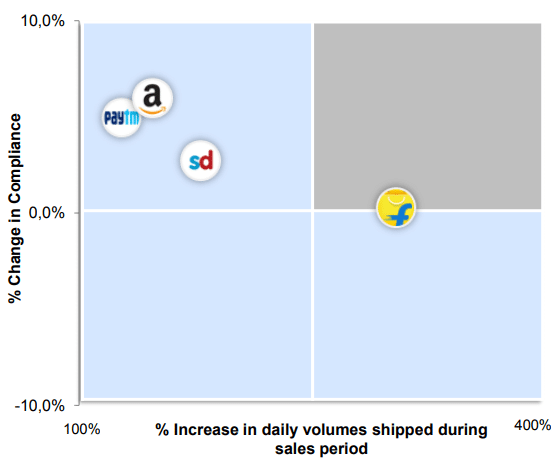 Compliance for Flipkart remained same when compared between pre-sales and sales period even after witnessing a 300% rise in daily volume during sales period
Amazon increased the number of buffer days to increase their compliance levels during sales period
Notes: 1) % change is computed between the sales and pre sales period.
This document covers the performance of the e-tailers in the October 2015 festive season.
INSIGHTS
Talk To Our Expert