Dec, 2014
Online Cab Aggregator Market Trends
The taxi market in India is estimated at $9 billion; the organized sector constitutes around ~ 6% revenue share of the overall market The taxi market in India is highly fragmented and unorganized The unorganized market is constituted of individual car owners and agencies which operate in one or few cities Owned vehicles segment includes … more
---
The taxi market in India is estimated at $9 billion; the organized sector
constitutes around ~ 6% revenue share of the overall market
The taxi market in India is highly fragmented and unorganized
The unorganized market is constituted of individual car owners and agencies which operate in one or few cities
Owned vehicles segment includes pure-play car rental companies (e.g. Zoomcar) and players like Carzonrent and
Meru< hh>
Aggregators are a new phenomenon driven by rise of start-ups like Ola, Taxiforsure and recently in 2013, Uber
Affliators are associated with multiple car rental agencies and offer various packages/deals
The organized taxi market in India is a relatively nascent one; multiple aggregators have launched their services recently 2014…
Growth of the organized taxi market in India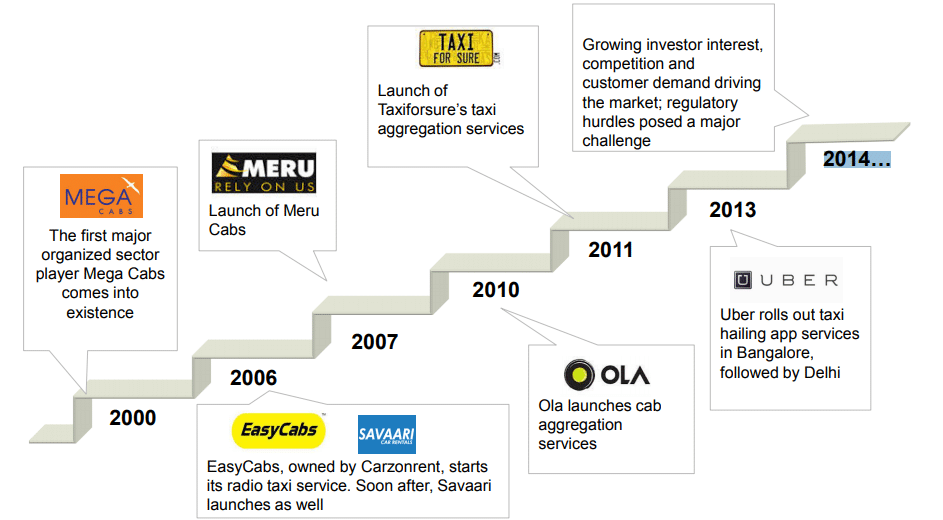 Key growth drivers
Description
Price competitive alternative to regular public transport

Lack of comfortable public transport options in most Indian
cities has led to a growing demand for affordable cab services
Aggregators especially have positioned their product as a
price-competitive alternative to autos and regular cabs

High level of customer convenience

App based booking has led to growing customer ease of use
In a very short span of time, companies like Meru, Ola & TFS are receiving 30-50% of booking requests through apps
High punctuality and safety are additional customer benefits

Popularity of aggregation leading to faster scale ups

Even owned taxi companies like Meru are opting for aggregating taxis in order to scale up their fleet rapidly
Aggregator based models will allow expansion to new cities
rapidly

Global investor interest

The industry as a whole has seen investments of $150+million in multiple deals since 2006 and the investor interest shows no signs of abating
Availability of investor funds is allowing players to focus on
aggressive expansion, customer acquisition and strengthening
of backend technology systems

Entry of new players

There has been a rapid influx of new players recently
Heavy competition has led players to explore new pricing models, taxi segments etc., ultimately benefiting the end customer
Technology has become a key differentiator; players are looking to increase app usage by making their apps more transparent, convenient and flexible 16
Planned technology initiatives of taxi companies
Increasing number of App languages to provide better flexibility to customers/drivers of tier 2 cities and to ultimately increase the app usage
Showing the route being taken on a real time basis, reducing app lag times and increasing GPS precision, for an enhanced customer experience overall
Incorporating traffic status on routes to ensure that the driver selected for a customer is nearest to the customer on basis on least time to reach the customer
Driver management and suspension through the usage of technology platforms
Aggregators have started undertaking innovative initiatives like women-only
cabs and panic buttons to highlight their focus on customer safety
Olacabs.com, launched a 'pink cabs' service, driven by women drivers and which will only allow female passengers to board them
The premium service will help Ola compete in a niche segment of the taxi market, dominated by regional players like SheTaxi etc.
Complying with Government regulations, Ola also launched an emergency contact
TFS is getting panic buttons installed in the cabs operated by their partner operators, which will be located near the rear passenger seat in the cab.
As soon as a customer presses it, a signal is sent to the company's control room to alert about the emergency
Additionally, TFS is planning to launch the TaxiForSure Driver Finishing School to enhance the soft skills of drivers
Uber is adding a ShareMyETA button to its app, rolling it out first in India to allow passengers to send trip details to loved ones
Additional measures includes having all of its drivers reviewed again to ensure they have 'authentic and valid police verification,' as well as hiring local 'safety exerts' to detect fraud and to develop more effectivscreening methods for its drivers.
Trends in the Indian taxi market resemble trends in other taxi markets and in the Indian e-commerce market; this is likely to throw up similar opportunities
Expansion into newer countries
Easy Taxis, a Brazilian taxi player, has launched its services in Nigeria, the first such service offering in Africa and it has gained a significant first mover advantage, Although developing such markets need heavy discounting initially, expanding taxi services into such countries offers a relatively low competition market with high long term potential
Consolidation and acquisitions
Over the next few years, as players reach out to more cities and competition intensifies further, leaving low headroom from growth, consolidation is likely to happen Additionally, the use of technology as a key differentiator means that players are likely to acquire smaller start-ups which offer innovative technology to enhance the customer/driver experience in taxi players
Customer loyalty/membership programs
E-commerce players are differentiating by offering unique services like pick-up stores, next day delivery, Amazon Prime and Flipkart First annual memberships etc. Taxi players can consider similar annual memberships which entitle customers to discounts on rides and receive special treatment from drivers
Expansion into regional and other niche markets
Offering the website, app and call centre services in multiple languages can help players to reach out to customers in smaller towns, e.g. like what Snapdeal has achieved in e-commerce space Players can consider vehicles catering to special/niche customer classes including pink taxis, vehicles with child safety seats etc.
This document covers the insights on the evolution of the online cab aggregators market in India covering its market opportunity, challenges and opportunity.
INSIGHTS
Talk To Our Expert