Nov, 2019
MENA Retail Sector – short term headwinds but long term growth intact
The retail landscape is not the same and is evolving constantly. We are now in the last quarter and the retail industry overall has faced challenges this year – be it from online players or a macro-economic point of view. The governments of Middle Eastern countries are increasingly seeking to diversify their respective economies away from oil towards other innovative sectors including focusing on SMEs, driving consumer spending and supporting large infrastructure projects.
Today, I want to talk about the long term view of the economy and the retail sector in MENA.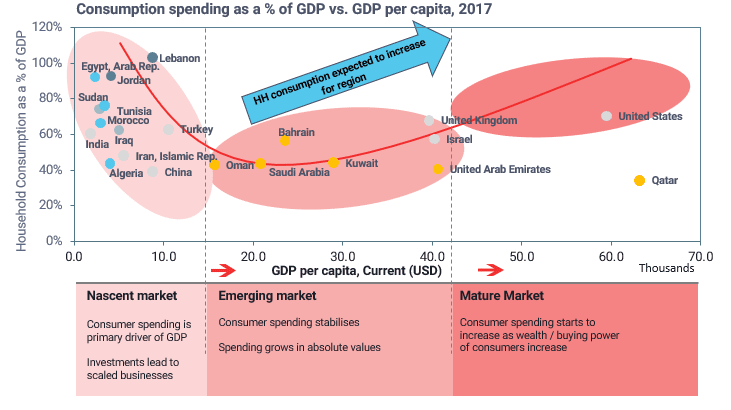 The adjoining graph depicts the relationship between consumer spending and wealth in the country and there seem to be co-relations. There are three distinct markets:
Nascent: GDP is driven by consumer spending and scaled business are slowly coming
Emerging: Scaled business already exist and consumer spending as a % of GDP is stabilizing
Developed: Increasing buying power for customers as wealth increase
Interesting, most GCC countries are at an emerging stage and will see increased consumer spending (and hence retail spending) as wealth increases.
So the question we really need to ask is will GDP per capita increase in the GCC?
I believe that there are indications that GDP per capita will increase in the GCC. Wealth will increase because of the strong tail-winds from the government – SME focus, infrastructure spending and job-creation focus. As an example, there is $700bn of investment committed by the GCC governments. To give a perspective, this investment commitment is larger than the economies of Sweden and Switzerland.
In the coming decade, GCC countries such as KSA, UAE and others where current household expenditure ranges from 40-60% will start behaving more like the mature markets in the Western world where the HFCE is between 60-90%. This macroeconomic trend portends well for the retail sector as more customers in the Middle Eastern markets will increase their expenditure on it. As such, adapting to rapidly changing customer preferences in the Middle East become more important than ever for leading retailers.
***
This is an excerpt from the "Retail Technology – the Next Frontier" whitepaper that we recently released at the Middle Retail Forum 2019. The full paper is available here.
If you have any questions or comments on this topic, you can reach me at sandeep@redseer.com