Jan, 2020
Six insights on online retailing in Middle East for 2019
I have been fortunate to follow the online retail (e-tailing) sector closely in the Middle East over the last few years. In 2015, the market was very nascent and there were limited benefits realised to the local ecosystem. Majority of the online retail activity at that time was dominated by international players or Cross-Border-Trade (CBT). … more
---
I have been fortunate to follow the online retail (e-tailing) sector closely in the Middle East over the last few years. In 2015, the market was very nascent and there were limited benefits realised to the local ecosystem. Majority of the online retail activity at that time was dominated by international players or Cross-Border-Trade (CBT). Then in 2017, the local supply landscape started improving – Amazon entered the market with the acquisition of Souq; and Noon, backed by Mohamed Al Abbar and the Public Investment Fund (PIF), launched operations in the GCC. That formed the foundation for future growth.
Later on, we argued that all the digital infrastructure and supply-side elements required for hyper-growth are coming together and we are very close to the tipping point in the Middle East. However, growth was still hampered by issues such as long (and unpredictable) delivery times, limited product selection, and lack of trust among consumers for online players. 2019 was a breakthrough year that changed this. It was a year when the e-tailing market grew much faster than in the previous years. Below are the six insights on the online retail industry in the region in 2019.
Insight #1: Fast-paced etailing market growth in 2019
The online retail market grew at a fast pace this year compared to last few years – greater than 35% this year compared to ~25% annually over the last few years. This is especially commendable in light of the relatively slower growth of the overall retail sector.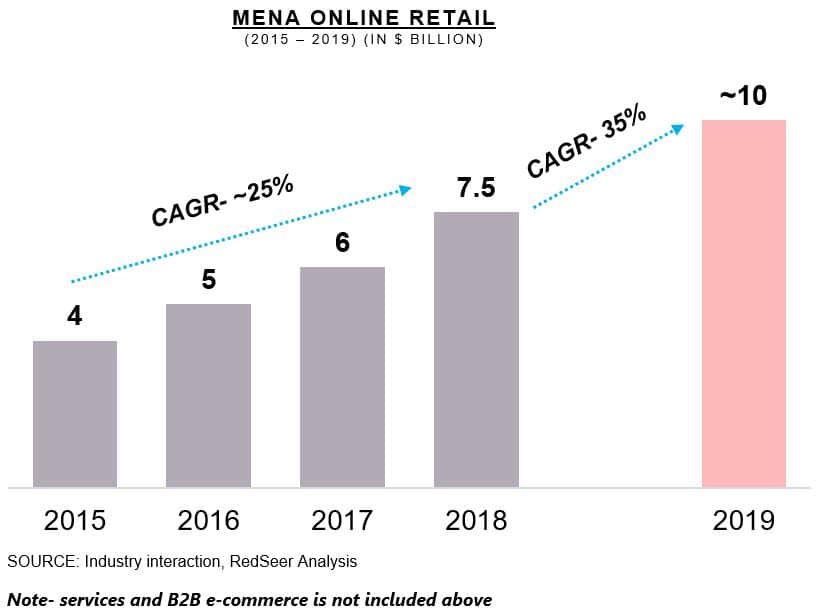 Online retailers reaped the benefits of investments in
1)     Improving their logistics supply chains: All online retailers invested heavily in improving their supply chain. The results were visible. In 2015, delivery times were communicated in weeks; that changed to less than a week by 2017. In 2019, same-day or next-day shipping became more and more prevalent in the UAE. Even after the improvements is logistics, there is still lots of opportunity in the logistics space in eCommerce. In some categories such as groceries and foodtech, there are already delivery commitments in hours which will soon trickle down to other retail verticals.
2)     Aggressive promotions: Promotions focused on free shipping first for a minimum order value but slowly moved to free shipping with no limits on the value the order. Promotions also included price discounts.
3)     Improved product offerings: The product offering improved significantly over the year. Noon focused on creating partnerships with players such as Al Shaya, Extra and Ebay. Amazon used its international suppliers to improve the offering through its International Shipping Program.
Insight #2: Noon and Amazon dominate the market
Amazon rebranded Souq in UAE to leverage on its internationally trusted brand and the high expat population in UAE. On the other hand, Noon continued its high-growth trajectory to gain market share in the Middle East by focusing on building an indigenous ecosystem across the value chain.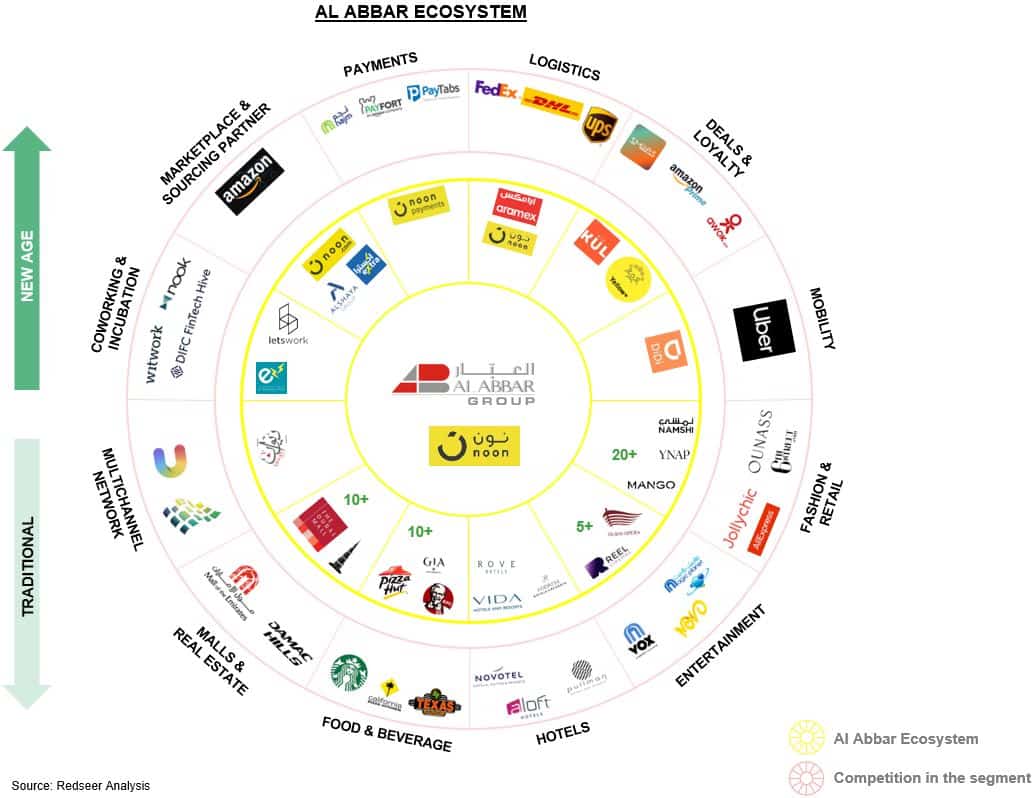 Our estimates indicate that Noon and Amazon capture roughly half the market equally split between them. Amazon leads in UAE while Noon is the leading player in Saudi Arabia.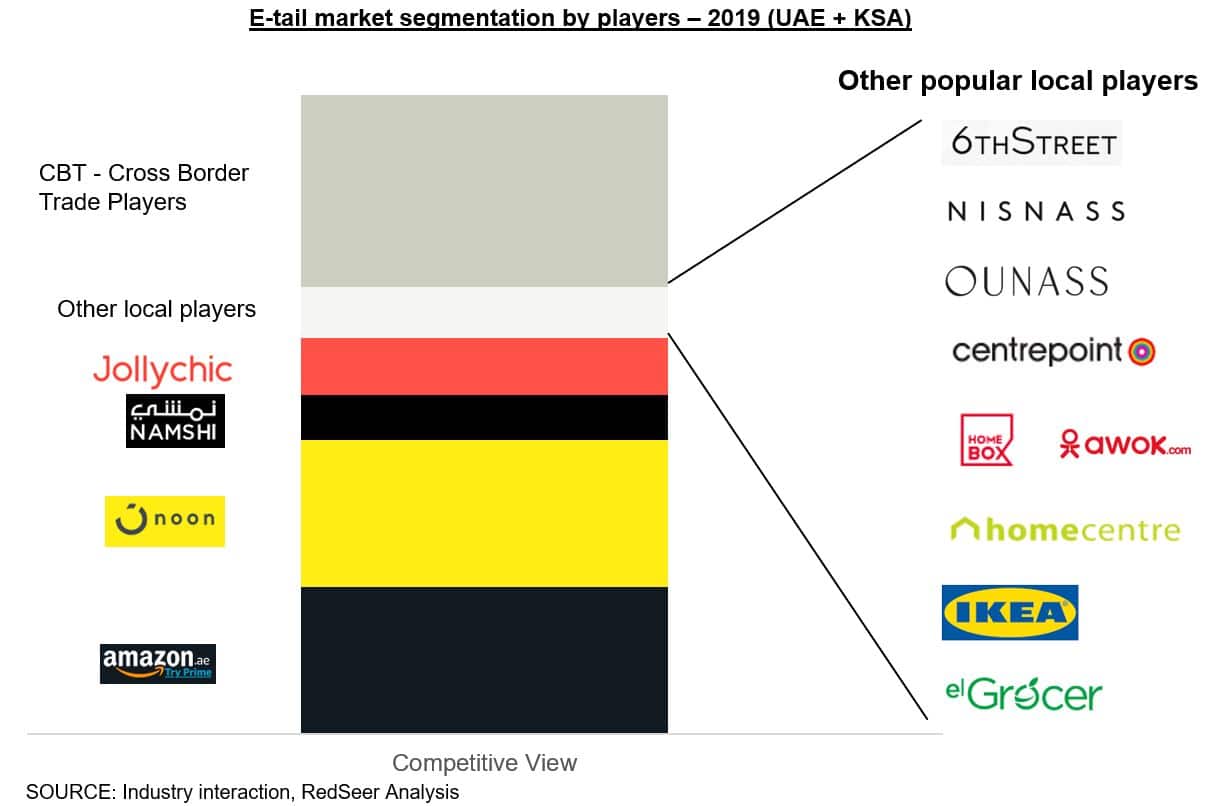 Insight #3: Niche models gain traction
Noon and Amazon have emerged as the key players in the online marketplace in the region. However, niche players have also emerged who either have a specific focus on customer segment, category or business model. Some examples include:
Grocery marketplaces: Bulkwhiz, an online big-box grocery platform, started in UAE and secured multi-million funding to scale its operations. Nana Direct, a grocery focused marketplace in KSA, raised $6m+ in Series A funding in 2019.
Value focus online marketplace: Awok, a refurbished electronics marketplace, raised the largest Series A funding of the region at USD 30m. Kul, a recent entrant in the value space was launched this year backed by Noon. JollyChic, a fast fashion marketplace, gained traction in the region.
Pre-loved online marketplace: Luxury Closet, a luxury marketplace, raised $11m to expand its operations outside UAE.
Gifting focus platforms: Joi Gift and Blooming Box in UAE focus on the gifting culture in UAE.
Insight #4: Chinese players gain traction in cross-border trade
Cross-border trade (CBT) has been a big portion of online sales in Middle East since early days of online retail. Over the years, CBT has been growing albeit at a slower pace compared to the overall etailing sector as local players have become stronger. Aramex has traditionally been a logistics leader in this segment through its Shop&Ship program. Emirates Airlines recently launched its own cross-border delivery platform this year to cater to this growing demand.  However, the composition of CBT in terms of region-of-origin and retail players has been changing over the last few years. It used to be dominated by western ecommerce players earlier but now has started to be dominated by eastern players such as Shein, Club Factory and Ali Express.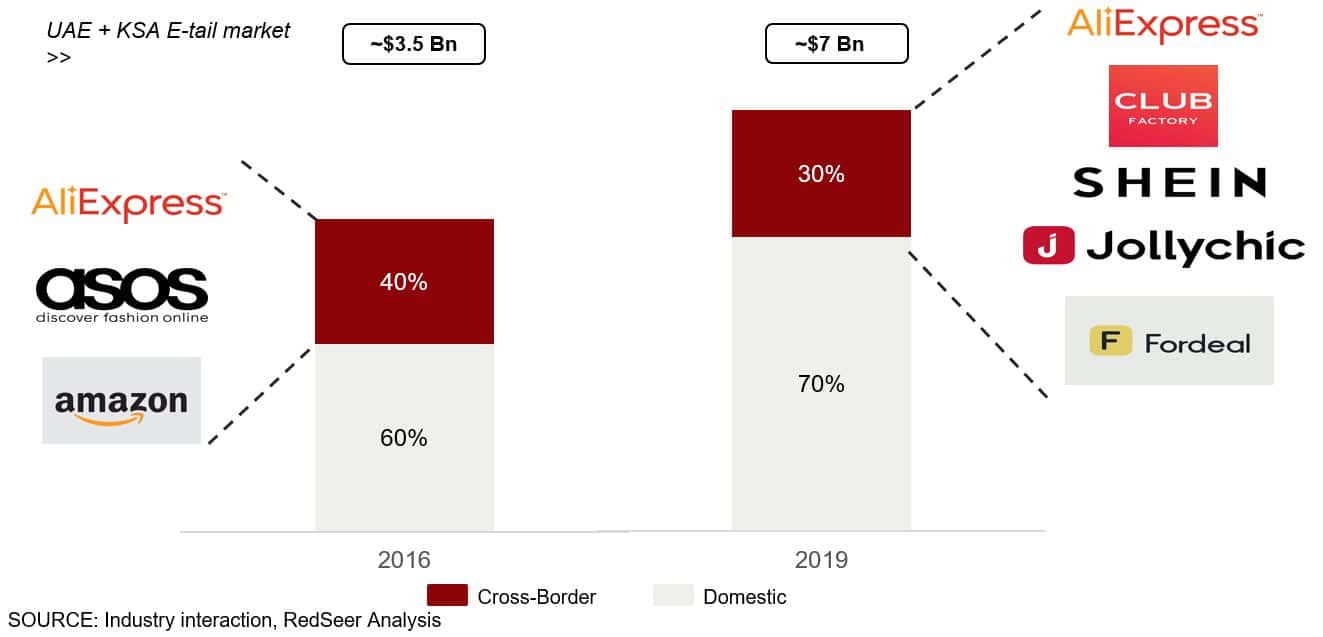 Insight #5: Electronics continues to dominate but fashion and grocery become strong
Electronics continued to be the largest vertical followed by fashion and beauty in the region. Grocery was the fastest growing vertical at more than 60% y-o-y growth followed by home vertical.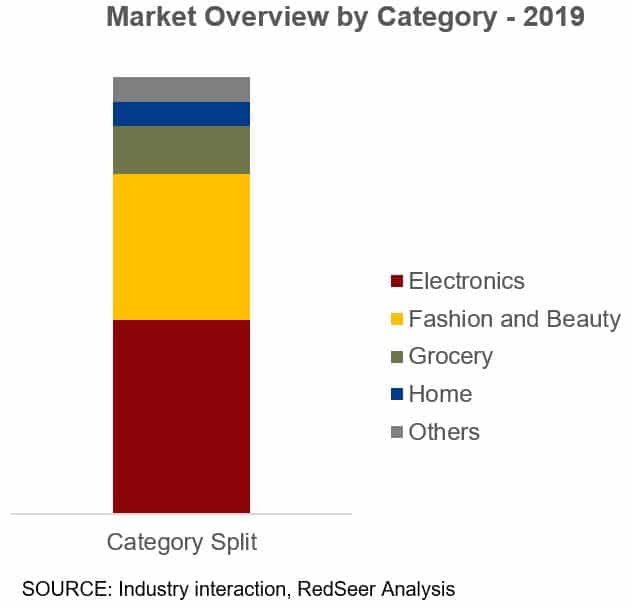 Insight #6: Thanksgiving sales reach critical mass
Local ecommerce players have been working hard to create an event around thanksgiving for the last few years. The results of these efforts were visible this year. Majority of the customers we interviewed in UAE and KSA were interested in thanksgiving sales this year. The interest was highest in electronics in KSA and while UAE customer were most interested in Fashion.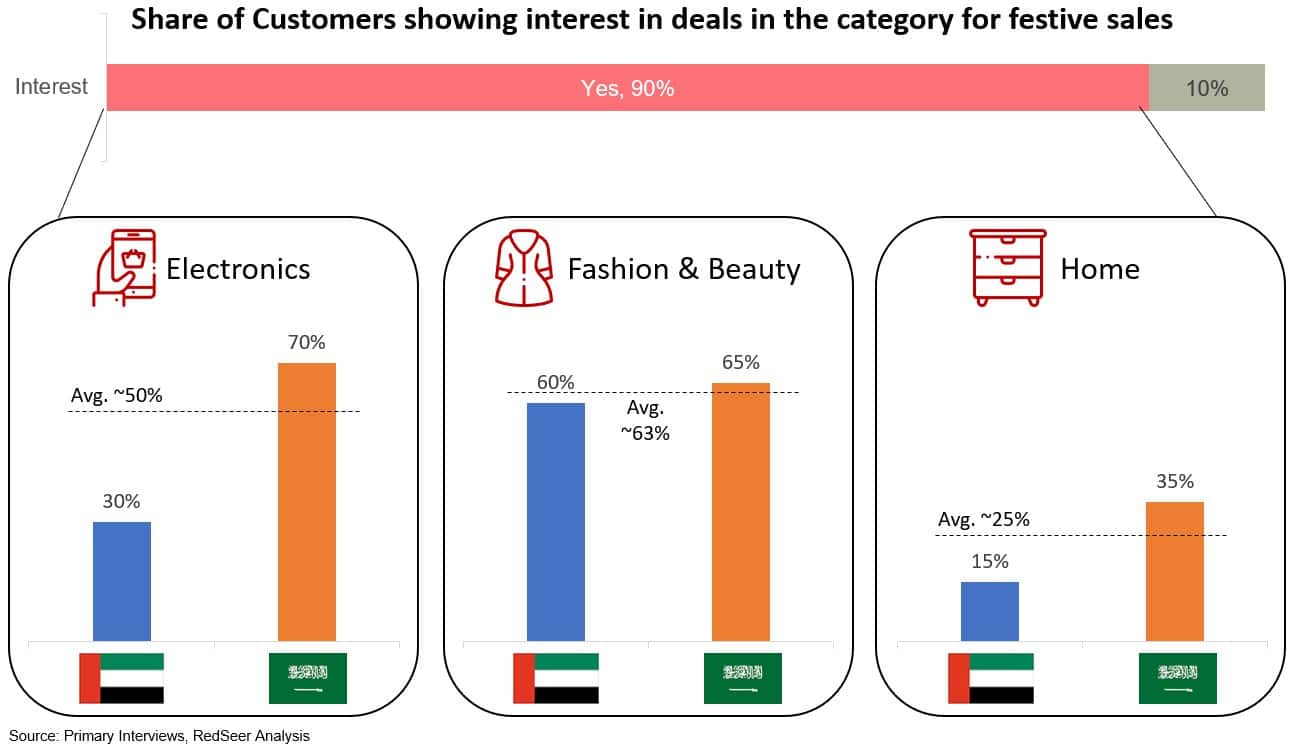 Also, the contribution of thanksgiving e-tailing sales to UAE and KSA was higher than the same contribution in USA. The festive market was dominated by Noon and Amazon.
Conclusion
Online players have significantly improved their capabilities in the last year. They are now backing that with aggressive promotions resulting in accelerated market growth. I believe that online retail is fulfilling it's initial promise of growth and has reached its inflexion point in Middle East this year.