Dec, 2019
Unleashing the Indian $60 billion eB2B Retail Opportunity
Recently, we launched a report entitled "Unlocking the Indian eB2B Retail Opportunity". The launch event saw a really interesting panel discussion between the industry experts, which generated insightful point of views on this market. Through this blog, we would like to build upon the insights shared by the panel, in order to bring in our perspective on this exciting eB2B retail market opportunity.
The consumer retail industry has been one of the focal drivers of economic growth in India. As such, it will play a vital role in determining India's growth journey in the years to come. In India, the ~$900 billion retail market is propelled by a complex retail supply chain of ~15 million retailers which ensures that the 1.3 billion population is continuously served. Out of the ~15 million-odd retailers, we estimate that ~13 million of these are smaller mom and pop stores which primarily cater to Tier 2+/Bharat cities and towns ensuring sizable reach.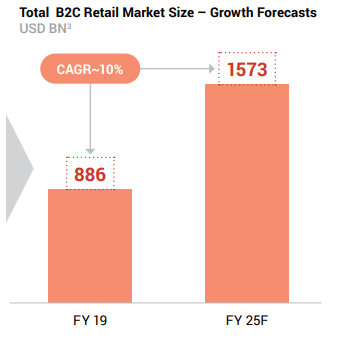 The B2B retail market is currently pegged at ~$700 billion for FY 2019. By 2025, we estimate that it will reach ~$1.26 trillion. Around 70% of this market continues to be part of the unorganized sector which is afflicted with low fill rates (<70%) and poor consumer experience.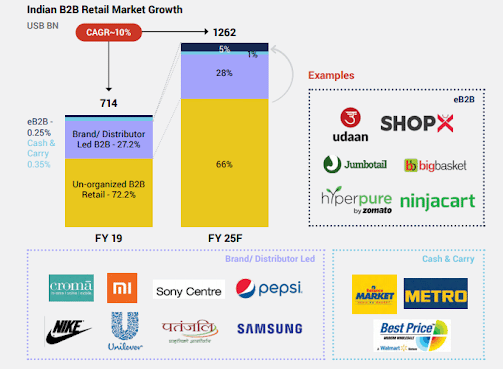 To solve these logistical complexities and elevate consumer experiences, the eB2B players put forth a compelling case. The eB2B players aim to solve the retail supply chain complications and enhance the consumer experience through mitigating the pain points of each of the intermediaries in the B2B supply chain.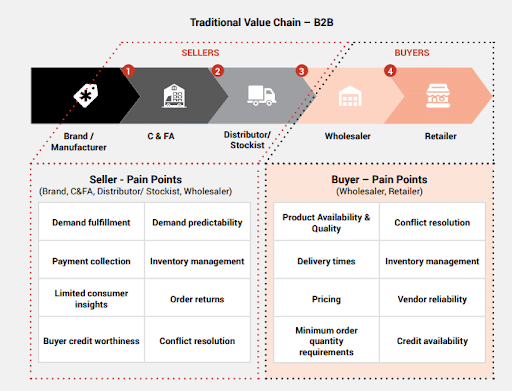 Roadmap to Success: Building a scalable model
The first theme of the panel discussion was the right business model for the eB2B market. Prayank Swaroop, Partner at Accel, and Ashish Jhina, co-founder of Jumbotail, posited that eB2B is more of a vertical play as each sector requires distinctive supply chain models. The central reason being that B2C customers are relatively more beneficial to acquire since they purchase across different product categories and hence cross-selling is simpler. On the flip side, a B2B customer (retailers) only purchases across a limited set of categories as per their outlet type. Therefore, the incremental value of acquiring a B2C customer is higher.
Mr. Jhina further stated that the F&G sector requires players to control their supply chain and operations during the initial years since customer experience is paramount. In his opinion, the function of acquiring customers could broadly be achieved in two ways: a) Product discounting which is capital intensive or b) Better services. If it is the latter, the SLA, product quality, and customer experience the key to success and owning the supply chain is one way of achieving it.
Raghuram Talluri, Co-Founder and CEO at LoadShare Networks, offered another interesting view. He stated that the distributor has been thrust upon with multiple responsibilities namely: market-making, offering credit, and logistics – some of which are to the distributor's disliking. To address this problem, newer players are helping unbundle some of these responsibilities by providing tools to improve their efficiency rather than disintermediating key stakeholders. This approach has some merits since some of the relationships between the distributors and retailers have existed for generations – lasting for four or five decades – and hence are difficult to rupture.
Ensuring customer stickiness
The second theme of the panel discussion revolved around ensuring customer stickiness. Stickiness is one of the levers that will drive eB2B players towards profitability. As such, ensuring customer engagement is imperative to enhance CLV. In this aspect, Amit Sharma, CEO of ShopX, stated that to ensure customer stickiness – companies must go above and beyond the app to provide a compelling end-to-end experience. Brand recall, platform experience, conflict resolution, among others are all key determinants in ensuring stickiness.
Mr. Sharma further pointed out that to ensure customer engagement especially in Bharat (Tier 2+ cities), regional languages, videos, and voice prompts can act as powerful communication tools. In this aspect, the technology of the application must be such that it can ensure operating leverage/non-linearity of the business model by eliminating an economic activity (removing salespeople). Moreover, in order to provide a unique value proposition to the target audience, the application must be intuitive and the underlying UI/UX principles cannot be replicated from that of a B2C marketplace.
Mr. Jhina pointed out that fill rate is an important factor in ensuring retailer loyalty. As such, Jumbotail ensures 95%+ fill rate. He also added that quicker O2D timelines are critical in ensuring stickiness.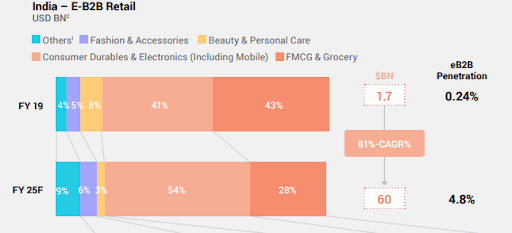 To summarize, the eB2B market is expected to reach ~$60 billion in 2025 from ~$1.7 billion in 2o19. Digital habit formation, especially in Bharat cities still pose a challenge, to eB2B players. However, as key players in this arena start educating retailers in Bharat cities about the use-cases of technology and start addressing pain points in the retail value chain, this challenge is set to subside in the years to come.
***
This is an excerpt from the panel discussion held as part of the launch event of the "Unlocking the Indian eB2B Retail Opportunity" report. The full video for the panel discussion is available here.