Massive opportunity in digitization of B2B procurement
Published on: May 2019
The purchase of manufacturing raw materials (RMs) and MROs has been traditionally untouched by digitization, except for a new notable example e.g. Mjunction. This is a large addressable opportunity accounting for USD 575 Bn size in FY19 and which has significant growth potential going forward, across all major categories shown below.
On the MRO side, the major target customers are the ancillary companies and the OEMs, both of which need to contend with multiple procurement problems- high number of vendors, low process transparency, low pricing power. This is the problem that e-B2B companies like Moglix and IndustryBuying are working to solve, with a combination of approaches (as highlighted below) that include improved availability of goods, process streamlining and pricing uniformity.
Given the scale of the challenges that e-B2B players are working to solve, the associated opportunity size and growing awareness and willingness to digitize the procurement process, we expect the e-B2B market for MRO products to grow 10x in size over the next 5 years, as players expand their customer base into new geographies and also grow deeper into existing accounts.
---
With its core value prop of predictability and convenience, Online B2B retail is rapidly being adopted by retailers
Published On: Apr 2019
India's large retail market continues to be fragmented and unorganized. Although the past decade has brought in some degree of organized presence, the share of organized continues to be low (~10% in B2C retail). Lack of organized presence has a snowballing effect as moved one level back in the value chain. We estimate Organized B2B to account for ~3% of overall market, with higher penetration in categories like Electronics, Consumer Durables, Beauty and Personal Care while others like Fashion, Food & Grocery have lower penetration due to the inherent fragmented supply side.
Online B2B retail offers a strong value proposition to the fragmented retail customer base. Diverse end customer cohorts and wide product assortments mean no supplier accounts for more than 10% of a retailer's purchase (in Kirana stores in particular). This leaves significant room for aggregation offering service levels (fill rates), convenience, product range and price transparency for retailers. In the emerging retail landscape with significant presence of Online and Organized B&M retail, unorganized retailers yearn for supply side which is more stable, predictable fill rates and lowers working capital requirement – enabling lowering lost sales and opportunity cost of capital.
In its short history of existence, Online B2B retail has been successful in acquiring ~100K retailers (out of the estimated 15mn retailers), particularly in low hanging customer cohorts – New to retail business, Second generation family retailer and Women entrepreneurs. Players have been able to build significant brand recall in short span of time, led with players like Udaan.
As the industry matures and players are able to build trust based on re-enforced service levels, one would expect the customer base to expand manifold. We believe the sector holds potential beyond the core proposition of aggregation and reselling – value added services like Financing, Sampling, Merchandising, Market intelligence and other activities which aids a retailer to sell more or reduce costs can go a long way in strengthening the platform-retailer relationship and thereby increase the counter share of Online platform from current ~15-20%.
---
MSMEs- in early stages of digitization
Published on: Jan 2019
MSMEs in India consumed USD 1.5 Bn worth of digital services in CY18- not a small market by any means. Yet, a closer look reveals that the consumption structure of digital services amongst SMEs is highly skewed- only 3 Mn or 6% of all MSMEs embraced paid digital services in any form, and 80% of the MSME digital services market was composed of commission revenues. While other services like digital advertising, logistics etc. are a very small chunk of the market.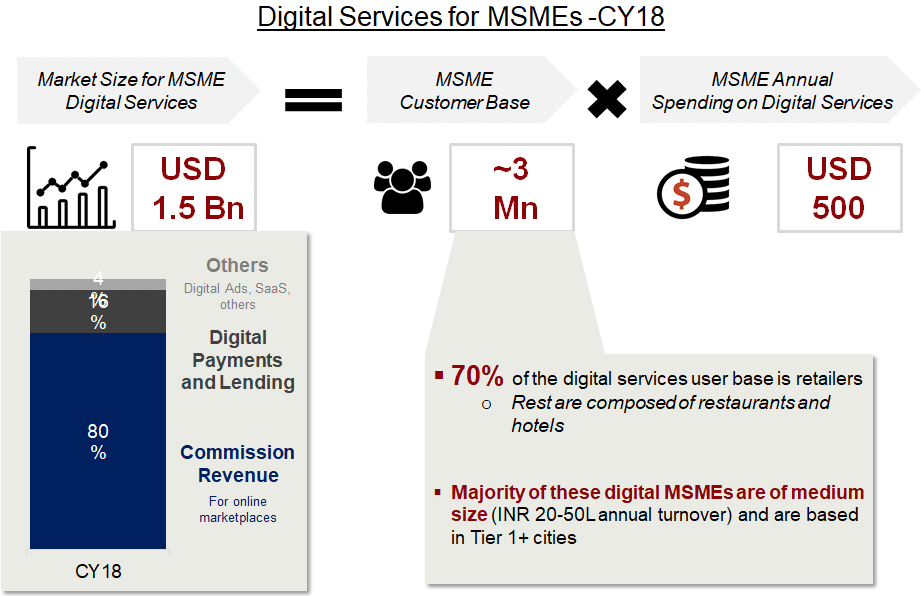 Why this skewness? As per RedSeer research, this low adoption and limited breadth of digital adoption is primary caused by below MSME challenges (arranged in descending order of frequency of mention by MSMEs):
Talent Crunch– Small businesses find it difficult to get resources who know how to operate the various software and digital tools

Mindset-Since businesses are small/less complex, they do not feel need to buy or use these digital services

Low awareness- Not aware of the digital tools and services

Software not meeting requirements- Especially as business scales up

High Cost
Online Marketplaces- A gateway to MSME digitization
Published on: Jan 2019
Online Marketplaces have been instrumental in MSME digitization, by opening a wide customer base which never existed for MSMEs, supported with deep insights around the products, demand, planning and pricing. Starting from this initial hook for MSMEs, over time these platforms have themselves become more mature and are offering an ever-wider bouquet of services for their MSME partners (see below chart).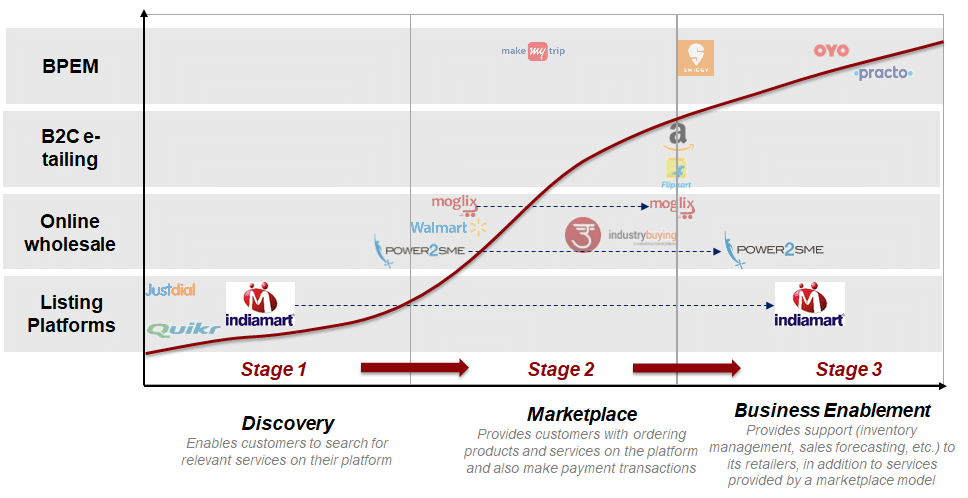 These platforms put MSMEs deeper into an ecosystem that offers digital payments, lending, advertisements, logistics and so on. MSMEs can then selectively adopt various business services over time as the marketplace matures and MSMEs feel a greater need to invest on these services in order to stay relevant and to continue serving their consumers effectively.
MSME digitization- a USD 10 Bn future opportunity
Published on: Jan 2019
We are very bullish on the opportunity ahead in digitization. We expect rapid growth in the funnel itself (higher % of sellers paying for digital services) as more MSMEs come online to these platforms. Additionally, we expect MSMEs to adopt a wider bouquet of services with platforms pushing them to adopt them in future. Our research with MSME validated that those who have adopted digital services (primarily for additional revenue growth) show a strong benefit and optimism from their digital journey and are willing to adopt other digital services in the future especially advertising and enterprise software.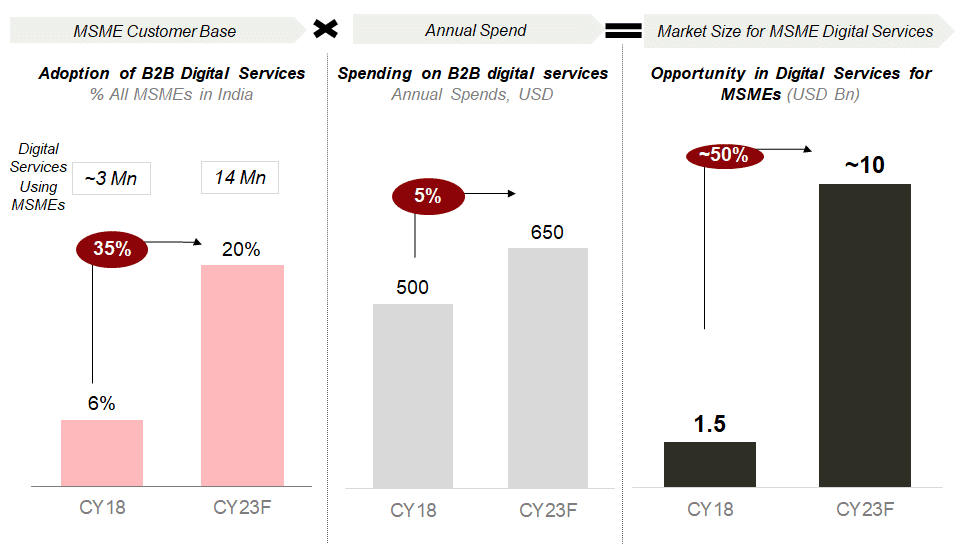 Driven by this greater adoption (wider) and increased spending (deeper), we expect that the B2B digital services market for SMEs will increase to USD 10 Bn from the current USD 1.5 Bn over the next five years at a CAGR of 50%.
Redseer-IAMAI joint report on the 'Digital Services landscape and its impact on the MSMEs' was launched on Jan 18th 2019. The report includes a comprehensive coverage of all major B2B service sectors and the associated opportunities and challenges.

Please reach out to us to know more.