In Today's newsletter, we take a look at changing e-commerce landscape in Indonesia. As the number of consumers grow in the country, preferences have shifted towards convenience based shopping.
End of Year Double Day sales are one the largest sale periods in the region. With the evolving consumer preferences, the sale campaigns also need to evolve.
As always, let us know if you would like to connect for a detailed discussion.
1. Indonesia's double day sale campaigns have slowed down recently due to several reasons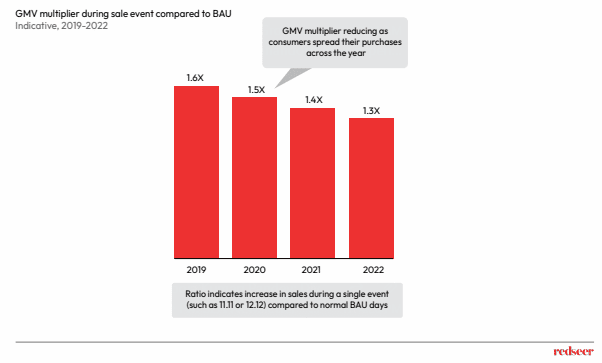 Double day sales have been trending down in the recent years. This is due to several factors
a) Growing consumer maturity leading to a less discount focussed shopping approach
b) Higher consumer base leading to low potential new users
As these challenges continue to affect the sale season, players need to look for alternative strategies to come out on top.
2. The trend is visible in China as well, where players have started retooling the campaign to focus on customer loyalty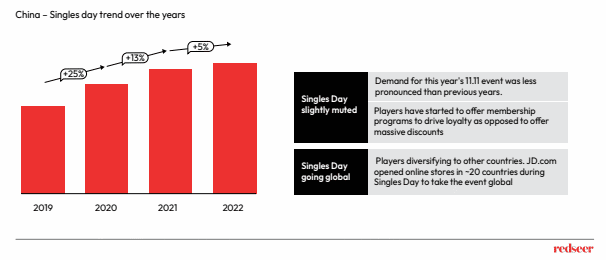 Players in China have also noticed a similar slump in Singles day sales and have taken steps to mitigate the decreasing demand.
Membership programs to offer consumers loyalty benefits has been a key focus area. Players have also started to take the sale global by opening up online stores in other countries during the campaign. Players see high demand from other regions for their products during this period of the year and hence are diversifying.
3. As customer base expands leaving little room to onboard new customers, players need to shift focus towards driving loyalty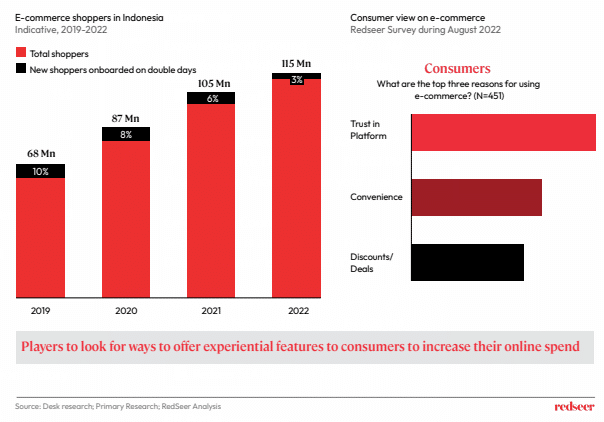 While historically, double days would act as a massive consumer onboarding drive, players now need to focus on the existing consumer base in a larger degree. The total consumer base for online shopping is larger than ever and holds massive potential spending to unlock. Online shoppers look for platform trust and convenience before discounts now, and players need to shift their focus towards driving loyalty through services for these platforms.
4. Players can also increase focus on profitability due to high seller participation and high interest in advertisable and analytical tools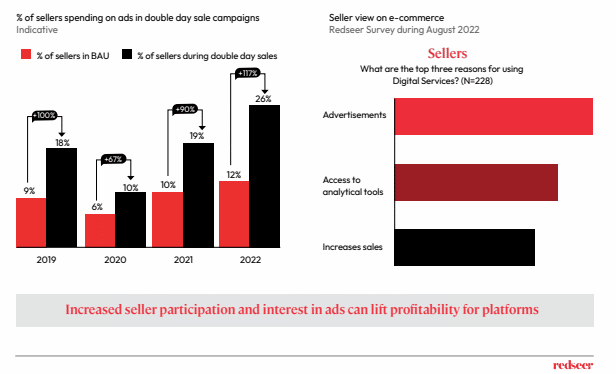 We also see that platforms notice a significant jump in ad revenues during double day sale campaigns as the number of participating sellers nearly doubles during these campaigns. Barring a slump during pandemic, the number has continued to increase as the benefits of ads are perceived well by the sellers.
This could massively boost a platform's revenue streams during the sale campaigns and coupled with less focus on discounts, allow them to gain more profitability.
We hope you found these insights useful. For a more detailed discussion, feel free to reach out to us at roshan.b@redseerconsulting.com