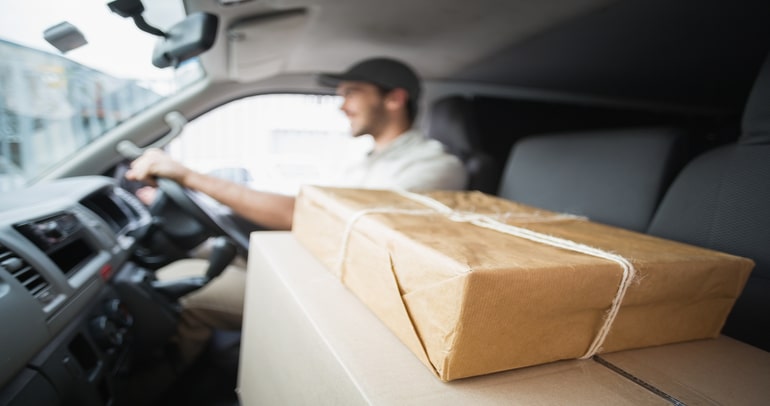 Challenges and opportunity to digitize intracity logistics for SMEs
Published on: Sep 2019
SMEs still strongly prefer offline channels for intracity shipping, largely due to strong relationships with offline partners which drives high availability, reliability and smooth operations

Online players can disrupt the market by using tech to drive better pricing for SMEs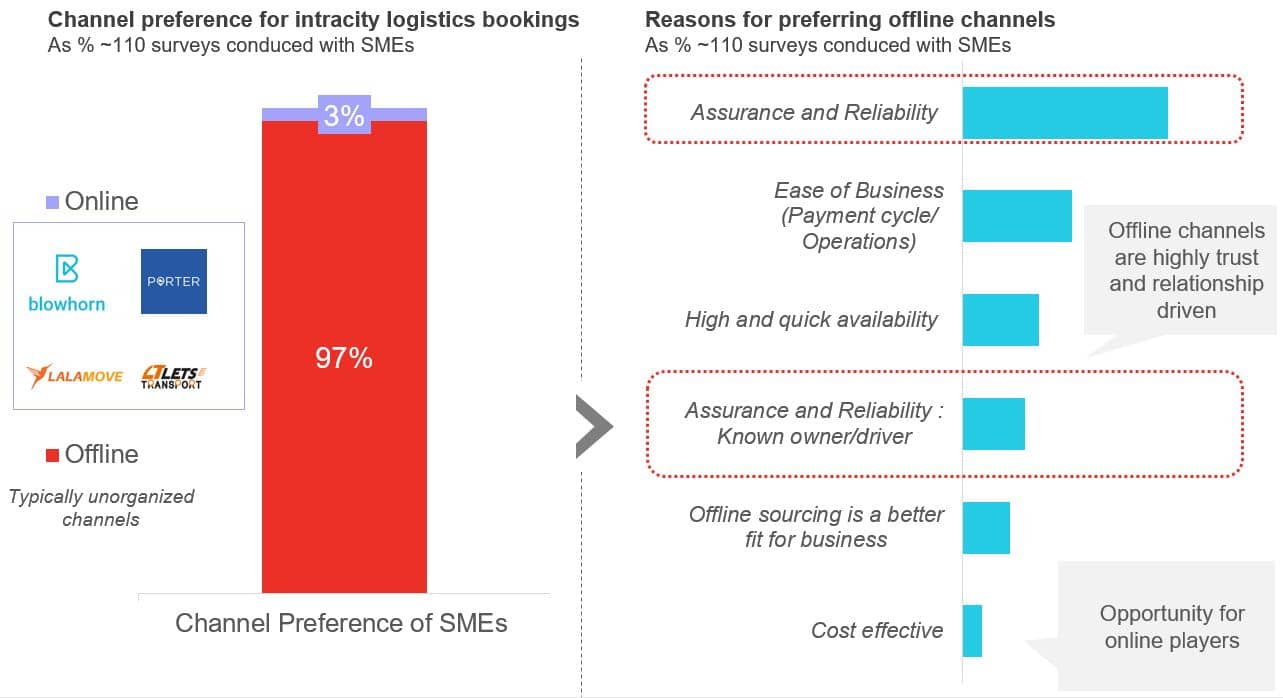 ---
The state of e-logistics in India- Breaking down the 94 Mn shipments processed in April 2019
Published on: Jul 2019
In our latest update on the e-logistics space in India, we breakdown the industry with three big charts. Key messages from these charts-
Reverse shipments account for ~8% of all e-logistics, indicative of total return rates

COD shipments are 55%, down from 70+% a few years ago

Fashion dominates the category mix as expected, with electronics being #2
In-house logistics mix grew to 57% in the month vs an avg 2018 figure of ~50%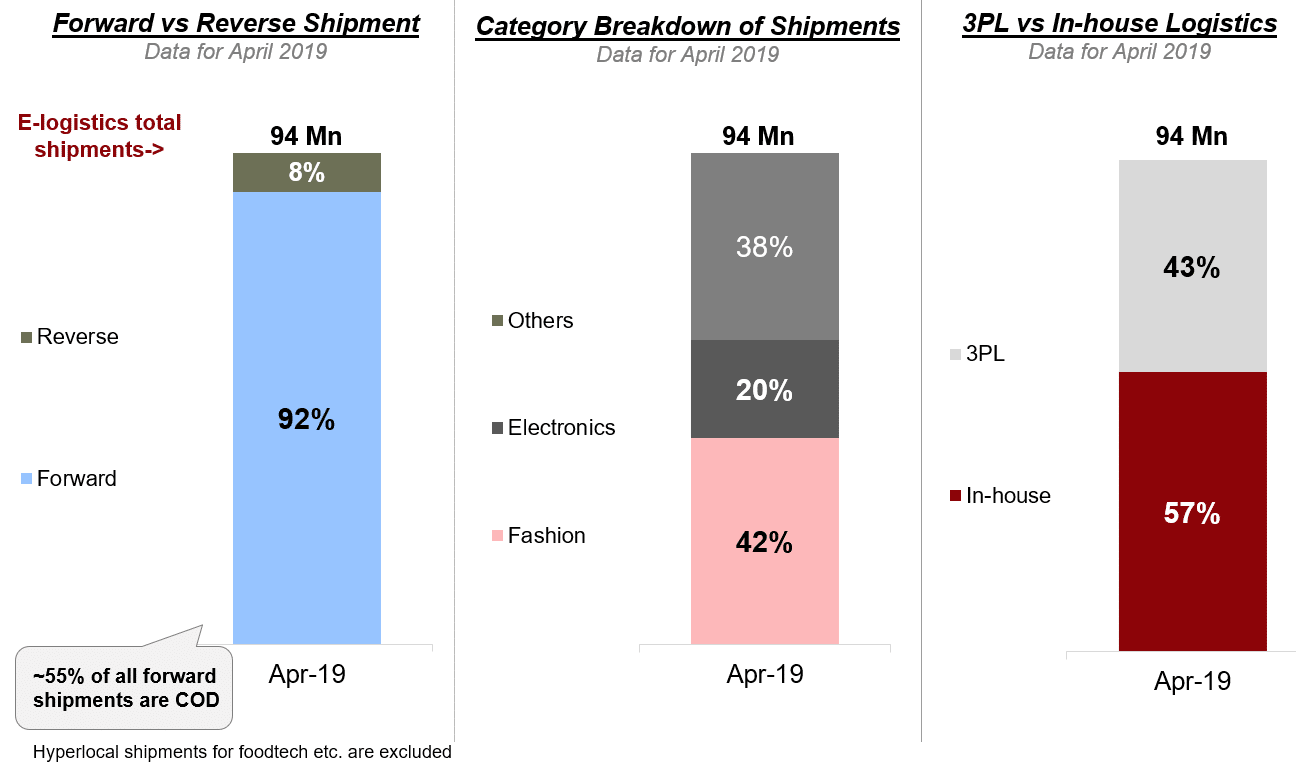 ---
New age 3PL players are capturing share at the expense of traditional players
Published on: Mar 2019
Note: TV Commerce is not included
The implementation of the FDI policy and the resultant increase in the share of the market place model is likely to have some impact on the share of 3PL shipments. This is particularly true in case of long tail e-tailing players, while in case of large horizontals the final shift would be dependent on the cost-service trade-off. Within the 3PL players, the new age players are already contributing to ~75% of the daily shipments and the share is likely to increase. The shipment volumes at these new age players are growing at a CAGR of 54% (vis-à-vis industry average of ~9% for traditional players). Increased technological interventions catering to the client requirements coupled with low cost is driving growth for the new age players.
---
Tech based optimizations enabled 3P eLogistics players to improve unit economics in CY18, despite lower rev/shipment
Published on: Jan 2019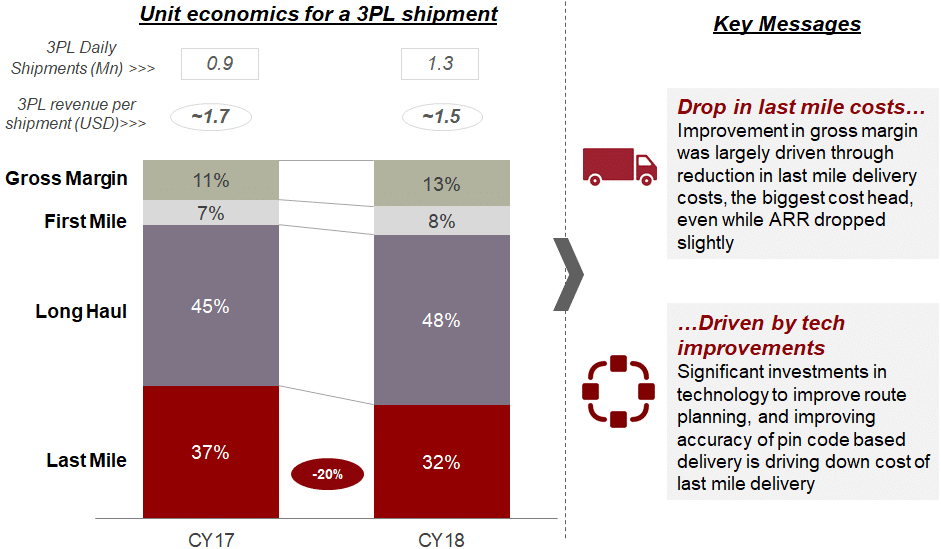 ---
India's e-Logistics market expected to nearly quadruple by CY22 on the back of rapid e-tailing growth
Published on: Jan 2019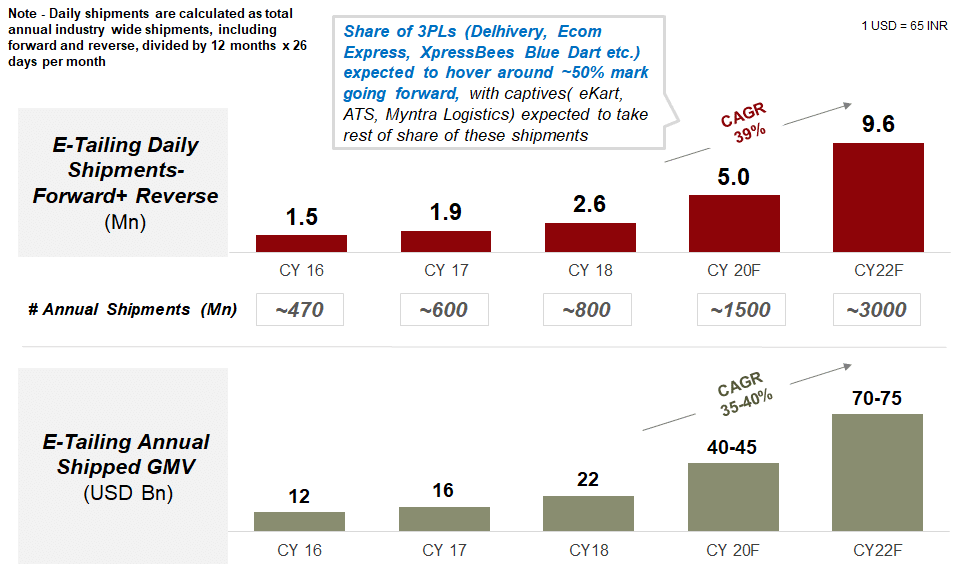 ---
Users of offline trucking services face many issues- many of which are being solved effectively by tech enabled trucking players (RedSeer Research)
Published on: Dec 2018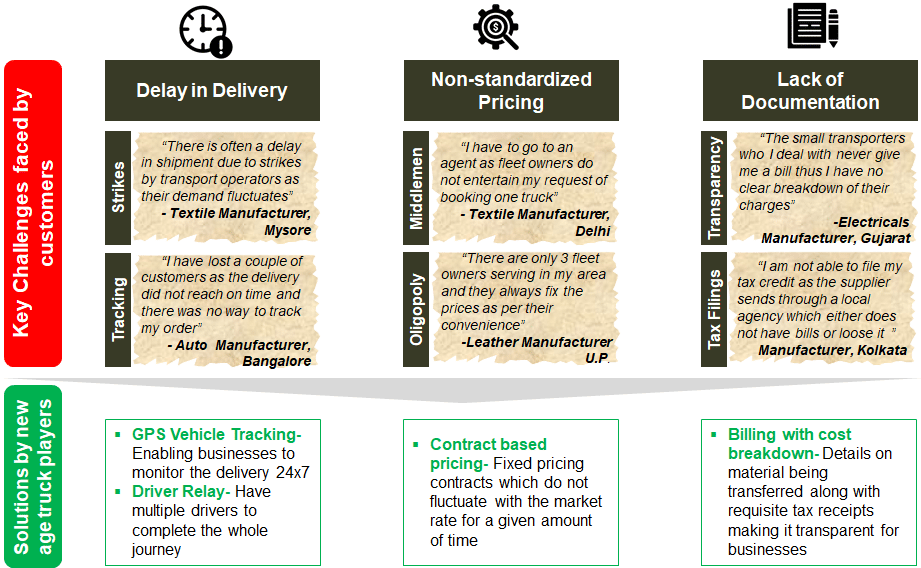 ---
Majority of the shipments in e-tailing come from fashion, FMCG and electronics and we expect this trend to continue
Published on: Jun 2018
The e-tailing shipments is largely dominated by Fashion category followed by FMCG and electronics. While Fashion will continue to be a shipment leader, we estimate that by 2020, FMCG will grow significantly as a segment resulting in a higher share of shipments.
---
There is a large opportunity in the long tail for 3PL players as top 2 e-tailers are captive heavy
Published on: Jun 2018
The E-tailing giants FK and Amazon are further looking to increase their investments to control the consumer experience and reduce their dependency on 3PL players. The 3PL players hence need to focus on the long tail and non e-tailing shipments to drive their growth plans.
---
Delivery speeds have improved continuously in the last 2 years
Published on: Apr 2018
With the increasing focus in Tier-2+ cities, the e-tailers are increasing their stronghold on the overall consumer experience. They are hence investing in the supply chain infrastructure to expand the number of delivery centers and fulfillment centers which is resulting in the improvement of the delivery time in Tier-2+ cities. This is a great move by the industry as it would result in the improvement of the consumer experience in Tier-2+ cities making them shop more.
---
3PL players are increasingly looking out for capacity utilisation due to a reduced share in e-tailing market
Published on: Feb 2018
The e-tailing player are focussing on increasing the shipments through the captive arms. 3PL players are hence looking to diversify by entering into different lines of business like: B2B; especially in the consumer electronics, pharma and fashion segments and are eying on the Cross-Border E-commerce which has globally seen 70%+ growth.
---
Structure and dynamics of e-logistics industry have stabilized- indicating limited supply side disruption by 3PLs
Published on: Jan 2018
Broadly stable market share of the three types of players in the industry indicates e-tailer's focus on keeping significant captive share and a lack of disruptive business models and innovative offerings from 3PLs. Cost pressure from clients (e-tailers) and investors on 3PLs leads to limited incentive to innovate but capturing the next phase of e-tailing growth from smaller cities and niche categories demand is that they find the resources to diversify and innovate in their offerings.
Players are fighting hard to adapt their cost structures to the slow-growth era
Published on: Jan 2018
RedSeer research shows that e-logistics players have been adapting to the slow growth era by effectively controlling their key cost levers over the past few quarters. The increase in the share of (low cost) surface mode shipments has brought down line-haul costs, with falling share of COD orders also benefiting the industry. Finally, players are experimenting with alternative delivery modes like Kirana stores for bringing down the last mile costs as well.
Will innovations solve traditional supply chain challenges?
Kirana stores are now a very important link in the e-tailer supply chain: Orders delivered or picked up at Kirana stores accounted for >10% of all e-tailing shipments in the JFM'17 quarter, up from ~4% a year ago. The growth of the Kirana store network is crucial for the industry, as it enables a lowering of the delivery failure rate and last mile cost structures, while increasing delivery speeds.
Consumer comfort with buying large items is being enhanced by slotted deliveries: Share of large items delivered via the slotted delivery facility of e-tailers increased to ~40% in JFM'17 or ~3-4% of all e-tailer shipments. Further expansion of the facility is likely to increase consumer comfort with shopping for large appliances online and drive growth of this high potential category.
Will tailwinds derail 3PL players?
E-commerce shipments for 3PLs showed tepid growth of only 8-10% y-o-y in 2016: ~310 Mn forward and reverse e-commerce shipments were handled by 3PL players in 2016, as the combination of a flat e-tailing market and e-tailer's preference for using captive arms derailed 3PL's growth aspirations.
However, there are early signs that 3PLs are adapting to this challenging business environment: As e-tailers focus on their captive arms, 3PLs have responded by diversifying their clientele, reaching ~40% shipment share from long tail clients by end of 2016, from <30% in early 2016. Additionally, aggressive capacity building to handle Tier 2 city shipments, hyperlocal deliveries and large items, should help 3PLs kick-start growth going forward.