E-Tailers on track to sell USD ~3.7 Bn of goods during festive event 1- up 60-65% y-o-y 
Published on: Sep 2019
Key drivers of growth to be an expansion in online shoppers who will likely shop across categories (even beyond mobiles)
Compared to business as usual days, we expect that e-tailers will likely see a GMV spike of ~ 7X on these festive days (vs 6x last year)

More than 75 Mn gross transactions expected over the 6-day period this year vs ~45 Mn in 2018 festive days

Continued festive days growth is in-line with overall annual growth of the industry which is on track to grow 32% for the whole year 2019 to reach USD 32 Bn for CY19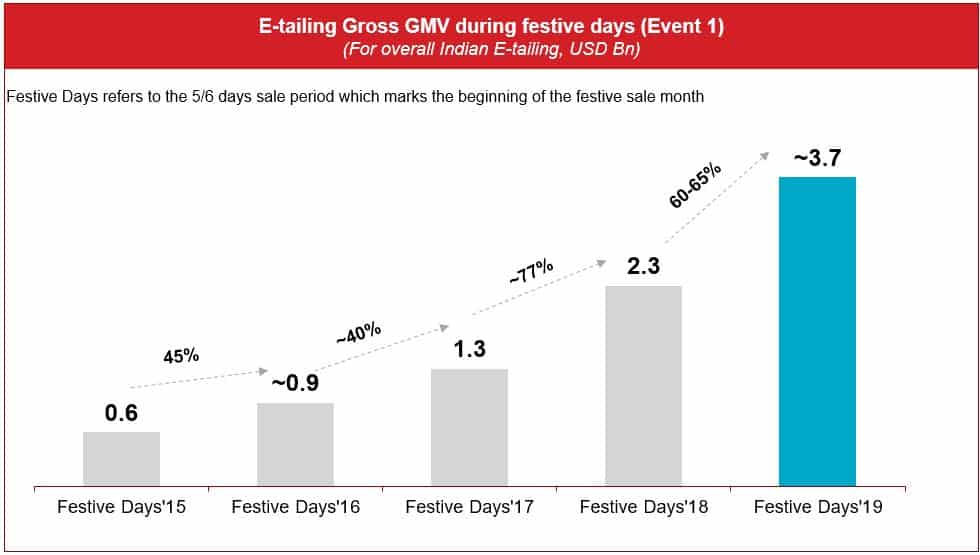 ---
Total unique shoppers expected to grow ~60% y-o-y, with many of them from Bharat; order values to drop slightly
Many of these shoppers to be from Tier 2+ cities/Bharat, who will likely be attracted by-
Improved/refined vernacular interface of platforms and wider than ever selection across categories

Attractive deals and easier credit availability, breaking the affordability barrier

The promise of fast delivery across categories driven by the widest supply chain network ever spread across smaller cities and regions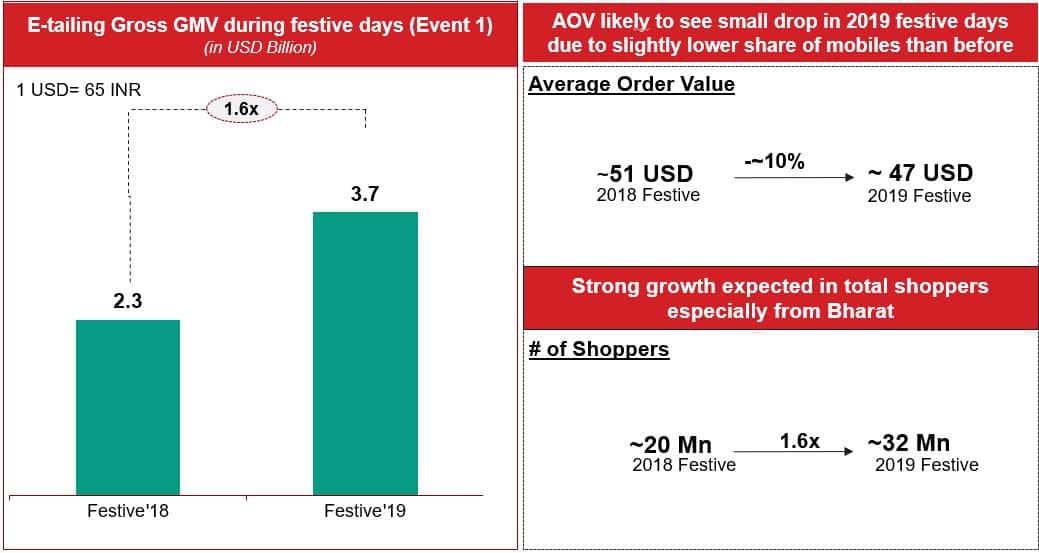 ---
Consumer electronics and fashion are likely most popular categories amongst customers to purchase this year
There is a wider trend of mobiles sales growth slowing down and mobiles accounting for a lesser share of GMV in 2019 than earlier years

RedSeer's consumer sentiment analysis also shows that consumer electronics and fashion are preferred categories amongst consumers this year

Furniture also to be a key growth category in this festive season, driven by selection and upgraded supply chains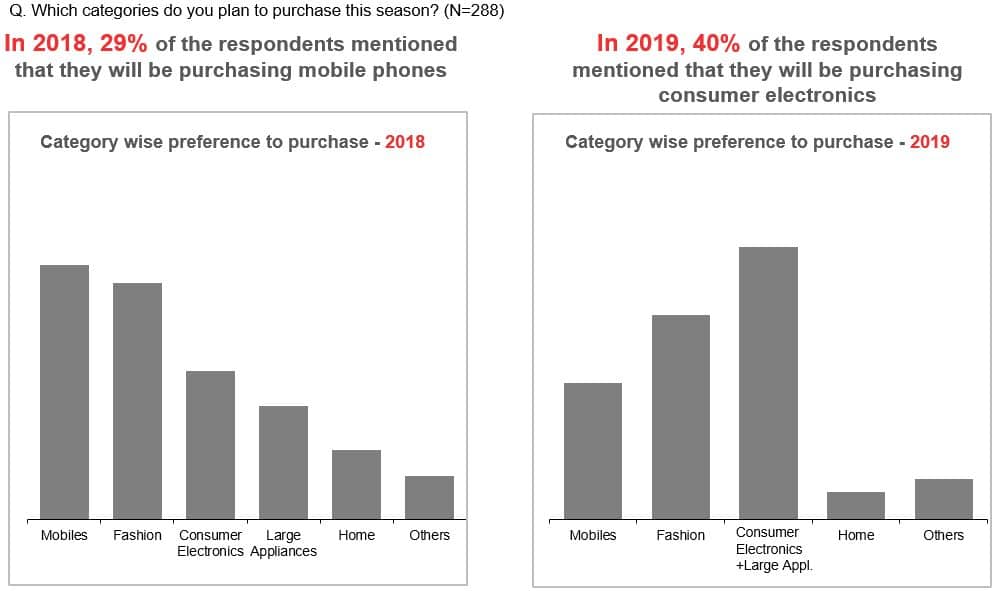 ---
Historically, festive GMV has been more dependent on mobiles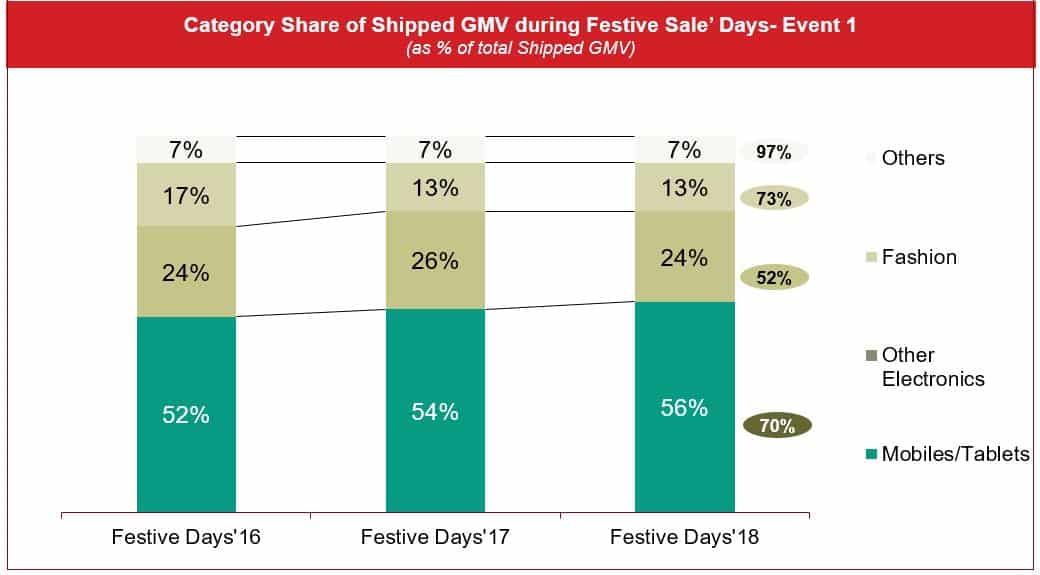 ---
For the whole festive month from starting from 29th Sep 2019, e-tailers likely to achieve USD ~7 Bn GMV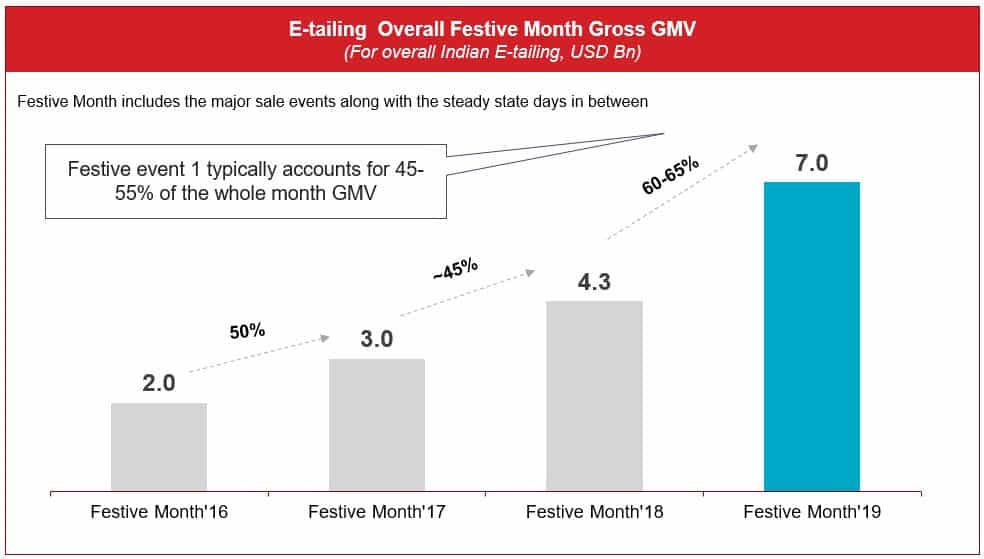 ---
E-Tailers on track to significantly reduce cash burn over next few years 
Published on: Sep 2019
Cash burn expected to drop significantly for e-tailers over next few years

Biggest levers supporting the trend are the rapid growth of higher-margin categories (vs mobiles) and improved supply chains to rationalize costs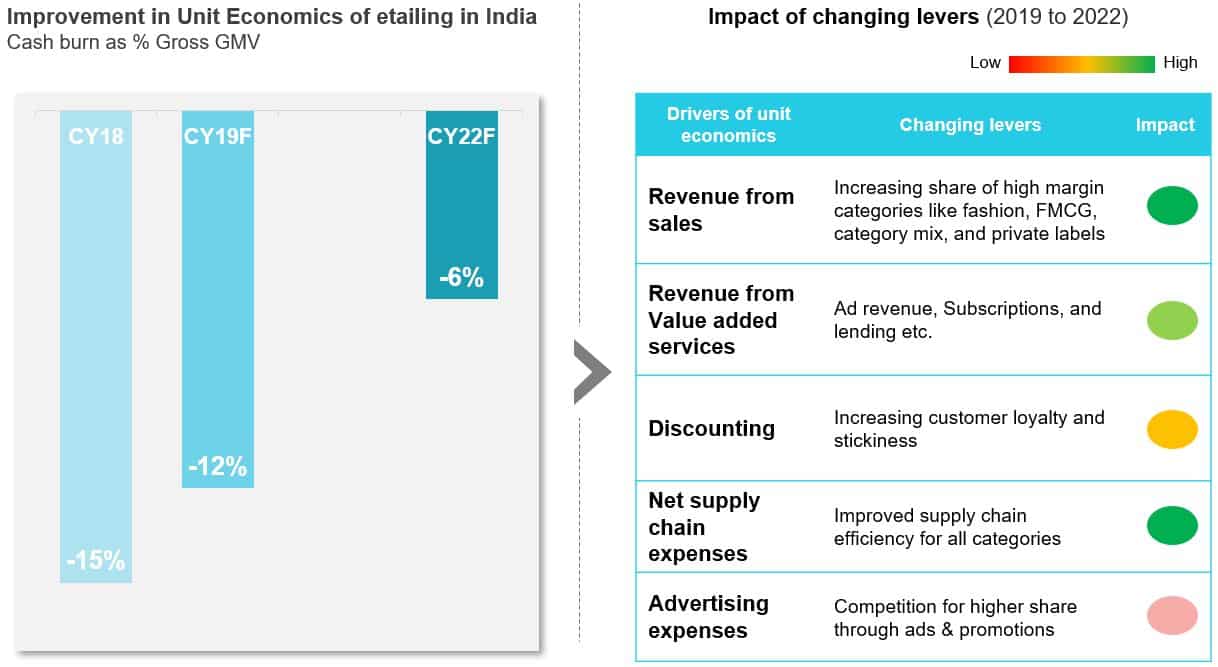 ---
Despite slowing growth of mobiles category, e-tailing firmly on track to grow 32% in 2019 and reach USD ~82 Bn by 2022 
Published on: Sep 2019
2019 to see the slowest growth in online mobiles sales in the last five years

Despite the slowdown in mobiles, e-tailing to continue its rapid growth trajectory owing to success in other categories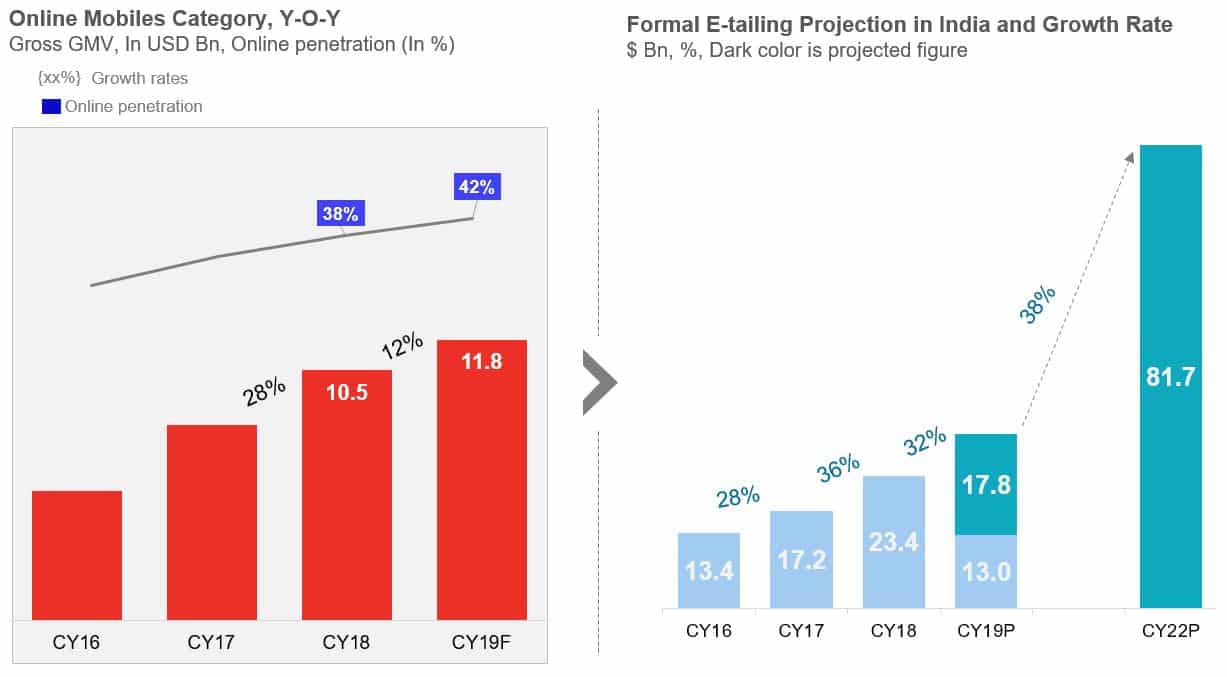 ---
The slowdown in online sales of mobiles category = opportunity for other categories
ePharma growing at 100% YoY

Online fashion to be the largest contributor by 2022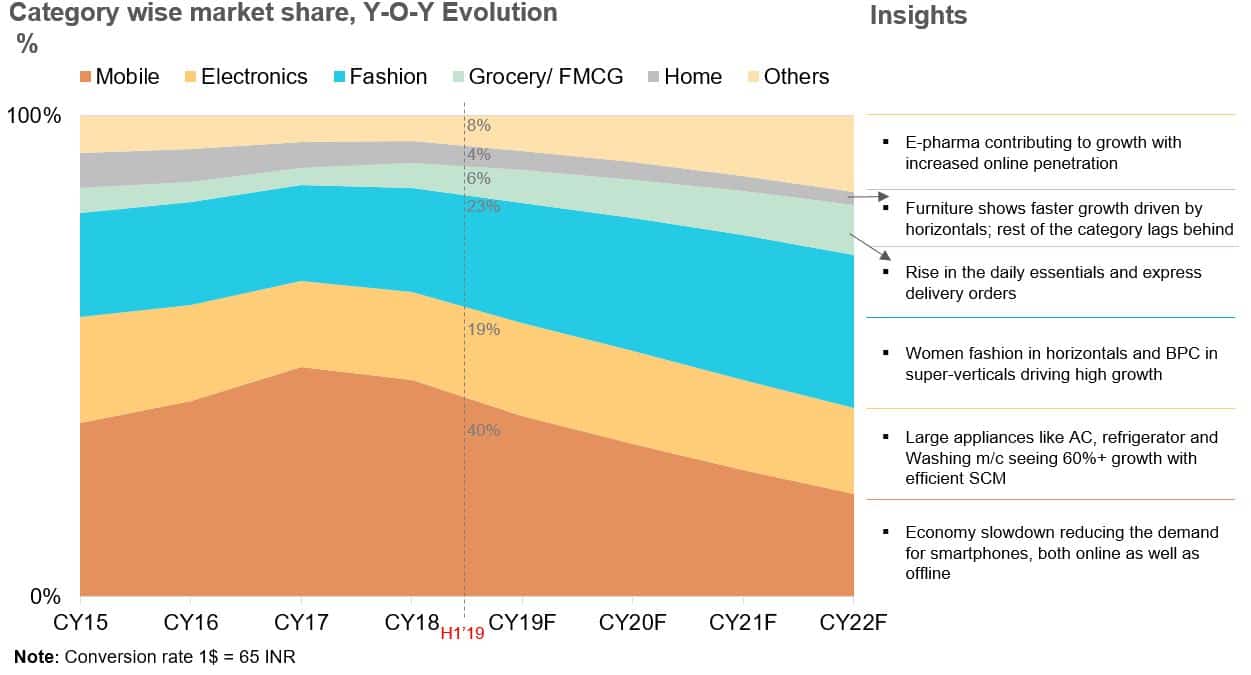 ---
The story of Amazon Prime in India- as told through three charts 
Published on: Jul 2019
On the occasion of the Prime Day sale event, we conducted research around the scale of Amazon Prime in India, key messages from which are shown below.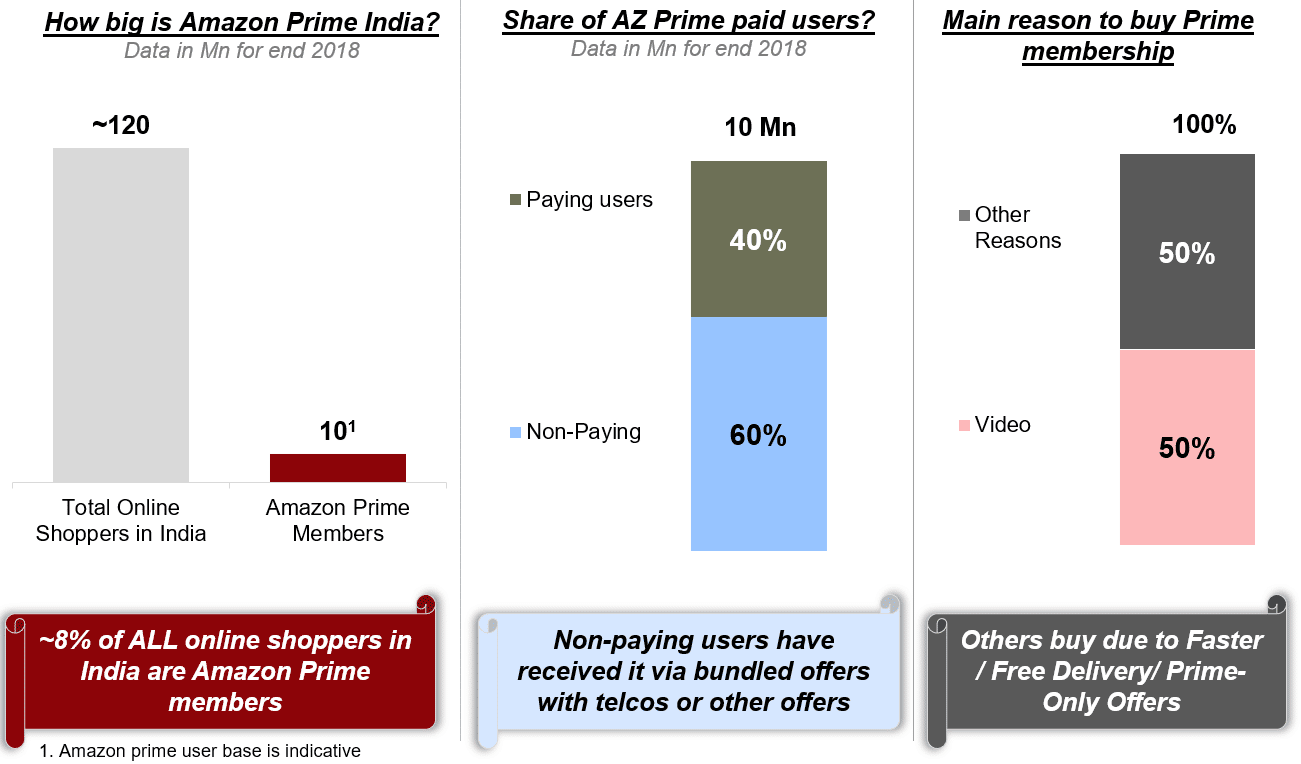 ---
E-tailing on track to reach RedSeer's forecasted USD 32 Bn GMV for year 2019
Published on: Jul 2019
RedSeer had forecasted in early 2019, that the sector would be on track to hit USD 32 Bn in 2019 year. A mid-term health check of the sector shows (done in May 2019) shows that the first five months of the year have been strong for the sector, with both horizontals and verticals growing 29% y-o-y. Going by last year's share of GMV accounted for last 7 months of the year, e-tailing should be able to hit the predicted GMV of USD 32 Bn over the year, indicating a 33% y-o-y growth.
Next stage of E-Tailing growth to be defined by a new generation of player who

have

gained strong initial traction
While the growth in e-tailing has been traditionally led by horizontals and more recently verticals, we are bullish that the next wave of growth would come from specific niches that cater to a much wider set of consumers, including ones from smaller cities and lower income groups.
Some of these emerging niches are in group buying, social commerce, and live commerce space. RedSeer on these emerging players shows strong indicators of traction- in terms of high adoption and satisfaction of the end user. Which bodes strongly for their future growth.
---
USD 9+ Bn 2023 digital wholesale pie likely to be captured by full stack players
Published on: Jun 2019
India's vast retailer/MSME ecosystem faces multiple challenges in day to day operations- from procuring merchandise in a timely and cost-effective fashion to securing working capital. Digital wholesalers like Udaan and Jumbotail have squarely targeted these retailer needs and have swiftly moved to establish a full stack offering- incorporating wide product selection, doorstep deliveries, and credit availability at affordable interest rates.
Investors have rewarded the full stack players, with Udaan capturing a large share of investor attention and funding. We expect that a successful business model in this space will require a large scale full-stack solution that can make the market realize its full potential of USD 9+ Bn size in the next five years. 
---
E-Tailing market finally moves away from mobiles and electronics categories
Published on: Jun 2019
The Indian e-tailing ecosystem always had a high share of mobile devices category, with the figure often exceeding 50% of all GMV in certain quarters. Despite all efforts from e-tailers to wean customers off mobiles, seemingly nothing could end the love affair between Indian consumers and online purchase of mobile devices.
Yet it finally seems like things are changing, as the mobile category share started dropping below 40% since 2018 and likely to stay at ~35% for 2019 as a whole. Multiple factors are likely driving the change- saturation of demand, reduced discounting, the impact of recent FDI rules which changed the supply structure of the categories, wider-than-ever selection, and better-than-ever shopping experience for other categories.
This change bodes well for the whole ecosystem- for horizontals, it indicates a clearer pathway to profitability, with a GMV composed of higher margin non-mobile categories. For verticals, this growing comfort with non-electronics helps them to increase their total consumer base and attract buyers by offering a better experience.
---
India's online retail category mix poised for significant change in next few years
Published on: Apr 2019
For the longest amount of time, India's online retail scenario has been dominated by mobiles category, which accounts for ~50% share of the market. However, RedSeer research shows that the share of the category has started to trend down as the other categories like fashion, home and FMCG gain traction.
We believe that further with the new FDI rules coming in and macro trends like slowing mobiles sales poised to kick-in soon, we will see a further rebalancing of the category mix to non-mobile categories. Thus, driven by these trends, we expect the share of mobiles to come down to 37% over the next few years. This rebalancing of the category mix should lead to two trends as below-
More sustained growth in terms of bottom-line, as the non-mobile categories have much margins vs others

Opportunities to create new large players and unicorns across the categories
---
E-tailing cash burn will shrink to 1/3rd its current rate by 2023 driven by category mix change
Published on: Mar 2019
E-tailing as a sector lost $15 for every $ 100 of GMV in 2018. We expect this to shrink to $12 in 2019 and $5 in 2023. The significant shift in unit economics is driven by multiple factors, most important being the change in segmental revenue split – Falling share of lower margin Mobiles and Electronics and rise in share of higher margin Apparel and Home. The change is an indication of the evolution of E-tailing driven by higher share of business from categories which have lower but more frequent buying pattern.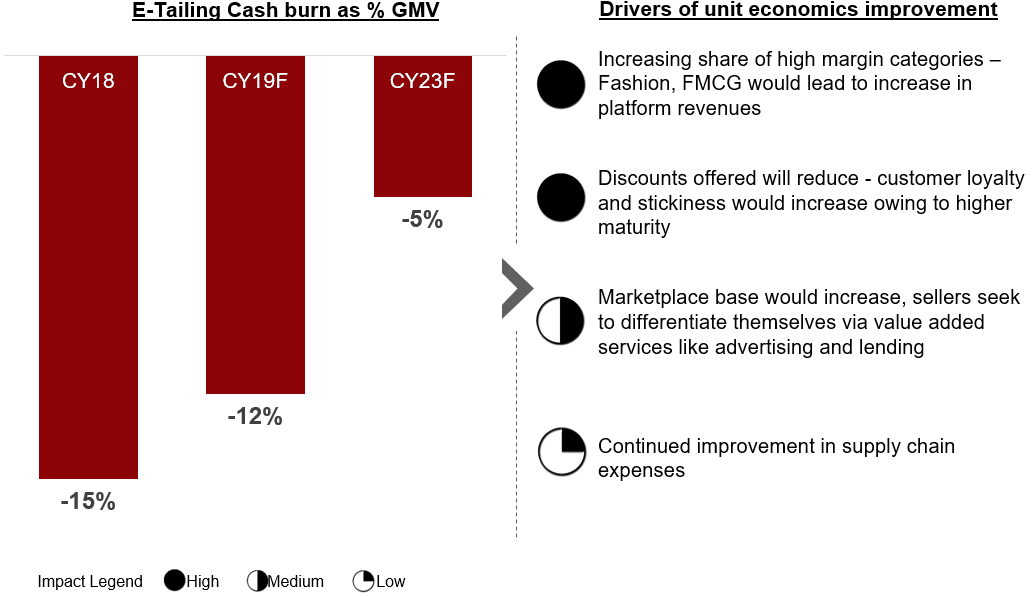 Other than change in segmental contribution, the discounts offered by the sector will likely fall. We believe increasing internet user maturity and trust in the internet ecosystem will lead to customer stickiness that will drive sales despite of lower discount. As a fallout of the recent FDI norms, marketplace model is expected to gain prominence resulting in widening of revenue base for leading players to higher margin verticals (Fashion, Home). Additionally, as the marketplaces evolve, we expect new streams of revenue to emerge like digital advertising and financing solutions and play a greater role in e-tailers topline. Finally, the sheer scale of E-tailing in 2023 (~$90 bn) will drive economies.   
---
E-Tailing: Tumultuous platform-seller history but latest govt. norms could accelerate shift to a more stable relationship
Published on: Feb 2019
Given the noise around the latest govt. regulations (and the ones that have preceded it), we found it instructive to look back into our historical datasets to uncover the origin of the current issue. The infographic below makes the story very clear (note- this infographic is part of RedSeer's upcoming report on the impact of the new regulations in e-tailing).
From CY15-18, e-tailers were rapidly adding sellers as they tried to build the largest marketplace in the country. However, it was clear that the growth engine is still smartphones. Thus, while seller addition continued rapidly, e-tailers saw their sales mix shifted heavily into smartphone and electronics, which were supported by direct partnerships with brands. This led to strong pushbacks from sellers as they were not only crowded out in the online market and had lower than expected sales, their offline sales were also heavily affected especially in electronics. Thus, we see a strong drop in NPS from both large and big sellers across categories in midst of this turbulent period.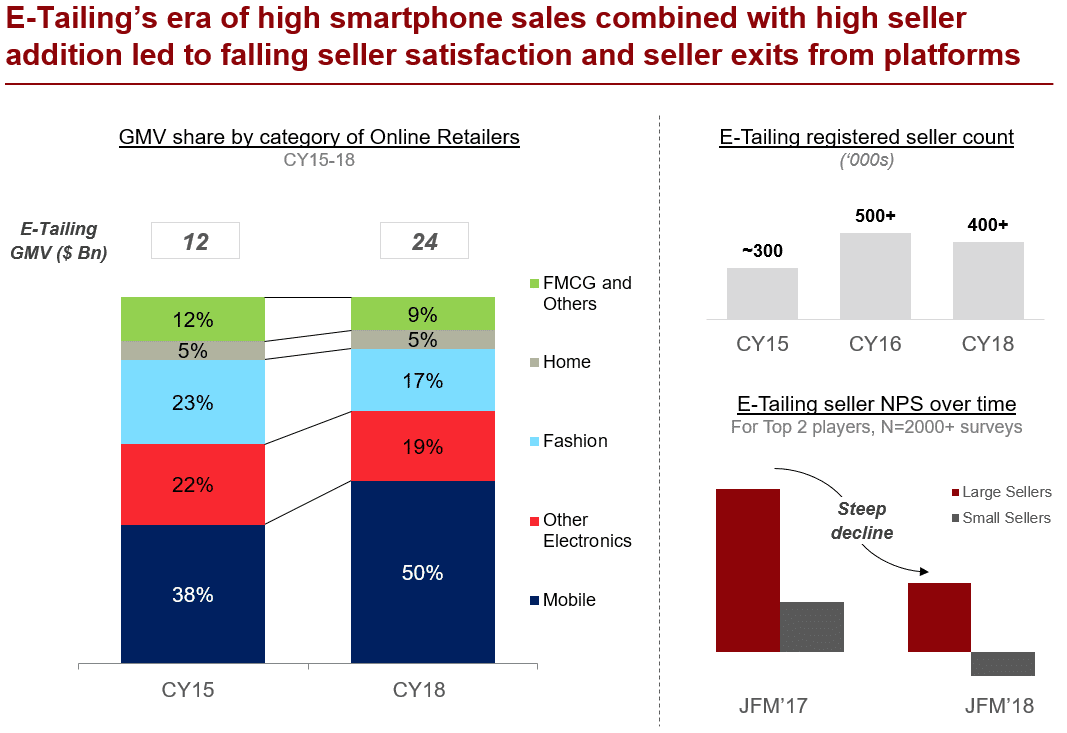 Given this context (and other factors) the latest pushback from regulations slide was inevitable. So, what's next for e-tailers? We believe that while there will be short term challenges from current regulation, the future is moving towards relationship stabilization for the sector-
Like the trend in other markets like China, India's seemingly insatiable hunger for smartphones is bound to fizz out soon– So a shift toward a broader mix of categories including long tail ones like fashion is on the horizon. Where pure marketplace play is more crucial than direct partnerships
These latest regulations will likely accelerate the shift in the above direction, towards what we term as 'democratization of the e-tailing marketplace'. Which will finally enable e-tailers to move into the earlier described 'Stage 3', where the platform-partner relation finally stabilizes
RedSeer dissects the new regulations in our upcoming report. We provide an in-depth perspective on-the history of this issue, a detailed analysis of the policy itself, mitigation strategies of players and short- and long-term impact on the ecosystem. 
---
Social e-commerce: Driven by the 'trust deficit' of Indian digital population
Published on: Jan 2019
From our internet usage funnel shown below, India has ~170 Mn people who are using social media but are not online shoppers (orange zone of the chart below).
There are multiple reasons why these people choose not to shop online- trust being the biggest factor. It is this trust gap that many social ecommerce players are seeking to bridge by converting the social media sellers (who are selling on platforms like WhatsApp, Instagram) into an intermediary, 'plugging into' their respective trust driven network of customers and then offering a vast variety of value-added services to these sellers. Thus allowing these social platforms to indirectly engage with this large and fast-growing population base which is reluctant to adopt traditional e-commerce.  
---
The USD 17+ Bn opportunity
Published on: Jan 2019
E-tailing, so far, has been driven by planned purchase and branded products (Mobiles etc.) while social commerce is driven by unbranded products and 'impulse' purchases. For e-tailing, average consumer spend is >200$ annually, driven by mobile and electronics. For social commerce, we expect it to be <100$ (Average fashion e-tailing shopper spends 90$ annually, out of which 25% is footwear, which is brand-driven). With ~170 Mn annual potential customer base who is on social media but not shopping online currently, this gives us an (admittedly optimistic) estimate of the social e-com market opportunity of USD 17 Bn. No wonder that this sector is gaining a lot of investor interest recently.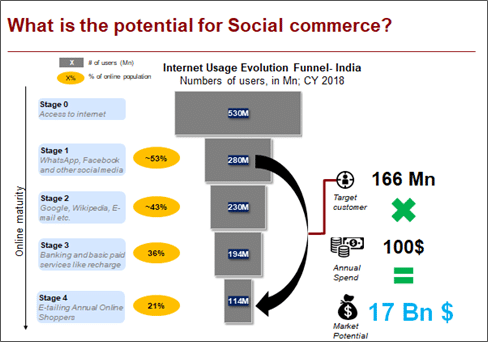 ---
Multiple models driving the market but who will survive in the long term?
Published on: Jan 2019
Varying models have emerged to cater to this large opportunity. Two of the major ones are Meesho and similar players who are essentially B2B platforms providing services to social media sellers. Another group of emerging players is what can be called the Pinduoduo model- offer bulk discounts on group buying to these consumers. Both these models have received significant traction and funding recently (see below chart).
In the context of so many players emerging, will all of them carve out niches for themselves or will this space be a winner takes all? Our view is that these are very early days to comment on the future competitive structure of the market. However, what is very clear is that players will need to keep an eye out for the biggies of e-commerce making an intrusion into their target segment. As growth slows in their core markets of higher income/ metro/Type A consumers, these large e-tailers are focusing on bringing Tier 2 shoppers online supported by initiatives like vernacular, omni-channel, personalization etc.
Thus, the big question is- Will the social e-commerce players be able to defend against these competitive incursions and prevent their customer from leaving them for the big e-tailers, thus achieving a Pinduoduo like significant scale in the market?  
---
2019 likely to see maturing of the multichannel strategies of e-tailers, which will drive next wave of customer adoption
Published on: Jan 2019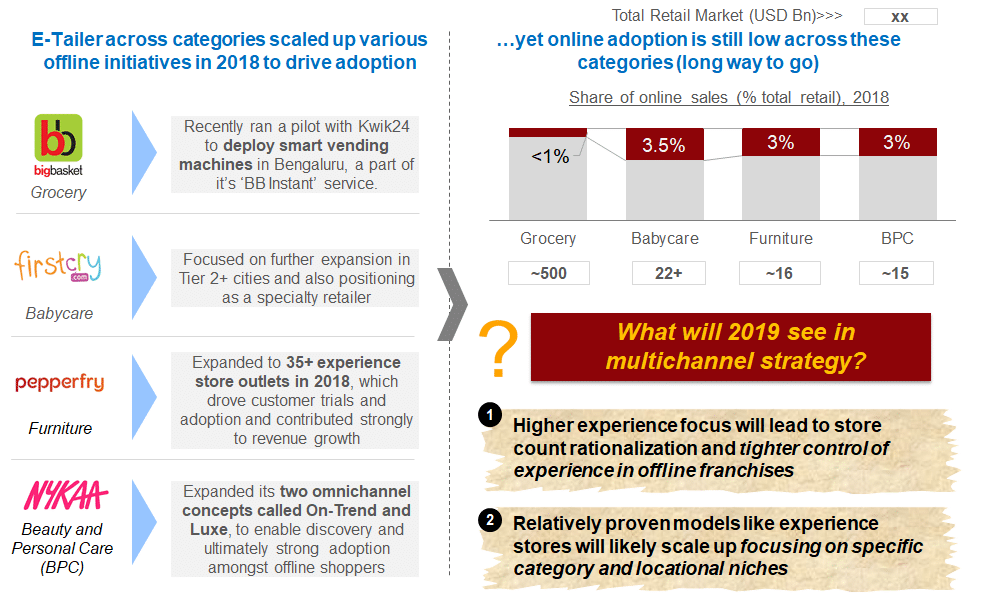 ---
Large appliances is one of the fastest growing categories in Indian e-tailing, with its GMV growing 100% from CY17-18
Published on: Jan 2019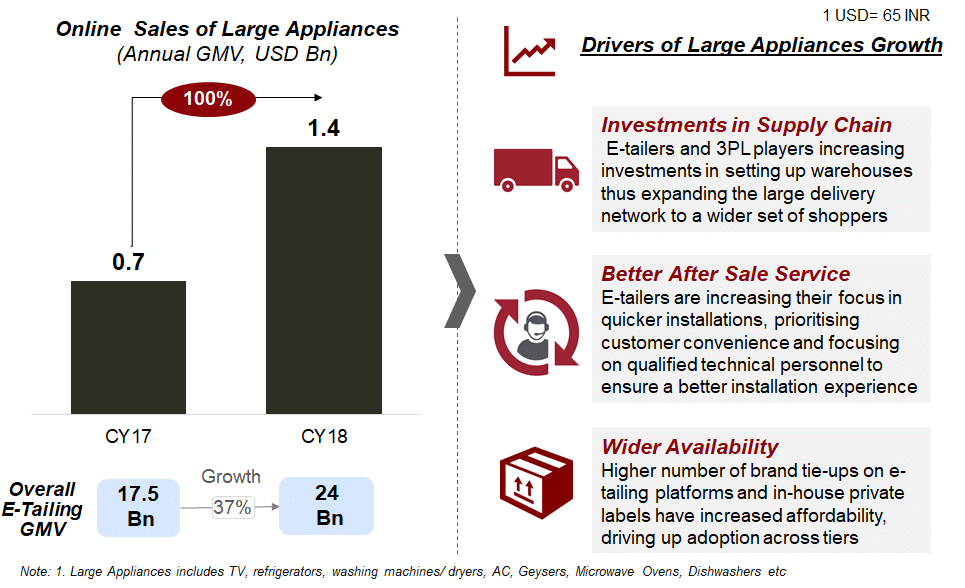 ---
CY18 – A year when specialized e-tailing verticals proved their mettle across categories while for horizontals affordability emerged as a big focus theme
Published on: Dec 2018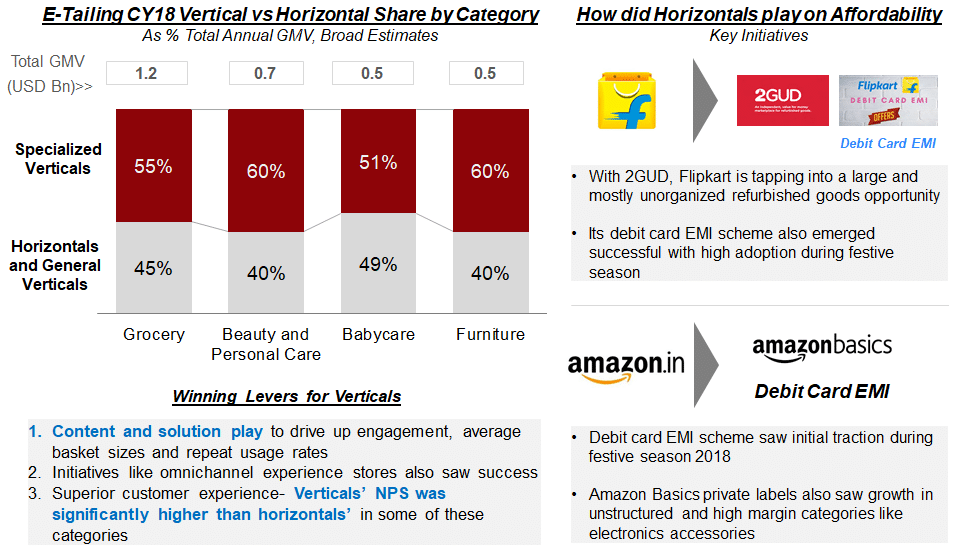 ---
Online retail is being disrupted by fast growing players which are 'democratizing' online shopping via better access and affordability
Published on: Dec 2018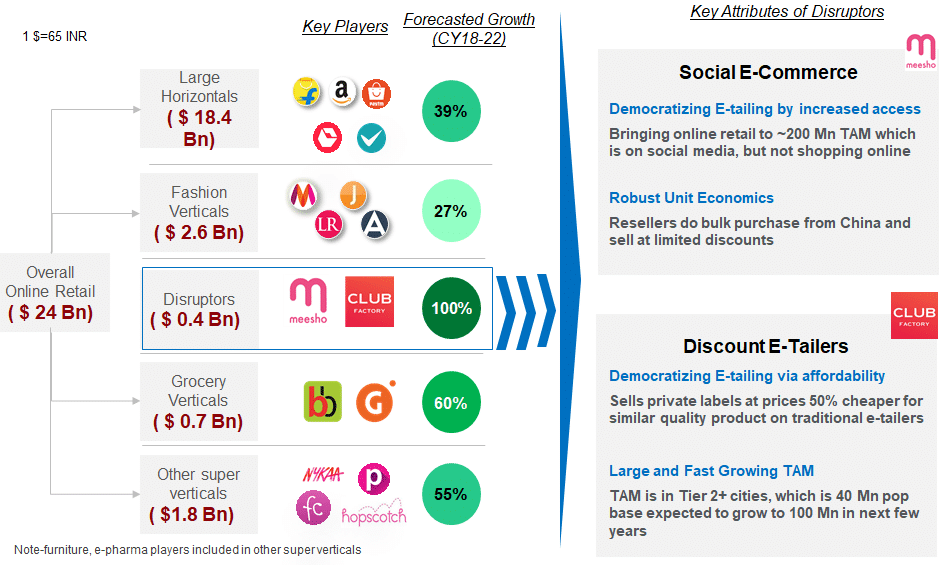 ---
The festive month sale in 2018 has clocked a GMV of ~4.3 Bn which is a ~43% growth over the 2017 sale period
Published on: Nov 2018
India's festive month saw the e-commerce sector growing with extensive participation from the Tier 2 cities along with companies rolling out new launches and discounts across product categories thereby increasing customer basket sizes. Fashion as a category has also seen considerable growth with a large number of deliveries coming from this segment apart from mobiles and electronics which constituted a major part of the GMV.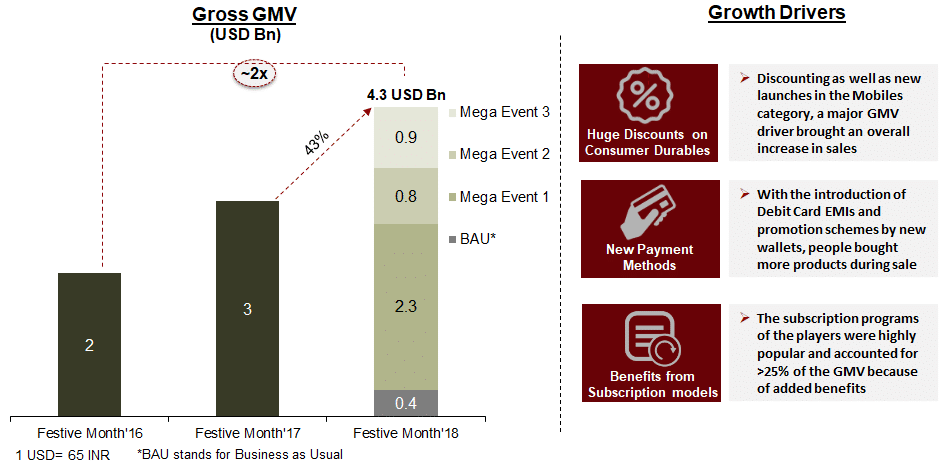 ---
Online retail shall become a USD 50 Bn by 2020  and the growth will come from Type B shoppers who are expected to become a USD 15-30 Bn opportunity by 2020
Published on: Oct 2018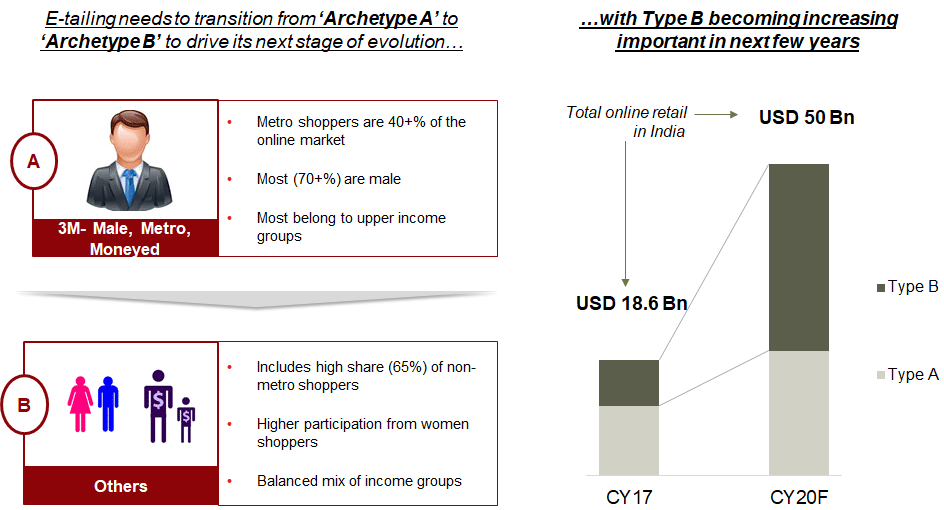 ---
E-tailers have slowed down the thrust on increasing the seller base
Published on: Jul 2018
Leading industry players have stopped the push towards increasing the seller base in the past few years. And are now focussing on growing business from the existing seller base. This helps them have a good control on the sellers to ensure the right products are getting delivered to the consumers.
Rapid growth in internet and smartphone users will lead to an increase in online shoppers
Published on: Jul 2018
The Indian consumers are becoming more digital savvy with each day. With the increase in smartphone penetration and reducing data prices more and more consumers are coming online. The e-tailers are also investing heavily to ensure they provide a good end-to-end experience. The combined effect of these two will lead to an increase in the number of online shoppers.
---
Rapid growth in digitally savvy users will lead to doubling of e-tailing share as a percentage of total retail
Published on: Jun 2018
The Indian consumers are becoming more digital savvy with each day. Reducing data prices and increasing smartphone penetration is leading to an increase in the data consumption per user. On the other hand, e-tailers are focussing on providing good end-to-end consumer experience. And hence, we expect the combined effect of these two will lead to an increase in the share of e-tailing market.
Industry to have 4.9 mn daily shipments by 2020
Published on: Jun 2018
The e-tailing industry had 1.8 mn daily shipments in 2017. The industry is expected to witness a 40% Y-o-Y growth powered by the increasing penetration in T2 cities coupled with emerging segments such as cosmetics and appliances in metros and T1 cities. We hence expect the daily shipments of the industry to reach 4.9 mn by 2020.
Increase in frequency of buying along with online shoppers across the categories will drive the industry growth
Published on: Jun 2018
The e-tailing industry is expected to witness a 40% CAGR to become a $50 bn market by 2020. Two key factors contributing to this growth would be increase in the number of shoppers and increase in frequency of buying online. The no. of shoppers are expected to increase with the shift in focus of e-tailers towards Tier-II+ cities. Increased online penetration of smaller categories with higher frequency of purchase will make the consumers more habituated with the platforms.
Online Grocery is expected to be one of the fastest growing category reaching ~4 Bn in 2020
Published on: May 2018
Online grocery and FMCG is the next key category of focus for all the large e-tailers. Online grocery habituates the consumer with frequent purchase thus ensuring the consumers are more accustomed to shopping from the e-tailers. The e-tailers are hence focussing big time on this category. The large verticals on the other hand are growing at a rapid pace. Hence, we expect this category to reach $4 bn by 2020.
Indian e-commerce Industry has two-fold challenge of "Less people buying" and "People buying less"
Published on: May 2018
India has one of the lowest online shopper penetration in comparison to other countries which signifies that a small share of internet users is buying online. However, the penetration in metro and tier-1 cities is growing at a faster pace than tier-II cities. Also, the annual spend per shopper on online shopping is still very low in comparison to US and China. This is not so much a sign of worry as Indian e-commerce is on a growth phase and the new consumer coming to the platforms, shops for lower price standardized products. We feel going forward the online shopper penetration will increase and the e-tailer will be able to provide a good experience resulting in the consumer buying more.
While purchasing experience is satisfactory, delivery and post delivery experience (esp. customer support) needs improvement
Published on: Apr 2018
The Indian e-tailing consumers are quite satisfied with the purchase experience and we have seen this improve over time. However, the post purchase experience comprising of delivery, returns, customer support and refund days still remains an area of concern. The e-tailers are thus continuously investing in expanding their supply chain capabilities and reach to improve the post delivery consumer experience.
Mobile is winning the war against desktop with mobile (App + Web) accounting for 70% of GMV sales
Published on: Apr 2018
The Indian e-tailing consumers are getting more and more habituated with ordering through mobile phones. The share of GMV ordered via apps and mobile websites accounted for nearly 70% in 2017. This was powered by increasing usage of smartphones in India and falling rates of data due to the effect of players like Jio. We feel this trend would continue; as new set of consumers who would be arriving in the platform would largely be from Tiet 2+ cities who would be using mobile phones primarily to place the order.
COD is expected to remain stagnant at ~50% as the focus of the industry shifts to Tier-II+ cities
Published on: Mar 2018
The share of COD which was impacted due to demonetisation and stabilized post it is expected to remain stagnant. Though there has been an increase in the adoption of digital payments, there has also been a shift of focus of e-tailers towards the Tier-II+ cities. These two situations are set to cancel out the effect of each other resulting in the share of COD being stagnant.
The industry has more than 30% returns and cancellations
Published on: Mar 2018
The e-tailing industry is dominated by high returns and cancellations with the difference between shipped and fulfilled GMV being more than 30%. Fashion category has the highest cancellations and returns while mobile and appliances has the least. We feel the industry needs to focus on ensuring the right products get delivered as 30% is good amount of revenue to be lost.
Inventory share is expected to increase to 70% by 2020 driven by large horizontals which are majorly inventory led
Published on: Mar 2018
The e-tailing industry is expected to move more and more towards the inventory led models. With the horizontals majorly driving growth. The horizontals have realized that in order to control the overall consumer experience it is imperative to have their own inventory. The reliance on marketplace model is hence going to decline going ahead.
Paid ads generating multifold revenues for online sellers
Published on: Mar 2018
Sellers of e-tailing industry are eventually choosing the option of paid ads over other traditional methods. 83% retailers confirmed revenue hikes using the sponsored content. With such a high impact, these services are turning out to be a new area of exploring business profits for the e-tailing players.
FMCG is the highest growth potential category while mobiles and large appliances have fairly higher penetration
Published on: Mar 2018
The e-tailing industry currently has the highest penetration of mobile and large appliances. This is driven by behaviour of users buying standardized products with reliable delivery experience. FMCG which currently has the lowest penetration is a key growth category for the players and is expected to have a higher growth in 2018.
E-tailing GMV growth is driven by strong growth of mobile category
Published on: Feb 2018
The e-tailing GMV is driven by the strong performance of mobile and electronics which has seen a 45-50% increase from last year. Although FMCG has seen the highest growth, they contribute just 6% to the overall GMV of the industry. We feel going forward electronics would be the category driving growth for the industry.
Tier-II+ cities is expected to have 50 Mn+ online shoppers in 2018
Published on: Feb 2018
The e-tailing industry is currently witnessing Tier II+ cities as the fastest growing market. The industry added 10 Mn shoppers in 2017, expected to add 19 Mn more in 2018. Followed by Tier I cities which added 3 Mn shoppers in 2017, expected to add 4 Mn more in 2018.
30 sale days contributed ~30% of the annual GMV in 2017
Published on: Feb 2018
The Indian e-tailing industry is flat-out sale driven. Sale days are just 10% of the year and account for ~30% of the annual GMV. We saw an increase of ~30% in the average order value and ~200% in the number of daily transactions during this period. Sale days work as a good anchor to bring new customers to the platform and inculcate the habit of buying online.
---
The industry touches ~ USD 20 bn in OND-17
Published on: Feb 2018
The e-tailing industry had a very positive OND-quarter with the GMV touching nearly USD 20 Bn, primarily driven by the increase in the number of shoppers from T2+ cities. Going forward we feel that these new shoppers who have found value in online shopping will continue to shop online and more new users who have come online powered by Jio will adopt online shopping.
                                                       E-tailing Q-o-Q Annualized GMV (USD bn)
Tier-II+ online shopper population is the growth driver for e-tailing – growing 3X faster then metros
Published on: Jan 2018
E-tailing industry saw a rapid increase in the number of shoppers in T2+ cities in 2017 contributing nearly 41% of the overall online shoppers in 2017. This is going to be the significant lever for the growth of e-tailers in Indian market in 2018 as well.
                  % Growth in number of unique shoppers from 2016 to 2017
E-tailers on track to record their biggest quarter ever in Q3 CY17- which should push industry size to USD 17+ Bn for CY17 as a whole
Published on: Jan 2018
Driven by a very strong e-tailing festive sales in Sep'17, with USD 1.5 Bn of sales generated over 5 days, e-tailers are likely to see 45% y-o-y growth in Q3 CY17. Which should put industry on track to grow 20% y-o-y for the whole of CY17- a marked improved from the slowdown recorded in CY16.
CY-Q2 brought the much-needed cheer in Indian e-commerce industry, with healthy double digit growth
Published on: Jan 2018
Fashion, a key underrepresented category, contributed in the biggest way. The no. of shipped units for Q2 CY'17 reaching the level of Q4 CY'16 (festive quarter).
                                   E-tailing Industry, Total Shipped Units
            (For each quarter in the calendar year, post-cancellation, millions)
Y-o-Y growth for e-tailing sector is likely to pick up in AMJ'17 vs previous quarter, on the back of multiple successful sale events
Published on: Jan 2018
While Y-o-Y growth remained muted in the JFM'17 quarter, the AMJ'17 quarter is likely to see a positive uptick, driven by the impact of successful sales events. Mobiles category has been an especially important sales driver, but sector's increasing dependence on the same is a point of concern.
With orders getting delivered faster than ever before, online shoppers have never had it so good
Published on: Jan 2018
E-tailers have brought down average delivery times (pan-India) to just above four days, with more than 18% orders getting delivered within two days of ordering itself. And the delivery speed differences across players are consistently coming down- thus ensuring a highly reliable experience as a customer.
Flipkart has the highest share of big-spending online shoppers on its platform
Published on: Jan 2018
Flipkart's strong focus on high-value categories like mobiles and large goods has enabled it to have the highest % high-spending shoppers on its platform-something which also speaks volumes about the high trust placed on its platform by consumers.
Where are the promised volumes?
Y-o-y volumes growth in JFM'2017 has been negligible: The industry started at y-o-y volumes growth of <5% in the past quarter, clearly outlining the lack of success in increasing the monthly active shopper count beyond 15-17 Mn.
Lack of volume growth coincides with failure to push through high-volume categories: Volume share of categories such as fashion and FMCG has been steadily declining, from 48% in JFM'16 to 45% in JFM'17.  This is in spite of aggressive marketing efforts by players to drive sales – indicating the challenges involved in shifting the primarily offline customers in these categories to online channels.
Driving sales of high volume categories in 2017 will require e-tailers to solve key issues of potential online shoppers: RedSeer research shows that potential consumers of online fashion are discouraged to shop online by perceived pain points like –
1) Poor product quality
2) Inability find suitable designs and
3) Inaccurate listings leading to wrong product being delivered.
Sustained recovery or false start?
The industry continues its slow and steady recovery in 2017: With an average GMV run rate at USD 14 Bn in Jan/Feb 2017, 5% higher vs slump period of H1-2016, the industry seems to be on the (slow) path to recovery.
Smartphones are the architect of the recovery: Smartphones accounted for 53% of industry GMV in Jan/Feb 2017, higher than 49% share seen during most of the CY2016. The regular launch of exclusives continues to whet the Indian consumer's seemingly insatiable appetite for smartphones, thus driving the market.
However, a smartphone-driven recovery may not be very sustainable in longer term: Even as smartphone dependence increased, GMV share of high volume, high repeat categories like fashion and FMCG continues to remain flat in 2017, at 22% and ~3%. Lack of growth in such categories may point to deeper problems in onboarding new customers and thus create a sustainably growing GMV base.