India Internet has been growing steadily over the last decade paving its way through all the challenges and achieving new heights of success. 2020 was a year of challenge for many and while the pandemic has wreaked havoc on most traditional sectors, it has proven to be a boon for the digital economy.
Covid has definitely accelerated the growth path for many startups. Here are a few insights on how the growth trajectory changed and made India Internet IPO ready.
1. Over the last 10 years, India Internet has witnessed consistent growth
Growth trajectory of India Internet
India Internet grew at a CAGR of ~30% over the last decade, resulting in 13X growth of the sector.
This rapid growth has led to higher foreign investments, increased employment opportunities and improved standards of living for people.
2. And 2020 saw a marked change in consumer behaviour
How is your spend on following online/digital platforms going to evolve in CY21 vs CY20?
The E-tailing, Online Grocery, Foodtech, Edtech and eHealth sectors are expected to witness a definite increase in consumer spending this year. With Covid-19 expediting digital trends, the adoption of these online services has grown significantly and platforms have seen a huge spike in their user-base.
3. Which propelled India Internet on an even higher growth trajectory
India Consumer Internet GTV – Overall Market $Bn, CY20 – CY25F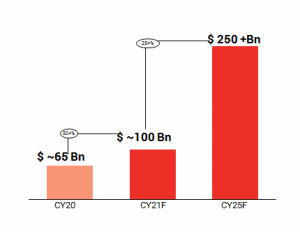 As new consumer habits are shaped by Covid, the user-base of the Indian consumer internet sector has grown rapidly. Furthermore, as consumers get accustomed to the greater convenience offered by online platforms, they are also increasing their wallet share toward the latter.
This, in turn, has accelerated growth for the consumer internet sector which is now expected to grow 4X over CY20 – CY25F
4. And also necessitated that platforms improve their unit economics thereby making India Internet IPO ready
~20-30% Reduction in Annual CAC spends for India Internet in CY20 sets the stage for IPOs in CY21
As online platforms see more adoption and increase in new users, they are clocking better unit economics. This is adding on to their stability and making them set for IPOs. A number of notable start-ups are planning to go public in the near future.
We at RedSeer are proud to have had the privilege of getting to be a part of these internet start-ups' journey, starting right from their seed funding and going all the way to their IPO and beyond.