1. India's USD 18 Bn unorganized pharma retailing market is ripe for digital disruption by ePharma players 
Published on: Aug 2019
ePharma (USD 350 Mn in 2018) is <2% of the overall retail pie currently, but poised to expand at least 40% y-o-y, driving significant action from companies and investors

ePharma continued action and attractiveness emerges from the fact that besides being a massive pie (USD 18 Bn), pharma retail is highly unorganized and fragmented and thus ripe for digital-driven consolidation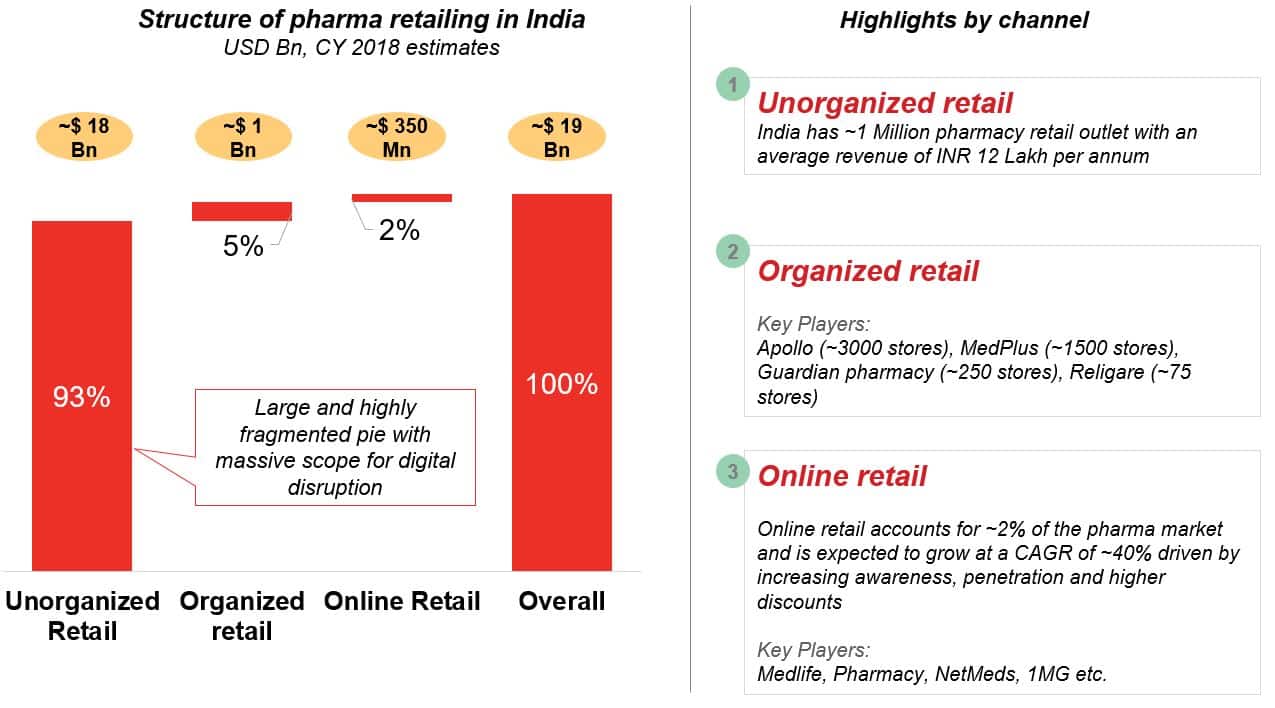 ---
2. E-pharma space on track to grow at 40+% CAGR by attacking the consumer pain points from offline channels
Consumer experience in offline medicine purchase is broken- with poor pricing and selection unavailability being major concerns, along with long waiting times

ePharma business models are able to directly attack each of these pain points very effectively, thus leading to massive growth potential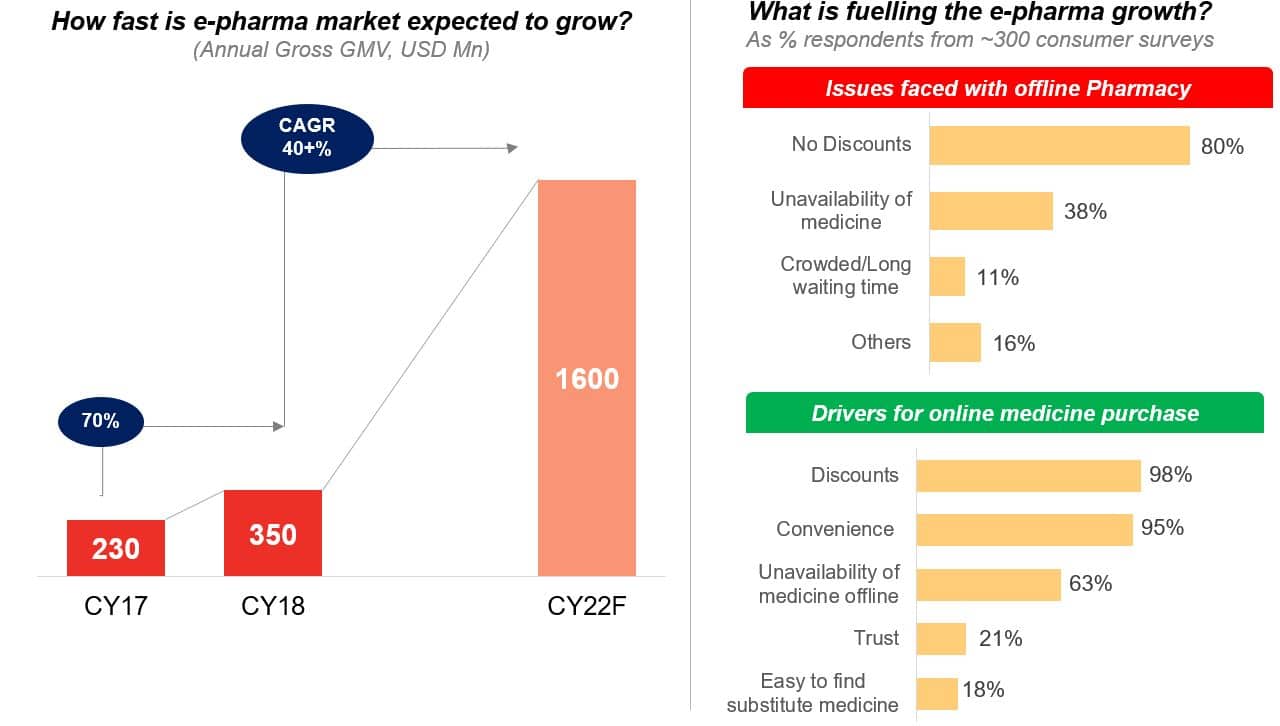 ---
3. Despite regulatory hurdles, e-pharma space on track to grow steadily owing to strong underlying consumer needs
Published on: Jul 2019
We are bullish that e-Pharma sector is on track to more than quadruple in size over next few years, despite all the challenges faced on the regulatory front. Our research on consumers indicates that there is a strong undercurrent of dissatisfaction with offline pharmacies on various parameters- low discounts, product unavailability, poor service levels etc. Which is prompting consumers to try online platforms- initially due to discounts but over time due to convenience.
As consumers continue to try online platforms and these online platforms improve their service levels over time, we expect to see the total as well as sticky consumer base both expand rapidly, which should enable the market to achieve aforementioned targets.
4. E-pharma in India gaining traction with players focusing on adjacencies
Published on: Mar 2019
Healthcare in India is ~$ 180 bn market with an expected CAGR of ~18% over 2017-2022. Organized healthcare is likely to report higher growth in coming years driven by higher penetration of organized healthcare services (hospitals, clinics and diagnostics) and well as increased penetration of organized Pharmaceutical product sales (Organized and Online pharmacy chains). 
Health-tech or Online Healthcare is one of the most encouraging sectors within the Consumer Internet space as it has the potential to expand the overall market basis its value addition on affordability and trust plank.  The sector benefits from high repeat use case, which trickles into the online platform as well. E-pharma is the most evolved sub-sector with a top heavy structure (~4 leading players accounting for 90% of the market).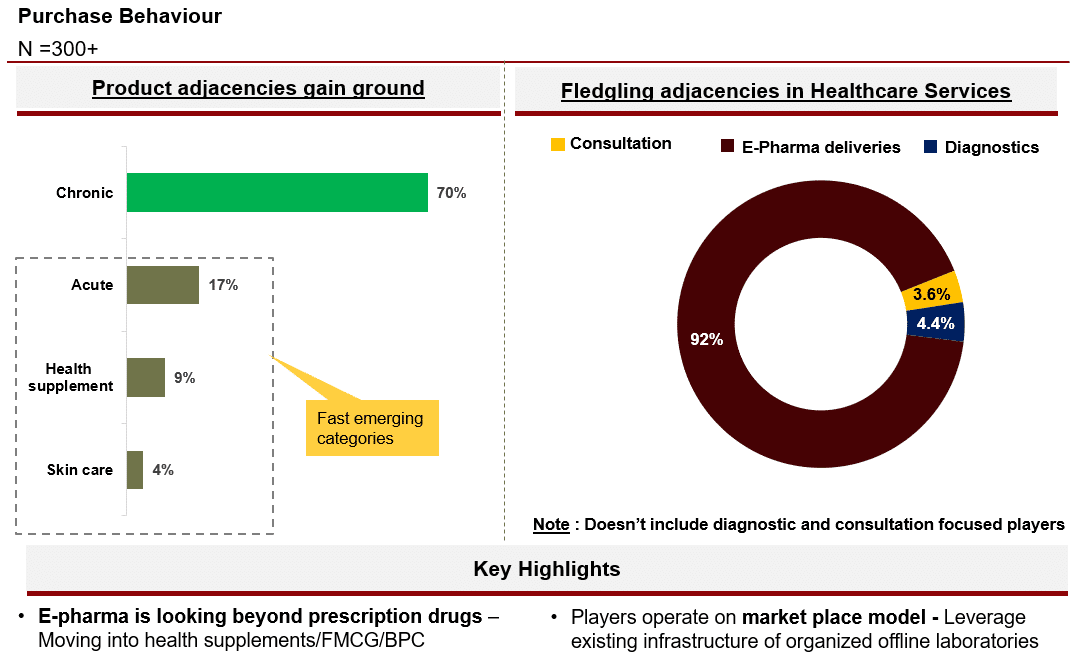 With ~5 years into business, leading industry players have realized the importance of building portfolio of (1) OTC/FMCG/Health supplements to retain customers and expand wallet size, and (2) services (diagnostics/teleconsultation) and generic medicine portfolio to improve margin profile. From the chart we see that chronic use case drive a disproportionate share of orders which leads to a higher fraction of repeat users. E-pharma is a high-ticket purchase (online Average Order Value of ~INR 1200) which compares favourably with fashion (~INR 1100). Ordering frequency is particularly high (~25-30 in Foodtech)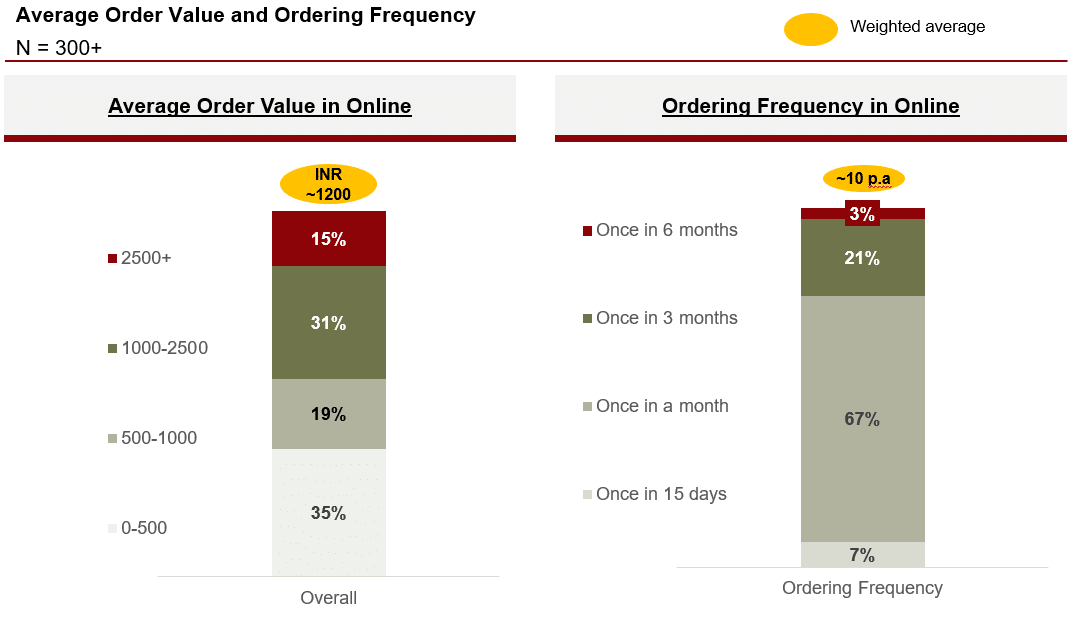 5. On the back of loyalty and trust, players aim to build service offerings across value chain
E-pharma companies have emerged as the largest players in Healthtech, we believe that future leaders in this space would emerge as full stack service providers offering services across the customer/patient value chain: covering the entire healthcare ecosystem. Even as online players try to capture a wider customer base, the current offline players in each of the value chain segments are focussing on building an online presence to offer a seamless omnichannel experience.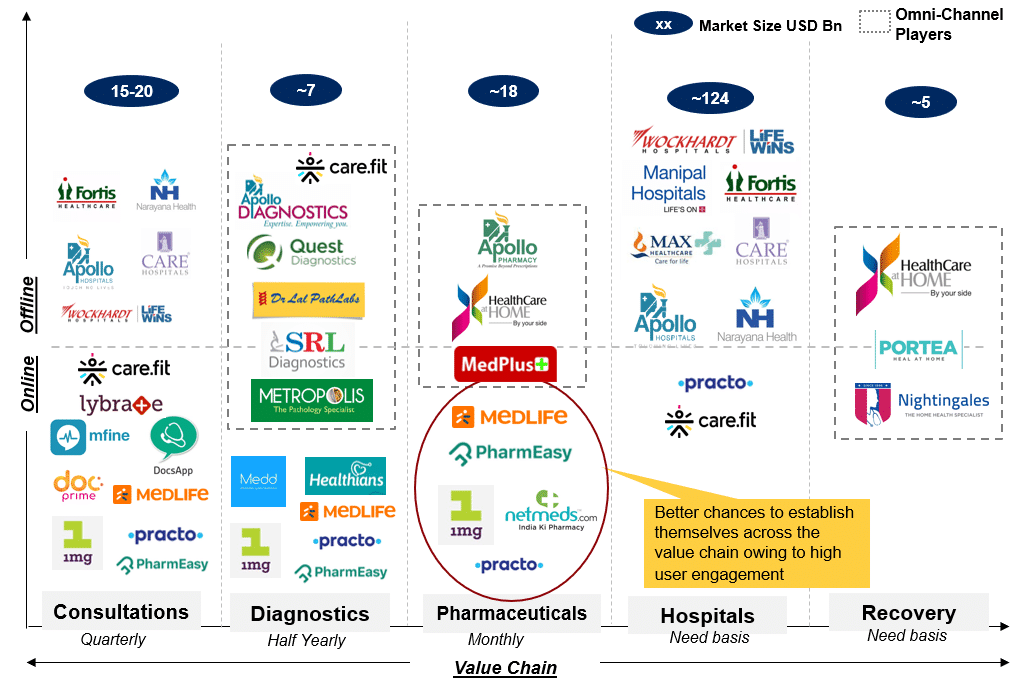 Models in China (Ping An Good Doctor, We Doctor) and US (CVS Healthcare) strongly signal towards the possible scenarios (1) improvement in asset utilization (Clinics/Hospitals), (2) use of AI/ML for diagnosis (3) linkage of medical insurance to medical history, among others. We expect leading players to actively pursue the inorganic route to widen and/or deepen their presence in the Health-tech space.
Globally, successful players like Ping An Good Doctor (China) have established a comprehensive, one-stop healthcare ecosystem covering family doctor services, consumer healthcare services, a health mall as well as health management and wellness interaction. Providing offerings across the health care value chain enables it to form a closed-loop healthcare ecosystem that allows users to enjoy online consultations, purchases, high quality and efficient doctor services. We foresee Indian companies following the footsteps of such models and provide one stop healthcare solutions for the Indian consumer. 
---
6. Preventive Healthcare: The current USD ~12 Bn fitness market is set to grow at an annual rate of 27% to become 2.6x time the current size by 2022
Published on: Sep 2018
The fitness market currently dominated by the recreational sports and fitness formats is set to grow at a rate of ~30% with the increased interest of people in multiple sports activities thereby increasing the sports equipment sale. The recreational sports targeting all age groups, is expected to grow the most with the emergence of online venue aggregators, pay & play services, sports academies and large scale government initiatives like Khelo India Program.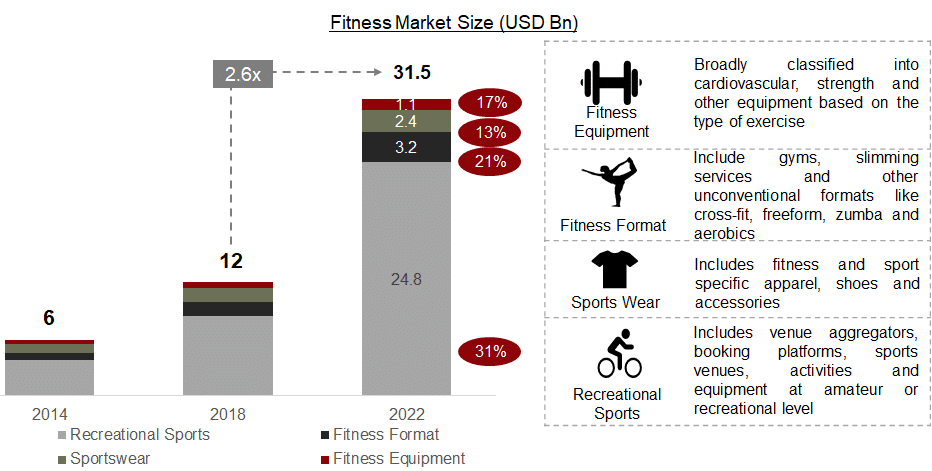 ---
7. E-pharma: The E-pharma space in India is facing challenges like the lack of coverage, awareness and trust in the players and supply is also an existing problem
Published on: Aug 2018
The online medicine market's growth is having barriers of not having extensive presence across cities, low awareness and trust in the existing players. Also the current users are highly disappointed with with the delay in delivery of the ordered medicines
8. Customers buy medicines mostly for family members on online platforms
Published on: Jul 2018
Majority of the customers of online pharma are young and digital savvy who buy medicines for their parents online. Thus in online pharma, we see a clear distinction between the customers and the consumers. The online medicine delivery players have been able to showcase value to the young tech savvy customers who are able to take care of the need of their parents without taking out much time from their busy schedules.
---
9. Med-tech: Healthcare expenditure of metro city households is more than double of tier 1 city households
Published on: Apr 2018
The amount of money spent on healthcare by households every year is more than double in metros than it is in the tier-1 cities. Within metros, Delhi-NCR spends the most while Kolkata spends the least. While in the tier-1 cities Amritsar spends the most and Coimbatore spends the least. Households spend the highest amount of money in medication followed by consultations and diagnostics spend. The med-tech players thus target the metros with online medicine delivery having the highest market size.
10. E-pharmacy market is expected to reach INR 1000-1200 cr. by FY 2020
Published on: Jan 2018
The e-pharmacy market is expected to reach INR 1000-1200 cr. by 2020. We believe the major drivers of this growth would be rising smartphone penetration, changing consumer lifestyle, increasing spend on healthcare and change in consumer mind-set from 'reactionary' approach to 'preventive' approach.
11. Despite regulatory hurdles, the ePharmacy market has been growing rapidly for the last four years
Published on: Jan 2018
The ePharmacy market in India is thriving with players aggressively expanding and innovating to drive mass adoption of these services. However, industry needs to solve its unique challenges e.g. the high cases of order loss by platforms due to prescription errors (>12%) to attain the next level of growth.