1. Dailyhunt emerges as the clear leader in terms of Reach and advertiser Trust
Published on: Jun 2019
RedSeer's Content Leadership Index evaluates the players in the market on the parameters of 1) Reach 2) Engagement and 3) Trust. We believe these parameters represent both the size and quality of the consumer base on these platforms and the monetization potential of this consumer base.
Basis of this approach to our CLI, our research shows clearly that Dailyhunt is the clear leader in the content landscape overall, followed closely by Tiktok. While the fight with the competition is relatively close on the demand side (Reach and Engagement) Dailyhunt leads its competition significantly in a crucial metric of advertiser's Trust.
2. Dailyhunt leadership in Reach driven by large MAU; TikTok is a close second
Dailyhunt's leadership in Reach is driven by its highest Monthly Active Users count. Which in turn is driven by a wide range of content covering both news and entertainment, which includes video-based content as well. Allowing the platform to attract a broad range of users across demographics, a metric which incidentally also drives advertiser interest.
3. TikTok ranks highest in Engagement owing to long time spent for DAU
In terms of engaging their user bases, platforms are ranked broadly similarly. With the clear exception of Tiktok, which has a massive lead on this count, likely owing to the engaging and diverse video-based content.
4. Dailyhunt leads in advertiser Trust, followed closely by Sharechat
Advertiser trust is perhaps the most important metric for digital content platforms, as it has a direct impact on platform monetization potential. From our research, it is clear that the Chinese platforms and UGC (user generated content) based platforms don't do well on this count, owing to the negative narrative against them.
Dailyhunt emerges as a clear leader on this metric, followed closely by Sharechat, indicating a high amount of advertiser trust in the platform and a clearer pathway to monetization vs peers.
5. Digital advertising to be a $7 bn opportunity by 2021 as purchase influences move online
Published on: Mar 2019
In sync with the rising share of the online platform across sales of key categories, we believe a larger cross-section of the influences driving purchases would also move online. We see customers across socio-economic backgrounds using digital platforms for product discovery, comparison, and research. Much of digital advertising growth has been captured by global behemoths like Facebook, Google, and Instagram. In recent years, however, increasing smartphone penetration and plummeting data costs have democratized data consumption and the next wave of internet users will come from Tier-II cities and beyond. The resulting base offered an opportunity for platforms that focused on the non-English speaking audience.
Exhibit 1 : Evolution of Digital Media in India.
6. Digital ad spends growing 3X faster than overall ad spend
Marketing mix of companies across the board has moved in favor of Digital. Out of the $14 bn Advertising industry (growing at ~10% CAGR), digital advertising is expected to grow at ~30% CAGR (3x Industry average) – share of Digital to increase from 12% to 35%.
Exhibit 2 : Overall, digital and vernacular ad spends.
Within Digital, the content consumption patterns have been changing fast. Earlier majority of the content was created in the western world and dominant social media platforms were English-focused. Of the 200mn new social media users over CY18-22, the majority would be from tier-2+ cities who prefer to consume content in vernacular languages. We believe vernacular digital advertising would be a ~$ 1.4 Bn opportunity by 2021, growing at CAGR of over 70%.
7 . Is it time for vernacular digital advertising to go mainstream?
Published on: Feb 2019
Digital advertising poised to see steady growth with growing digital user base

This digital user base has a fast-growing share of vernacular consumers, enabling new age content platforms like Dailyhunt and Hotstar to challenge FB+Google duopoly

Advertising spends on vernacular platfroms poised to become ~$1.5 Bn by CY21 from ~$0.2 Bn now
India is expected to see strong growth in social media and content users in next few years, with 200 Mn more such users expected to be added till CY22. Brands have seen this shift and have scaled up digital advertising focus accordingly- In our research with them, they agree that until 3 years ago, their budget allocation to digital channel was miniscule, however, now there is a marked difference. This trend is resulting in strong growth in the digital advertising market which expanded to USD 3 Bn in CY18.
The digital advertising market has largely remained a duopoly of Facebook and Google. Till a few years ago, Facebook and Google were the only platforms with a significant reach, and hence were able to command a large share of the pie. However, things are changing rapidly from the demand side. Majority of the next 200 Mn consumers of social media and online content will come from Tier-2+ cities. These will be users who prefer to consume content in vernacular languages
There are changes afoot on the advertiser's side as well. Our research with advertisers tells us that while they feel that they can successfully target Metro-audience using the Big 2 platforms, they are unable to reach Tier-2+ audience very effectively. Advertisers are hence willing to try out other platforms to reach the vernacular audiences, couple of which have gained strong attention recently (see below).
Current digital advertising duopoly is being disrupted by challengers, especially in vernacular content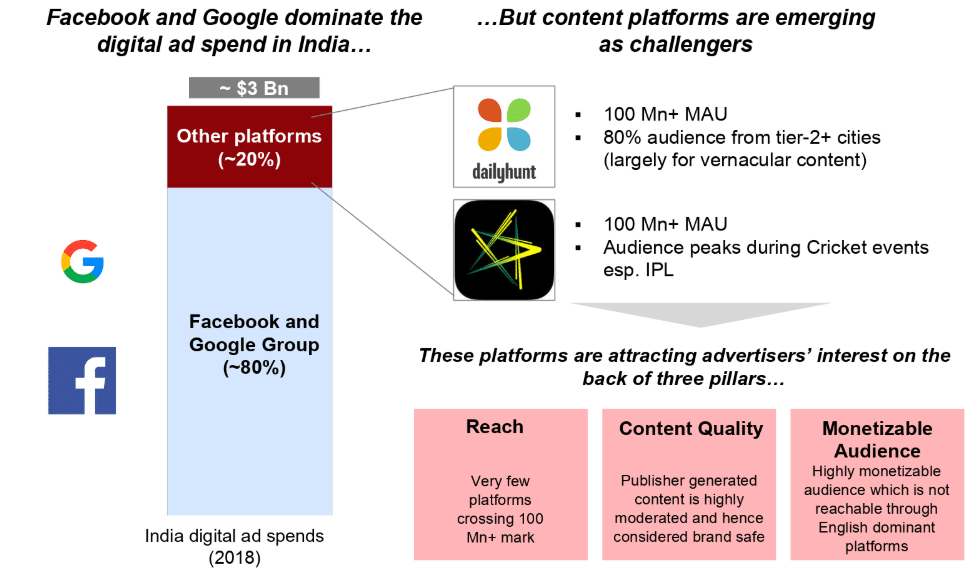 These platforms are the only large-scale ones which are doing well in the key metrics of reach, quality content and monetizable audience. Which makes them particularly well placed to attract advertisers which are focused on aggressively targeting the fast-growing base of vernacular digital users.
In line with these changes happening on the online consumer base and the growing willingness to advertisers to experiment with the vernacular content platforms, we see the share of digital advertising being allocated to vernacular content platforms growing rapidly in next few years (see below).
8. There are initial signs of acceptance of paid subscriptions amongst users of news aggregators
Published on: Jan 2019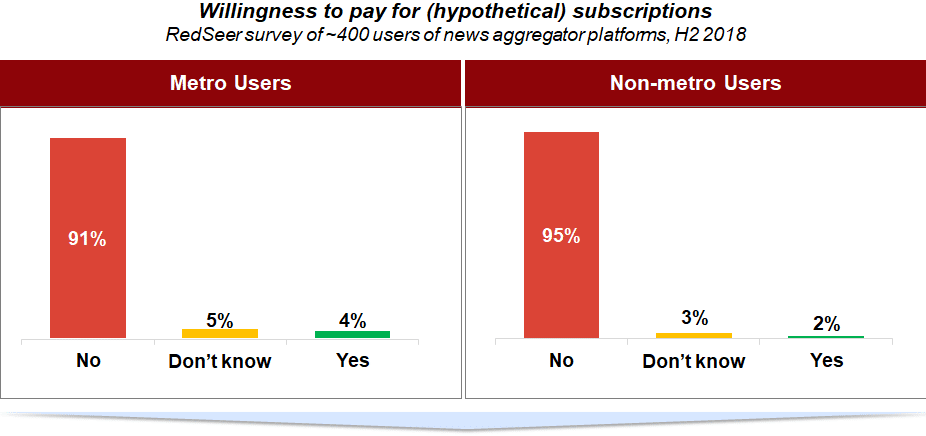 While the share of respondents saying yes to subscription remains small, it indicates an underlying need that can tapped into going forward

This would be part of their next strategic horizon for news aggregators as they seek to monetize their large and growing user
9. Users of news aggregator apps say that "relevant notifications" drives them use a particular app
Published on: Jan 2019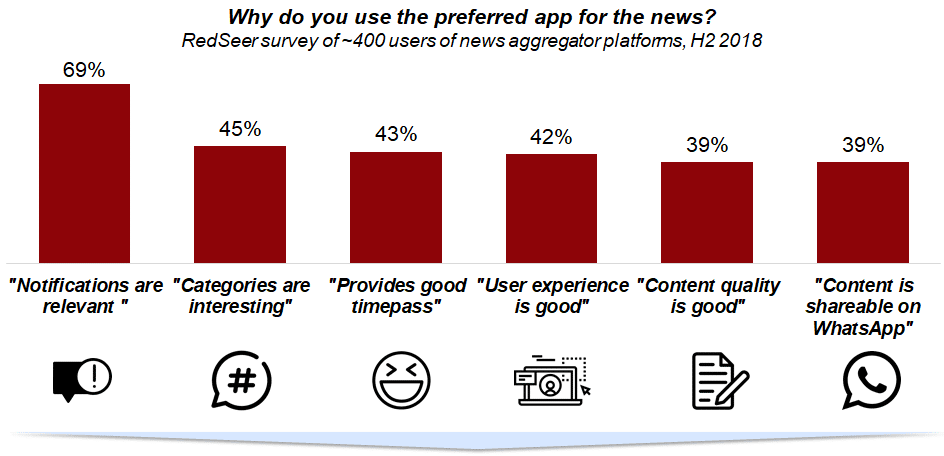 News aggregator platforms need to have significant focus on timely and relevant notifications to drive adoption, especially for next wave of users

Developing better user profiles and AI engines for giving notifications will be a key lever of this
10. News Aggregator: Online content in Indian languages is expected to be consumed by ~70% of the internet users by 2021 and this trend is reflected by news consumption patterns
Published on: Aug 2018
The current 276 Mn Indian users are expected to grow to 536 Mn users in 2021 and this trend is currently being seen in the news aggregators offering both Indian and English content, where ~80% of the content viewed is in Indian languages
11. More than 70% of the Consumers of News Aggregators apps use it every day
Published on: Mar 2018
The news aggregator players have passed the google toothbrush test with its usage. More than 70% of the consumers of these apps browse these apps on a daily basis. The key reasons driving the usage has been good quality content which is personalized and available in vernacular options.