1. InsurTech marketplaces are growing 100% y-o-y driven by strong growth of both incumbents and new entrants
Published on: Aug 2019
Key growth driver of sector incumbents is wide coverage viz strong presence in most insurance categories, across insurance providers.

An additional growth lever is a strong focus on customer service enabled by a large agent network covering life and non-life policies across multiple insurers.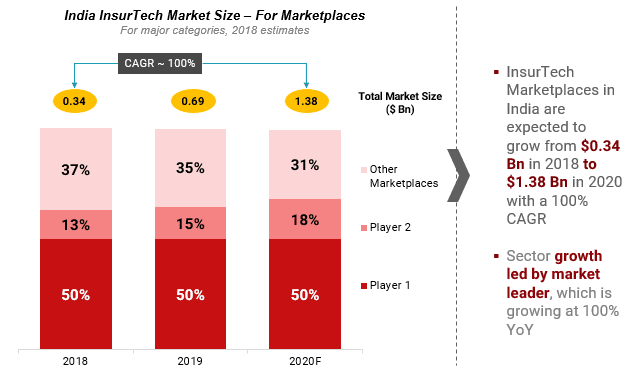 ---
2. Digital insurers are tapping multiple channels, and launching innovative new products to drive their share in the competitive Indian Insurance market
Published on: May 2019
Technology led insurance is rapidly growing in the underpenetrated Indian insurance market on the back of improved customer experience driven by digital journeys, and attractive products due to lower operational costs relative to offline counterparts. Since the product lines are majorly digitised, the online players are able to significantly reduce their operational expenditures, and therefore are able to pass on the benefits to the customer in the form of attractive insurance premiums / add-on bundles. Also, a major segment of the digital insurance consumers comprises of millennials who are on the lookout for convenient fixes, and these financial safety nets resonate well to their needs. This has led to strong initial growth for them in the market.
Launching newer product categories like Flight Delay / Pet / Mobile Insurance etc., innovating on product features driven by technology such as Self Inspection in Motor for filing claims, complete digitization of customer and partner journeys, and presence across distribution channels, has put these insurers on the path for strong growth.
As the chart below shows, the new age digital insurance companies were able to leverage this significant growth in their product portfolio, and expansion through their channels (Including Digital and Traditional Retail) to grow their premiums by ~4x from in short period of 6 months from Oct'18 to Mar'19.
Over time, we expect the momentum to further continue, as these companies continue tapping into newer innovative modular products, and continue expanding across channels. While Digital / Direct is a good bet for the long term, Traditional retail channel presence and digitization would be the key to drive growth.