Home & Living market in India stands at ~USD 28 Bn. and is set to reach ~USD 50 Bn. in 5 years
Published on: May 2019
Mattresses constitute ~15% of the Furnishing market, which stands at ~USD 11 Bn. in FY19
Mattresses are the only category in the Home & Living market that reflects a high share of branded play at ~35%
Branded mattresses are dominated by PU foam mattresses, but Spring mattresses are driving growth
The geographic segmentation of the market by brands & retailers has evolved from broad urban/ rural segmentation to a granular city type segmentation
Published on: Apr 2019
However, with the growth of high potential sub-urban clusters, the segmentation approach needs to be revised for efficient targeting
The clusters are not homogenous in nature. Differing economic factors & growth drivers bring heterogeneity to these clusters

It is imperative for brands & retailers to treat each cluster differently
Large clusters like Mumbai & Delhi have high granularity, requiring micro-cluster level targeting of customers
Brands & Retailers need to realign their strategy differently for various clusters to achieve further growth in their business metrics
---
Apparel contributes to ~7% of total retail in India with Men and Women accounting for ~80% of the market
Published on: May 2019
Men's apparel market is dominated by western wear while Indian ethnic wear constitute the bulk share in Women's apparel
Women's wear category is dominated by Indian wear. However, the share of western wear is expected to increase with increasing women in the workforce and increasing adoption of international trends

Also, increasing penetration of domestic and international brands offering western wear beyond metro and tier 1 cities are driving the growth in the segment

Shirts and T-shirts are the key categories constituting 40% in men's western wear and ~15% in women's western wear segment
The increasing trend of casualization in shirts owing to adoption of western trends and penetration of international brands
Formal shirt market is a consolidated category dominated by the presence of large Indian conglomerates including Aditya Birla and Arvind Fashion, whereas casual shirt market is fragmented with the presence of long tail of brands

Earlier, the opportunity in the casual shirt was catered to by erstwhile denim wear brands such as Spykar and Mufti in mid segment Further, the market has witnessed the entry of brands with a dedicated focus on casual segments such as Turtle, Indian Terrain, Indigo Nation, etc.

Increasing opportunity in the market has led to the entry of international brands and the introduction of a casual offering by traditional formal wear brands
T-shirts, which were earlier offered as a complementary product by denim & shirt brands, have evolved to a design-driven category offered by specialist players
T-shirts have evolved from being a basic clothing item to showcasing attitudes & beliefs which has provided an opportunity for brands such as Bewakoof and Tantra focusing on creating distinct positioning on content-driven design

Increasing focus on the private label by leading online retailers is further driving the growth of the t-shirt market in the country. Also, these online platforms have provided an efficient platform for the growth of celebrity led brands such as Wrogn, HRX, Nush, All about you, etc.

Whereas, leading international brands such as Zara and H&M have leveraged their global capabilities on design and supply chain to offer high fashion quotient products at affordable prices.
---
Value fashion retail market in India is a USD 50 Bn market with a high presence in tier II or III cities owing to easier availability of retail space, and a higher demand of lower price points in these geographies
Published on: Apr 2019
Players go for a cluster approach of expansion, rather than expanding to multiple regions at once, with most players focussed in the north and east
Most of the players have a scale-driven approach, gaining profits by larger scales rather than higher price per item
---
Small Kitchen Appliance market is pegged at USD ~1.5 Bn, with a growth rate of 6%…
Published on: Apr 2019
… characterized by a large number of regional players, with few national players capturing only ~45% of the market offering…
…more than two-thirds of the products in the economy and mass range driven by technological advances driving the prices down…
…and driving the growth of niche categories like Juicer-Mixer-Grinders…
…Induction Cook Tops and Toaster & Sandwich Makers
---
Fashion Jewellery market in India is ~INR 18,500 Cr market, and is growing steadily with an increasing share of online and organized B&M market
Published on: Apr 2019
Multi-Channel players dominate the online fashion jewellery market in India
The market has evolved from regionally focused players, to include national and international players, and is eventually evolving into multi-channel formats
Specialty fashion jewelry has a high concentration of branded players but also notices a strong regional player presence
Category specialty emerges highest on productivity metrics, followed by Specialty segment that succeeds in leveraging high conversion rates
---
Residential real estate to drive demand for building material
Publsihed on: Mar 2019
Commoditization to branded propensity : driven by design & technology
Design and Technology emerge key pillars for competitive advantage
Trade synergies underline diversification opportunities for the industry
High consumer engaging companies would be defined by the foray into complementing & synergetic categories
---
Cookie Jar : India's biscuits & cookies market is set to be ~ $10 billion opportunity by 2023, dominated by branded players marking ~90% of market
Published on : Mar 2019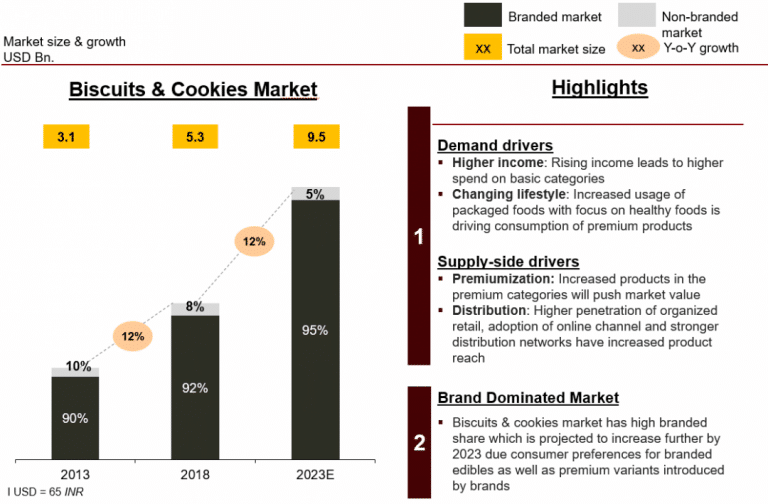 Specialized players have captured the market share from traditional players by focusing on premium segments like cookies & digestive biscuits
Increasing health awareness & increased spend has led to a shift from mass variants (glucose & cream) to niche segments
Leading biscuit players such as Britannia and Parle are diversifying into complementary categories such as confectionery, snacks, dairy etc. to reduce dependency on biscuit segment
Key players have introduced offerings across price points and product categories to cater to the demand of a diverse set of consumers…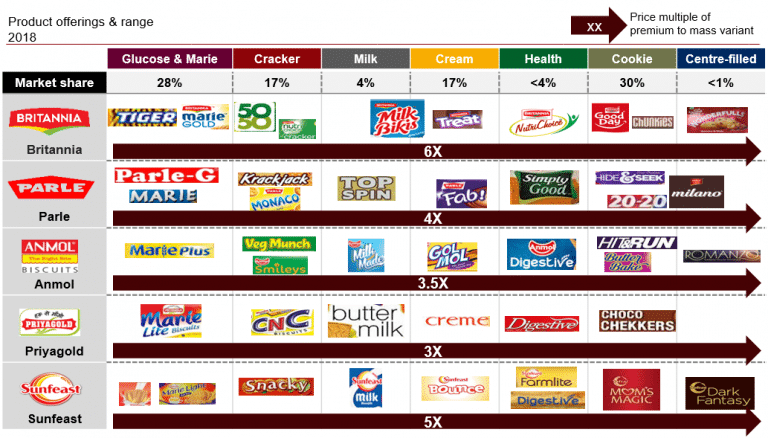 All major players have introduced product across the entire basket of biscuit category and are increasing focus on premium segment
Traditional biscuit players are losing wallet share to specialized players in niche segments and emerging substitute categories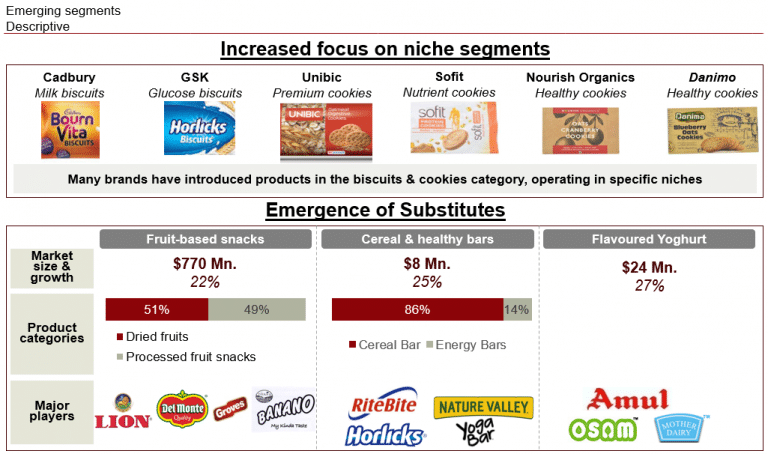 ---
Men's innerwear : Reflects highest branded quotient across lifestyle categories & expected to grow further to 60% share
Published on : Feb 2019
Adoption of higher priced premium brands coupled with the trend of consumers engaging with mass brands in smaller Indian cities is driving the growth of men's innerwear
Market driven efforts to offer a complete range of products including active wear and comfort wear by mid segment players is driving growth of this segment
Whereas, increasing fashion range and entry of apparel brands in Men's innerwear is driving growth of premium and super premium segment
The mid segment is witnessing traction from both legacy brands as well as lifestyle apparel brands ; expected to reflect sharp sub-segmentation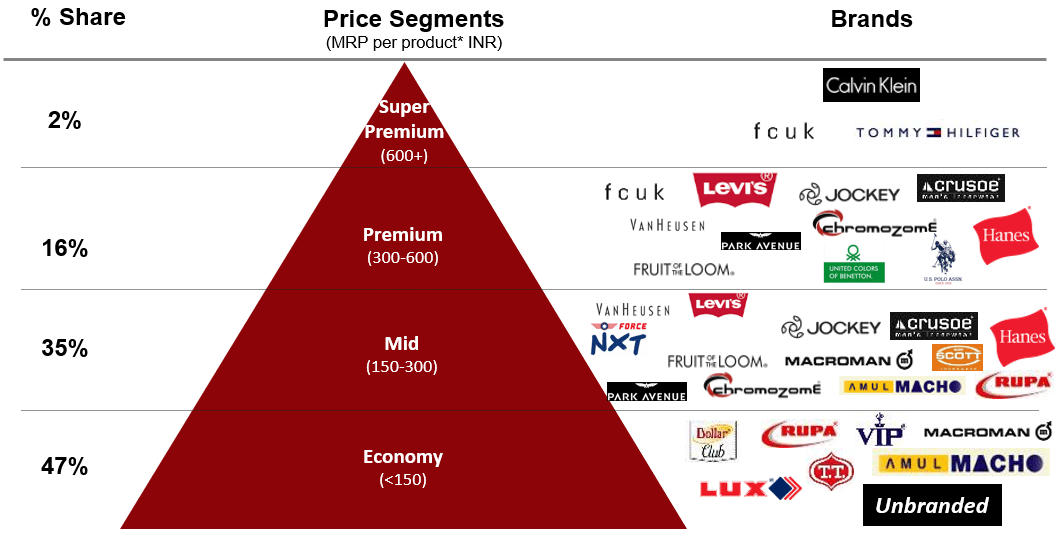 The men's premium segment is largely catered to by lifestyle fashion brands : Van Heusen, Park Avenue, UCB, Levi's etc. while super premium segment is being catered to by global fashion brands
However, mid and economy segment players are diversifying their product offering to include women's innerwear and athleisure to scale their business
Increasing demand for fashion attributes & functional features is driving premiumization in the market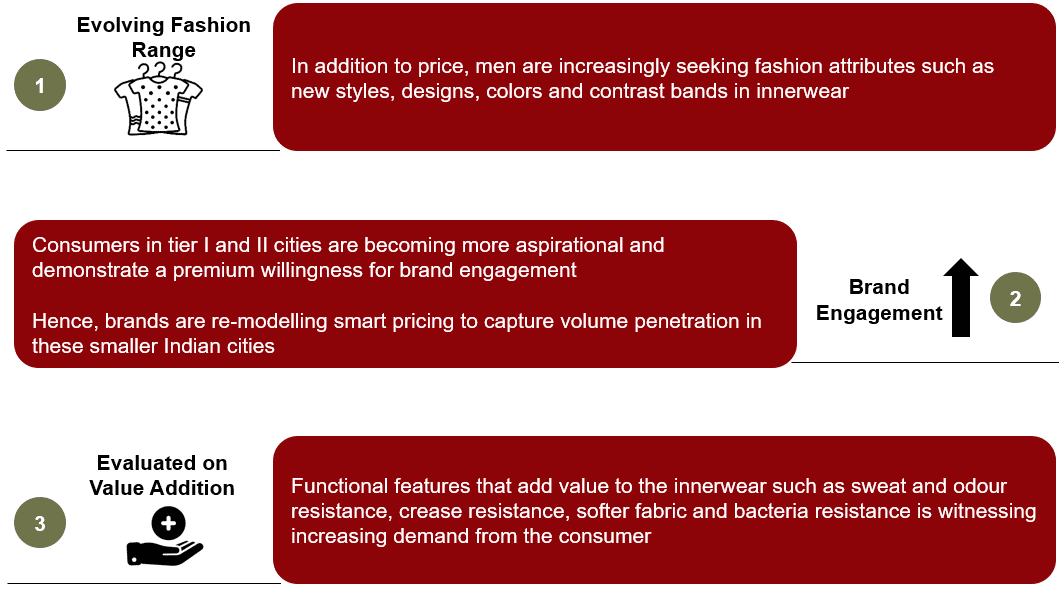 ---
India fashion accessories market expected to double over the next four years
Published on: Feb 2019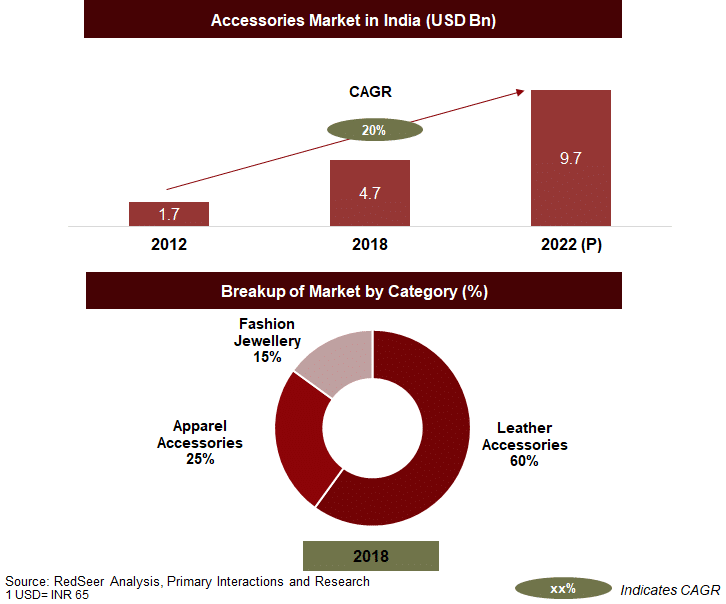 The India accessories market reflects robust growth of 20%, driven by increasing adoption of lifestyle accessories among consumers, and is expected to reach ~USD 10 Bn by 2022 from the current size of ~USD 5 Bn

Accessories, an erstwhile complementary category to apparel has evolved to become a mainstream independent category

Owing to the potential, lifestyle brands continue to focus on the segment. It lends to enhanced basket size as well as ATVs

The segment witnesses Organized penetration of 16% and this share is expected to grow at a rapid pace. Niche formats such as airport retailing, kiosks and pop up stores lend significantly to the growth of the organized pie
The market reflects sharp segmentation basis product, business model  as well as price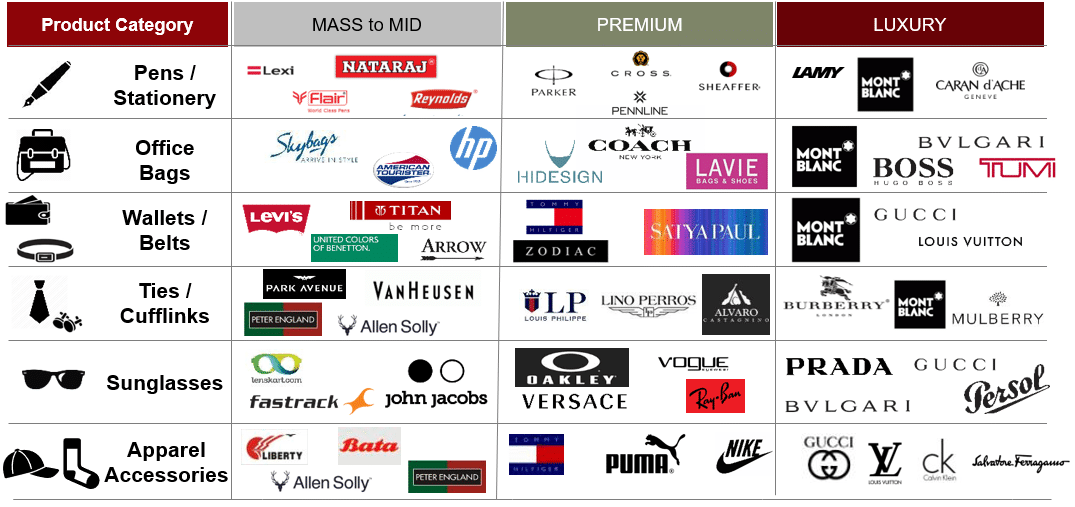 Until recently, apparel brands have been the mainstay of the accessories segment. However, the market has evolved and is increasingly getting segmented across offering focussed players, lifestyle brands as well as Indian and international brands

Accessories players are blending international fashion trends with traditional Indian styles and elements to offer distinct and unique designs. The ability of a player to reinvent offerings and lend innovation, trend, the design will determine the growth

With the increasing adoption of accessories from consumers, international brands are expanding into Metro and Tier 1 cities while domestic brands are eyeing Tier 1 and Tier 2 cities for scale and growth.
---
Brands' focus on product packaging, product customization and innovative marketing strategies has lend to shift from unbranded to packaged ingredients which is driving growth of packaged ingredients market
Published on : Feb 2019

Growth in the packaged spices and ingredients market, marking one-third of the total ingredients segment, is driven by consumer driven factors such as rising population, increasing expenditure on the food basket, and shift from unbranded to branded spices

Further, supply driven levers such as improved brand focus on packaging, locally demanded products and innovative marketing initiatives are also fueling growth of packaged ingredients market

Packaged ingredients market is fragmented with presence of long tail of specialty players, national and regional, FMCG majors as well as private label
Basic spices constitutes 60% of ingredients market. However, the segment is evolving to include blended spices, cooking paste, international blends, pickles, RTE and RTC categories

Growing popularity of international cuisines owing to globalization and rising international tourism by Indians has resulted in demand growth for blended spices, cooking pastes and international blends

Further, an evolved Food Services ecosystem offering a variety of domestic and international cuisines offers potential opportunity for scale and new addressable segments such as HoReCa
Players keen to own the cooking pan : Migrating from basic spices to include wide range of products including blended spices, pastes, RTE/RTC

An erstwhile basic segment ; now reflects nuances of price segmentation with price multipliers of 1.5-2X over mass and mid brands
Modern Trade Format : Retail shelf space is contested for across a)categories as well as b)brands

Private Label play will intensify and leading retailers currently focused on basic and blended spices will foray into high margin niche categories such as Cooking Paste, Ready To Eat (RTE) & Ready To Cook (RTC) and Pickles
Demand and supply factors combine to facilitate robust packaged foods growth
Published on: Jan 2019
Edible Oils contribute to ~33% and Dairy contributes to ~27% of the packaged food industry. Nearly, 40% of the packaged food market is contributed by niche categories
Variants combining value-added attributes across cholesterol, diabetes, weight loss from leading food companies is a key driver for premiumization within the staples category. They ride on their current distribution networks and leverage existent channels for higher margins
Modern GM retail is a salient channel for premium packaged staples, and as the segment evolves, intensified competition from Private Label play will be witnessed
Niche Packaged Foods: Private label play will intensify, robust margins render the segment more attractive vis-à-vis staples
Macro indicators: Nuclearization, working women and a median age of 26 years are facilitating high growth of key niche processed food categories: Breakfast Cereals, Ready to Eat/Cook (RTE/RTC), Frozen Foods
Lifestyle factors: experimentative palate; gourmet foods, international packaged foods are further fuelling growth
Niche packaged categories also offer attractive margins (~35% to 45%) vis-à-vis Staples categories
Channel dynamics render the General Trade Grade A (GTA) format, in addition to Modern Trade, important for these categories. The assortment mix within the format typically skews towards premium, niche categories rather than staples