O2O sector is dominated by online ticketing which is growing slowly; other categories expected to grow rapidly till CY22 but still small
Published on: Dec 2018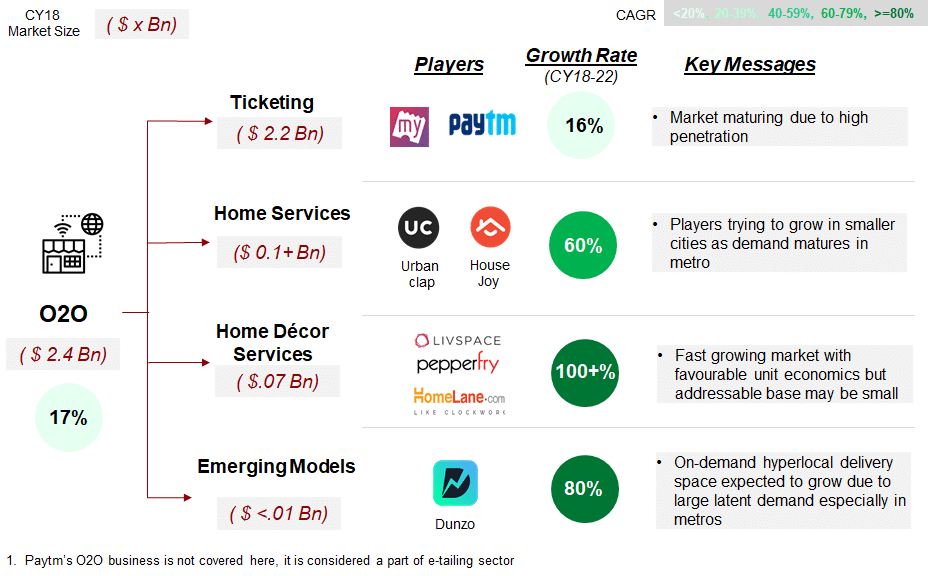 ---
The online ticketing business clocking a quarterly revenue of USD ~28 Mn is seeing fierce competition among the top 2 players and is increasing focus on events
Published on: Oct 2018
Two players are dominating the online ticketing play in the Indian market having a quarterly revenue of USD ~28 Mn. Handling fee which is typically ~10-12% of the ticket value. 50% of the industry revenue is coming from movies but the competition in this industry is increasing with players diversifying their focus into the events business.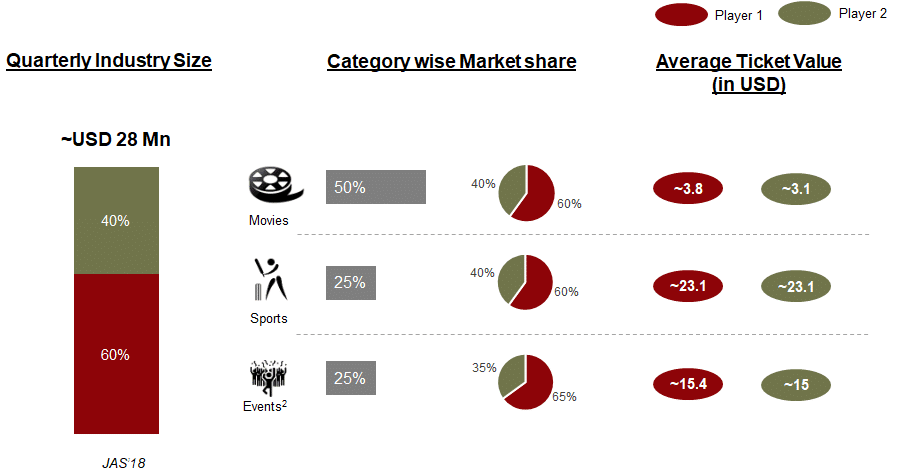 ---
The USD ~330 Mn Indian online ticketing industry dominated by movie ticket purchases is set to grow at ~20% to USD 580 Mn by 2020
Published on: Sep 2018
With movie tickets generating the biggest share of revenue, sports events and concerts are next biggest categories contributing to the USD ~330 Mn revenue. A CAGR of 20% is expected over the next couple of years especially with the top online players acquiring smaller players (PayTM has acquired Insider.in & TicketNew) and focusing on non-movie categories with high average transaction value in order to widen their overall offerings.
---
Online Ticketing platforms increase the sales of movie theatres by ~30%
Published on: Mar 2018
The online ticketing platforms have proven value for both consumer and partners. For the partner movie theatres, they have increased the sales by nearly 30% in metros and nearly 16% in T1. This is a good amount of contribution in metros and we believe there is more room for contribution in T1 cities.
---
PayTM has expanded the online ticketing market by acquiring new set of customers
Published on: Feb 2018
The Online ticketing market has seen a tussle in the previous year, with Paytm trying to strengthen its position in the market. We saw Paytm grow to nearly one-fourth the size of the BMS in March-17 and we expect this share to go up to ~30% in 2018. Acquiring distinct markets and drawing new consumers have been the all-time forte of Paytm.
---
The industry sees non-movie category grow to 40-45% of the overall industry in Q3CY'17
Published on: Jan 2018
The online ticketing industry saw a decrease in the share of movie tickets in Q3'17 as movies got pushed to OND quarter. To counteract this drop in movies, the industry shifted its focus to ancillary categories which are showing exceptional growth in sports and local events. Increased contribution of local events also opens doors for the increased penetration of the industry in Tier-2 cities.
Category-wise share of Online Ticketing by value in Q3CY'17
In the online ticketing market, there is a significant customer experience difference between the top two brands and the others
Published on: Jan 2018
High customer satisfaction for top players is also reflected in their near-duopolistic share of the online ticket booking market.