Structural shift happening in used car market from classifieds model to transactions driven model
Published on: Sep 2019
Together with value added services, revenue from B2C+C2B play within the online used car market expected to grow the fastest out of all revenue streams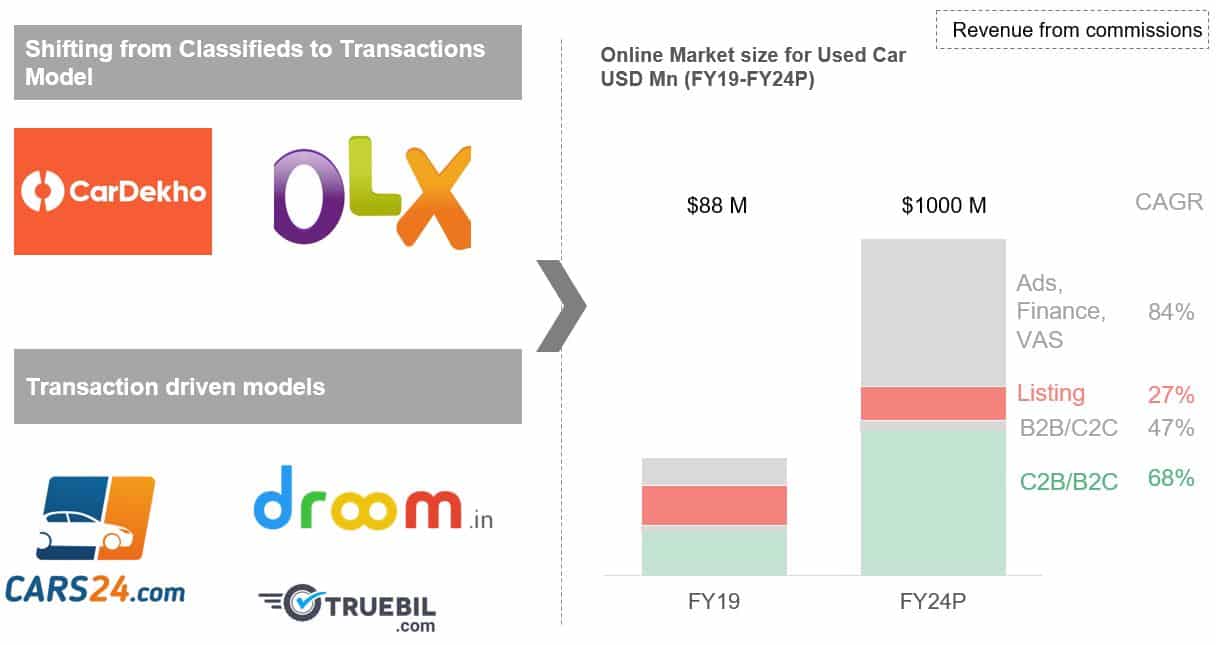 ---
The Online Used Car Market is shifting to transaction-based models
Published on: Jun 2019
For the largest time, online used car space was dominated by pure classifieds and discovery-based platforms. However, recent trends show that the market is shifting towards transaction-based models that offer significant added value for both dealers and end consumers, and additionally give a stronger pathway to monetization for the platform. We see an example of this trend in the way even the classifieds and discovery-based platforms have launched transaction-based product offerings.
This shift towards the transaction-based models is being rewarded by the private markets- investors give platforms like Cars24 and Droom a significantly higher valuation as a multiple of revenue vs models which are more discovery based.
---
Online Used Car Market: Transaction model has given Online platforms a new lease of life by renewing dealer interest
Published on: Apr 2019
Over the past decade, Online platforms have helped in lead generation in the Used car market. So much so that several dealer cohorts have become heavily dependent on online platforms for both inward and outward leads. However, with the unending influx of leads in the recent 1-2 years, the conversion/productivity of leads has been rather challenging. Our recent interaction with the dealer community highlights the plateauing of the value they find from lead-based online platforms and their subscription packages.
Given the context, the recent 3-4 years have seen innovative models emerge in India, particularly on the transaction side. Players like Cars24 and Droom have designed businesses around the key pain points of dealers/customers – Supply constraint, Transaction assurance, Price discovery and Qualified/validated lead generation. Within a short timeframe of 3-4 years, transaction-based models have been successful in onboarding ~25% of dealer base (7K/30K) and are all set for multi-year growth led by deeper penetration and increasing wallet share. RSC analysis shows that ~40% of dealers in metros have already boarded transaction-based models while there exists significant room for expansion in Tier2/3 cities. Further, unorganized showrooms have been the fastest adopters as they look for assured supply in their business which inherently has a high fixed cost and wafer-thin margins.
Online platforms who have hitherto been playing on the fence, with no real involvement in the transaction had seen engagement level with their core TG (Dealers) weakening. This has significantly improved with the transaction model which has revived the dealer confidence, thereby giving Online a new lease of life. These platforms have already acquired ~5-15% of wallet share across dealer cohorts and are likely to dig deep over time.
---
---
Online Used Car: Used car market in fast lane, innovative models drive monetization across the value chain
Published on: Mar 2019
Over the past 2 years, the volume of used car sales surpassed the new car sales (4mn Used Car p.a vs 3.6mn New Car sales), signalling the potential scale and importance of the business. With the upwardly mobile/aspirational Indian consumer base (particularly~200mn stock of two wheeler users), Used car business is in sweet spot and a likely multi-year growth opportunity. Further, the consumer preference towards dual car ownership, shorter replacement cycle and segment upgrade across income cohorts adds to the pie. Benchmarks with other developed and developing markets reinforce the co-relation between country's economic growth and Used car business, with India expected to mirror metrics comparable to developed markets of west in the 10 years.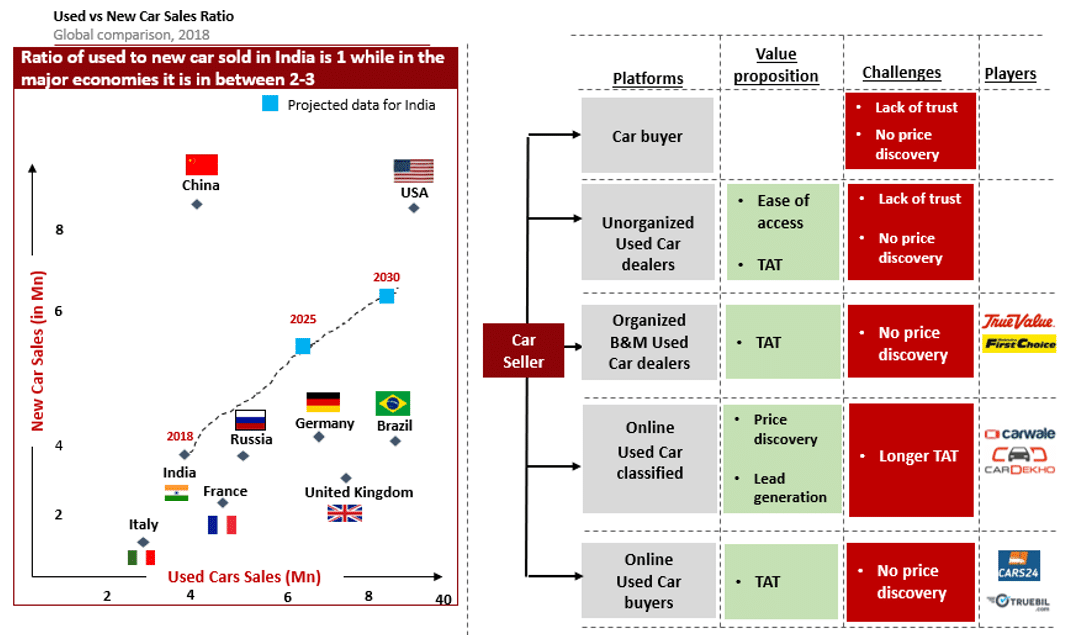 The Used Car market continues to be majorly driven by C2C and unorganized usedcar dealers whose business model thrives on information asymmetry. Over the past 5 years, business models built around technology and internet mature customers have tried close this information gap between buyers and sellers. However, the traditional classified model which worked well in developed markets have had limited success in India, with sub-par value creation. In hindsight, the model suffers from longer TAT, poor convenience and seller fatigue/desperation. We believe there exists a customer trade-off on parameters like TAT, cost and convenience, with varied customer cohorts assigning different weights to these. Relatively recent business models like Cars24, Truebill and recent ventures of Cardekho are addressing this proposition. Given that some of these models are asset heavy, we look forward to seeing how scalable these are?