With technology driving businesses across the region, Retail technology enabler market is a picking up trend in Middle-east, driven by marketing solutions, analytics, and other retail support
Published on: Jun 2019
Technology is playing a key role in driving the retail business in Middle-East. With Amazon-Souq and Jumia already crossing USD 1 billion GMV mark and most of the offline retail players across consumer domains taking an omnichannel journey, the role of retail technology becomes critical. The market is growing at ~25% annual growth rate, which is in coherence with the growth rate of the e-tail market in the region
Retail technology enablers are helping SMEs to aggregate demand and bring inventory online; corporates are benefitting from data analytics, smart dashboarding and new age technology
---
Online shoppers in MENA are making 15-20% of shopping through online channels
Published on: Apr 2019
RedSeer estimates the e-tail market in MENA to be USD 8Bn in size. Electronics dominate the market with 65% share followed by Fashion at 25%, while Home and Grocery are other big sectors. This segmentation by sectors mirrors the Indian e-tail market.
Souq was rated as the most popular e-tailer across sectors by the customers, while Jumia performed at par with Souq in Egypt. Jollychic and Noon were the other two most recalled e-tailers in the region.
Middle-East is taking an omnichannel journey; 70%+ customers in UAE and KSA are seeking information from both online and offline channels to make purchase decisions, the trend is catching up in Egypt
Social media is increasingly playing a critical role in making shopping choices
Internet and smartphone penetration in UAE(90%+) and KSA(~70%) is at par with the developed world, while the penetration levels in Egypt(~35%) are growing fast, leading to high social media acceptance.
The three social media platforms – Facebook, YouTube, and Instagram were rated high by the customers across the three countries for information seeking and helping take purchase decisions. This behavior was observed to be consistent across age groups and genders
---
Verticals vs horizontals in E-tailing
Published on: Mar 2019
Online retail in MENA is still small compared to other regions around the world but is expected to grow on the back of improving supply and demand landscape. The e-tailing market is currently pegged at USD ~8 Bn and is expected to grow at a CAGR of 35%.Horizontals have traditionally been strong especially in categories like electronics, but our research shows that GMV split has been dispropotionately higher towards vertical players in other categories. In this sense the market has evolved similar to other more evolved online markets like India where verticals similarly lead in these categories.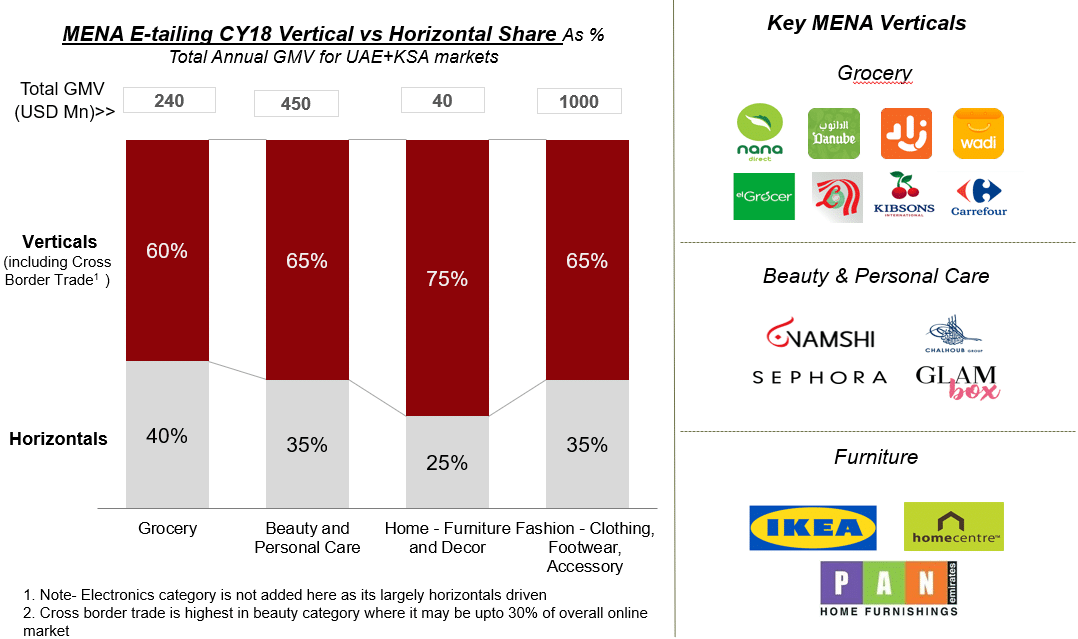 In beauty and personal caresegment in MENA E-tailing, despite having comparitively less SKU's, verticals are able to perform better due to availability of established brands and on-demand content in the form of blogs and guided videos enabling them to get higher user traction on their platforms, . Influencers play a critical role in building habits among the consumer base for beauty and personal care products, who could be founders of beauty brand, makeup artists, stylists, media personalitiesIn online groceryspace, ominchannel verticals (Danube, and other players) have been able to capture major market share owing to wide variety of brands and SKU's offered in the fresh category clubbed with higher penetration in Tier-1 and Tier-II cities.In the nascent furnituresegment, higher SKU's coupled with competitive pricing offered by verticals is positioning them better among the consumer segment. Many of these verticals are omnichannel players like Ikea and homecentre, with strong brand recall amongst their target demographic which also includes expats in MENA.It is interesting to compare this with a more mature market like India, where the chart looks as below-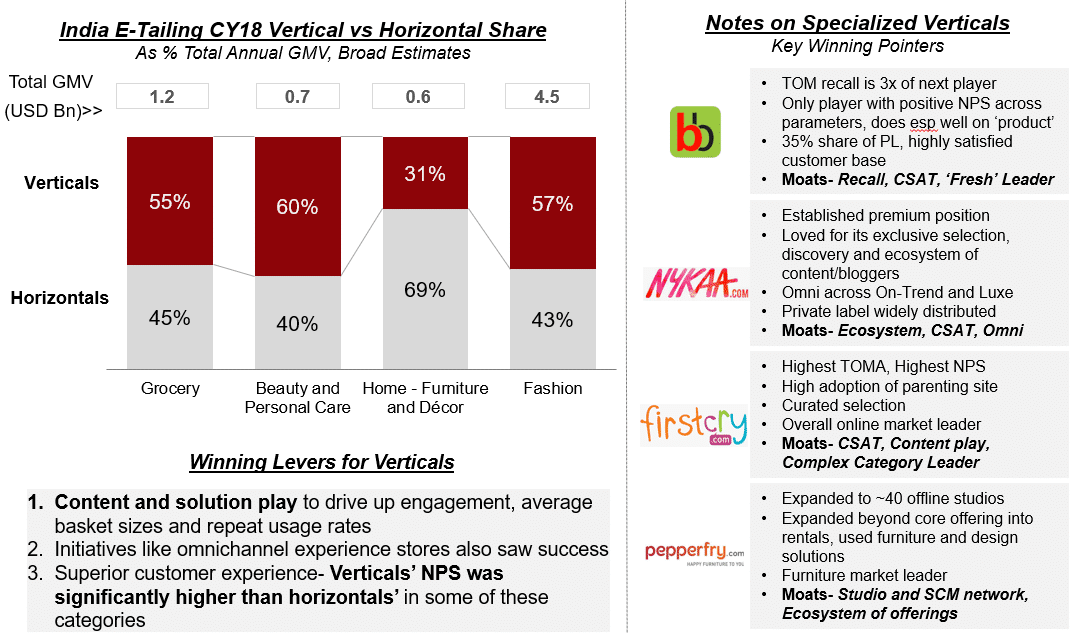 In RedSeer's work in India we have also seen significant success from verticals, with players like Bigbasket, Myntra and Nykaa being prime example of success stories of this content/experience based differentiation.
---
Beauty e-tailing- High growth opportunity with verticals poised to accelerate
Published on: Mar 2019
Beauty category has been one of the big success stories in MENA e-tailing. Penetration of beauty products has been higher compared to other categories. A prime reason for a deeper penetration is the standardisation of products and well established European brands entering into the space. Yet as the chart below shows, MENA online beauty still has a low online penetration and high growth potential.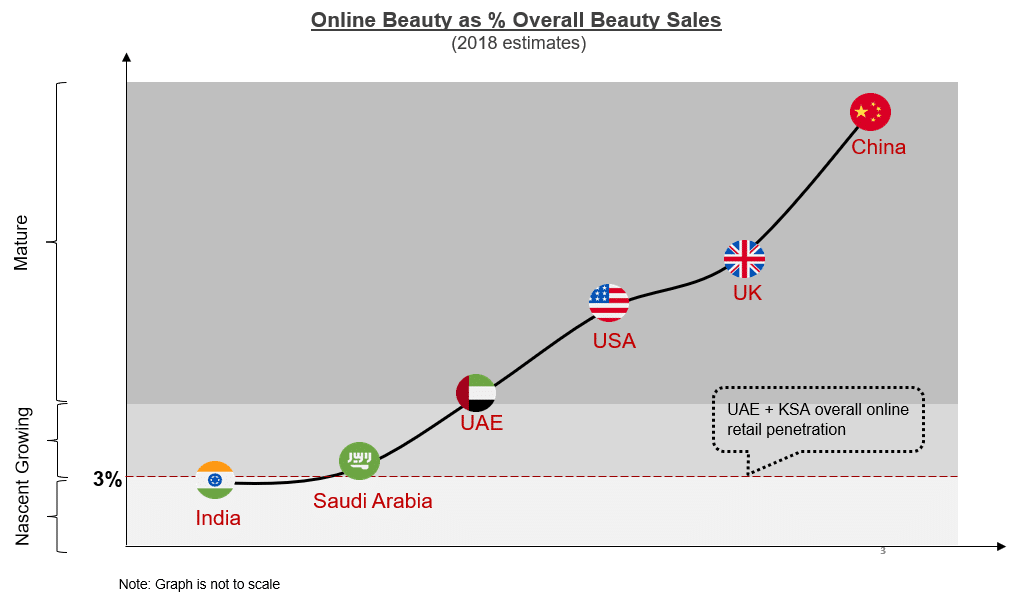 Further deep diving into the beauty space, we see the below category trends emerging-
Majority of business is from the fragrances and cosmetics category, which are also growing rapidly

Women's products

constitutes large chunk of the market but men's beauty is growing much faster (40% vs 25%)
Overall market is being driven by multiple beauty-influencing portals that are further catalyzing the whole ecosystem. Huda Beauty is one of the most well known

names in this area but newcomers like Alia Beauty are also jumping into the fold
Horizontals in beauty have a disproportionately high share of SKUs across compared to the verticals, which drives category as well as overall beauty leadership for them.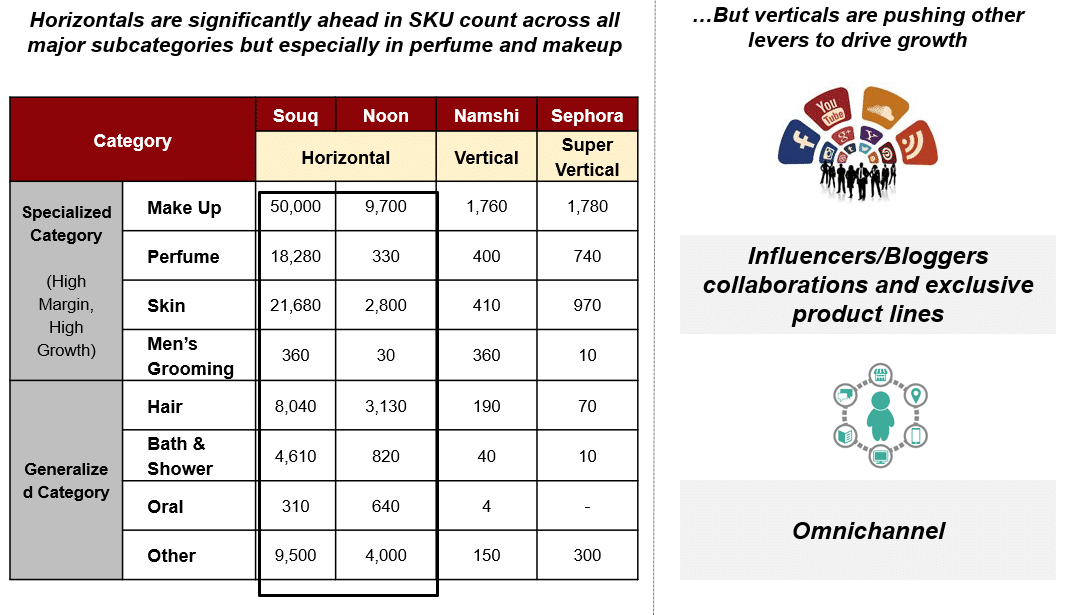 ---
Online Retail : UAE & KSA are already behaving like a mature market in Online Services; Online Retail has still has a long way to go
Published on: Oct 2018
UAE + KSA with 70%+ representation of MENA etail market observe online retail market penetration of ~3%, with highest level of penetration observed in electronics segment. Service industry is mature with higher level of acceptance for online media to consume the service.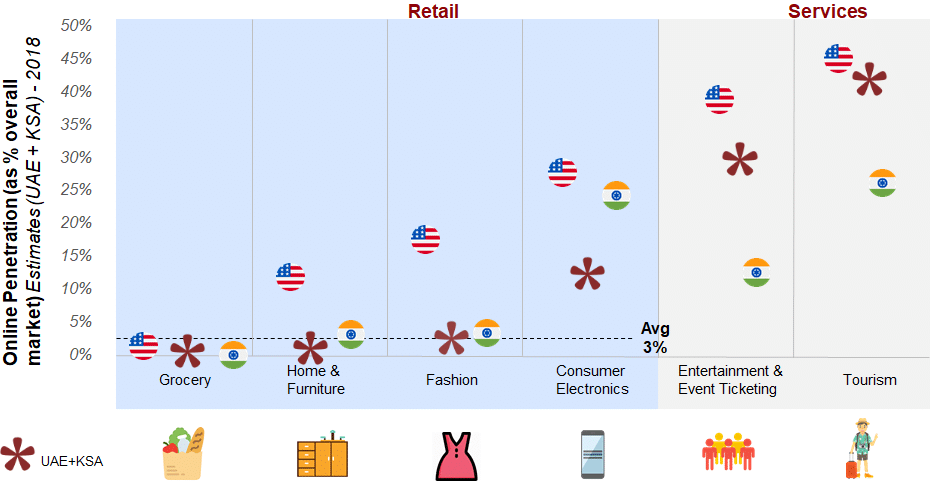 ---
Online Retail: MENA e-tail players are losing ~USD 5.5 to fulfil a order; Changing category mix and delivery model gives scope for improving the margin
Published on: Oct 2018
MENA etail category mix will slowly observe higher contribution coming from non electronics categories, which observe higher commissions. Increasing dependence on own delivery network and hyperlocal deliveries will further push up the contribution margin.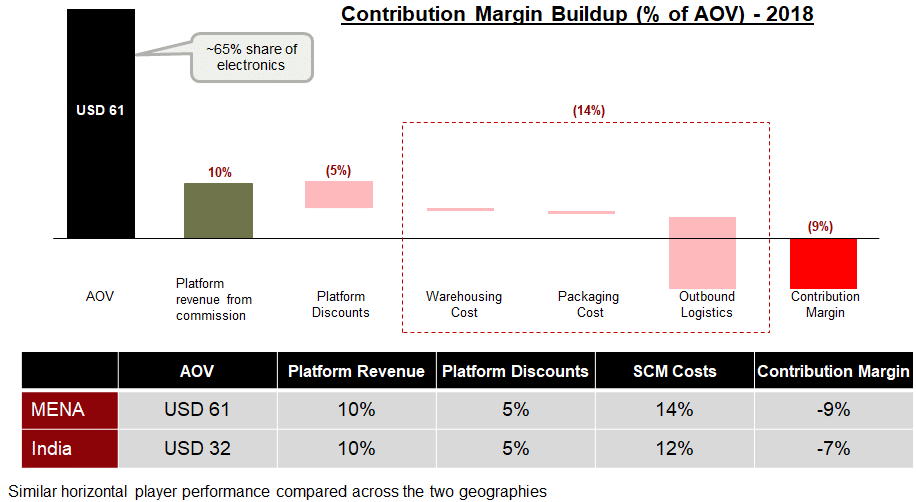 ---
Online Retail: MENA's online retail market is riding a wave of growth and is poised to nearly triple by 2020, driven by online leaders UAE and KSA
Published on: Sep 2018
For long, MENA's online retailers have had to contend with myriad challenges that stunted online growth – be it poor transport and payment infrastructure, low customer awareness and trust or limited selection. However, funding from major investors recently is leading to a wave of infrastructure development and heavy investment on building a strong value prop for customer- all of which will drive rapid growth in online across the region.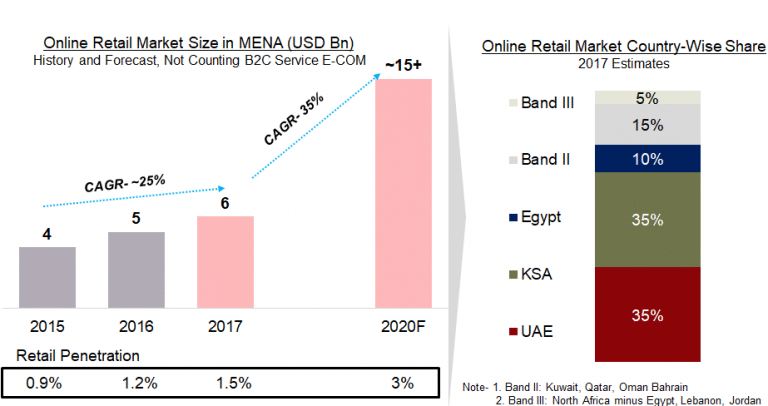 ---
Online Fashion: Fashion retailing is rapidly getting digitized in MENA; however, categories such as footwear and accessories are still nascent
Published on: Sep 2018
Compared to a more mature online market like India, in UAE/KSA, categories like footwear and accessories have had limited adoption online- pointing to possible selection and supply chain challenges to make these categories competitive with offline retail. This is a vast untapped opportunity and we expect the next wave of online fashion growth in the region to come from e-tailers who innovate to solve for the consumer experience in these categories.