MAU for OTT Video platforms expected to grow 80% over 2019-22; platforms focused on Bharat target group are expected to grow fastest
Published on: Aug 2019
MAUs for OTT Video sector expected to expand from 170 Mn- 300 Mn over 2019-2022, with Tier 2+ and rural consumption to reach 80% share (vs 70% currently)

MAUs for more mature content sectors like OTT music and social media is expected to grow at a slower pace (sub 40% CAGR) in this period- with smaller cities driving most of the growth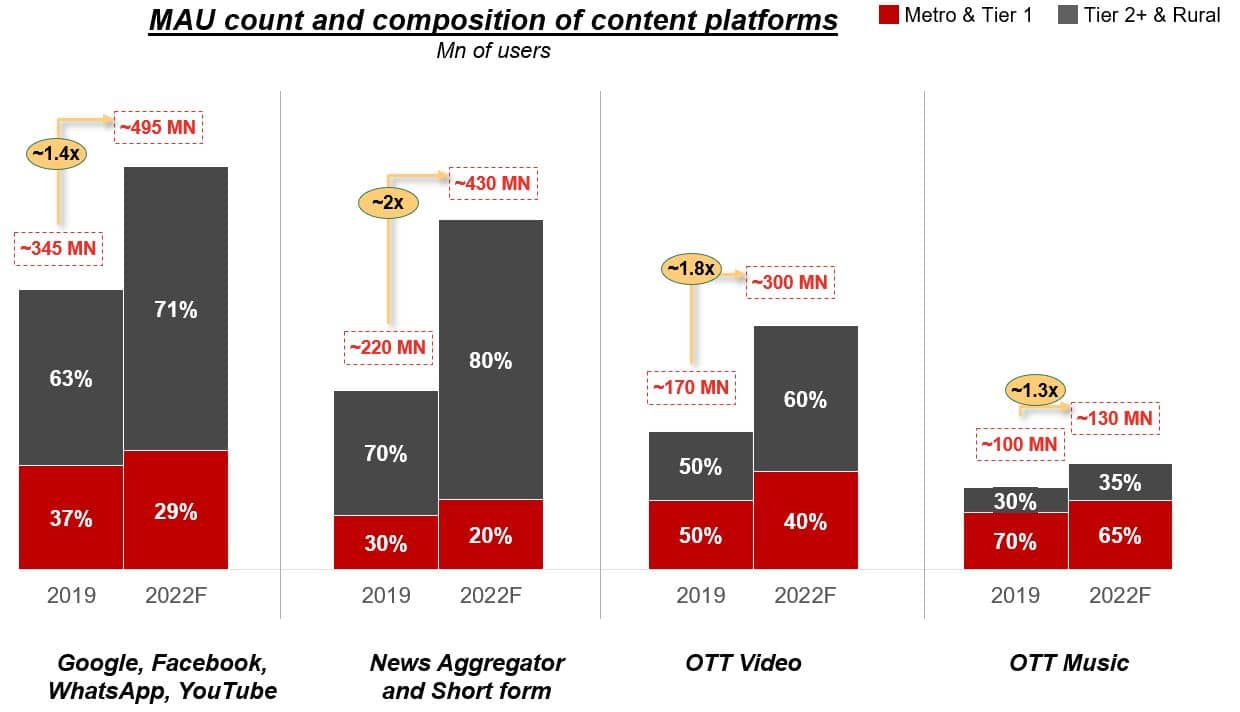 ---
India is in midst of a massive digital transformation of its population
Published on: Aug 2019
---
Heavy social media and content consumption underway in urban and especially rural areas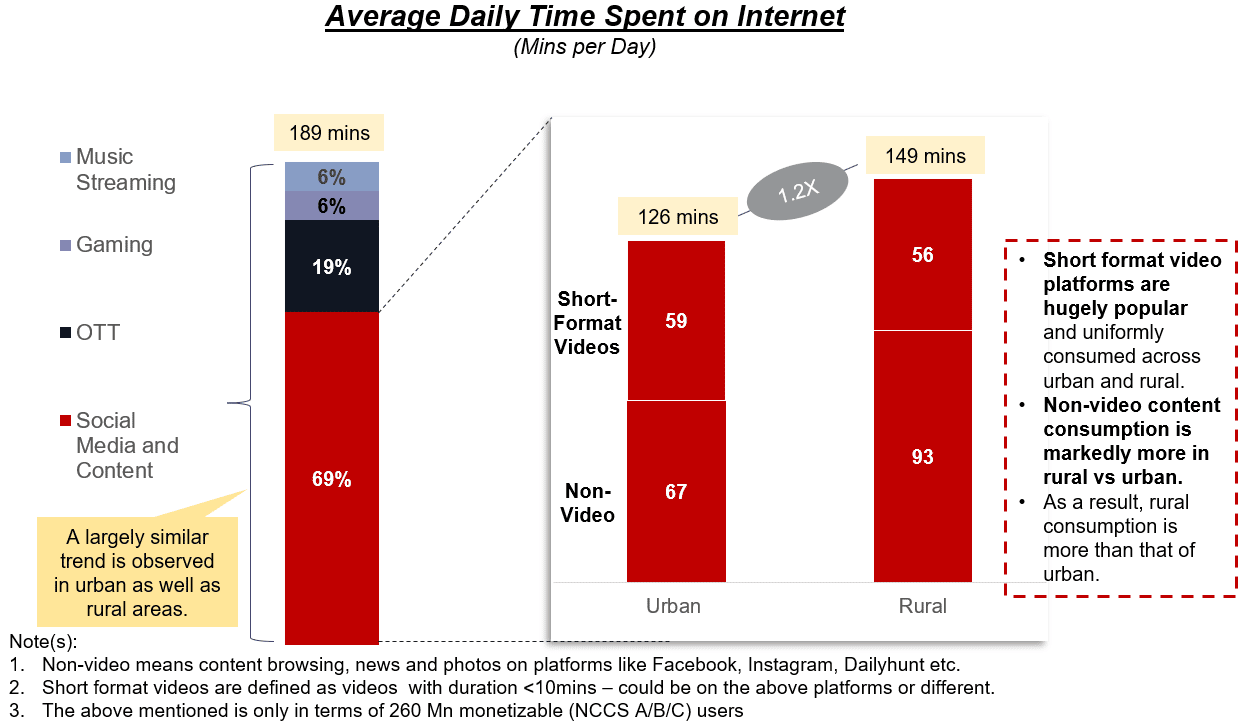 ---
210 Mn = Current number of vernacular preferring digital consumers in India who are also monetizable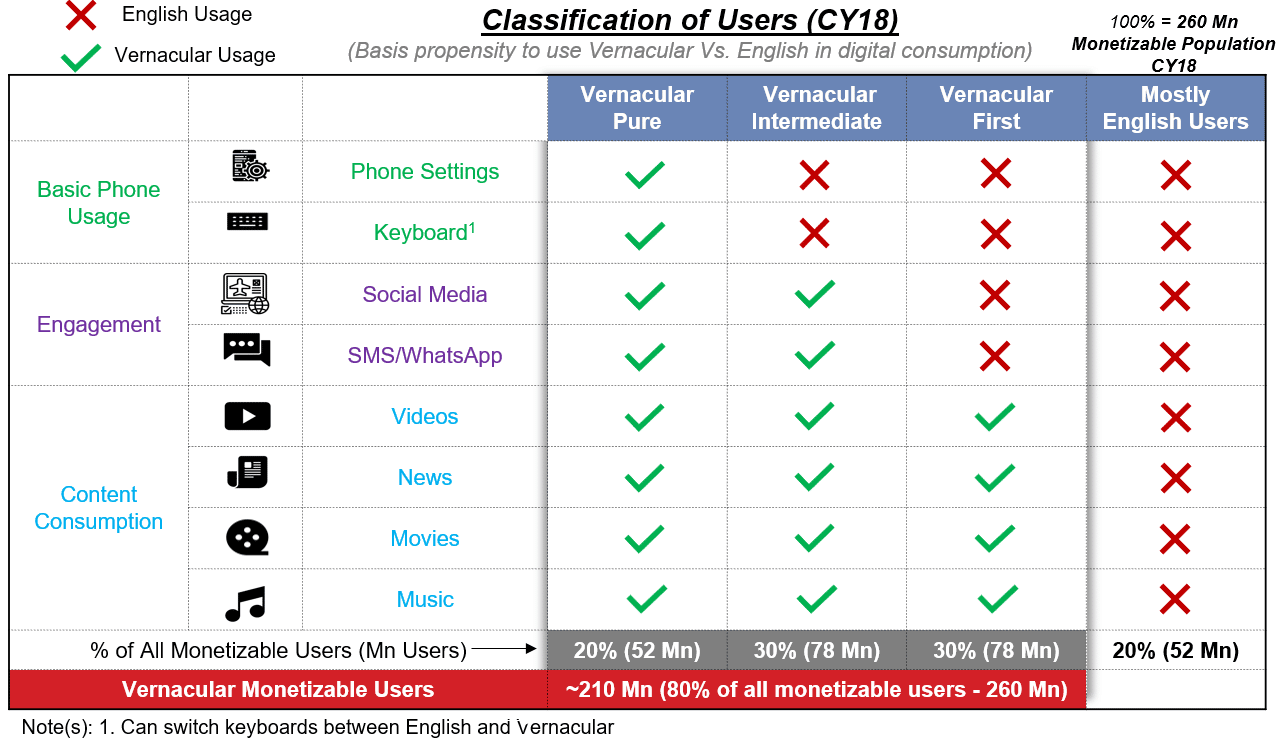 ---
Massively growing vernacular user base to create USD 3 Bn of incremental digital ads spending opportunity over 2018-23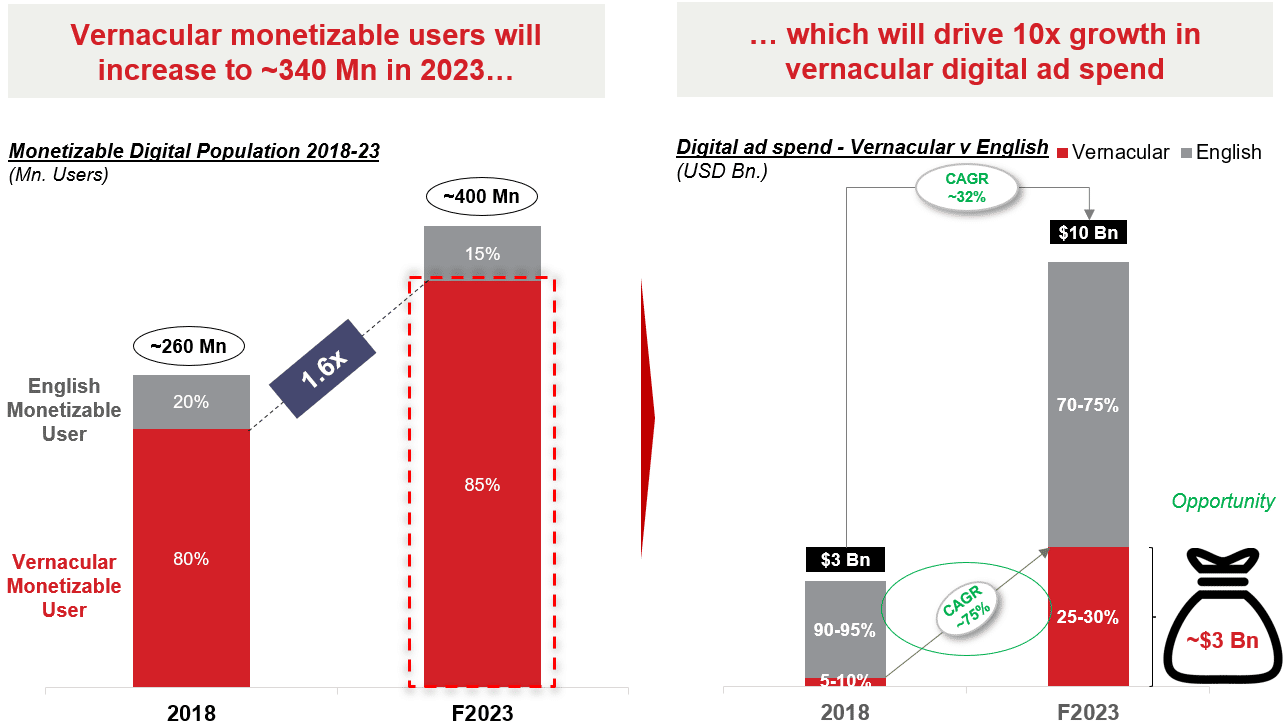 ---
Hotstar has been leading the Indian content sector followed by Dailyhunt
Published on: Jul 2019
Our latest research brings out focuses on the pecking order in the Indian content space, as shown below. An additional observation is that MAUs for the largest players are an order of magnitude larger than the smaller ones.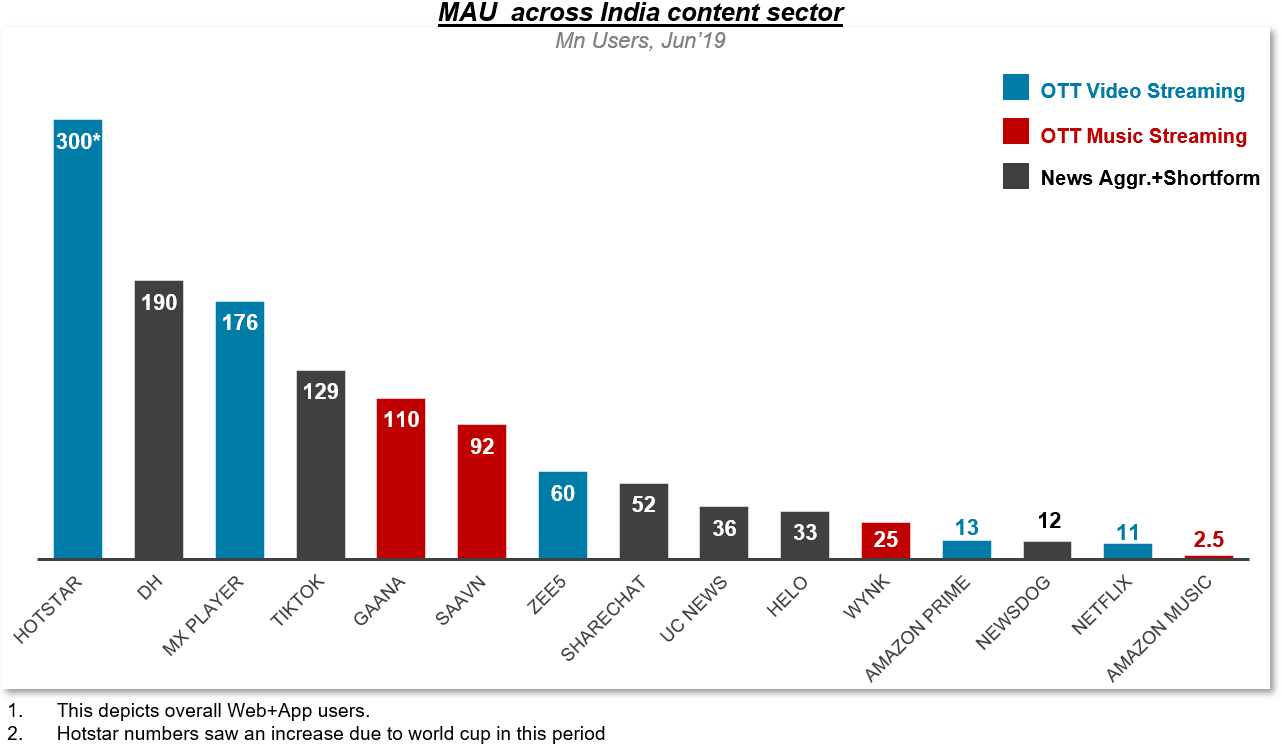 ---
What do users of long-form video platforms consume?
Published on: Jul 2019
Our research on consumers of long-form video platforms in India brings out what genres they prefer to consume on each of the major platforms.
The biggest message is around Netflix being the platform where users report maximum diversity in terms of genres consumed, while usage of MX player is more in certain genres. Amazon Prime is somewhere the middle.
This could be indicative of both the genre diversity available on each platform and also the type of user mix each has.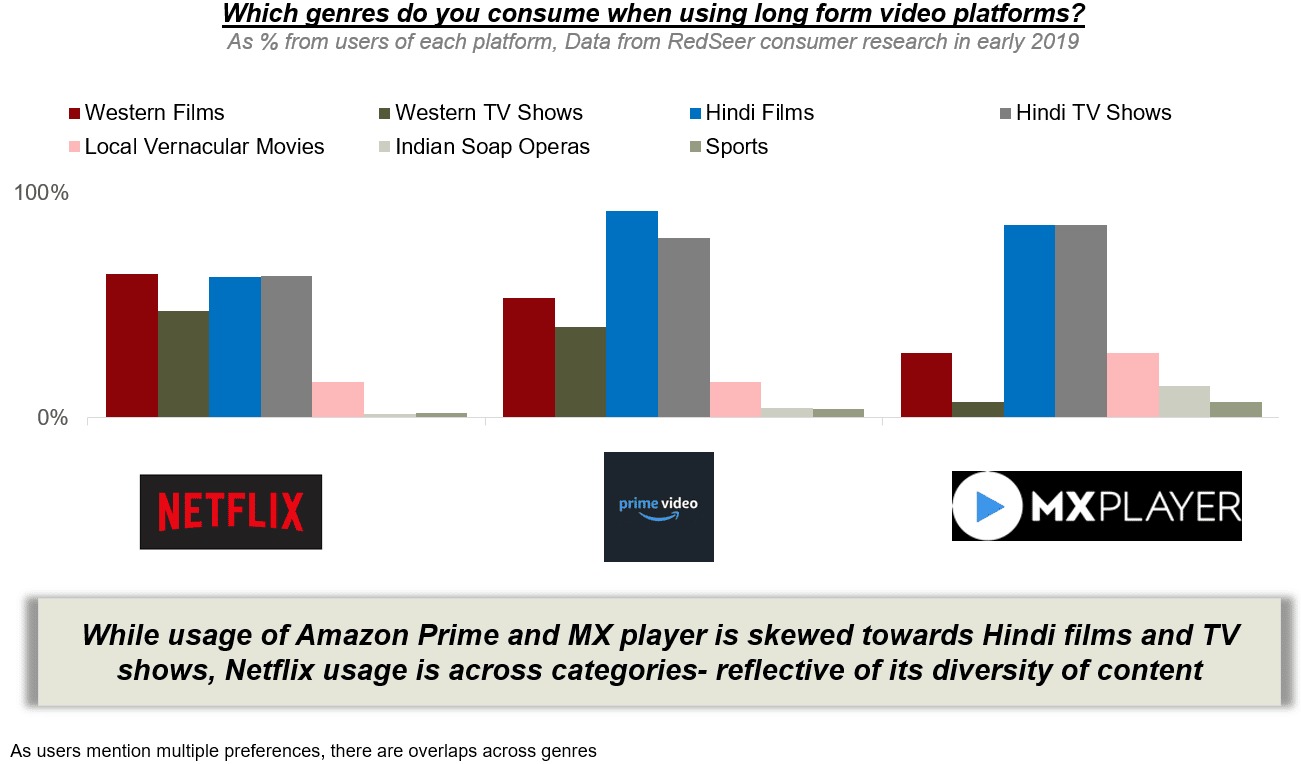 ---
Dailyhunt emerges as the clear leader in terms of Reach and advertiser Trust
Published on: Jun 2019
RedSeer's Content Leadership Index evaluates the players in the market on the parameters of 1) Reach 2) Engagement and 3) Trust. We believe these parameters represent both the size and quality of the consumer base on these platforms and the monetization potential of this consumer base.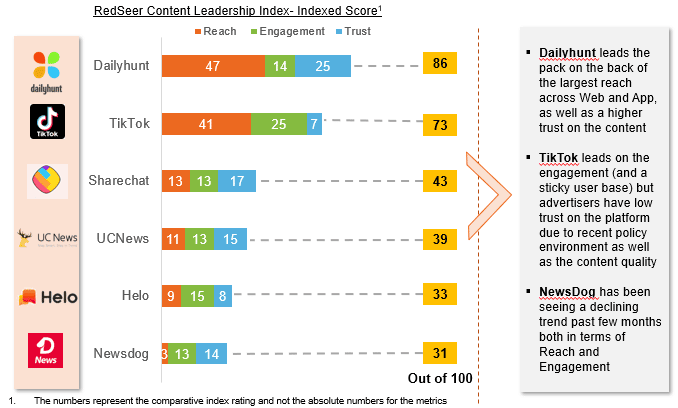 Basis of this approach to our CLI, our research shows clearly that Dailyhunt is the clear leader in the content landscape overall, followed closely by Tiktok. While the fight with the competition is relatively close on the demand side (Reach and Engagement) Dailyhunt leads its competition significantly in a crucial metric of advertiser's Trust.
---
Dailyhunt leadership in Reach driven by large MAU; TikTok is a close second
Dailyhunt's leadership in Reach is driven by its highest Monthly Active Users count. Which in turn is driven by a wide range of content covering both news and entertainment, which includes video-based content as well. Allowing the platform to attract a broad range of users across demographics, a metric which incidentally also drives advertiser interest.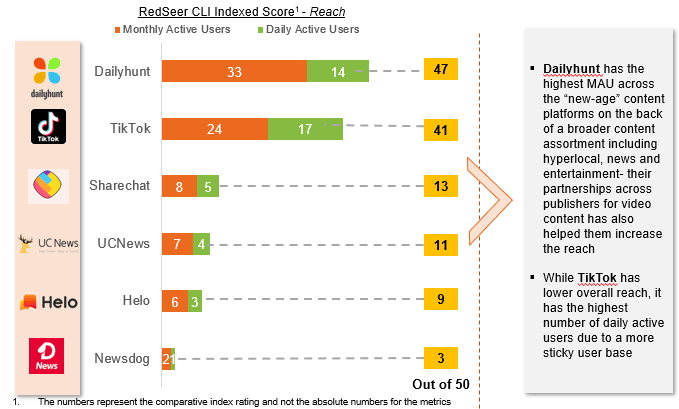 ---
TikTok ranks highest in Engagement owing to long time spent for DAU
In terms of engaging their user bases, platforms are ranked broadly similarly. With the clear exception of Tiktok, which has a massive lead on this count, likely owing to the engaging and diverse video-based content.
---
Dailyhunt leads in advertiser Trust, followed closely by Sharechat
Advertiser trust is perhaps the most important metric for digital content platforms, as it has a direct impact on platform monetization potential. From our research, it is clear that the Chinese platforms and UGC (user-generated content) based platforms don't do well on this count, owing to the negative narrative against them.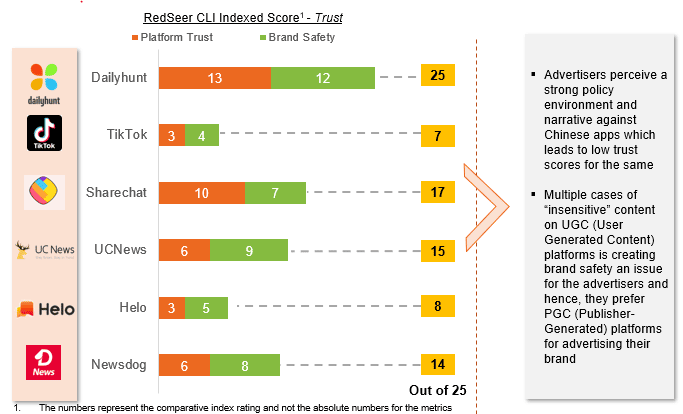 Dailyhunt emerges as a clear leader on this metric, followed closely by Sharechat, indicating a high amount of advertiser trust in the platform and a clearer pathway to monetization vs peers.
---
Significant opportunity present for OTT music and video streaming players to drive user base growth in Bharat
Published on: Jun 2019
The user base of OTT players is still small and skewed towards the urban, English speaking consumer if compared with the user base of social media and content platform. This indicates a large opportunity for OTT players to tap into the opportunity in Bharat, using the combination of increased regional content and innovative marketing (to drive trial and usage) and affordable pricing (to drive monetization)
---
100% subscription-based music and OTT platforms have smaller, but much higher quality customer segments than hybrid platforms
Published on: May 2019
RedSeer research shows that 100% subscription-based models in online streaming space have been able to gain much lower traction than partially subscription peers. Yet the quality of their consumer base is significantly higher, in terms of their overall platform satisfaction and their churn rates.
The key challenge for the 100% subscription players is how to expand their customer base rapidly (will they try out a partial subscription model?), while the partially subscription models face the dilemma of how to fully monetize their large user base. It will surely be an interesting battle playing out between these two monetization models as they continue to grow rapidly in the future.
Bonus story- Which sectors have most recurring use cases and thus high potential for subscriptions adoption in future?
One of our most popular analyses from CY18 was a part of our much-awaited year end consumer internet report (Digital Bonanza). This analysis, showcased below, discusses the user base size vs usage frequency for various internet sectors.
Sectors with the highest usage frequencies like FoodTech and cabs have strong potential for rolling out subscription programs, and they have done so successfully in 2018 to drive loyalty amongst the convenience seekers in their user base. Content platforms are also very high in terms of usage, but with the limited realization of its subscription potential thus far. Some of the other potential subscription opportunities are health-tech, which also has significantly high usage frequency.
Readers will also note from the analyses above that there are other sectors that have been able to generate subscription revenue despite being much smaller in terms of usage frequency. e.g. edtech and e-tailing. With edtech being able to do so owing to its high utility/intensity of need which drives subscription paying capacity. While e-tailing has gained a significant share of convenience seekers (being the most mature internet sector in India) who transact much frequently than the sector average, thus driving up the value prop of subscriptions like Amazon Prime.
---
Home services consumers are switching to online platforms largely for non-price reasons

Published on: May 2019
Our research shows that hyperlocal services leaders like UrbanClap and HouseJoy have a large addressable opportunity in driving online adoption of very well-established and ingrained personal/home care needs.
As the below charts highlight, varied services in Beauty and Repairs have an incidence rate of 80-90% on a quarterly/half-yearly basis which is currently met by offline options – (1) local parlors/repair shops or (2) branded options (branded salons or appliance brand service centers).
The value customers attach to solutioning is evident from the relatively low importance of price among various decision-making criteria for using online channels – Service range, the skill of service professional and quality of products have a higher weight. As the industry matures further, customers seek (1) greater personalization in Beauty services, and (2) the trust of the brand (in case of appliances) and familiarity/speed of repair person services in repairs.
Given these findings, we believe the industry is well poised to dig much deeper into the beauty/repairs wallet share of existing customers. We also believe Online Hyperlocal services make one of the strongest cases (in Internet space) for differential pricing as several customer cohorts have a high willingness to pay for a premium service. Thus the industry seems one of the best placed to drive revenue and eventually profitability growth in the future.
---
Vernacular powers growth of the first wave digital economy players
Published on: May 2019
The larger digital economy players have been experimenting with vernacular for a significant amount of time, but the results have started to show more recently. Players in sectors which have much higher use cases and engagement than others for e.g. ride-hailing, payments, content, and music streaming have been the fast movers in the vernacular department, as the chart below indicates.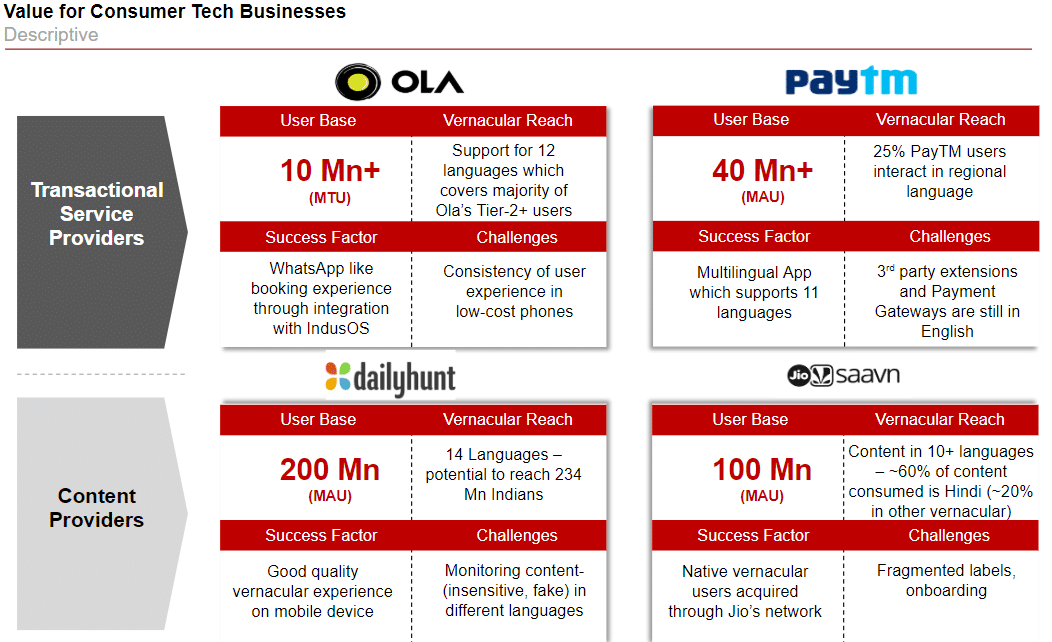 Even though many challenges need to be solved, this vernacular focus is enabling these players to unlock the opportunity present in India's next 100+ Mn internet users. A topic that we cover extensively in our upcoming report on this theme (stay tuned!).
---
80% of Current 400 Mn Non-Internet Users are Likely to Join the Digital Revolution in the Next 5 Years
Published on: Apr 2019
Redseer estimates ~400 Mn adult users don't use the internet, thereby have not been able to contribute to the ongoing digital revolution.
The biggest factor for non-usage (in terms of the number of people affected) is Inclusion. People living in regions where infrastructure hasn't developed enough for internet access or people who belong to the marginalized sections of the society. We estimate this to account for ~220-240 Mn (~60% of non-internet user base).
The next set of non-users is hindered by the affordability factor. A cross-section of the population who lives in regions with infrastructure but do not have the income to purchase and maintain an internet supported device (smartphone).
Finally, a small section of the population has kept themselves out of the online gamut due to low aspirations (don't know the benefits or don't perceive it to be beneficial).
We expect ~320 Mn out of the above ~400 Mn to adopt the internet over the next 5 years. While the largest share of the new user base would be driven by easing barrier related to inclusion (180mn out of 240 mn), the major impact in terms of internet activity would be seen with improving affordability and rising aspirations.
Redseer estimates that most of the people who do not perceive benefits from the internet currently will eventually come around as essential systems (like banking, insurance, passports, utilities, etc.) gain mass online adoption.
Simultaneously, the costs of devices will keep decreasing as more and more platform companies use their devices as a customer acquisition tool. Cross-subsidizing low priced devices by engaging customers through data/content. This phenomenon will pan out sufficiently in the next 5 years, so much so that the affordability of internet devices may not be a barrier anymore.
---
The story of users who 'Power' India's digital economy
Published on : Feb 2019
Consumer internet power users are small in share but contribute massively to topline growth and bottom-line improvement of internet firms in India
Players focused on effectively serving this segment can drive significant success
India is currently home to about 200 Mn annual users of internet platforms of some kind (products or services), which is about 40% of all internet accessing population in India (530 Mn). Our research shows that users tend to initiate their internet journey through E-tailing or payments platforms and as they evolve into a mature/power user, their dependence on internet platforms tends to increase explosively.
Readers can also easily gauge how the characteristics of different user segments vary from each other, for example a power user uses multiple internet platforms, does higher number of transactions, has low return/ cancellation rates and is more satisfied with the platform owing to the trust and dependence he has developed on the platforms over time. On the contrary, a dormant user is more likely to prefer offline channels for his daily needs, would use internet platforms only to a limited extent, would be skeptical about the products which reflects in the high returns, cancellation rates and his overall satisfaction with the internet platform.
Key metrics for 'Power Users' differ significantly from other user groups, making them exponentially more valuable for internet platforms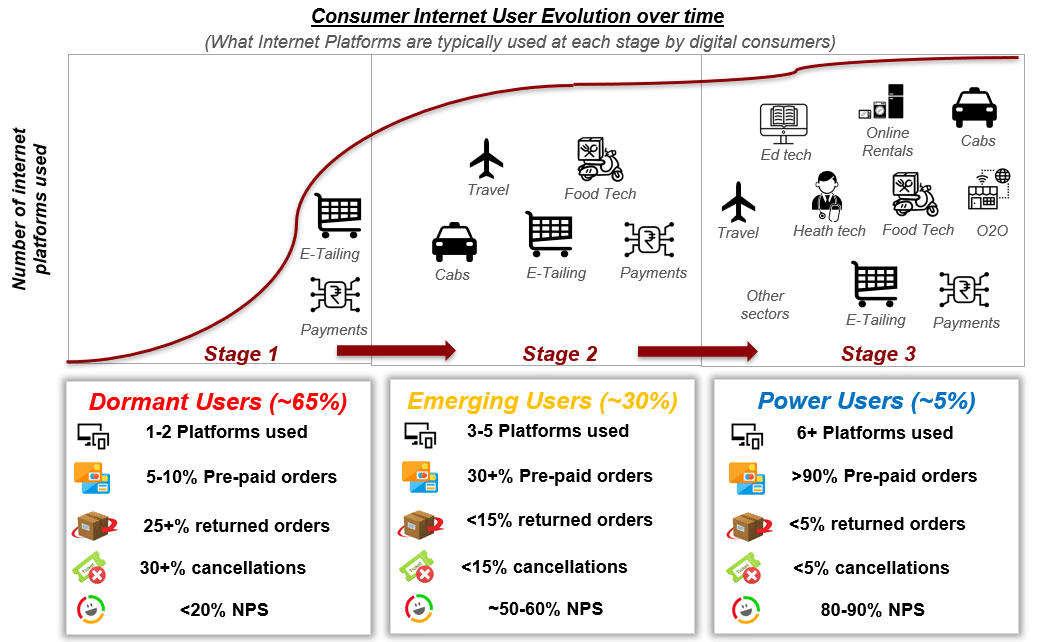 Thus, the power users, though minuscule in number contribute disproportionately to the topline and bottom-line of internet platforms- topline via a much higher number of transactions, and bottom-line via a high usage of low-cost prepaid modes, low returns and cancellation rates and high NPS which drives word of mouth and brings down CAC.
Thus, platforms seeking to win in the India's internet economy need to be able to identify and target different user cohorts accurately and have a special focus on ensuring a high level of delight for the power users. Platforms that can do the above will end up taking a significantly large share of the market.
What do India's consumer internet users want from online platforms?
Key needs/pain areas of consumers differ significantly depending on their maturity and on the sector itself
Typically, power users (most mature) are convenience seekers, and their pain areas are in experiential parameters like delivery and customer support
For less mature users who are generally deal seekers and first-time users, challenges are around less discounts, product fraud, high refund times
Challenge for companies is how to allocate their resources/offerings efficiently in order to provide differential service levels to these differing user segments
India's "Large" consumer internet sectors are its oldest, having been around for 5-6 years at the minimum. In these sectors, a significant share of users has graduated to a mature usage behavior. Our research on these sectors validates these points, where experience-based challenges like delivery experience and customer support dominate the list of pain areas of the consumers.
Yet the more worrying finding from this research is around the high share of frauds experienced across e-tailing users, the high failed transaction % in wallets and the still high cancellation rates in mobility sector. These basic problems are across the user categories and we could argue these problems are holding back the next wave growth of the sectors in a big way. Companies that can focus and solve these problems can reap significant benefits from the next stage of internet economy growth in India. Super vertical/specialist platforms are definitely aiming to solve some of these problems but there is room for many more to solve these challenges and unlock high returns.
What do India's consumer internet users want from online platforms?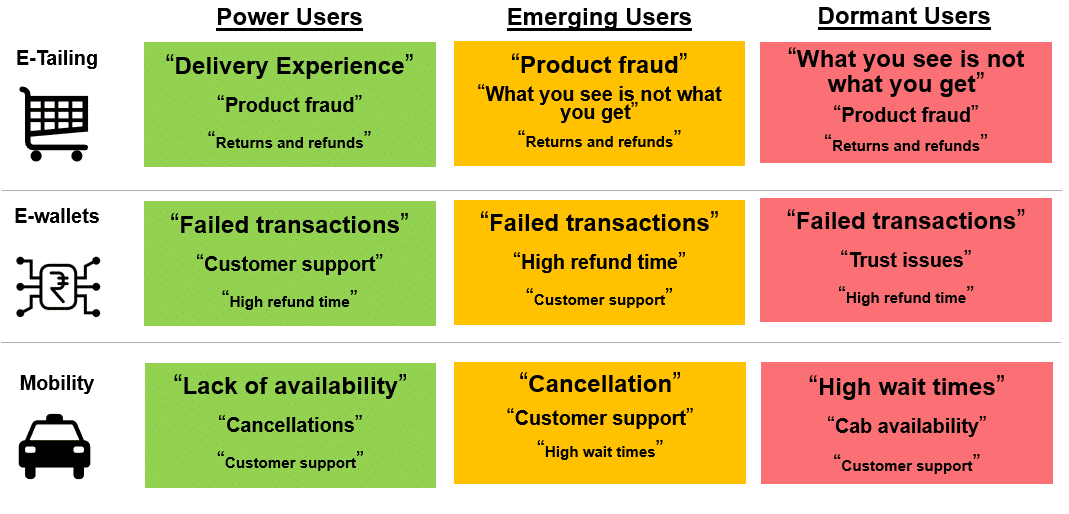 Coming to "Medium" sectors, these are sectors that are generally <5 years old and are still building out their experience, powered by heavy fund raising in recent times. Even here, the same story as earlier plays out, with experience-based parameters like delivery and customer support dominating the pain areas of the mature segments while the less mature user segments continue to complain about less discounts, poor food quality etc. Showing how much further investment in both marketing and other hygiene factors is required in this space to continue with consumer growth.
Interestingly and similar to the cabs story the consumers of O2O category (ticketing+ home services) report challenges on issues like partner cancellations, which indicates the long way platforms have to go to ensure a strong value proposition for the partners on their platforms (RedSeer covered this story earlier this year). In contrast, challenges of high handling fees dominate for the ticketing sector.
Top concerns of consumer internet users- for "Medium" sectors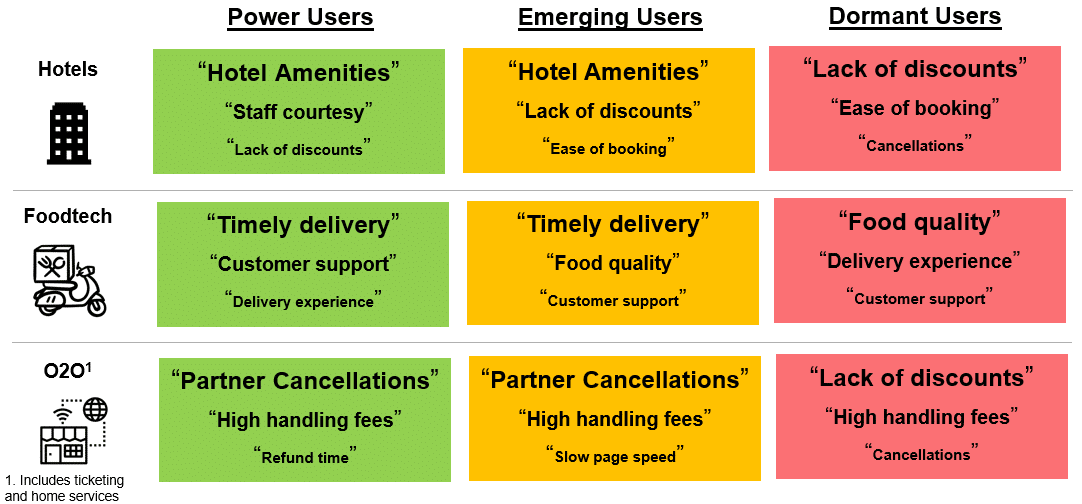 Finally coming to the "Small" sectors, we immediately notice two things-
Many of the less mature internet users don't even use these sectors, as they are typically adopted at a later stage of evolution

Amongst the users, fundamental challenges remain yet to be solved for e.g. product quality in rentals, video quality in content platforms and delivery times in healthtech/ePharmacy platforms.
As India's digital consumer ecosystem evolves and more consumers are willing to try these newer platforms, ensuring a superior experience for these first time users will be imperative in order to drive repeat usage and ultimately a mass adoption.
Top concerns of consumer internet users- for "Small" sectors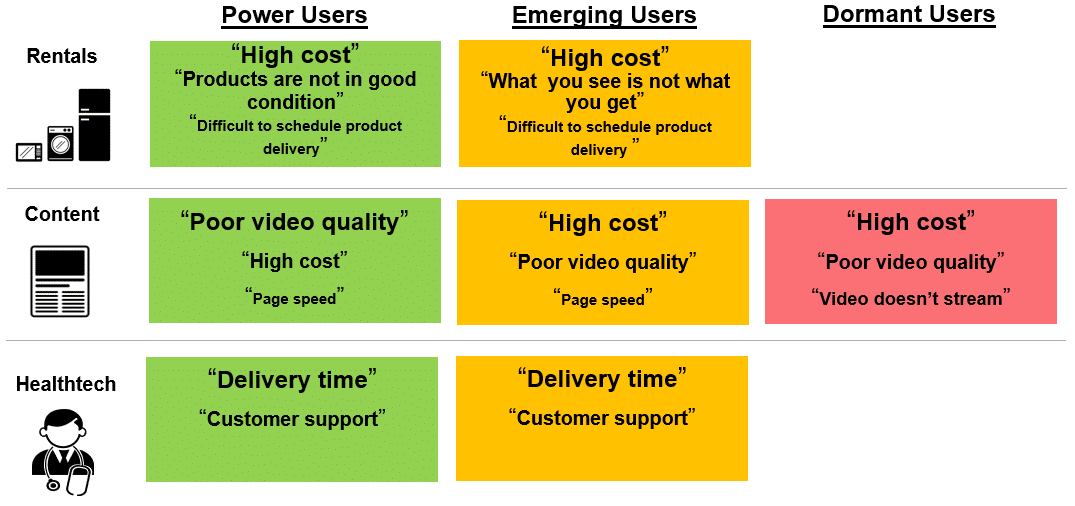 ---
The sort-of-S-Curve of platform-partner relationships
Published on: Feb 2019
Having tracked the consumer internet sector very closely since 2013, we have seen how the platform-partner relationship has evolved across sectors. Our research shows that initial days for most platforms were period of torrid partner addition, with highly attractive incentives and digital business growth. Over time, this gives way to relationship challenges and conflicts, which often culminates in legal intervention. Readers would be aware of many examples of such conflicts being talked about in the media these days, especially for the sectors we have included in the 'turbulent' stage of the below chart.
Yet what we want to bring out is that such conflicts are a part of a bigger process rather than an end to the relationship. Global examples of platform-partner evolution make it very clear that transition from a conflict-ridden relationship to a stable and fruitful-for-both-parties relationship is possible and, in many cases inevitable. And we expect the same to happen with consumer internet sectors in India.
The big question is- what and how long will it take before this happens for each of the sectors? How big will the Stage 2 for each sector and thus the associated pain of the transition from Stage 1->Stage 3? We dissect these for each of the sectors below.
---
Significant opportunity present in online private labels; categories like BPC and elec. accessories to have fastest labels growth
Published on: Jan 2019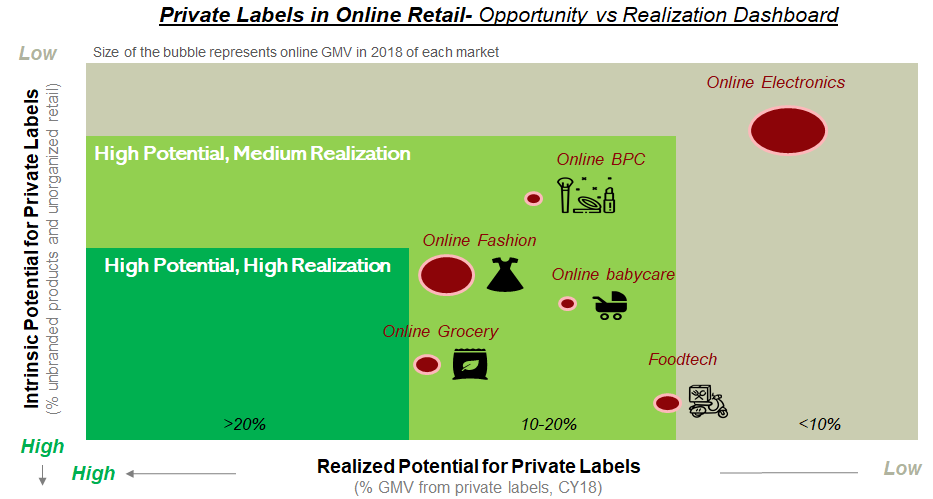 Private labels likely to account for ~15% of online retail i.e. USD 15 Bn and ~20% of FoodTech by 2023 , driving significant unit economics improvement
---
Sales of online products and services likely to each grow to USD ~100 Bn by CY22
Published on: Dec 2018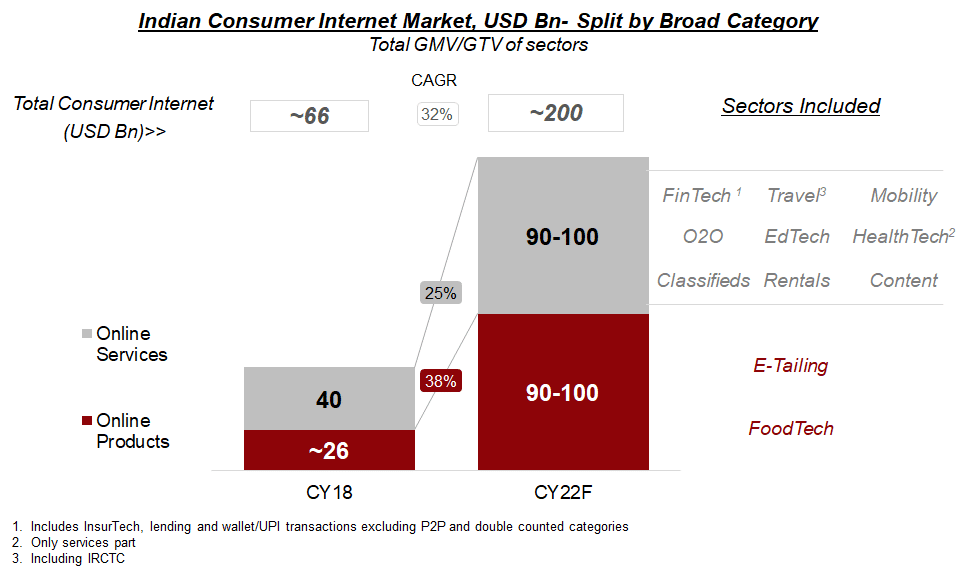 ---
India still lags significantly behind China in digital consumption across categories, indicating significant headroom for growth
Published on: Dec 2018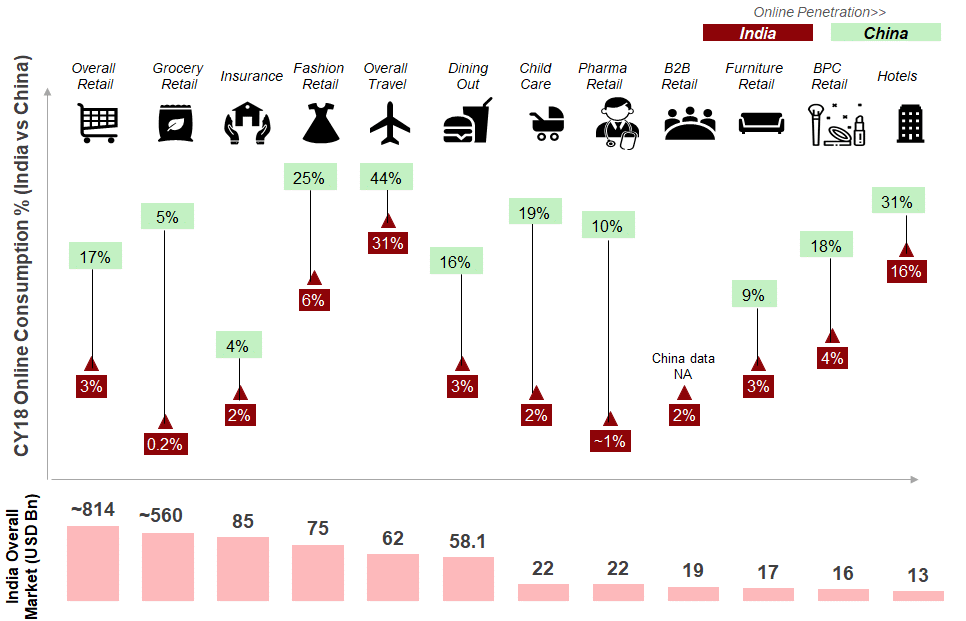 ---
USD 66 Bn current consumer internet market to steadily grow to USD 200 Bn by CY22
Published on: Dec 2018
Consumer internet went through turbulent years in CY15-17 caused by govt regulations coupled with a challenging funding environment. However, recovery of the e-tailing market along with overall buoyancy in investments led to rapid growth of the sector in CY18 and over next few years, we expect a broad based growth across internet verticals driven by innovative business models that solve real problems of Bharat and not just urban India.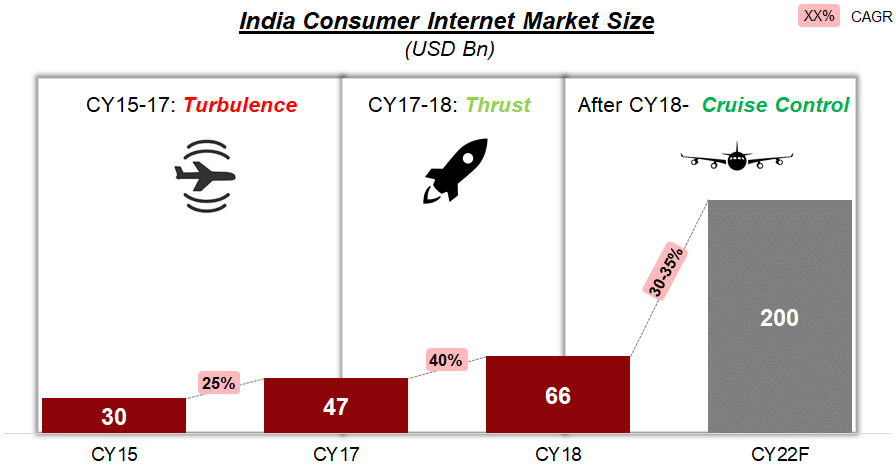 ---
B2B online retail is a fast growing opportunity; winning plays of the future are likely to be significantly different from historical ones
Published on: Dec 2018
In its 5th edition this year, festive sales have grown rapidly since inception and powered the growth of Indian e-tailing
Published on: Oct 2018
Festive period this year crosses last year's GMV in just 2.5 days
Published on: Oct 2018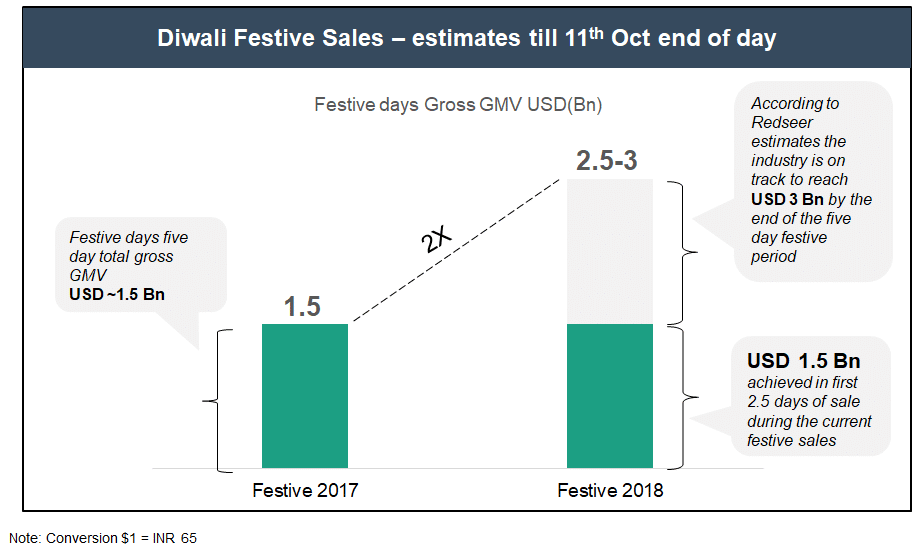 ---
Large appliances is expected to grow by 33% Y-o-Y to reach USD 1.2 Bn on the back of exclusive warehouses, extended reach and third party support
Published on: Oct 2018
---
The InsurTech consumer base in India can expand at a CAGR of ~45% if primary issues of awareness, trust and ease of use are solve
Published on: Sep 2018
Our estimates shows that India's nascent InsurTech market can expand at 45% annually to reach 25 Mn annual buyers by 2022. Yet realizing this potential will require solving key challenges viz low awareness in the non metro cities and lack of trust/ease of use in metros.
64% local restaurant/bakery in metros and 52% local restaurant/bakery in T2 cities are willing to use software for managing business
Published on: May 2018
The local restaurant/bakery shops has become the target market for a bunch of upcoming startups who are trying solve the day-to-day business problems for them. With about 64% local restaurant/bakery in metros and 52% local restaurant/bakery in T2 cities willing to use software/technology for managing business there is a huge market potential for these offerings. We feel going forward this segment would be interesting to look at as a number of startups would target it by trying to solve various problems like inventory management, account management etc.
---
Whatsapp leads the pack of mobile messengers in consumer satisfaction
Published on: Mar 2018
Powered by ease of usage and data transfer speed Whatsapp leads the pack of mobile messengers in consumer satisfaction. IMO and Hike have developed their niche, with IMO being used majorly for video calling facility and hike majorly for the emoticons. IMO users find the video calling facility quite useful as IMO is able to provide high quality video calling at low data speed. Hike on the other hand has different set of users with students and young professionals being the core audience who use it majorly for chatting with friends using the emoticons.
---
In 2017 the internet sector has evolved with a clear value proposition in consumers mindset
Published on: Jan 2018
There are sectors which are showing clear signs of growing to large potential but can still be driven by discounting, followed by sectors which have proven value and might not be driven by heavy discounting, then there are emerging sectors which are in nascent stages but can potentially grow large, and finally the sectors which are matured and might not show exceptional growth from here.
Value proposition of Indian consumer internet sectors, UoM
(market size vs. Online penetration)
---
There is a massive headroom for Indian internet demography to become active transacting user
Published on: Jan 2018
Overall India has a huge consumer internet growth opportunity with just currently 10% of the people who have online access buying consumer internet services online. We feel consumers who currently use banking services and wallets are the low hanging fruits for the consumer internet players. If the players can overcome the trust and other barriers faced by the consumers there is a great growth story awaiting them.
Internet Usage Evolution Funnel- India