Dec, 2018
Consumer Internet Updates
Sales of online products and services likely to each grow to USD ~100 Bn by CY22
Published on: Dec 2018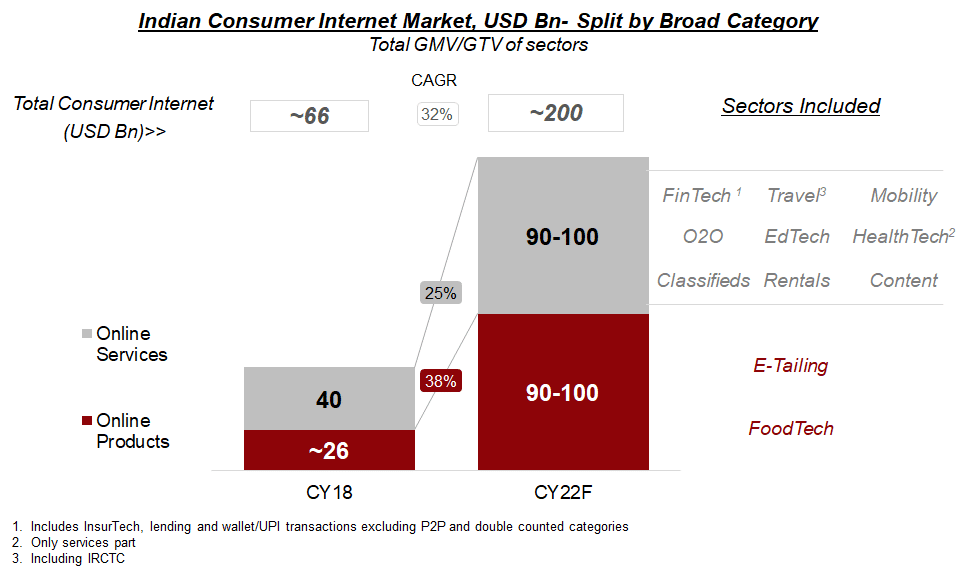 ---
India still lags significantly behind China in digital consumption across categories, indicating significant headroom for growth
Published on: Dec 2018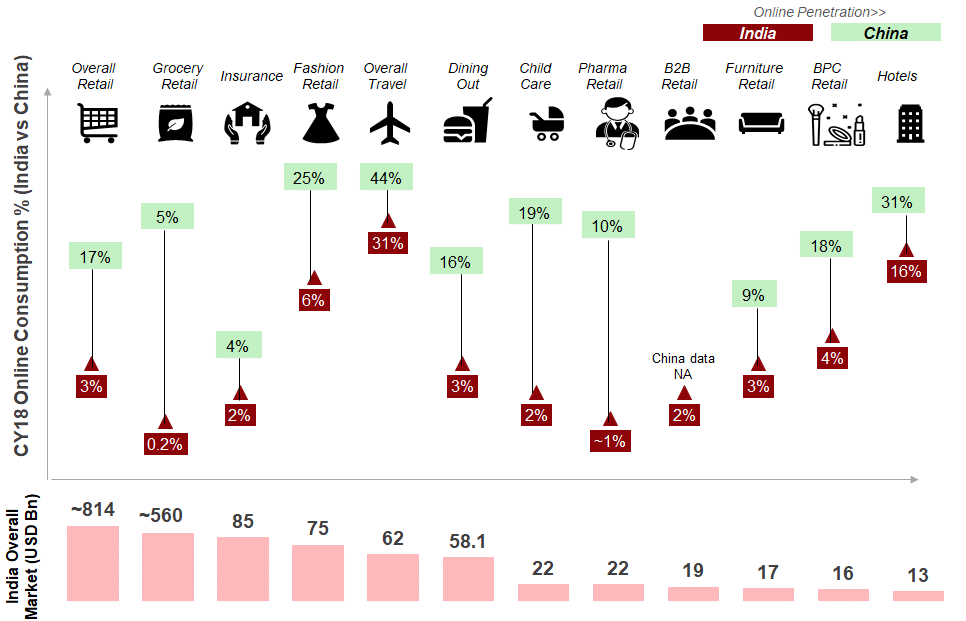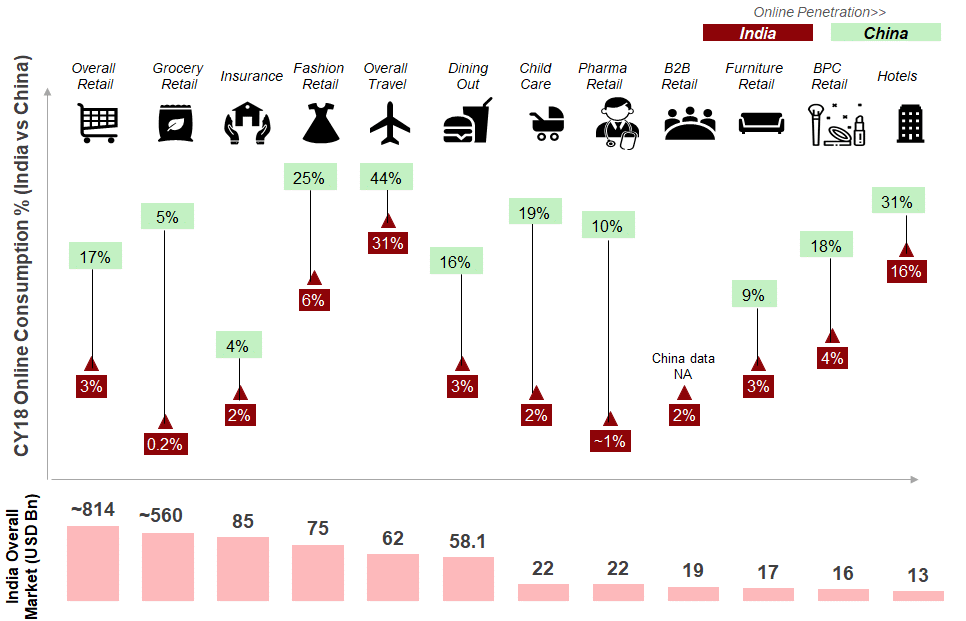 ---
USD 66 Bn current consumer internet market to steadily grow to USD 200 Bn by CY22
Published on: Dec 2018
Consumer internet went through turbulent years in CY15-17 caused by govt regulations coupled with a challenging funding environment. However, recovery of the e-tailing market along with overall buoyancy in investments led to rapid growth of the sector in CY18 and over next few years, we expect a broad based growth across internet verticals driven by innovative business models that solve real problems of Bharat and not just urban India.
---
B2B online retail is a fast growing opportunity; winning plays of the future are likely to be significantly different from historical ones
Published on: Dec 2018
In its 5th edition this year, festive sales have grown rapidly since inception and powered the growth of Indian e-tailing
Published on: Oct 2018
Festive period this year crosses last year's GMV in just 2.5 days
Published on: Oct 2018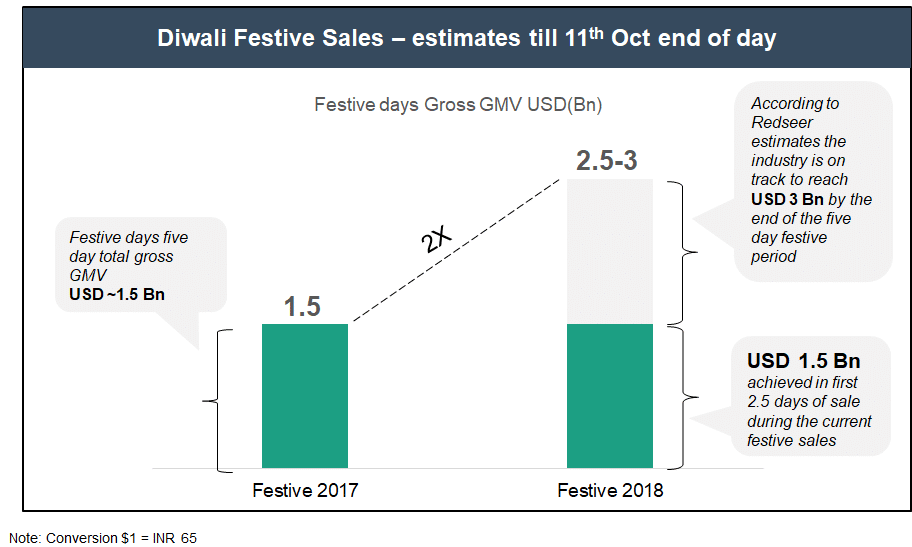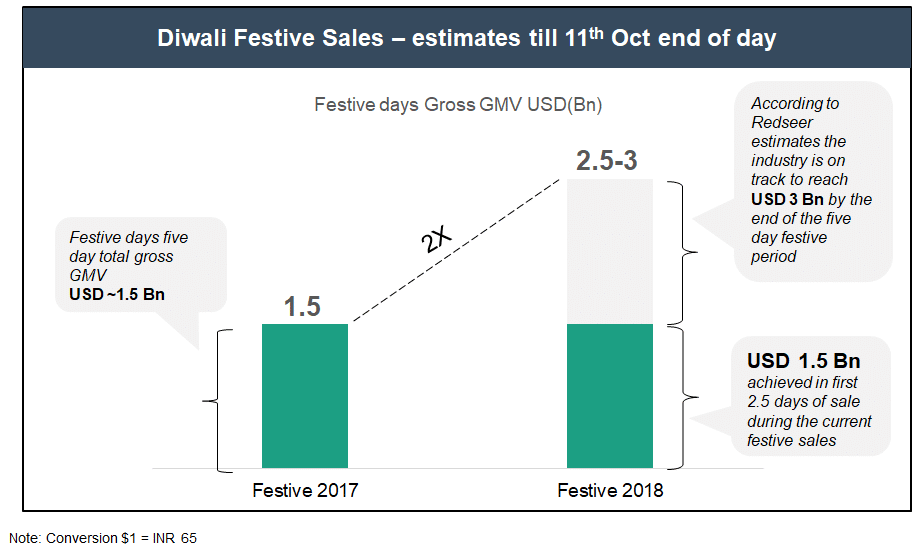 ---
Large appliances is expected to grow by 33% Y-o-Y to reach USD 1.2 Bn on the back of exclusive warehouses, extended reach and third party support
Published on: Oct 2018
---
The InsurTech consumer base in India can expand at a CAGR of ~45% if primary issues of awareness, trust and ease of use are solve
Published on: Sep 2018
Our estimates shows that India's nascent InsurTech market can expand at 45% annually to reach 25 Mn annual buyers by 2022. Yet realizing this potential will require solving key challenges viz low awareness in the non metro cities and lack of trust/ease of use in metros.
64% local restaurant/bakery in metros and 52% local restaurant/bakery in T2 cities are willing to use software for managing business
Published on: May 2018
The local restaurant/bakery shops has become the target market for a bunch of upcoming startups who are trying solve the day-to-day business problems for them. With about 64% local restaurant/bakery in metros and 52% local restaurant/bakery in T2 cities willing to use software/technology for managing business there is a huge market potential for these offerings. We feel going forward this segment would be interesting to look at as a number of startups would target it by trying to solve various problems like inventory management, account management etc.
---
Whatsapp leads the pack of mobile messengers in consumer satisfaction
Published on: Mar 2018
Powered by ease of usage and data transfer speed Whatsapp leads the pack of mobile messengers in consumer satisfaction. IMO and Hike have developed their niche, with IMO being used majorly for video calling facility and hike majorly for the emoticons. IMO users find the video calling facility quite useful as IMO is able to provide high quality video calling at low data speed. Hike on the other hand has different set of users with students and young professionals being the core audience who use it majorly for chatting with friends using the emoticons.
---
In 2017 the internet sector has evolved with a clear value proposition in consumers mindset
Published on: Jan 2018
There are sectors which are showing clear signs of growing to large potential but can still be driven by discounting, followed by sectors which have proven value and might not be driven by heavy discounting, then there are emerging sectors which are in nascent stages but can potentially grow large, and finally the sectors which are matured and might not show exceptional growth from here.
    Value proposition of Indian consumer internet sectors, UoM 
                                                        (market size vs. Online penetration)
---
There is a massive headroom for Indian internet demography to become active transacting user
Published on: Jan 2018
Overall India has a huge consumer internet growth opportunity with just currently 10% of the people who have online access buying consumer internet services online. We feel consumers who currently use banking services and wallets are the low hanging fruits for the consumer internet players. If the players can overcome the trust and other barriers faced by the consumers there is a great growth story awaiting them.
Internet Usage Evolution Funnel- India
INSIGHTS
Talk To Our Expert