1. Vietnam FMCG retail is 88% unorganised presenting a massive opportunity to digitize and drive efficiencies in the value chain
Among ASEAN countries, Vietnam has the highest share of unorganized channel in retail sales. In the FMCG category, 88% of sales flows through unorganized retail outlets.
Online currently accounts for <1% of FMCG sales as the eCommerce market here is relatively nascent, in comparison to the likes of Indonesia, Singapore etc.
This presents quite a sizable TAM for e-B2B players to target.
Vietnam FMCG market, USD Bn, % split by value across channels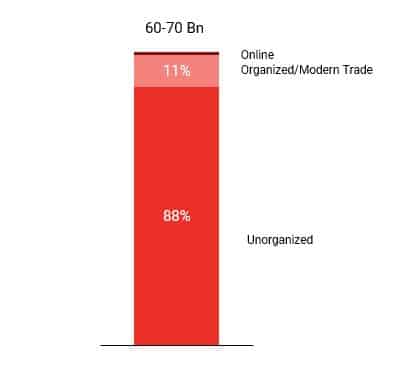 FMCG value chain in typically has 3 routes to reach the end retailer in the unorganised channel –
Directly to retailers

Via sub-distributors

Via wholesalers.
Since logistics in Vietnam is underdeveloped, it is difficult for distributors to directly reach all the GT retailers. This is where the sub-distributors come in and help as an intermediary to smoothen out issues such as high delivery times etc.
Wholesalers in Vietnam buy large volumes from various suppliers/distributors, bundle them and sell it to GT retailers at competitive rates, resulting in lack of control over pricing.
Majority of the flow of products happens through Sub distributors and Wholesalers and direct retailer route accounts for ~30% of the volumes.
eB2B players are looking to disrupt the wholesaler entity in the value chain, as is the case with most other markets.
FMCG Value Chain, Conceptual
2. However, the eB2B market is quite nascent at < USD 150 Mn in 2020, and is effectively a duopoly with top 2 players commanding a majority of the market
Top two players Telio & Vinshop command a lion's share of this market and both have seen exponential growth over the past year.
While Telio has been in the market for around 2 years, VinShop is a more recent entrant but growing rapidly.
eB2B market size, USD Mn, split by market share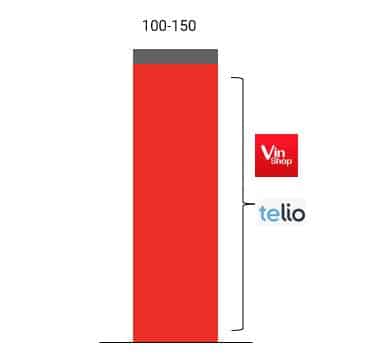 3. There are clear signs of more players entering this space – 2021 promises to be a landmark year for eB2B in Vietnam when the market could multiply 5x
Continuing with the growth momentum achieved in 2020, we expect the market to have the potential to multiply 4-5x in 2021 albeit at a lower base.
The opportunity is huge and there are firms across consumer internet & retail businesses who are eyeing this opportunity at present.
2021 could spring up a few surprises in terms of new entrants in the market.
Interesting times lie ahead for this sector and investors are closely watching how this space develops.
Is eB2B an area of interest for you? Our team at RedSeer SEA have done in-depth analysis around this space. Do reach out to us if you would like to have more detailed discussions.
eB2B market growth, USD Mn