Dec, 2010
| By Anil Kumar, Ujjwal Chaudhry
Advanced Wound Care Market (AWC) In India
Indian healthcare sector is expected to create an additional opportunity of ~ USD 40 billion in next 4 years
---
RedSeer Consulting helps companies succeed in emerging markets
Our Focus Areas – Our Core Expertise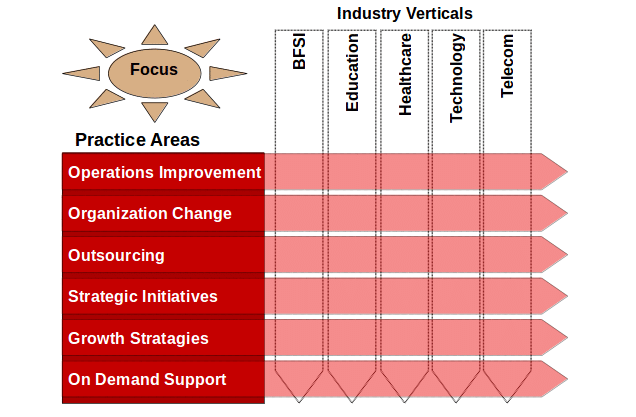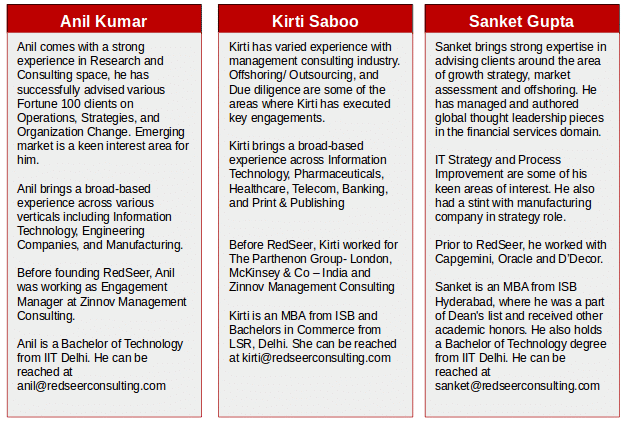 Vishal Ranjan – Over 6 Years Experience in Healthcare
Vishal has more than six years of management consulting experience with MNCs in setting up businesses and devising growth strategies. He has advised many Fortune-100 companies on Business Process Re-engineering, Market Entry Strategy, India market strategy, growth strategy and business planning. Vishal has over four years of core experience in advising hospitals on managing costs, operations and new/raw service offerings.
Vishal is the founding partner of Asclepius Consulting. He is an alumnus of IIT Delhi and IIM Calcutta.
Dr. Rekha–Over 13 years experience in Healthcare
More than 5 years experience in area (s) related to Health Informatics and with 7 yrs of experience as General Medical Practitioner in Medicine, Pediatrics and Anesthesia

Systems Engineer, GE Healthcare, Bangalore (2008 to 2010)

Research Fellow, University of Auckland (2006 to April 2008)

Masters in Health Informatics at Dalhousie University, Canada in fall of 2005/2006

CIHR PhD/Post Doctoral Research Strategic Training Program (2005-2006)

Research Associate in College of Pharmacy, Dalhousie University, Canada

Resident of Drug Use Management and Policy Research Program, Dalhousie University, Canada
Suresh Gangam 6 years experience in Healthcare and FMCG
Worked on multiple market entry engagements for Healthcare players ( from supply and demand side)

Market entry strategy engagements for across the industry players

Suresh is an alumnus of IIT Bombay,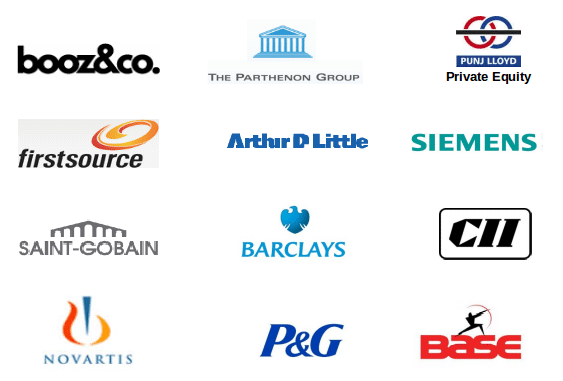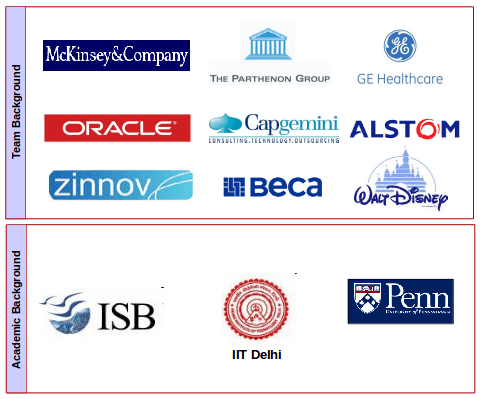 Our differentiating factors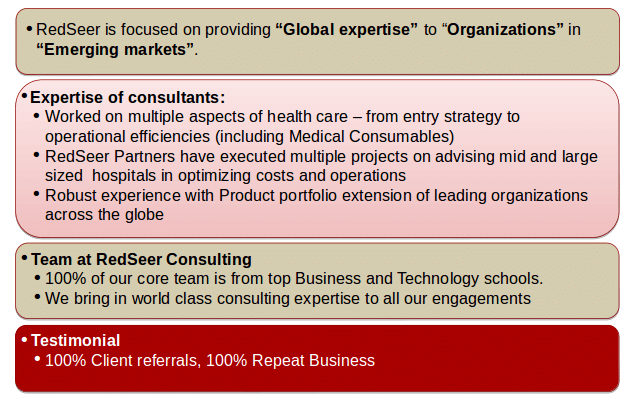 Indian healthcare sector is expected to create an additional opportunity of ~ USD 40 billion in next 4 years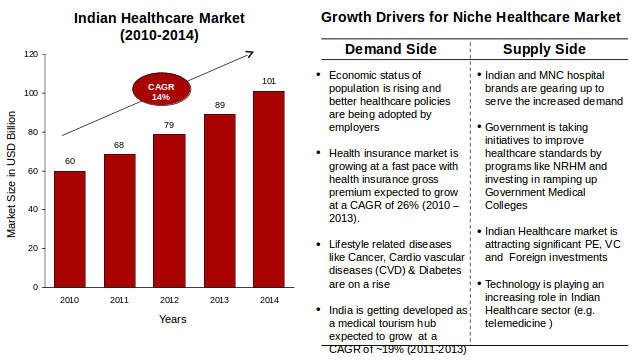 Increase in lifestyle related diseases is one of the major growth drivers for Indian healthcare market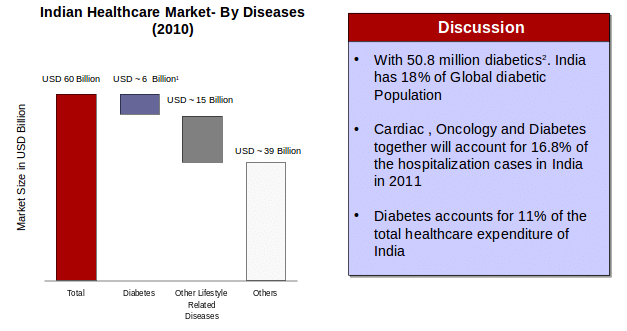 Medical Consumables, with USD 4 Billion market size– is a key component of Indian Health Care Industry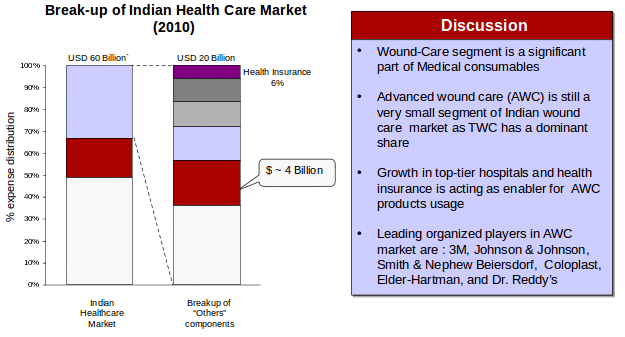 Doctors' experience with AWC products is a major influencer in AWC ecosystem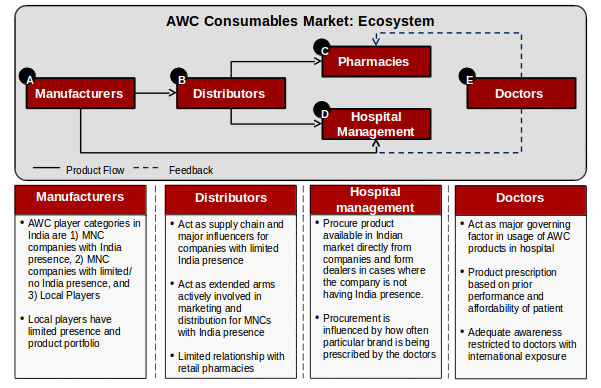 Case Study: Medical consumables, as a stand-alone segment, is a major contributor to hospital expenditure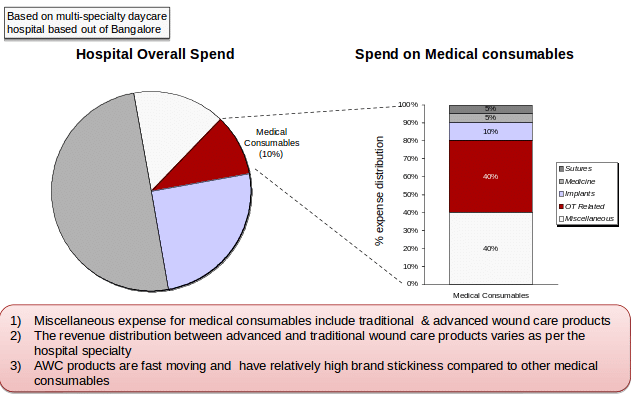 Multispecialty hospitals are the prime consumers for AWC products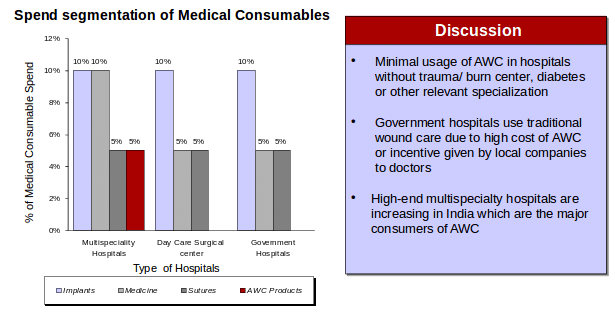 Majority of AWC consumption is concentrated in segments like Diabetic, Burn and Trauma Wound care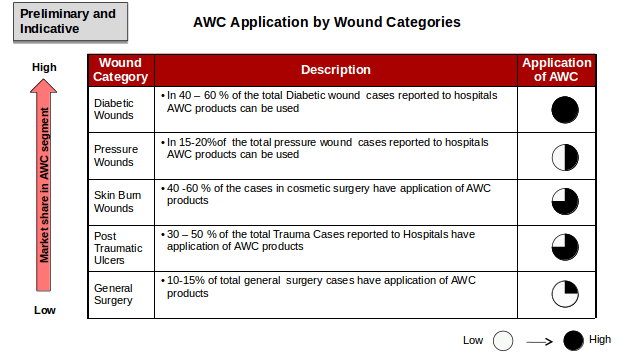 Collagen, Hydrogels and Foam Dressings form a major chunk of market share of Indian AWC market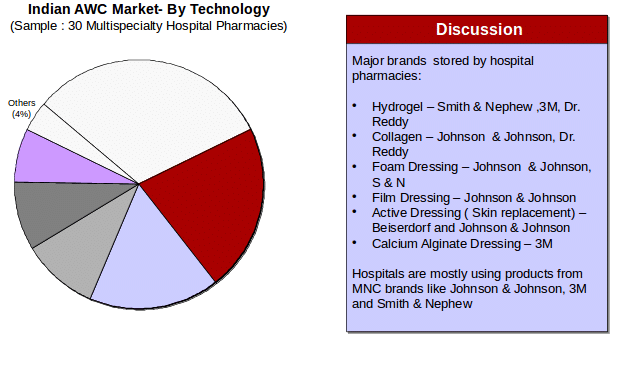 Limited awareness amongst doctors is a major pain area in AWC Markets growth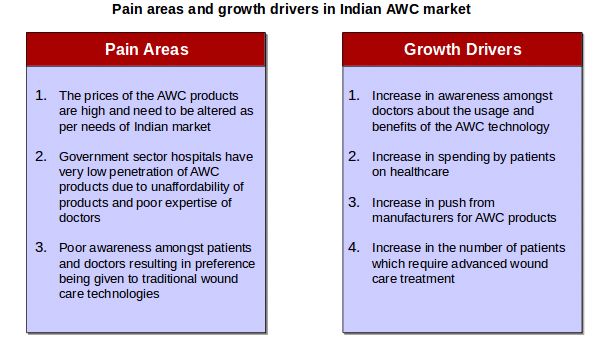 Smith & Nephew scores highest on – Technology, Product range and Brand…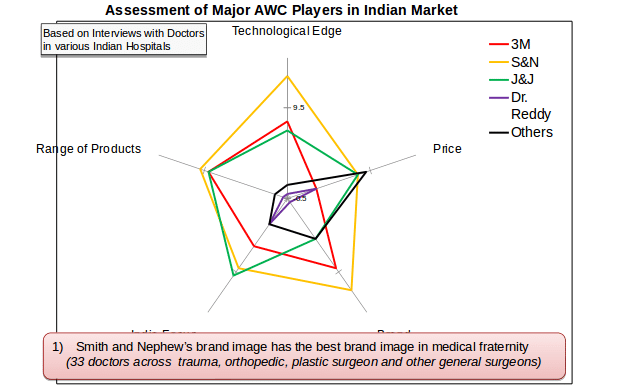 …and also has the highest brand recall amongst doctors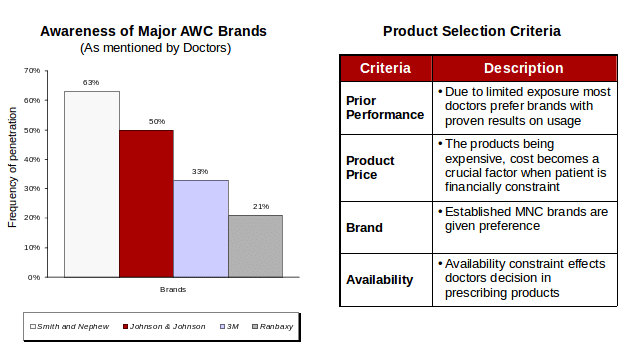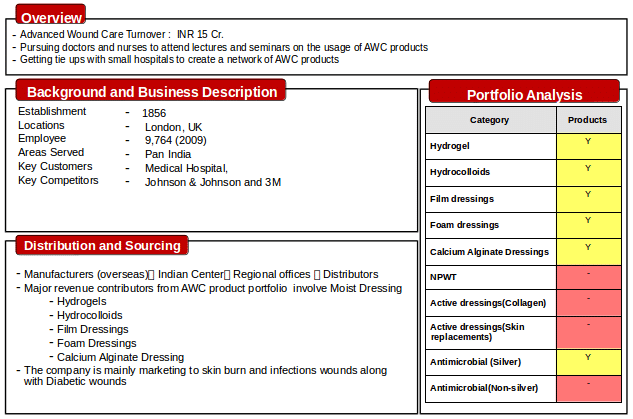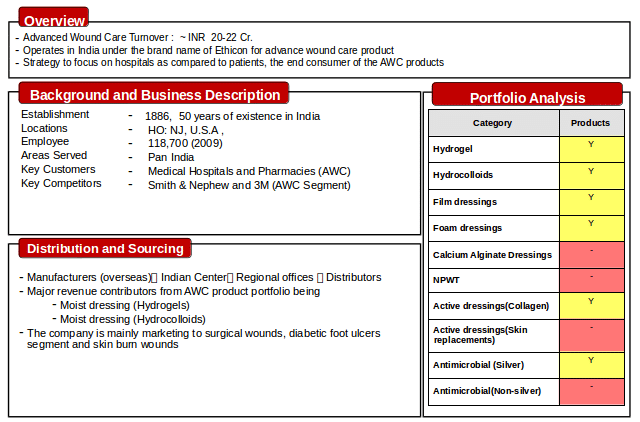 Indian wound care market is dominated by Traditional Wound Care Segment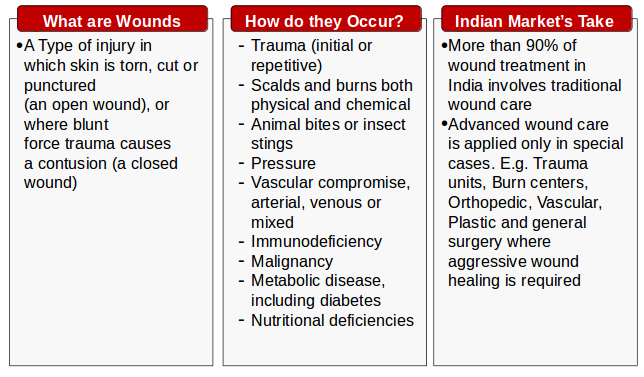 Wounds go through four stages of healing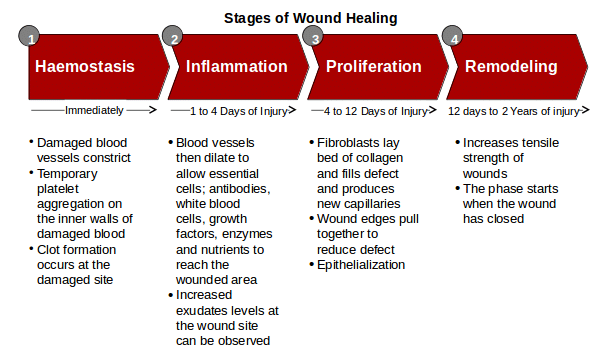 AWC products have major application in Surgical, Traumatic, Burn and Chronic Wounds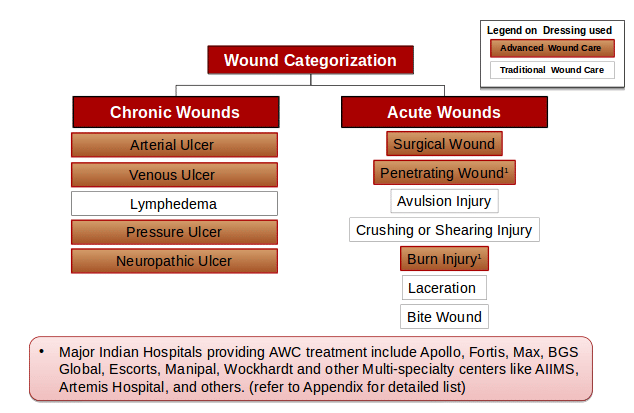 Impaired healing leads to chronic wounds which in turn need Advanced Wound Care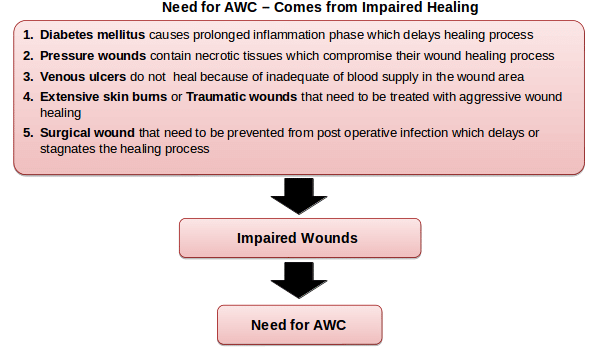 Wounds with AWC application..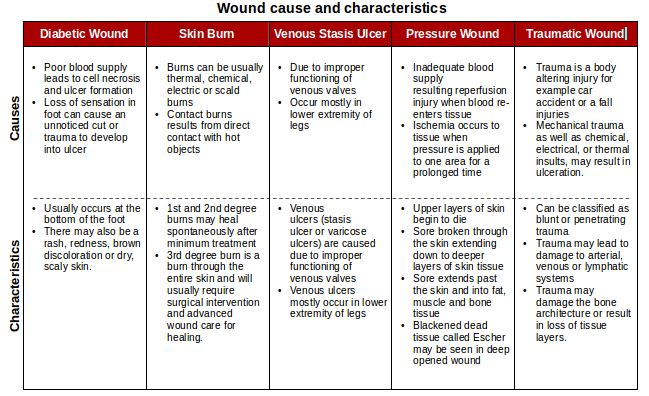 …Commonly treated using Collagens, Hydrogels and Hydrocolloids by Indian Doctors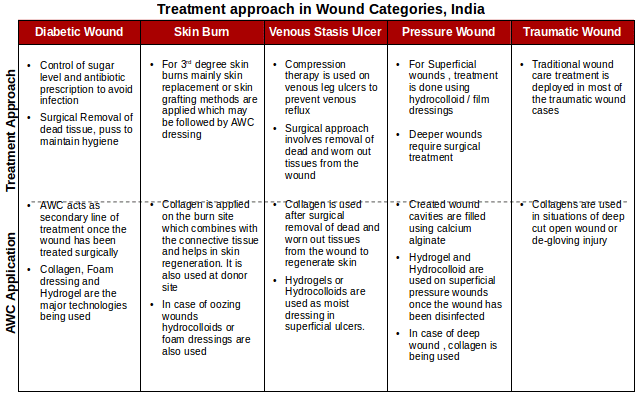 Indian Scenario of AWC Technologies usage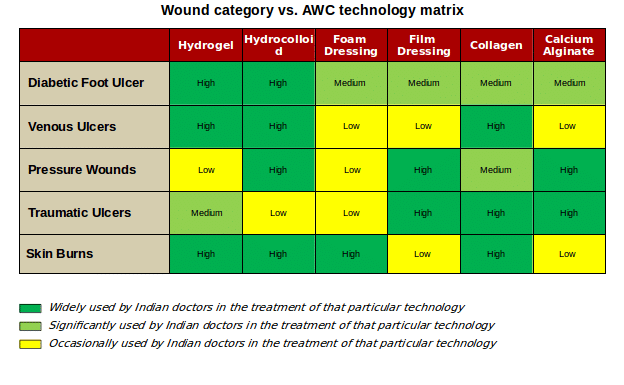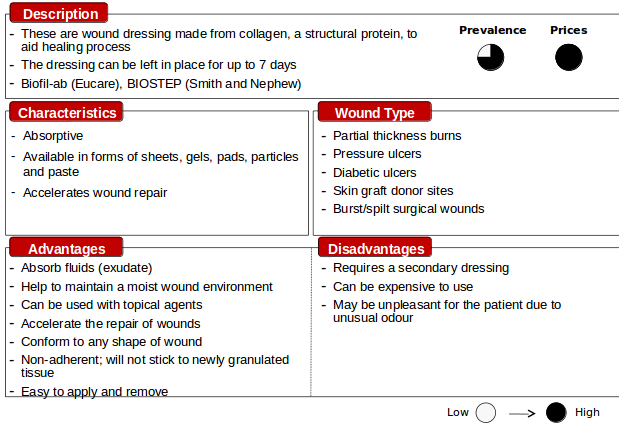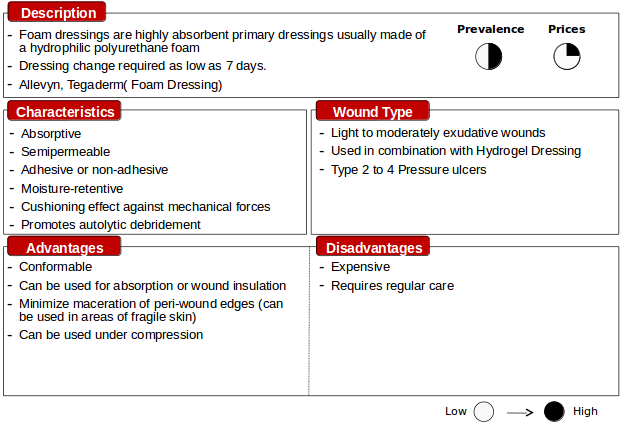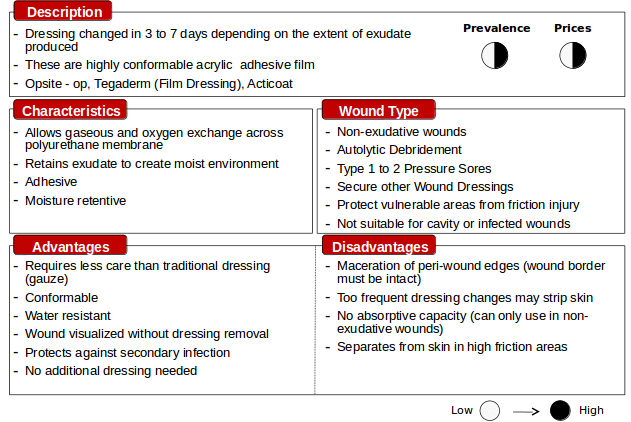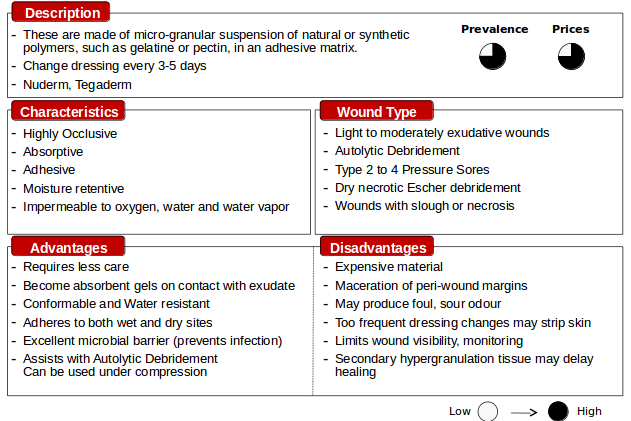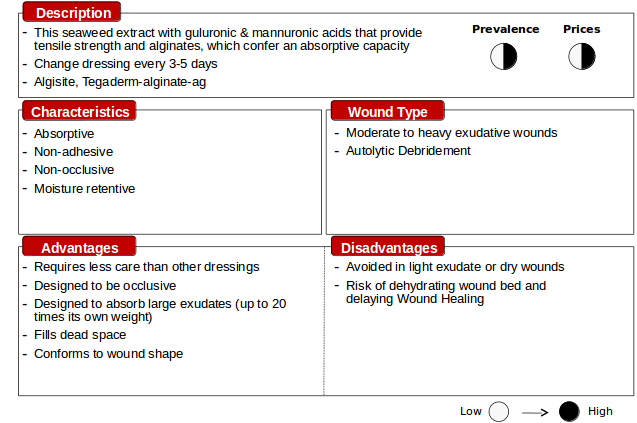 INSIGHTS
Talk To Our Expert