May, 2019
| By Ujjwal Chaudhry, Pankaj Singh Bhati, Abhijit Routray, and Shashank Subramaniam
Change is Here to Stay
Indian mid-market hotel industry is expected to grow at 10% to reach USD 4.4Bn by 2019
---
Indian chain affiliated hotel industry would observe an improved bottom line as supply-demand mismatch corrects itself in the coming years
Slowing supply and rising demand is expected to increase occupancy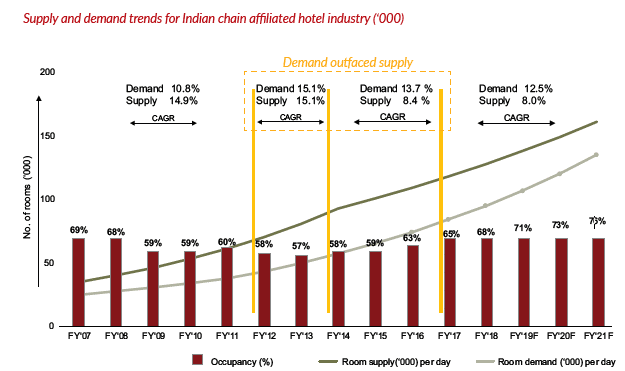 In the last 12 years, chain affiliated hotel industry in India has gone through multiple different phases
FY'07-FY'11: While the occupancies were closer to 70% at the start of the period, they dropped sharply during FY'09. This happened largely due to the supply addition growing faster than the demand. The global financial crisis also impacted the Indian domestic economy which led to a drop in the demand.
FY'12-FY'13: This period saw a tremendous recovery in demand. However, the supply continued to grow at a fast pace aided by international players entering the Indian market, as well as Indian players expanding their presence. Therefore, demand and supply grew at similar rates, and the occupancies continued to remain low at 57-58%.
FY'14-FY'16: Due to low occupancies, the supply growth started to stall while the demand continued to grow. This led to better occupancies which also translated into better top-line and bottom-line performances by the players in the market.
FY'17- FY'21F: In the last 2 years, demand continues to outpace supply which is leading to better occupancy for chain affiliated players. The trend is expected to continue for the next few years as the supply pipeline is not very strong, and fundamental drivers of demand continue to be positive.
In the last 2 years, demand continues to outpace supply which is leading to better occupancy for chain affiliated players.
Tech-enabled players are fighting a multi-sided battle with deep-pocket incumbents and un-organized players
Traditionally, mid-market hotel segment has had 4 types of players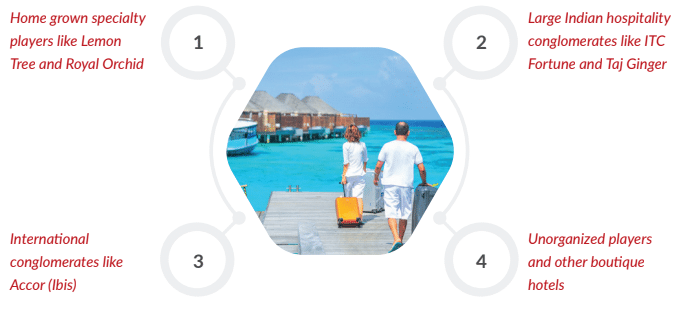 The entry of tech-enabled players like Oyo Townhouse, Fab and Treebo has changed the dynamics of the sector, as these players are typically  venture capital funded and expanding aggressively.
The tech-enabled players have mostly tried to keep an asset-light model while standardizing the customer experience by leveraging technology. These players have a higher concentration in top-8 cities compared to other organized players which have presence in tier-2 cities as well as leisure markets. Also, tech-enabled players have smaller size formats compared to other organized players due to which they are available even in more congested city areas. 
Indian Mid-Segment Hotel Market Landscape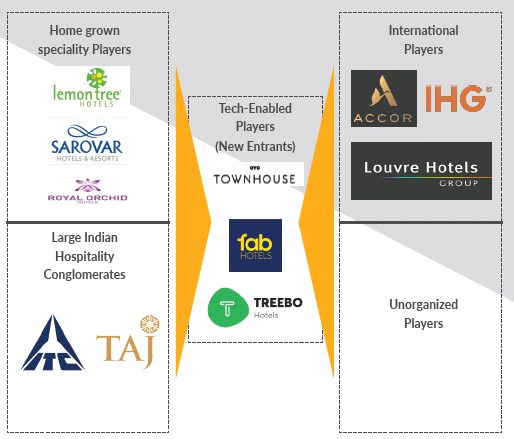 Major events happening in the mid-market segment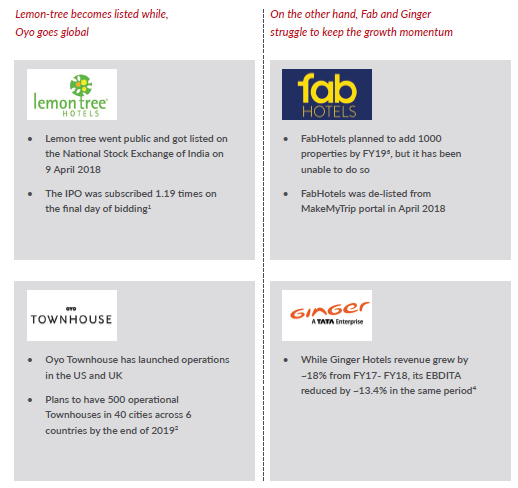 Note(s):
1. As reported by Bloomberg
2. As mentioned on company website
3. As reported by media outlets in Jun'18
4. Basis financials reported by company
Tech-enabled players have arrived in the mid-segment market in the last 4-5 years while other large players have been around for a longer time
Indian Mid-Segment Hotel Market Evolution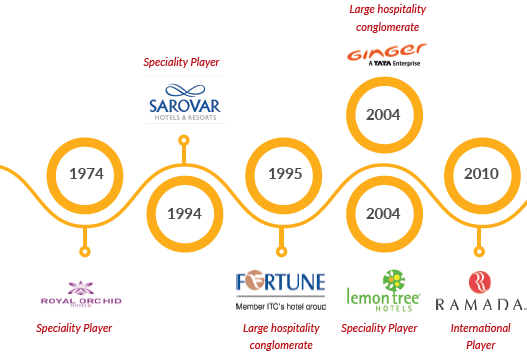 Specialty players like Royal Orchid were the earliest entrants in this segment. As the demand for the chain-affiliated mid-market segment started growing, large hospitality conglomerates like ITC and Taj also started their own mid-segment brands (Fortune and Ginger respectively). Post-2010, some of the International players like Ramada, Ibis and Novotel also started their India operations.
In the last 4-5 years, tech-enabled players have entered the market backed by venture capital. Their key value proposition is a standardized customer experience at relatively lower price points. This segment was typically catered to by unorganized and boutique hotels in the past which are seeing lower occupancies in the last few years. Due to this, a large number of these hotels have tied up with tech enabled players instead of competing against them.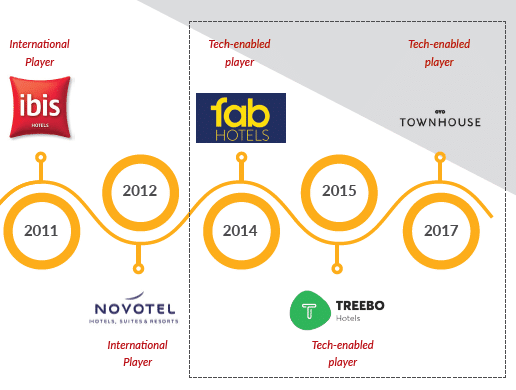 Indian mid-market hotel industry is expected to grow at 10% to reach USD 4.4Bn by 2019
Market Size of mid-segment hotels in India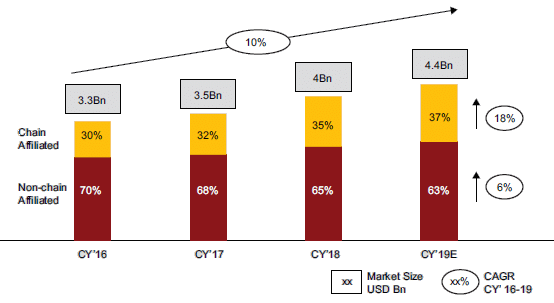 Mid-market segment was estimated to be USD 4 Bn in CY18, growing at 10%. The growth of the segment is largely driven by chain-affiliated hotels, which is growing by 18%, compared to Non-Chain affiliated segment, which is growing by 6%. Some of the chains have multiple brands within mid-segment to cater to different price points.
The growth of the segment is largely driven by higher demand as well as premiumization. One of the key factors for higher demand is growth of corporate sector in India and increased mobility of the workforce. From a demographic point of view, as more millennials are joining the workforce and gaining higher spending potential, they have a higher tendency towards traveling, both for professional and
leisure purposes, compared to previous generations.
Note(s):
1. Mid-market segment is hotels in the INR 1500 – 5000 range
2. Market size= Room Inventory x Occupancy x ADR
3. Bottom-up approach to estimate the number of rooms, data scraped from multiple OTA websites
4. Top 10 cities were considered for sample space on Booking.com
5. 1 USD = INR 65
Compared to global benchmarks, India is still a nascent market…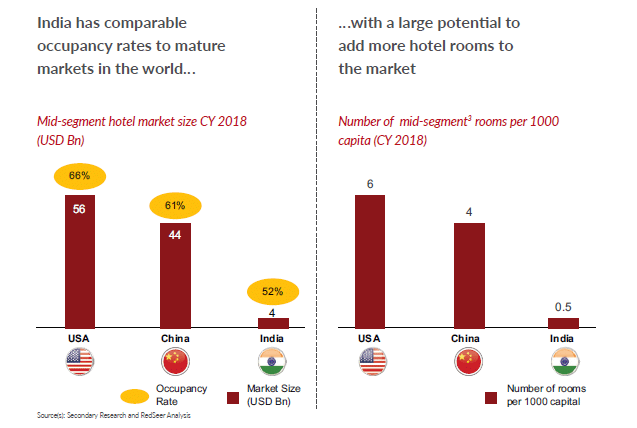 From a global perspective, Indian mid-segment market is significantly smaller compared to that of China and the US, which are 11X and 14X bigger,
respectively. The occupancies in China and US are also higher compared to the Indian market which shows a better demand-supply match.
In terms of supply, India has 0.5 rooms per 1000 capita, compared to 4 in China and 6 in the US. This is largely in line with GDP per capita differential between these countries. As India's GDP continues to grow, the sector will see growth driven by higher incomes as well as spending potential.
Note(s):
1. US market size approximated as percentage of the mid-segment market (volume) of the industry
2. China market size collected using Secondary Research
3. Rooms per 1000 capita calculated using Market size, ADR and Occupancy
4. 1 USD = INR 65
…but still managesto demand a healthy RevPAR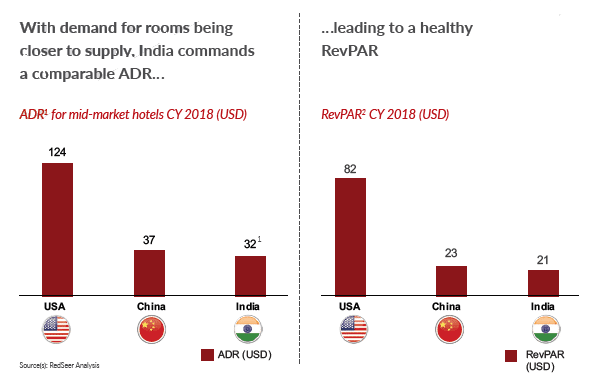 While ADR in China is only 15-20% higher compared to that in India, ADR in the US is significantly higher. This is due to a higher concentration of hotels in the higher price range in the US as compared to India and China. The corporate sector in the US is also more evolved, and the mobility of workforce is also significantly higher.
RevPAR (Revenue per available room) is an important indicator for industry top-line, driven by ADR and occupancy rates. Driven by higher ADRs and occupancy rates, RevPAR is higher for both China and the US compared to India.
Note(s):
1. ADR (Average Daily Rate)
2. RevPAR (Revenue per Available Room)- Occupancy rate x ADR
3. India ADR calculated as a weighted average of the chained and non-chained mid-segment hotels
4. China ADR assumed Y-oY growth rate to arrive at a dollar value
5. 1 USD = INR 65
GOPPAR for various players varies significantly basis their operating models and operational efficiency
GOPPAR of key players in the mid-segment hotels category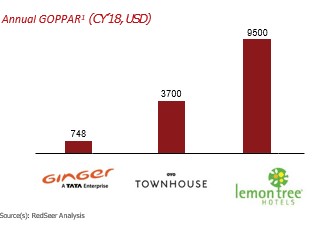 GOPPAR is driven by 4 key aspects:
Model – Owned/leased model enables  players to capture a greater proportion of the  bottom-line which ensures the core cost is  predictable and under control
Top line – Higher utilization and revenue from  services at the same cost structures ensures a  higher EBITDA
Operational Efficiency – Efficiency across the value chain- especially in procurement, deployment of manpower- decreases revenue leaks and unnecessary cost escalations. Technology can be an important leverage here
'Near-Core' and Value-Added Services – Near-Core services such as food and beverages and value-added services like spa, laundry, etc.  command higher margins and add directly to the top-line and their scalability optimizes overheads. Hence, they give a higher  GOPPAR
Note(s):
1. GOPPAR- Gross Operating Profit Per Available Room (EBITDA/ Available Rooms)
2. GOPPAR for Ginger and Lemon Tree is only Owned/ leased assets while for Oyo Townhouse, it is for entire portfolio (Largely managed inventory)
3. 1 USD = ₹65
4. The GOPPAR for Lemontree was misreported in previous RedSeer report on mid-market hotels titled 'Room for millenials in a 4Bn$ industry'- this has been correctedoY growth rate to arrive at a dollar value
5. 1 USD = INR 65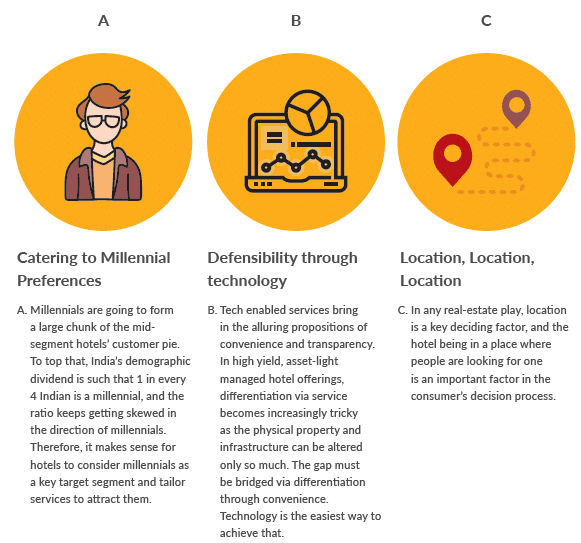 A. Catering to Millenial preferences
Millennials will increasingly drive the sector…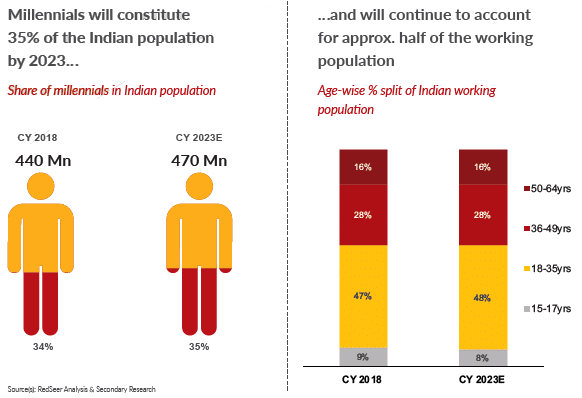 Millennials are a significant section of the population
of India. They are special because of their spending habits millennials consume a significant proportion of their incomes. It is a clear indication that this section of the population is consumption heavy. This is in contrast with the savings economy of earlier generations. Their preferences are towards tech-enabled offerings which are lighter on capital requirements and have exponential scaling ability, which is achievable in a fraction of time compared to the same kind of growth in earlier generations.
As the birth rate decreases every year, the proportion of people too young to work will keep decreasing, and the proportion of millennials will keep increasing until the population reaches stability. Hence, it's increasingly important to cater to this large demographic segment with significantly different needs.
Note(s):
1. Millennials are defined as Generation Y; between the age groups of 18 and 35
2. Percentage of millennials population collected through secondary research
…and prefer hotels that have better loyalty rewards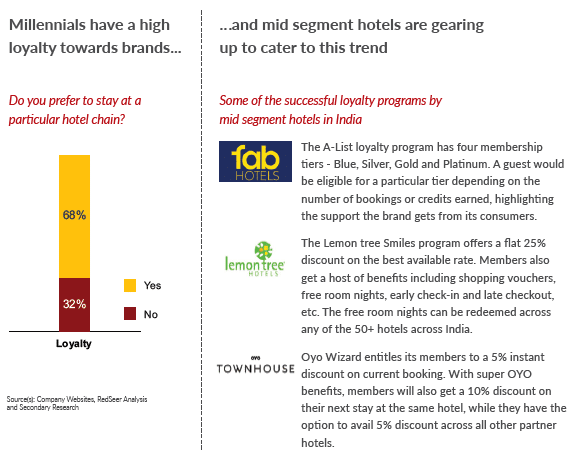 The mid-market segment has a significantly higher loyalty quotient compared to the budget segment. Frequent travellers typically prefer to stay at the same hotel chains, even at different locations, since they are assured of a similar customer experience. Millennials show a similar behaviour with 68% being loyal towards a certain hotel brand.
Mid-segment hotels are increasingly investing in creating high stickiness through rewarding loyalty programs. Loyalty programs drive higher repeat usage from customers, and loyal customers are also typically promoters who tend to drive more customers towards the brands.
Note(s):
1. N=165
2. The survey was conducted by RedSeer across India
3. Millennials are defined as Generation Y; between the age groups of 18 and 35
Hotels with chic and elegant designs will be in a better position to cater to the millennials taste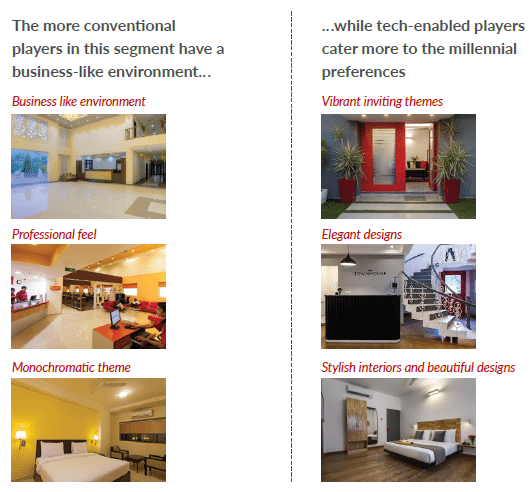 Millennial preferences are somewhat different from earlier generations. Millennials tend to associate their surrounding as an extension of their self. Hence, they prefer less rigid and more creative designs of space. Stylish interiors with prominent colours and beautiful designs appeal to millennials more than single coloured, professional looking designs.
Themes are a great way to attract millennials as well. Vibrant, inviting themes are more approachable and more worthy of special moments 'worth capturing'. The cherry on top is customized themes based on the time of the year which can be possible via modularized operations.
Note(s):
1. Images have been taken from google images for illustrative purposes only
B. Defensibility through Technology
Tech-enablement will lead to higher defensibility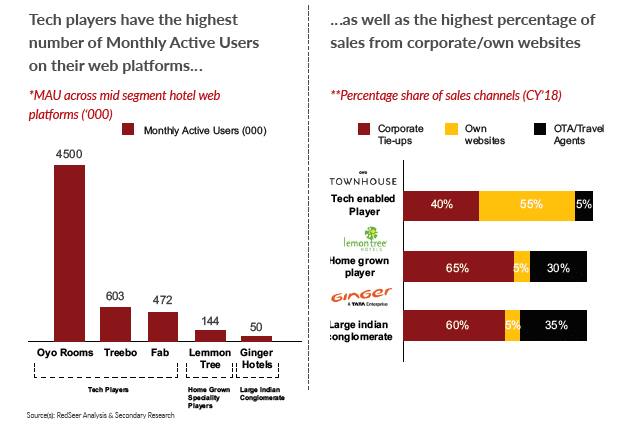 When it's difficult to differentiate using traditional levers, technology is a low-hanging but extremely tasty fruit that needs to be capitalized on. From the point of view of a non-tech player, the barrier to entry for smaller players becomes smaller, and defense against disruption becomes increasingly ineffective. 
Any aggregator or OTA player can come up, and commoditize the space by increasing accessibility to competition and drive prices down by providing discounts. Before that happens, it's better to give tech-enabled options to consumers to facilitate the acquisition, provide customized services to boost satisfaction and exclusive benefits to encourage loyalty.
Note(s):
* MAU is Monthly Active Users only for websites for the month of Jan'19
** Sales channel contribution for categories is based on the key player analysis
C. Location, Location, Location
Tech-enabled players have a higher presence in metro locations while incumbents are more diversified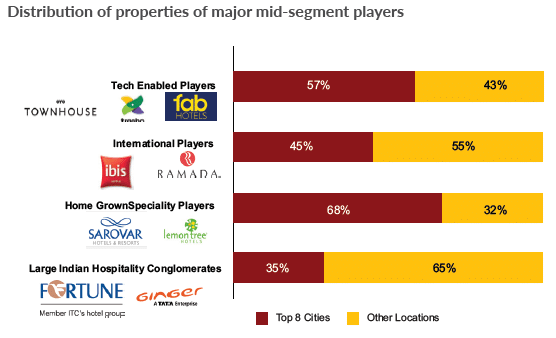 Tech enabled solutions are typically new age players, mostly VC/PE backed private companies which are based out of metros. On the demand side, metros have the highest internet penetration and therefore, highest technology adoption and the highest share of online transaction volumes. It makes sense for tech-enabled players to develop inventory in this region where they have the highest probability of finding takers who have the dispensable income to afford a midsegment hotel.
Even for the people who travel, these are the cities which become gateways to more remote locations due to the presence of large airports. Hence, these cities become a congregation of travelers who look for short term stays. This space is typically occupied by hostel providers or dormitories. But there's a need gap there in terms of quality of service and therefore of customer experience. That is a huge market that can be tapped in to.
Note(s):
1. Top-8 cities include: Delhi NCR, Mumbai, Bangalore, Chennai, Kolkata, Hyderabad, Pune, and Ahmedabad
2. Redfox properties are included in Lemontree
Tech-enabled players are better positioned to cater to the location requirements for millennials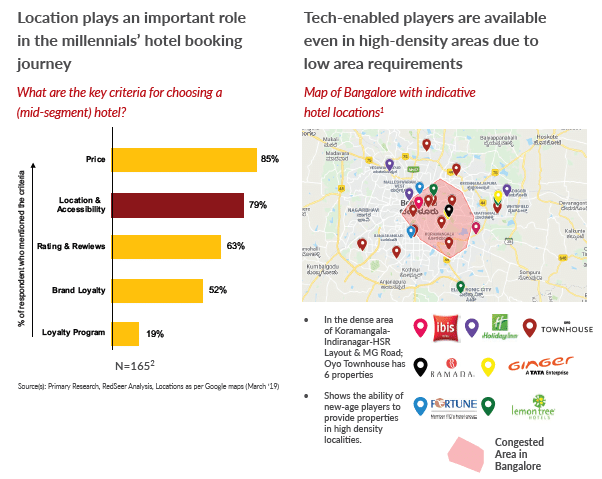 Location and Accessibility of a hotel is the key deciding factor for the customer in choosing a midmarket hotel. Given the large area requirements for specialty brands and hospitality conglomerates, it is increasingly becoming difficult for these players to acquire land/ properties in high-density areas which could be business or lifestyle hubs and hence, more preferred locations for the customers.
Since tech-enabled players typically have smaller format hotels (in terms of the area required), their presence in such areas is significantly more. This also results in higher occupancy rates for properties located in these areas.
Note(s):
1. The map is plotted using Google My Maps
2. The survey was conducted by RedSeer for millennials across India
Strong fundamentals will continue to drive market growth…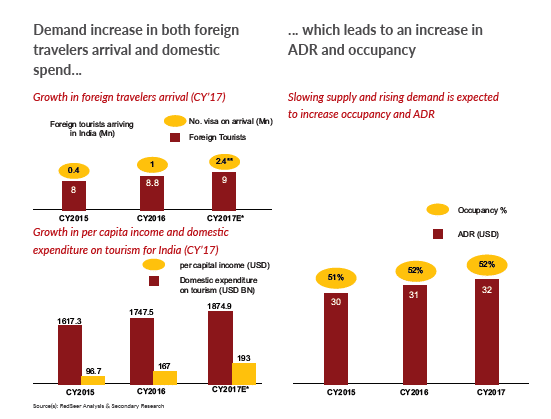 The number of foreign tourists is growing at an increasing rate owing to better infrastructure, more information and policy boosts such as visa on arrival. This growth directly impacts the top-line of hotels. As these customers not only bring in revenue for rooms, but they depend on the hotel for F&B and other services as well, they add to the GOPPAR more than any other segment of customers.
On the domestic side, consumption is being preferred over savings. This might be attributed to a better performing economy,
more education and higher aspirations where the downturns are less expected. As per surveys, millennials spend 40% of the income on leisure and eating out. This dispensable income will translate in consumers preferring midsegment hotels to budget hotels.
Due to the aforementioned reasons, occupancy and yields are increasing. The supply-demand surplus is decreasing which decreases overheads and improves bottom-lines for the players.
Note(s):
*Estimated 2017 values; till November 2017
**Estimated 2017 values
USD 1 = INR 65
New models in the hotel segment seeing accelerated growth with – 'Manchising leading the way'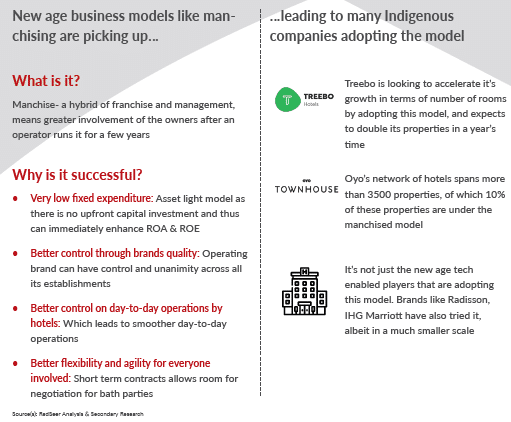 Oyo, backed by strong investors like Softbank Vision Fund, managed to raise close to $1Bn earlier in the year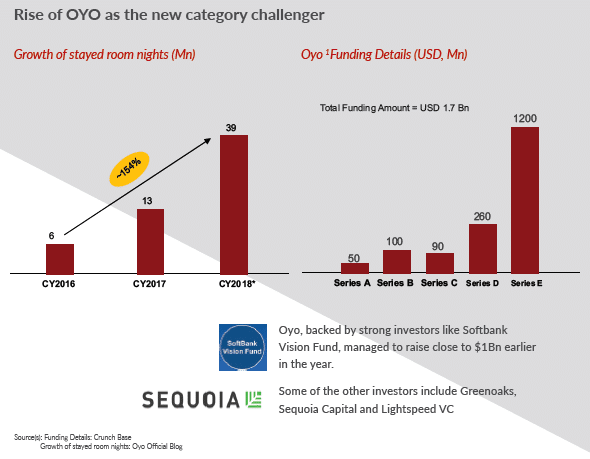 OYO, with huge amount of capital in its kitty, excellent management, and a very effective and ambitious founder is uniquely placed in the midsegment market. It follows an asset-light business model with small-format properties. Hence, a high level of standardization has worked in OYO's favor.
Standardization is a very good pull for the customer because of the information asymmetry/misinformation where customers feel unsatisfied by the level of service compared to expectations set by the marketing efforts. OYO, therefore, is very favorably positioned. Given unit economics pan out, it is going to be a very strong challenger in the space.
Note(s):
1. *Annualised based on the December data
2. Funding for Round A has been calculated (Total Funding – Round Funding); other round details taken directly from Crunchbase
3. Series A – Feb 2015; Series B – July 2015; Series C – Aug,2016; Series D – Sep,2017; Series E – Sep & Dec 2018; and Feb 2019
Tech-Enabled players expected to grow their market share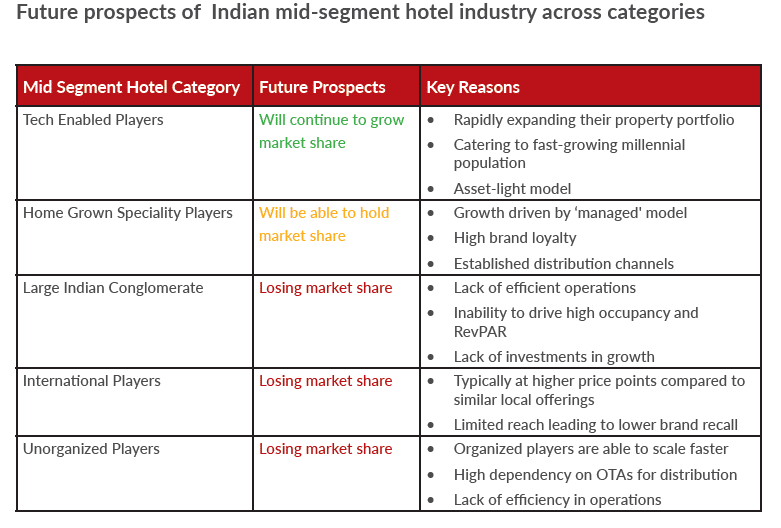 The writing is on the wall as far as conventionalbusiness models in mid-segment hotel business are concerned. Tech-enabled players will continue to grow and increase their market share due to the scalability of asset-light models and technology. Their target segment (millennials) forms the largest chunk of the population – they are more inclined to consumption, and are more likely to spend more on hotels compared to people having the same income, but belonging to an earlier generation, and they prefer the convenience and accessibility provided by technology-aided services.
While, conventional players must use their advantage of higher proportion of bottom-line captured from owned assets, they must progress to building in technology in their front-end to attract and retain customers, as well as in the back-end to drive cost efficiencies. Also, traditional target segments for mid-segment hotels might warrant a revision due to the increasing presence and 'willingness to pay' of millennials.
INSIGHTS
Talk To Our Expert