May, 2019
| By Ujjwal Chaudhry, Pankaj Singh Bhati, Abhijit Routray, and Shashank Subramaniam
Change is Here to Stay
Indian mid-market hotel industry is expected to grow at 10% to reach USD 4.4Bn by 2019
---
In the last 12 years, chain affiliated hotel industry in India has gone through multiple different phases.

• FY'07-FY'11: While the occupancies were closer to 70% at the start of the period, they dropped sharply during FY'09. This happened largely due to the supply addition growing faster than the demand. The global financial crisis also impacted the Indian domestic economy which led to a drop in the demand.
• FY'12-FY'13: This period saw a tremendous recovery in demand. However, the supply continued to grow at a fast pace aided by international players entering the Indian market, as well as Indian players expanding their presence. Therefore, demand and supply grew at similar rates, and the occupancies continued to remain low at 57-58%.
• FY'14-FY'16: Due to low occupancies, the supply growth started to stall while the demand continued to grow. This led to better occupancies which also translated into better top-line and bottom-line performances by the players in the market.
• FY'17- FY'21F: In the last 2 years, demand continues to outpace supply which is leading to better occupancy for chain affiliated players. The trend is expected to continue for the next few years as the supply pipeline is not very strong, and fundamental drivers of demand continue to be positive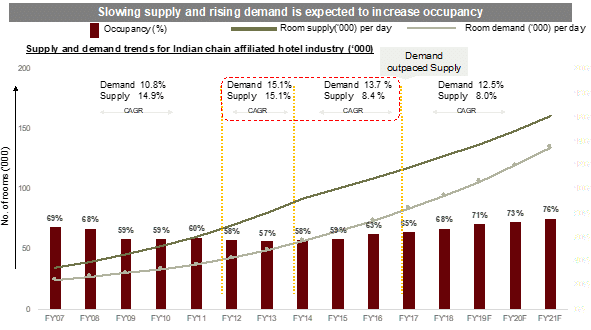 Mid-market segment was estimated to be USD 4 Bn in CY18, growing at 10%. The growth of the segment is largely driven by chain affiliated hotels, which is growing by 18%, compared to Non-Chain affiliated segment, which is growing by 6%. Some of the chains have multiple brands within mid-segment to cater to different price points.
The growth of the segment is largely driven by higher demand as well as premiumization. One of the key factors for higher demand is growth of corporate sector in India and increased mobility of the workforce. From a demographic point of view, as more millennials are joining the workforce and gaining higher spending potential, they have a higher tendency towards traveling, both for professional and leisure purposes, compared to previous generations.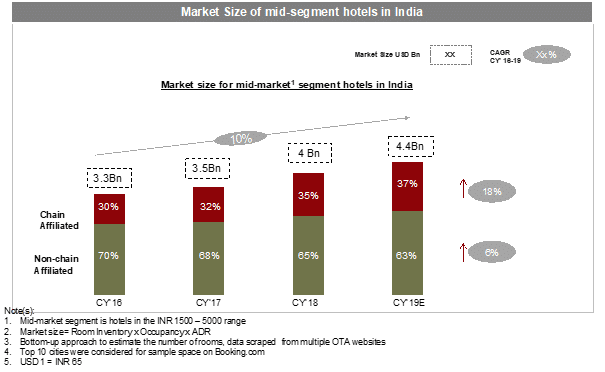 What gives a mid-market player the right to win?
A. Millennials are going to form a large chunk of the mid-segment hotels' customer pie. To top that, India's demographic dividend is such that 1 in every 4 Indian is a millennial, and the ratio keeps getting skewed in the direction of millennials. Therefore, it makes sense for hotels to consider millennials as a key target segment and tailor services to attract them.
B. Tech enabled services bring in the alluring propositions of convenience and transparency. In high yield, asset-light managed hotel offerings, differentiation via service becomes increasingly tricky as the physical property and infrastructure can be altered only so much. The gap must be bridged via differentiation through convenience. Technology is the easiest way to achieve that.
C. In any real-estate play, location is a key deciding factor, and the hotel being in a place where people are looking for one is an important factor in the consumer's decision process.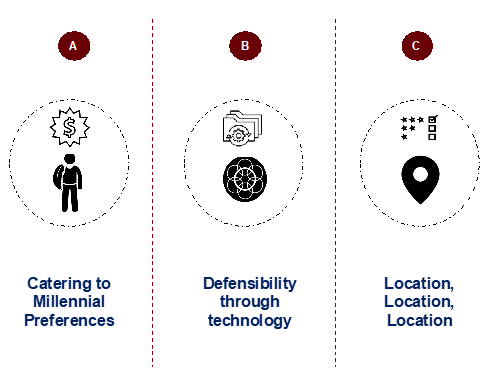 The writing is on the wall as far as conventional business models in mid-segment hotel business are concerned. Tech-enabled players will continue to grow and increase their market share due to the scalability of asset-light models and technology. Their target segment (millennials) forms the largest chunk of the population – they are more inclined to consumption, and are more likely to spend more on hotels compared to people having same income, but belonging to an earlier generation, and they prefer the convenience and accessibility provided by technology-aided services.
While, conventional players must use their advantage of higher proportion of bottom-line captured from owned assets, they must progress to building in technology in their front-end to attract and retain customers, as well as in the back-end to drive cost efficiencies. Also, traditional target segments for mid-segment hotels might warrant a revision due to the increasing presence and 'willingness to pay' of millennials.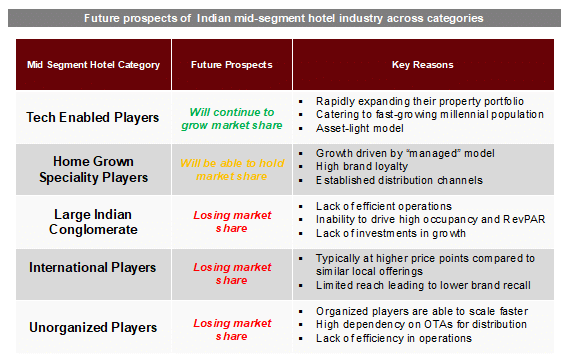 INSIGHTS
Talk To Our Expert