Oct, 2018
| By Shubham Anand, Mrigank Gutgutia, and Akshay Jayaprakashan
Disruption in Indian Furniture Retailing
Furniture and furnishings retail in India has grown urbanization, increasing access to branded furniture steadily to become a USD 28 Bn
---
Furniture & Test Furnishings in India is a $28 bn market, and growing steadily
Furniture and furnishings retail in India has grown urbanization, increasing access to branded furniture steadily to become a USD 28 Bn opportunity- with and growing willingness to upgrade to premium ~60% of the market being furniture (~USD 17 Bn).
Over next few years, we expect the category to accelerate in growth- driven by continued.
Urbanization, increasing access to branded furniture steadily to become a USD 28 Bn opportunity- with and growing willingness to upgrade to premium ~60% of the market being furniture (~USD 17 Bn). furniture.
Market is expected to record steady growth over next few years owing to continued urbanization...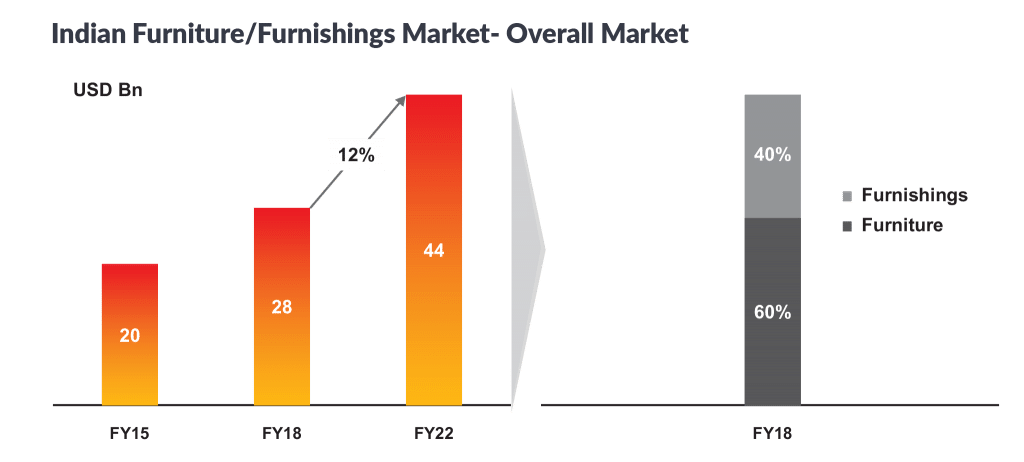 ...with furniture accounting for 60% of market
Within this market, furniture accounts for ~ USD 17 Bn in size; this market is currently only ~14% organized
Furniture market has historically been highly fragmented- with 86% share of sales from unorganized channels. We believe that this is set  to change- with strong growth in online channels, organized share can potentially reach ~20% by 2022.
Large products like beds, sofas and wardrobes dominate the market, with little change expected in  this mix going forward.
Low share of organized retail is quickly changing in furniture...
...large items like beds, wardrobes and sofa's account for ~80% of market

The composition and nature of the furniture buying population is changing due to digitization and lifestyle driven trends
Two megatrends are changing the demand side of  furniture buying- 1) increased digitization and 2) growing share of urban millenials- which is causing a major disruption to the customer needs and purchase journeys.
 As an example, the growing popularity of rentals (vs ownership) and solution based design solutions) is completely changing the nature
of demand. Additionally, buyers are extensively digitizing their purchase journeys- right from research to payment stage.
Retailers need to not only actively look at offering superior digital journeys to their customers, but also fundamentally rethink the very nature of their offerings for these segment.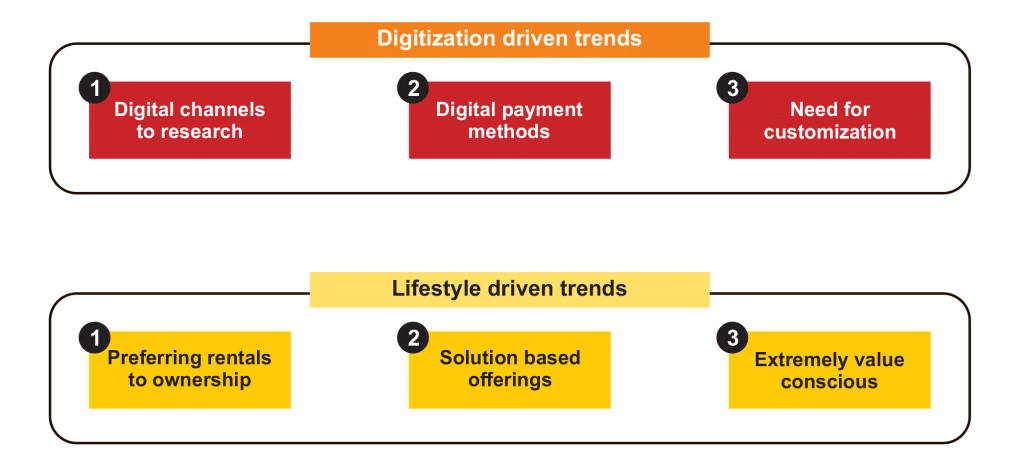 This is being driven by more 'digital first' shoppers in India
The aforementioned digitization trends have its roots in the advent of Reliance Jio and easy availability of cheap smartphones, which has led to an exponential rise in 'digital shoppers' in India.
Today, India has ~500 Mn internet users, out of which ~100 Mn are online shoppers- who
are highly engaged online, from discovery to purchase stage. This population is driving the growth of online furniture retailers and other similar players in India, and this long term trend shows no sign of stopping.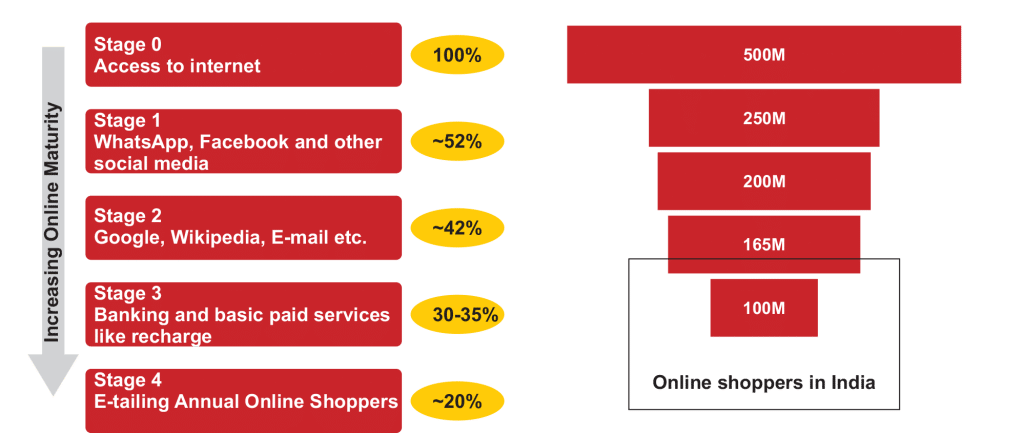 These shoppers will become 185 mn in size by 2020
We believe we are only at the start of the digitization wave. With the impending mega launch of Reliance Jio Fiber and similar home broadband services, we expect an explosion in the count of digitally native users in India- with their number expected to double from the current to reach ~190 Mn by 2020.
This development will have far reaching consequences for all industries- from content to transportation to finance. As such, retailers including in furniture space need to actively craft a strategy to identify and solve the needs of this emerging digital population in order to stay relevant.

Although online channel accounts for only 3% of Home and Furniture sales...
The digitization wave has impacted retailing of all categories in India- big and small. Smartphones stands as the most digitized category, driven by exclusive offers and strong online distribution. The online success of smartphones and offline shutdowns also holds important lessons for traditional retailers on not missing the digital bus.
Compared to smartphones, digital retail in furniture is a lowly 3%. However, given the
high level of fragmentation in furniture retailing and lack of price transparency and product standardization, we argue that the furniture category is equally (if not more) ready for a digital disruption that solves for the current 3P problems of the sector around product, price and platform.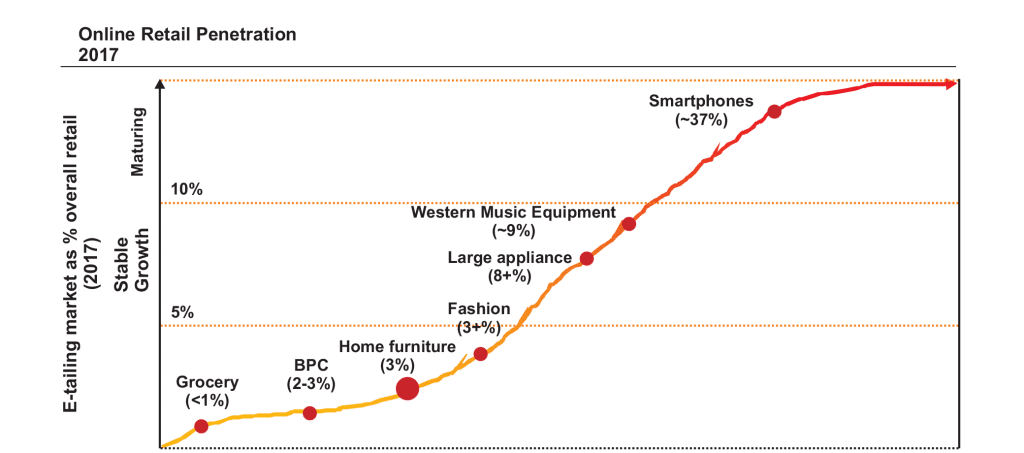 …'digitally influenced purchases*' account for 60% sales of furniture, and this number is increasing rapidly
Another reason why we are bullish on the future of online retail in furniture category is the high % of digitally influenced purchases. These are purchases where some part of the customer journey takes place online. Here, India stands at par with its more digitally evolved peers and furniture category in India stands at par with more digitally evolved categories.
Which gives us the indication that latent need for online furniture purchase is likely very strong. As e-tailers reduce friction in the online buying process over time-via omnichannel, faster deliveries, virtual reality and other such tools- high chunk of 'digitally influenced furniture buyers' will turn into 'digital furniture buyers'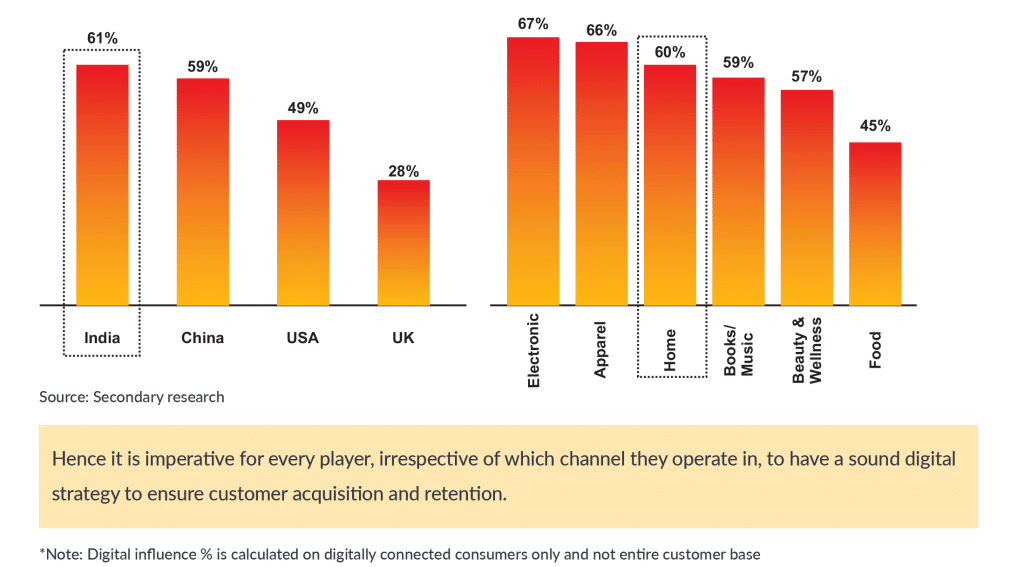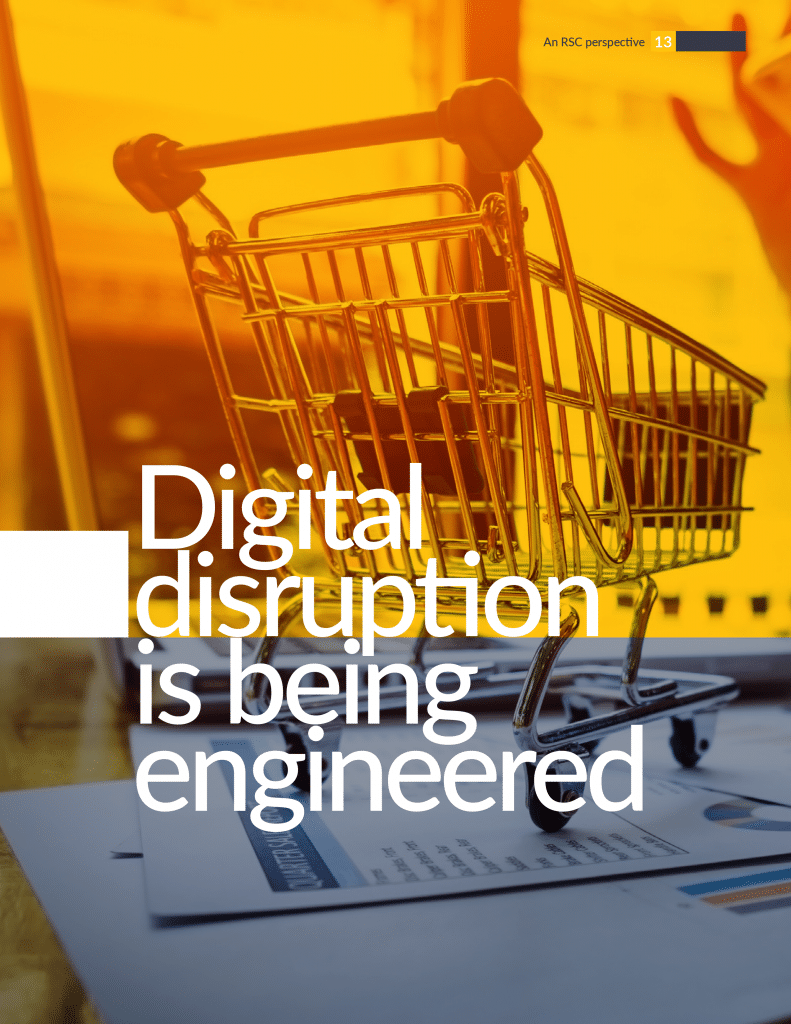 On the supply side, 4 mega trends are disrupting furniture retail. These disruption are changing not just the customer journeys but also reimagining the offering itself.
Two strong online channel based players Pepperfry and Urban ladder are growing aggressively through Omni-channel offerings – Pepperfry has observed a revenue CAGR of 83% over past 5 years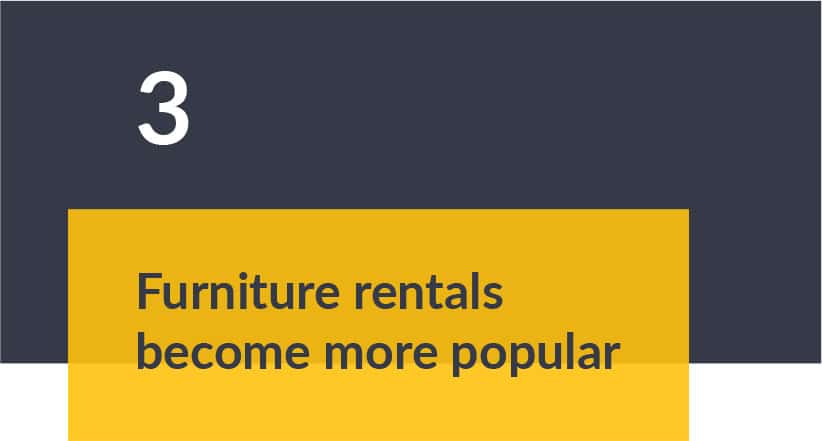 Furlenco has created a space for itself offering a variety of products and seamless services – revenues grew by 207% in FY17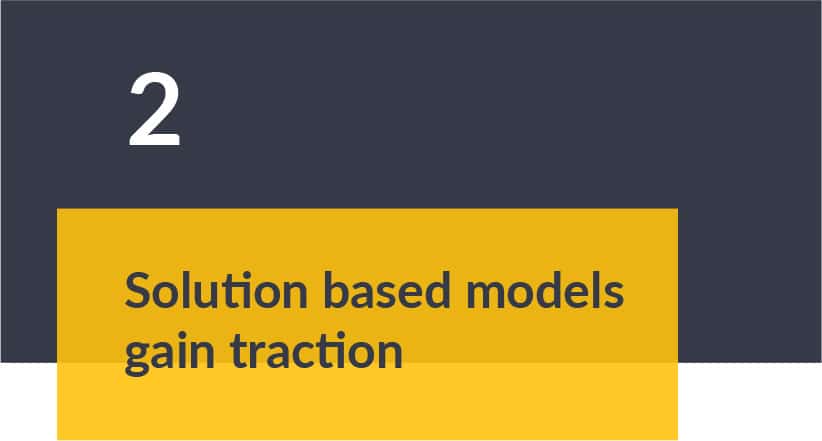 The Livspace solution based model with its full stack of service offerings for home design and furnishing make it an attractive option for consumers – triple digit revenue growth past two years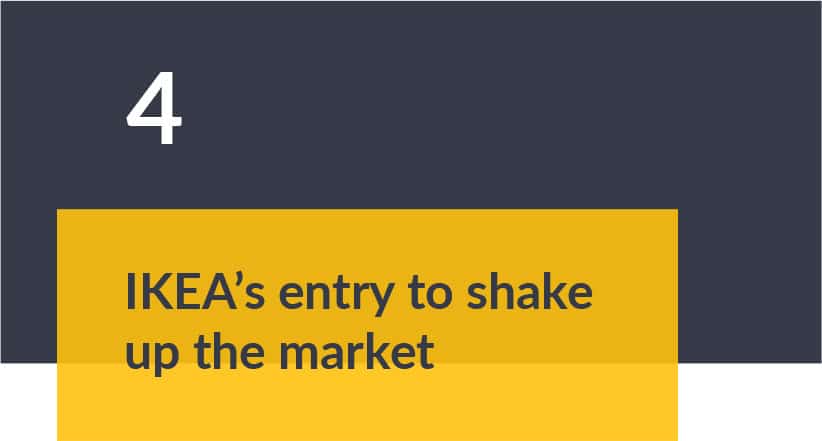 IKEA has entered Indian with aggressive expansion plans and by 2025 hopes to employ 50,000 people in the country, open 25 stores and 3 distribution centres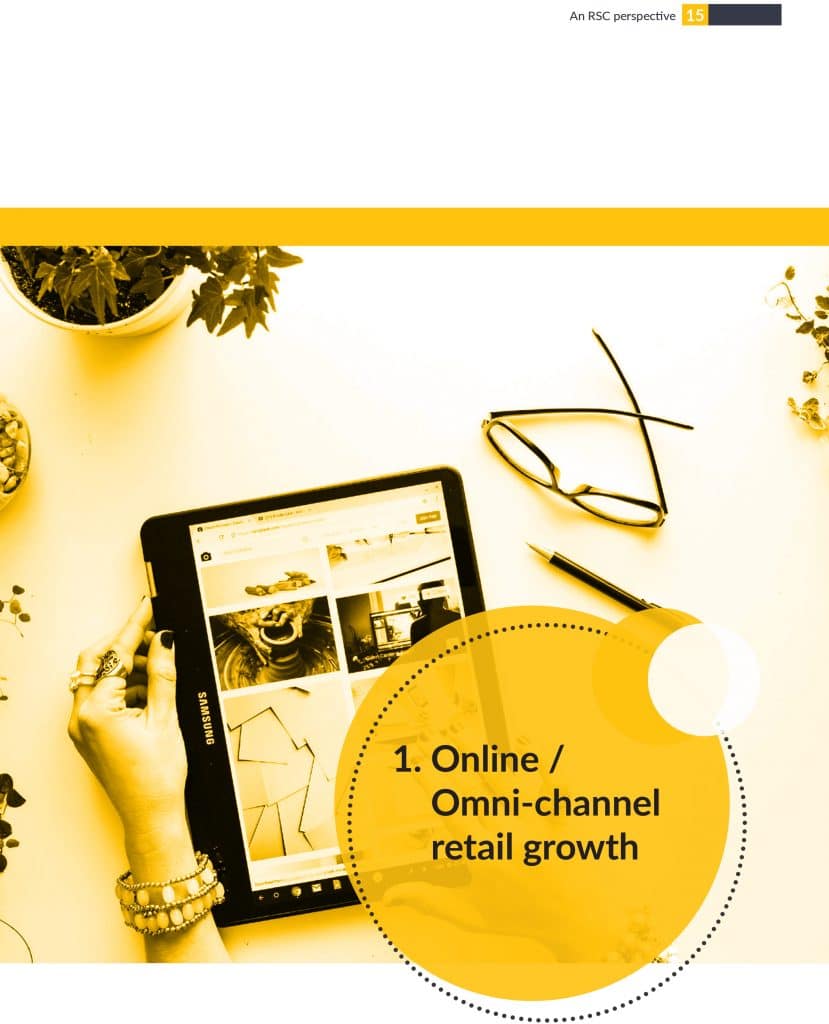 Growing digital readiness of buyers and improved consumer experience will drive online% of furniture retail to 8-9% by FY22E
Furniture retailing in India has traditionally been highly fragmented and unorganized (86% in FY18). This has been caused by high offline rentals along with challenges of consolidating the supply and demand at a national scale- leading to absence of many nationally recalled brands.
Over the last few years, e-tailers have put in significant efforts to solve these issues. On the supply side, they have worked to organize their suppliers- either by bringing them onto a managed marketplace or by creating private labels.
 On the demand side, a combination of strong marketing and offline experience stores is driving demand creation. Together with heavy investments in purchase enablers like strong logistics and high quality selection, these e-tailers have grown rapidly and are poised to grow their share of total furniture market further to ~8% by 2022. 
We expect that this trend over time will drive online leapfrogging of offline organized retail in India- similar to what is playing out in other countries like China.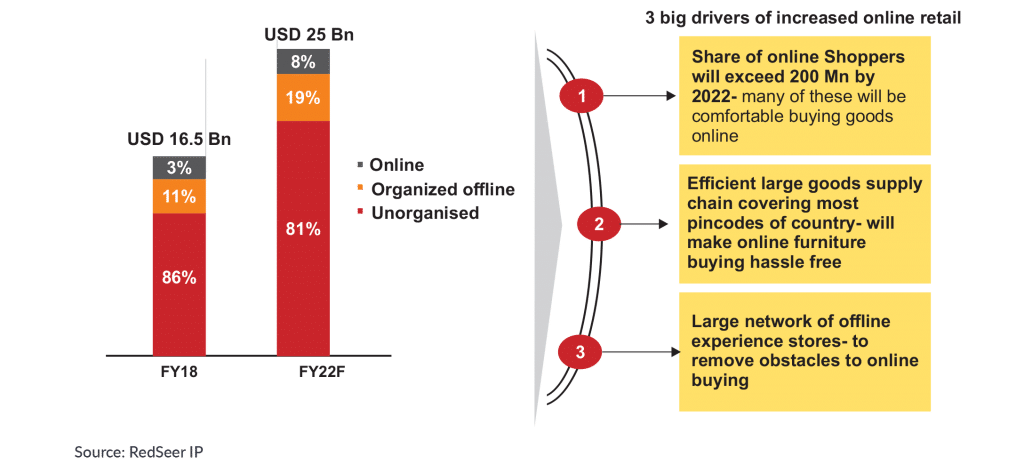 Pepperfry and Urban Ladder are the key players driving this market
The online furniture market is being driven by ~5 year old players Pepperfry and Urban Ladder. These players have attacked the market differently on the supply side – with Pepperfry focusing on creating a managed marketplace supported by private labels while Urban Ladder is a wholly private label platform focusing on premium curated offerings.
Both players are heavily funded by marquee investors- who have 
invested a cumulative ~USD 300 Mn into these players, who have
a cumulative GMV of ~USD 250 Mn. While Pepperfry has managed to gain a significant lead, it is still early days for the industry and players and investors will need to continually invest in supply, demand and enablers to drive market creation and growth over the long term in this capex and opex heavy category.
Omnichannel has played key role in driving their growth and they are reaching the scale of traditional players rapidly
In their early stages of growth, both the e-tailers faced challenges of solving the 'touch and feel' problem in furniture e-tailing. This drove a push into creation of a network of experience stores that enable users to experience the products before buying- thus providing a strong level of trust which was missing online till then and which was a habitual need of any furniture buyer in India.
Post this expansion of the store network, both players have seen a strong growth in their overall sales- and grown to reach the scale of many of the major offline retailers. The stores have not only enabled 'last mile order conversions' but also driven discovery and awareness of the platforms- by virtue of being situated in high traffic areas like airports for example.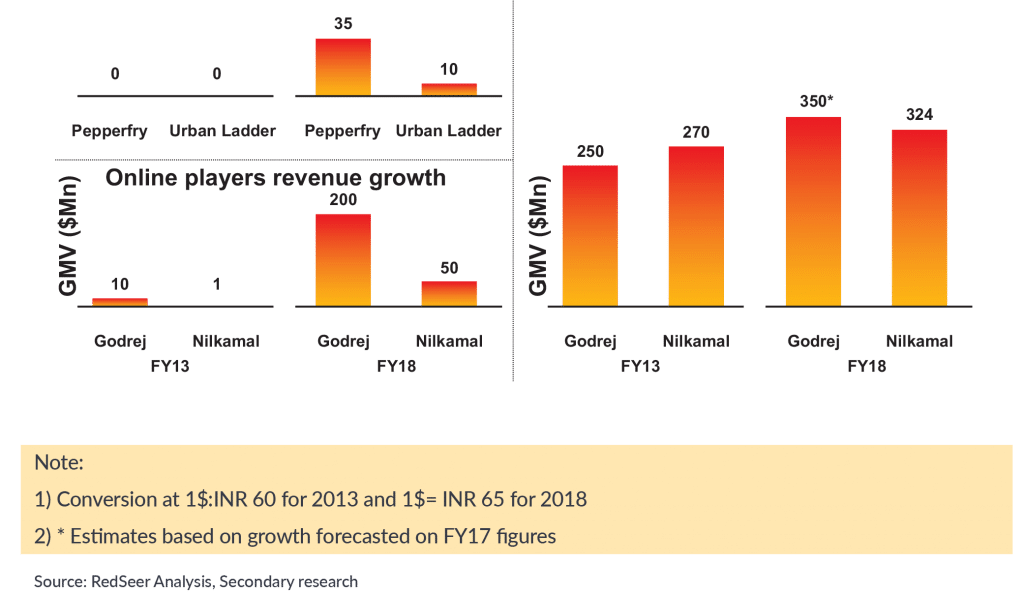 Consolidating their position, these online retailers are increasingly diversifying their offerings to cater to a larger audience and use cases
Having consolidated their presence amongst the traditional digitally active furniture buyers, furniture e-tailers are targeting the next wave of furniture buyers. Focus is on expanding to a wider set of income groups and on younger buyers.
To achieve the above product expansion goals, players are focusing on including second-hand and rental services on their platform- which
reduces the price barriers to purchases thus bringing many new segments into the fold. In tandem, Pepperfry is also targeting the buyers who want a turnkey solution that takes care of design as well.
These product expansions put Pepperfry in direct competition with specialist players like Furlenco and Livspace- which should be an interesting dynamic playing out in the market.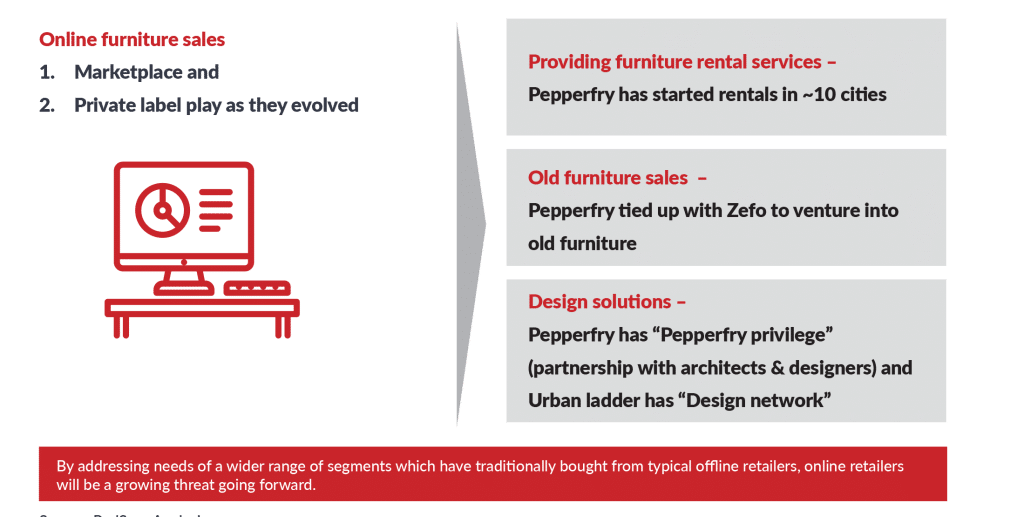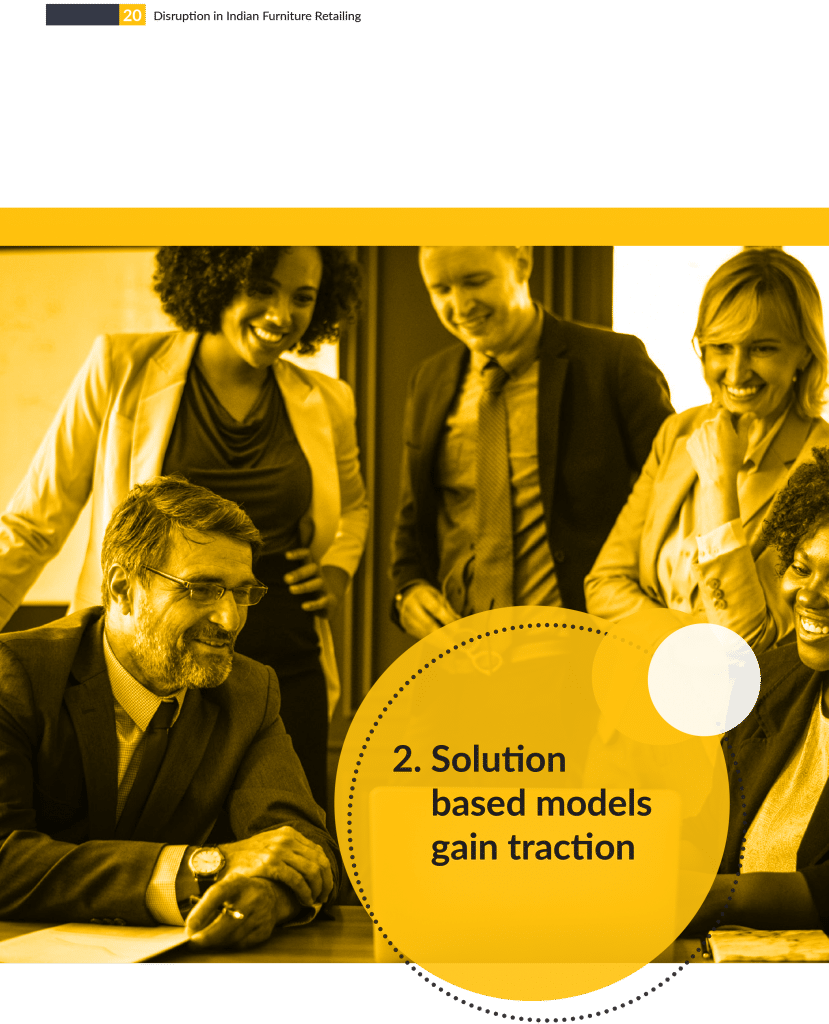 Solution based offerings having an 'ecosystem play' or 'full stack play' are increasingly growing popular in various online segments
Over last few years, India's online retail space has evolved from a sub 5 Bn market in 2015 to ~USD 20 Bn in 2017.While horizontals have grown rapidly to serve the typical online shoppers, verticals have increasingly focused on the 'solution seeker' who is looking for a comprehensive 
engagement with platform including on content, overall experience.
Verticals like Nykaa Firstcry and others precisely this strategy to emerge as both sales and NPS leaders in the space. Given their adoption, We see furniture category also being disrupted by this trend going forward.
This trend is reflected in furniture category as well, with Livspace being the prime example
Livspace is the leader in offering solution based services in furniture retail. It has replicated the traditional buying experience by creating a platform that brings together consumer, designer and suppliers into an online/offline world.
This play enables it to target a wide range of customer groups who may not be interested in pure-play product offering. Use of pre-designed looks and deployment of virtual reality is a further enabler that Livspace is using to pull off this offering.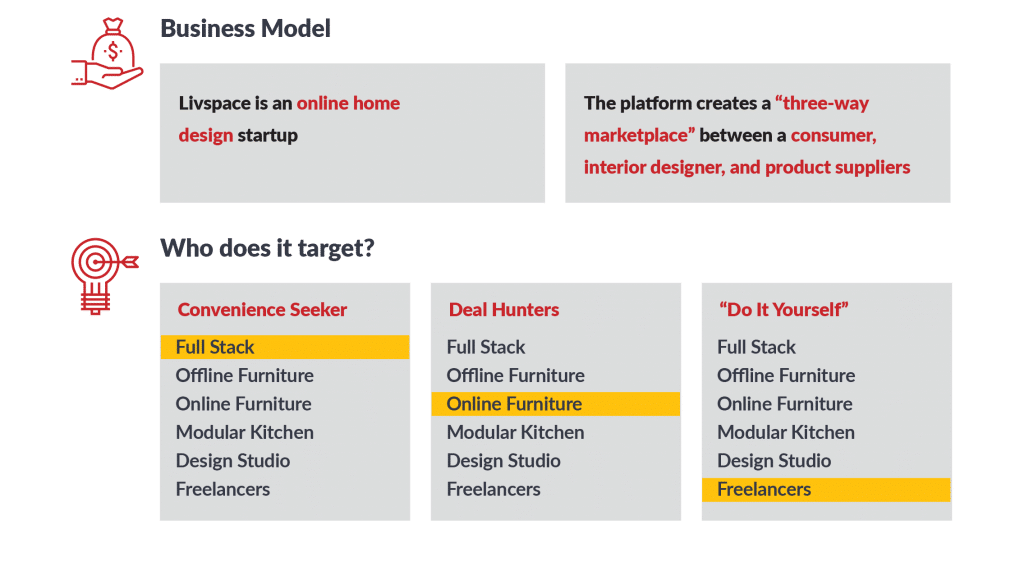 Strong initial growth of Livspace validates the business model, customers extremely satisfied with service
Livspace is using a combination of organic growth across cities along with acquisitions to stregthen both the demand and supply side of its offerings.
Growth accelerated in FY18 to reach USD 17 Mn of GMV, up 380% from previous year- showing strong traction for a solution based offering in the market.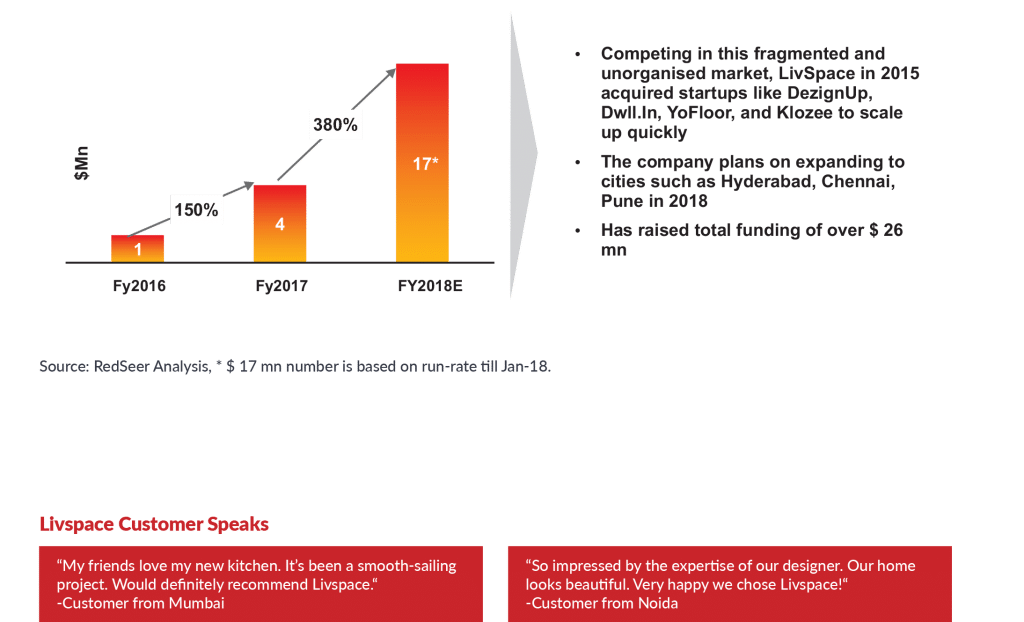 Players like Pepperfry and Urban ladder are also realizing the potential in design solutions and ensuring that they are well equipped to provide it
Having seen the strong initial traction received by Livspace and similar players, larger horizontals furniture e-tailers have launched competing offerings.
While their high brand recall and deeper pockets should give them a leg up over the specialists, it remains to be seen whether their offering quality/breadth would be competitive with the specialists (and with the offline players).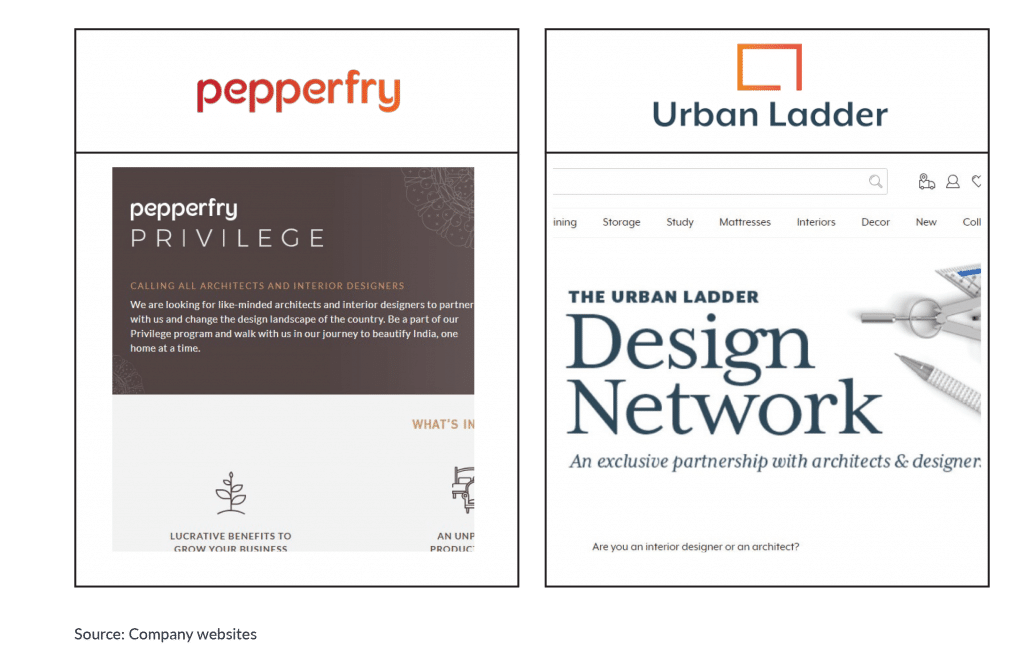 Some other prominent players in the space in India include HomeLane and Foyr
Smaller players have also been driving the growth of online home solutions market- with a focus on creating a marketplace for designing solutions.
 However, given the deep pockets of their competitors and difficulty in aggregating
demand for these smaller player, many of them would likely need to engage with bigger players- either via partnership or M&A route- in order to gain significant traction.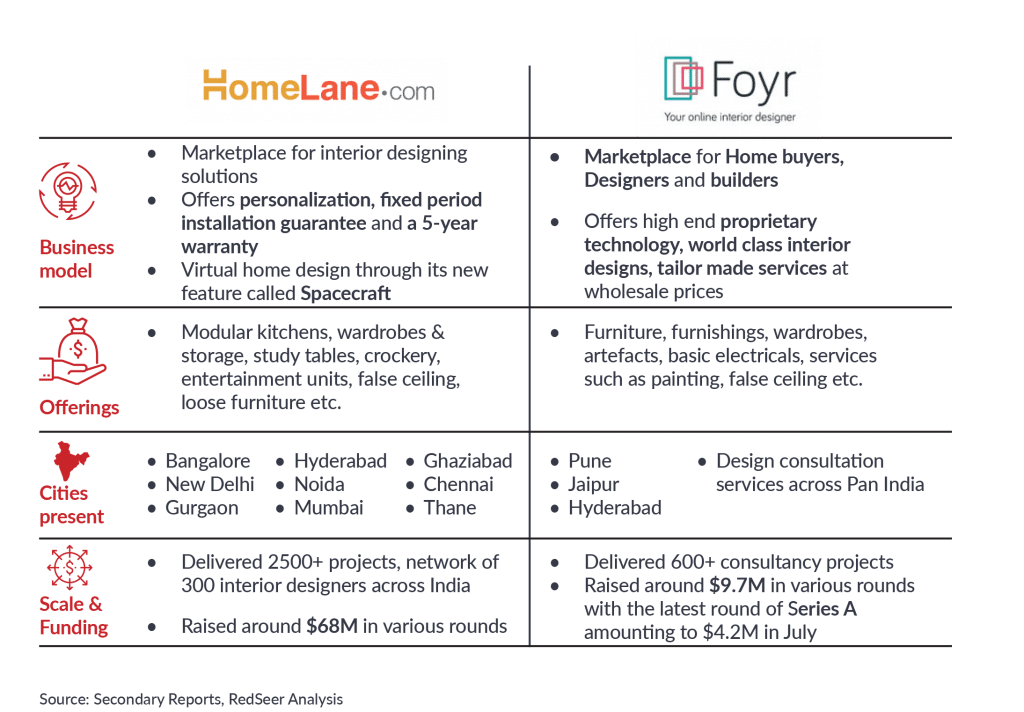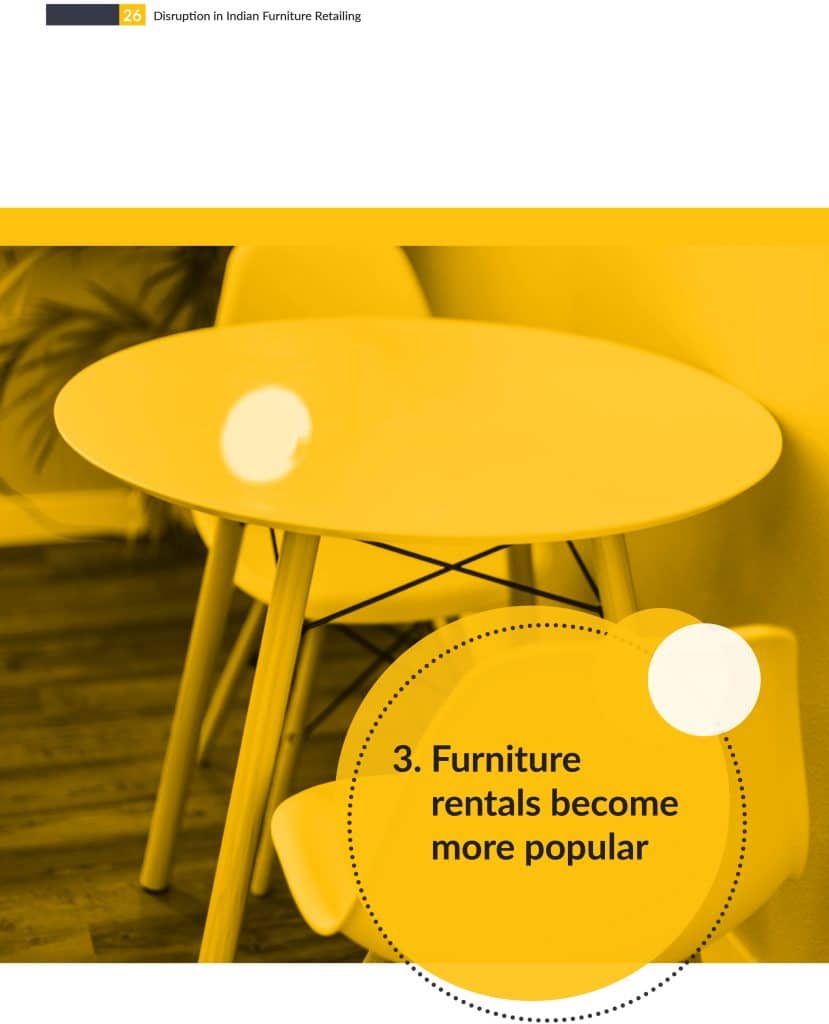 Sharing economy is being driven by new generation of millennials who value convenience and flexibility over ownership
The mass popularization of smartphones since 2007 has led to an exponential growth in the so-called 'sharing economy' companies. These companies have catered to needs of millenials by offering 'services' instead of products for a wide range of categories including cars, homes etc.
Over time, this trend has become representative of a new form of consumption,
that prioritize convenience over ownership and which offer high flexibility to the always mobile millenials. With explosive growth in sharing economy companies, more and more sectors and even traditional incumbents are embracing this new consumption pattern.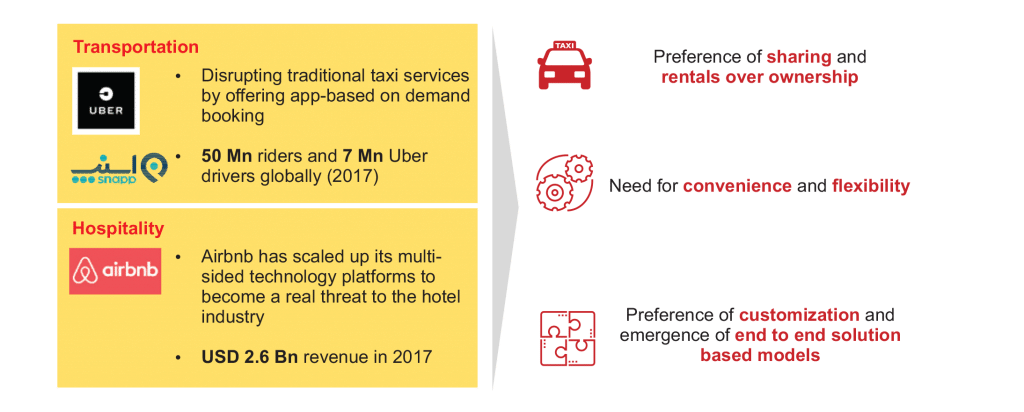 Similar trend is spilling over to furniture space, with rental companies growing rapidly
Furniture retailing is also being engulfed by the sharing economy wave. Players like Furlenco and Rentomojo have grown rapidly in a short span of time and have started to offer all varieties of product rentals and associated value added services for growth.
Investors are betting heavily on this market, as observed by USD 40+Mn of funding received till date (although with a small GMV to show for it).
Furlenco is the largest and most well funded player in space and is growing rapidly by providing best quality products and top notch service
Furlenco has emerged as a leader in this yet nascent market. Its success levers? Largely around ensuring a 'high quality experience' for the customer- enabled in turn by high quality furniture and superior customer service.
Superior customer service has turned out to be the big differentiatior for Furlenco to create much needed customer trust- since this category is bogged down by concerns regarding the product quality/cleanliness and lifetime.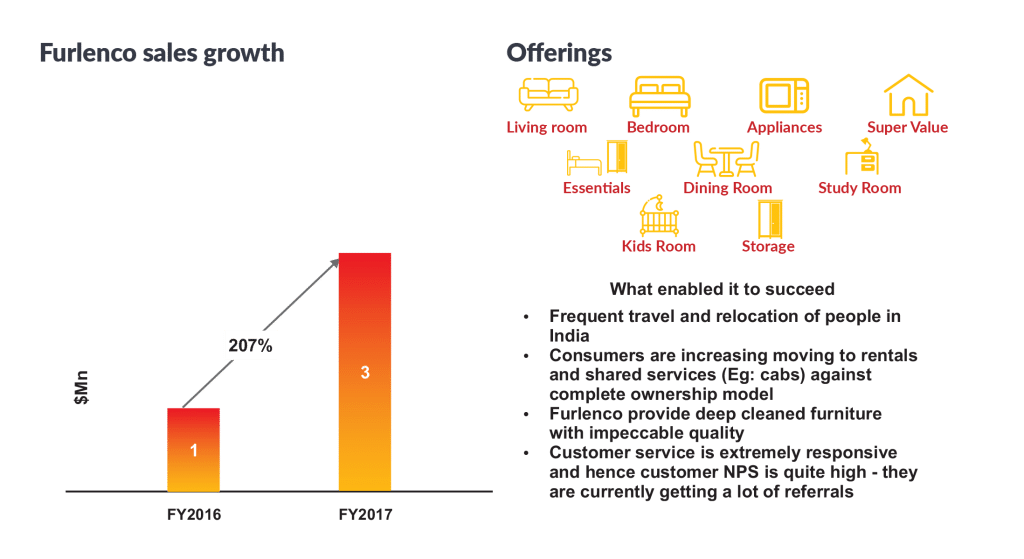 Such rental models have seen success globally as well, with CORT being a shining example
Investors are betting on furniture rentals growth as a long term megatrend rather than a blip on the radar. Global case studies would validate their hypothesis. Players like CORT have emerged as a one stop solution for all types of personal and corporate relocation services, with furniture rental at its core.
High revenue growth and successful expansion into 100+ offices globally has proven the model- and perhaps provides an indication of how such models could evolve in India as well.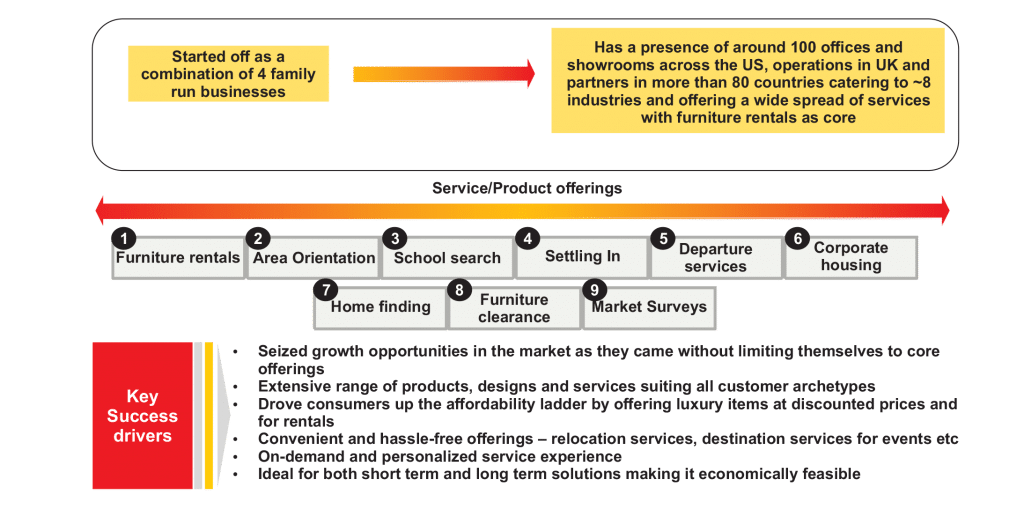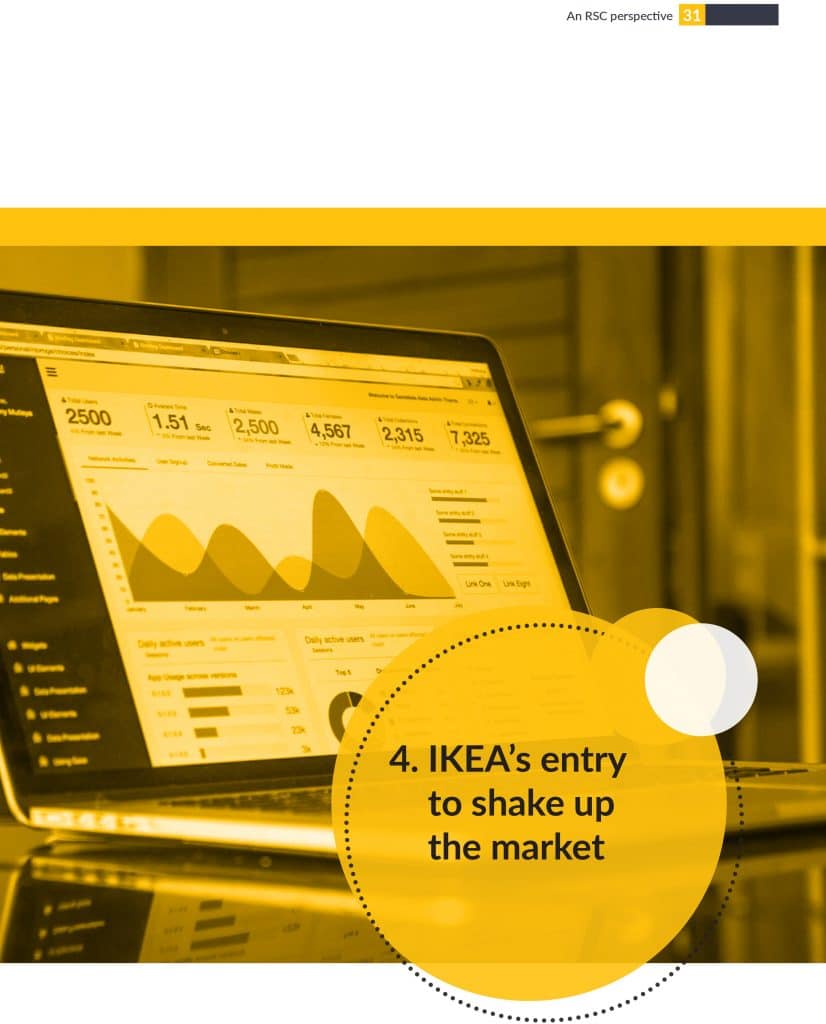 IKEA has a total of 355 stores across 29 countries; China where it opened its first store only in 2006 has already made it to top 5 markets for IKEA
As if digital disruption was not enough, traditional retailers in India also face the spectre of a global giant-IKEA. IKEA has built its cult brand on a combination of high quality affordable products sold at giant stores that offer a comprehensive shopping experience.
It is a combination that has been remarkably durable and financially successful across geographies- IKEA now has a 355 stores across continents and a foothold in all of the world's major markets- including in China where it entered in 2006.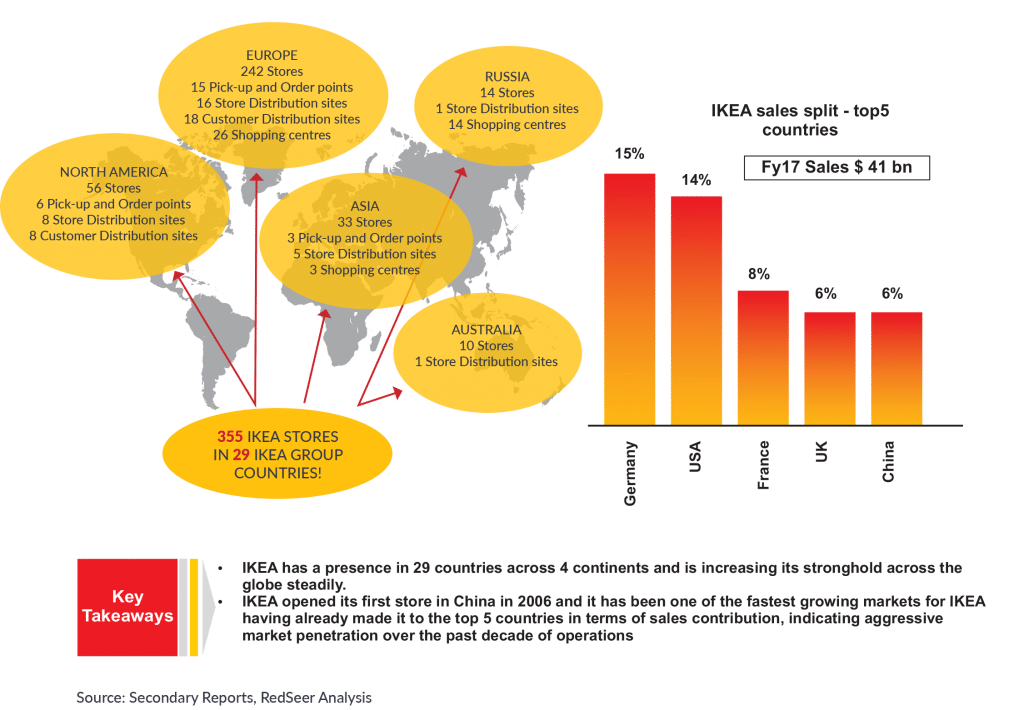 The firm is a world leader in technology innovation in the furniture space, and it adopts a 4 pronged strategy while entering new markets
IKEA's strong focus on offering a value price for its customer is enabled by their local sourcing focus and high investment in R&D. Recently, it has also expanded its online offerings and augmented it with latest technology to drive sales.
We believe that these strategies should give them an edge in their Indian market entry- where users value pricing above all other factors and which is in midst of an online retail wave.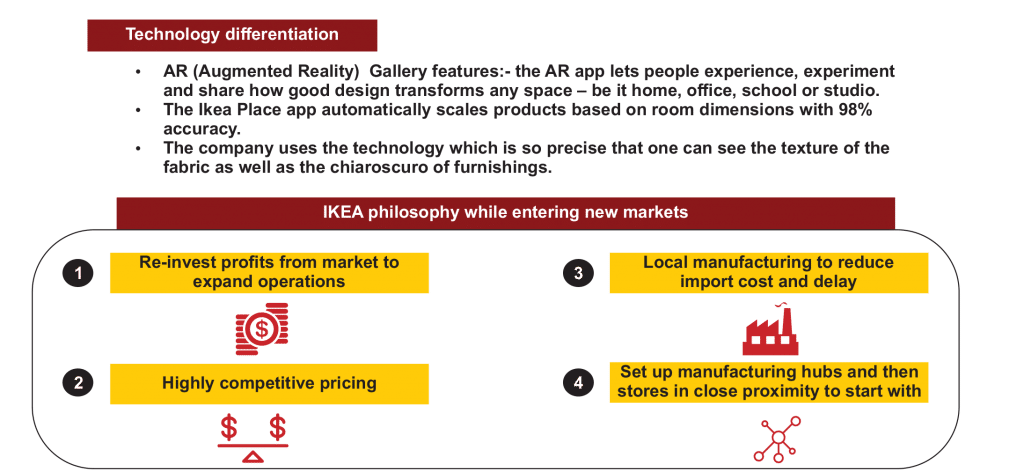 It plans to follow a similar approach in India, aiming to open 25 stores by 2025 having a wide and deep assortment of offerings at competitive prices
IKEA's ambitions in India are clearly vast- as indicated by its aggressive expansion plans and the vast amount of committed capital- with a significant share of its capital invested in 'Indianising' its product offerings and store experience.
Given the ongoing flux in the demand trends and consumer behaviors, it remains to be seen
whether IKEA can replicate its global success here in the longer term. However, initial signs indicate that it has made a strong start in the market and traditional players will find it a force to be reckoned with.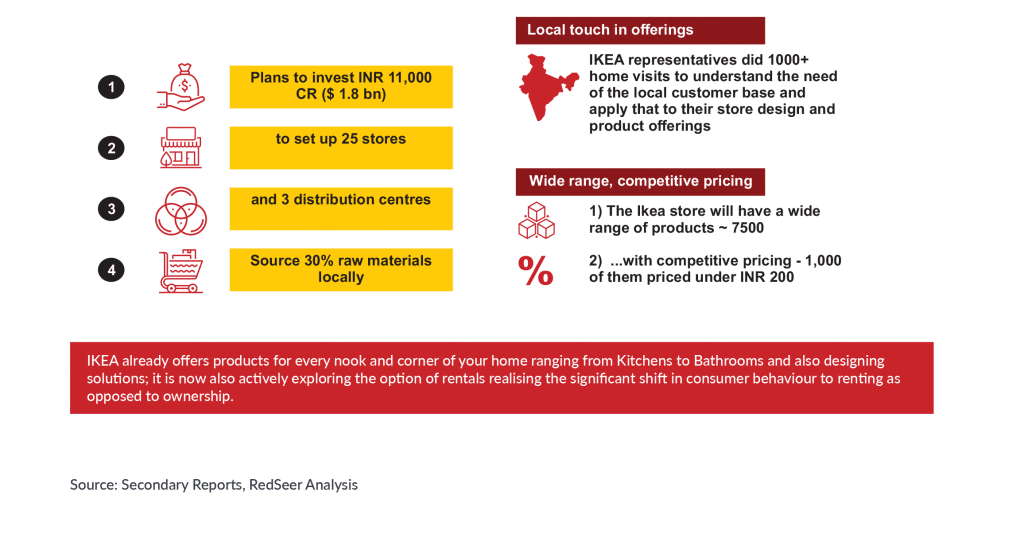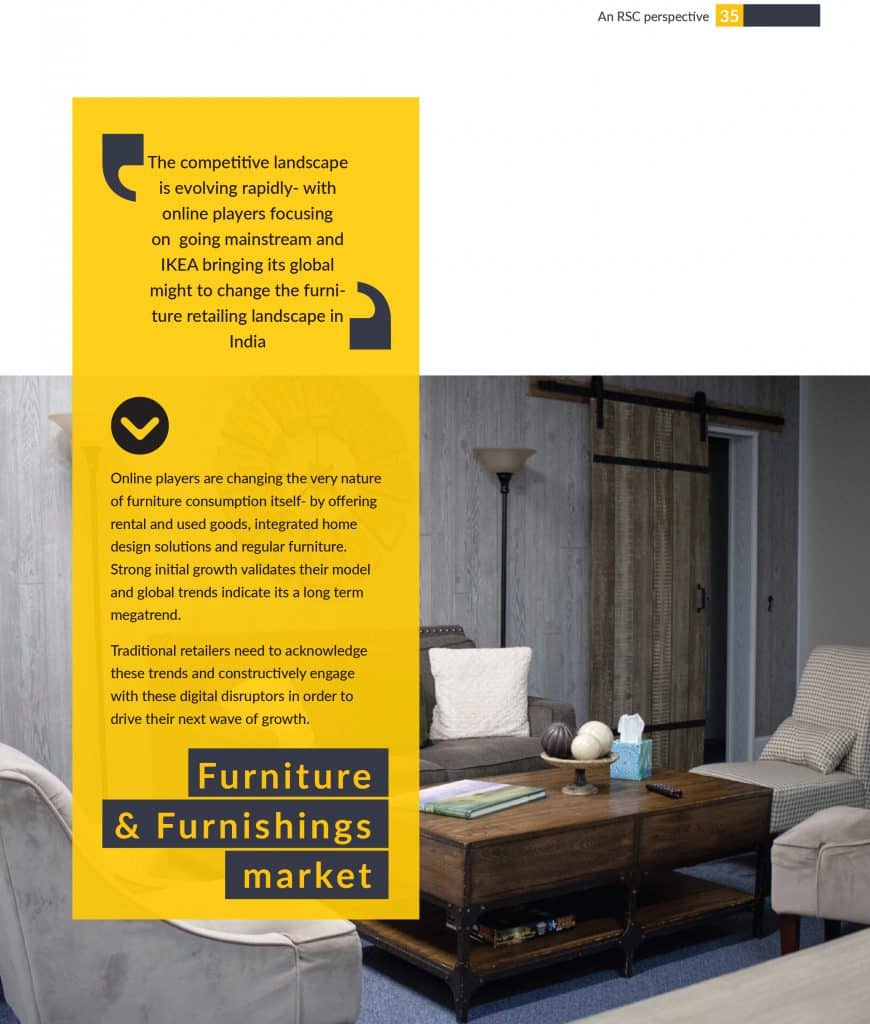 Traditional players need to leverage their strengths to tackle these disruptive trends
Digital disruption is changing the market landscape significantly and is unquestionably a threat for Indian traditional retailers. However, retailers can survive- and even thrive-by embracing these changes and tackling them head-on with a coherent strategy.
Global examples show that by 
leveraging their strong assets – a wide store network, a strong brand and a vast product portfolio- traditional retailers can potentially compete effectively with digital disruptors. What will it take to convert this potential into reality for traditional furniture retailers in India?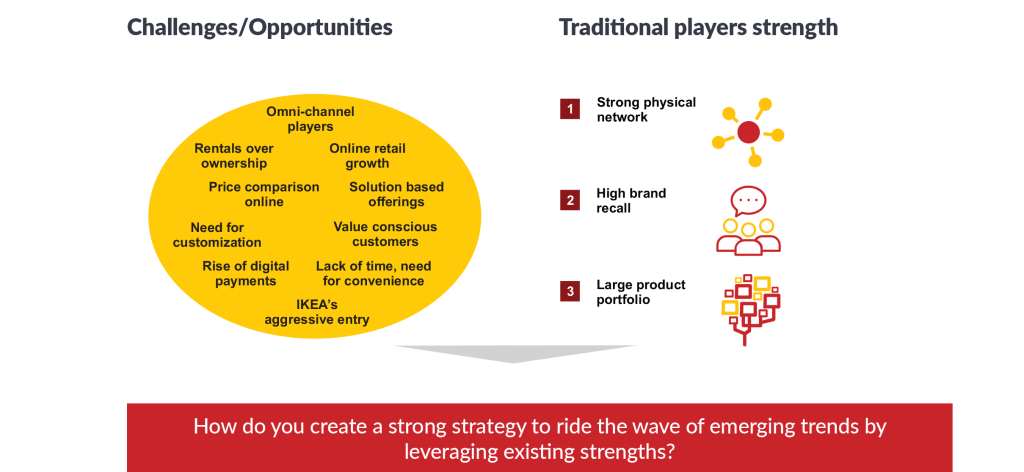 This will need a deep understanding of current needs of customers and a digital readiness assessment of company
Converting this vast potential into reality will need an in-depth understanding of the customer and one's own readiness to ride the digital wave.
This will need deep customer insights backed up research along with a strong understanding of the organization and what is needed to make it ready for a digital future.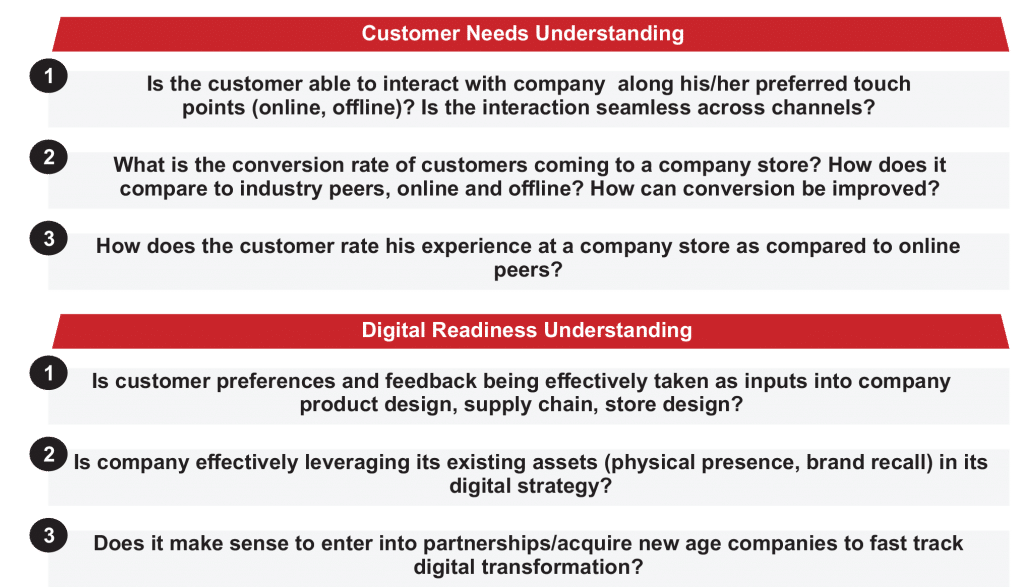 RedSeer can support firms in its digital transformation journey
Our offerings cover the entire value chain of digitization for retailers and brands
RedSeer has been at the forefront of mapping India's digital disruption over last 5 years- across sectors as diverse as retail and education. Our comprehensive set of advisory services backed
 by pioneering research approaches supports traditional retailers throughout their digital journey- right from market understanding to actual implementation.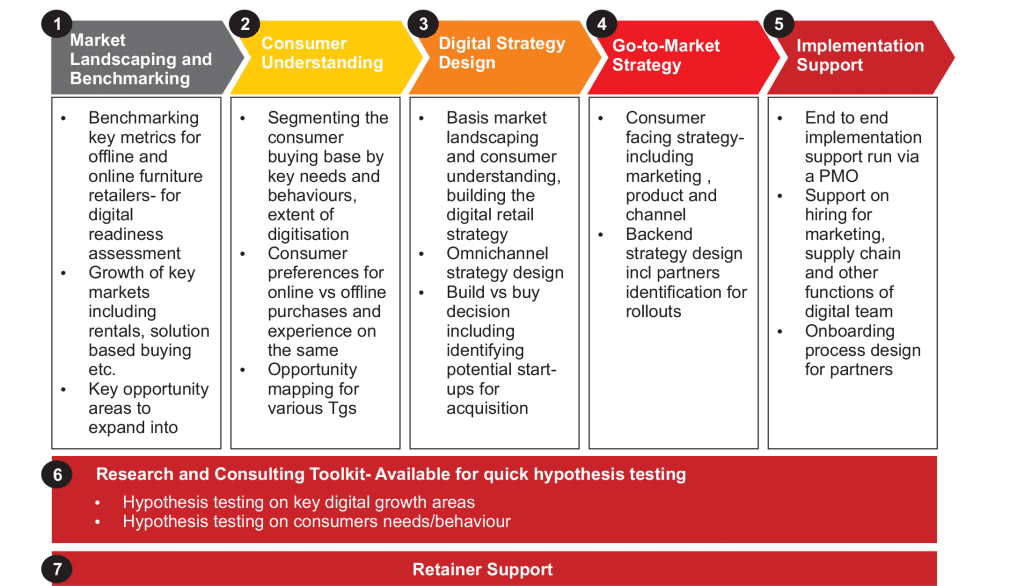 INSIGHTS
Talk To Our Expert