Jun, 2020
| By Anil Kumar, Abhishek Gupta and Artham Khetan
EdTech In India | An Omidyar Network India & RedSeer Report
Grade 1–5 EdTech users (currently with a low base of ~5 MN users) are going to leapfrog the offline supplementary adoption, growing at CAGR of 93% over 2019–22 to ~36 MN users.
---
In 2009, India passed the Right of Childrento Free and Compulsory Education Act (RTE), envisioning a future with 100% school enrolment for children aged 6–14 years. In the decade since, the proportion of unenrolled children has dropped to 2.8%, the lowest ever in India's history. 1 Although this bodes well, concerns remain about post-primary dropout rates, equal access to quality education, affordability, and outcomes.
The 2019 National Education Policy (NEP) seeks to address these challenges and extend the scope of RTE to students aged 3–18 years. One of its recommendations is to harness EdTech through app-based learning, online student communities, and lesson delivery beyond 'chalk and talk'. The NEP envisions schools as nodal agencies, through which the underserved can access internet-powered devices. It also recognizes artificial intelligence (AI), virtual reality (VR), and blockchain as inevitabilities in India's education ecosystem. There is a strong parental demand for quality education, which results in the purchase of after-school learning offerings. Given the growing demand for academic coaching outside school, the EdTech industry attracted $1.6 billion in funding during 2014–19 crucial to bridging learning gaps.
One of NEPs recommendations is harnessing EdTech through app– based learning, online student communities, and lesson delivery beyond 'chalk and talk'.
Thus, EdTech becomes a crucial link between enrolment and enhanced learning outcomes. Its scope, however, is not limited to classrooms. Supplementary education, commonly referred to as tuition or coaching, is crucial to bridging learning gaps. 
New areas are expected to emerge, allowing EdTech to disrupt traditional education systems and imagine what students are learning in the 21st century. Already, it offers several innovative solutions in building competencies of  critical thinking and creativity, or mindsets such as grit and empathy through online coding or arts programmes, ensuring that education remains relevant with changing times. 
The issues of quality and relevance affect not only primary and secondary education, but also higher education. Further,professional lives too are getting impacted due to automation. Here too, EdTech plays a crucial role. It can ensure job security by not only making higher and technical education more accessible (for people who could not pursue it in their formative years), but also facilitate up-skilling of working professionals. 
Relevant skills and employability is crucial among young graduates, who are the bulwark of a competitive workforce, which in turn is the backbone of a competitive economy. This is outlined in the Global Competitiveness Report (GCR), one of the most well-respected databanks on economic prosperity, published by the World Economic Foru (WEF). As of 2019, India ranks 68th among 141 countries, down 10 places from 2018. Although the country fares well on parameters of market size, innovation, and macroeconomic stability, it lags substantially in workforce skills (107th place), which includes vocational training, digital skills, and ease of finding trained employees. India also ranks 120th in information and communication technology (ICT) adoption, despite being a burgeoning internet market. 
The internet—and by extension, online education can catalyse improvements in the kinds and quality of skills imparted. EdTech for adults—whether in the form of vocational skills, tertiary or higher education, or skilling for managerial growth—can make India's workforce more competitive. 
Before gauging how EdTech can empower students and professionals in the future, we must understand how it is perceived and used today, and what impedes its adoption. This knowledge will be fundamental in harnessing EdTech's true potential in India, a country with the world's cheapest data rates.
The EdTech Readiness Framework
The opportunity for EdTech to enable disruption in both K12 and Post-K12 relies on the EdTech Readiness Framework (ERF). The ERF acts as a key metric to track the growth drivers of EdTech market. Its 4 pillars are:
Digital adoption among families and individual: ~160 MN households with active internet access
Awareness of EdTech:

~80% students in K12 aware of EdTech

Willingness to pay for EdTech solutions:

~60% of aware users willing to pay for EdTech products

Funding in EdTech companies:

$1.6 BN+ private investments flow during 2014 to H12019
A large untapped market—coupled with burgeoning internet reach, awareness, and the digitization of primary education—yields a promising outlook for EdTech in India. Future outlooks for digitization, user growth, and increased funding are likely to be particularly aggressive. These drivers of growth have led to a watershed moment for EdTech in India. The findings clearly indicate that the education delivery landscape is set for rapid change, with online education offerings poised to disrupt the status quo by disrupting the traditional education landscape.
By 2022, online education offerings across grades 1 to 12 are projected to increase 6.3 times to create a $ 1.7 BN market, while the Post-K12 market is set to grow 3.7 times to create a $ 1.8 BN market. This is going to create meaningful opportunity for incumbent players as well as space for multiple new startups.
The K12 EdTech-addressable market is projected to be worth $1.7 BN by 2022, up more than six-fold from $265 MN in 2019. While the number of students enrolled in offline coaching for K12 is expected to grow only ~8% by 2022, online education is set to have a much larger increase. Strong growth is likely across all 3 major K12 segments, with grades 1–5 seeing the fastest growth.
EdTech Market Growth: Grade 1-12$MN, 2019-2022F
EdTech User: Grade 1-12 MN Students, 2019-2020F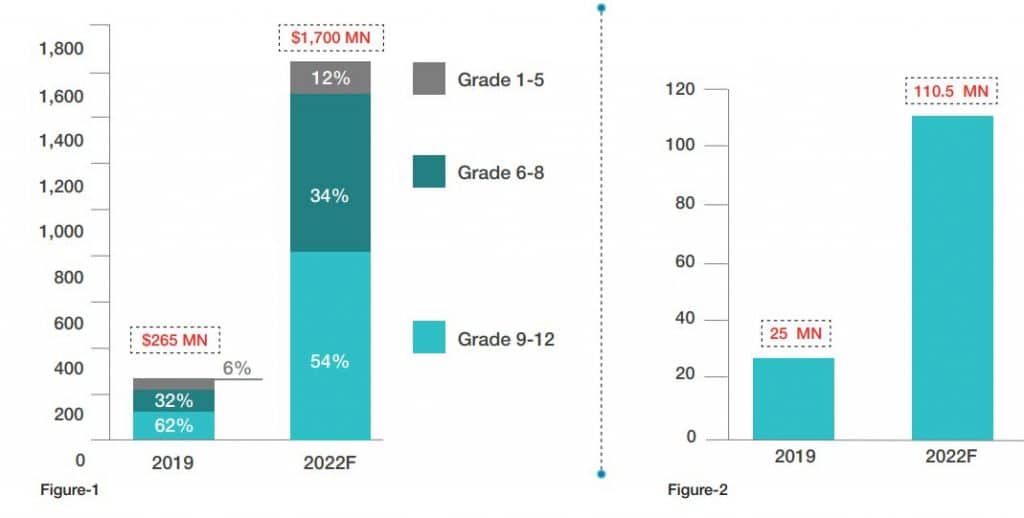 The Post-K12 EdTech industry is divided into 4 segments, each catering to different education needs and outcomes: higher education, technical skilling, test preparation for government jobs, test preparation for other jobs. There is ample opportunity for market expansion here, provided certain obstacles are adequately addressed. The industry will grow threefold by 2022, swelling to $1.7 BN in sales. Much of this will come from EdTech offerings focusing on higher education, as it does today.
EdTech Market Growth: Post–K12 Segment $MN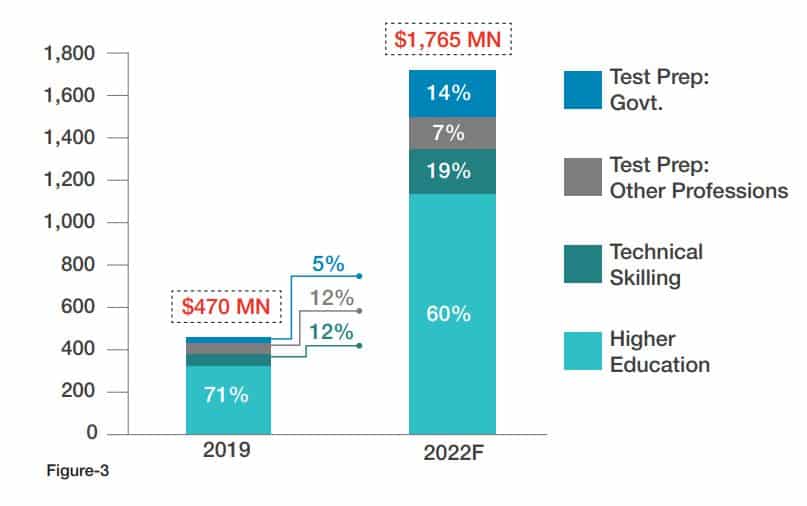 The Next Half Billion (NHB)
India's sustained economic growth has propelled 540 million people (and counting) to middle- or high-income status. According to Omidyar Network India's research in 2017, half a billion new users are expected to come online for the first time by 2022. This demographic, the Next Half Billion (NHB), would be characterized by a mobile-first approach to the internet and will consist primarily of the aspirer segment. The aspirer segment, consisting of 528 million people, is kaleidoscopic in its array of occupations: domestic help, gigeconomy workers, electricians, masons, plumbers, security guards, shop owners, factory workers, and retail vegetable vendors. This segment earns an annual household income of Rs.150K- Rs. 250K (~$2.2K – $3.7K). Largely under-schooled and deprived of social connectivity, banking, quality healthcare, and convenient transport, they have bold aspirations and want educational and financial security for their children. They also live in an India
that is in the midst of digital disruption, led by mobile phone proliferation, affordable data costs, and government-endorsed technologies for educational and financial inclusion. 
To build large businesses that are commercially viable in the long run, they would need to cater to the NHB in order to avoid the risk of creating niche businesses. The NHB is distinct from the first wave of Indians who were introduced to the internet (either through desktops or laptops) at a time when data was available at a premium. About 97% of users now access the internet through their phones. Aspirers, for whom communication, social media, and entertainment account for a bulk of internet time,6 are yet to warm up to e-commerce, online payments, and aspirational services such as EdTech.
India's aspirers, or the Next Half Billion (NHB), are the country's largest income group, as validated by the World Bank's classification of countries by income levels.
Aspirers, who were traditionally under-served by quality education alternatives and for whom the internet was once out of reach, are expected to latch on to the digital revolution characterized by:
Affordable data

Low-cost handsets

Gradual emergence of vernacular-language apps, sites, and online marketplaces

Low-cost electronic payments infrastructure
The NHB is expected to be a 100-million-strong EdTech user base by 2022.
Prospects in the NHB Segment
Demographically, the NHB segment is expected to drive the growth of the K12 EdTech, creating ~$400 MN of $1.7bn opportunity, i.e. about 24%. NHB accounts for less than 5% market today. 
The NHB represent over 50% of India's student population in Grade 1–12, yet they represent only about 30% in the EdTech user population. Aspirers also lag significantly in offline supplementary education adoption (primarily, tuitions), not because they have lower academic ambitions but because affordability and accessibility to quality supplementary education are key hurdles. 
With a growing infrastructure and increasing internet democratization through lower smartphone and data costs, the number of NHBs using EdTech will increase in the next 3 years. By 2022, they will represent nearly half (~46%) of the market by volume. The effects will be seen largely in Tier-2+ regions (towns and villages that are in their digital infancy and require different products and services).
In the Post-K12 segment, there is a large space for the growth of EdTech, especially with a focus on the NHB. The number of job seekers and their need to improve employability is higher in this segment as compared to the numbers in middle- and high-income households. Moreover, across the board, the NHB are less satisfied with EdTech offerings than the middle- and rich-income classes. Our research showed that only 18% of NHB users are happy with the services as compared to 31% of the latter group. The needs of the NHB must be taken into account in order to expand the online market.
Opportunities in the NHB segment are yet to be addressed by EdTech players.
EdTech NPS: Post–K12 Segment N=1,325
NHB users display lagging satisfaction with the current product offering and services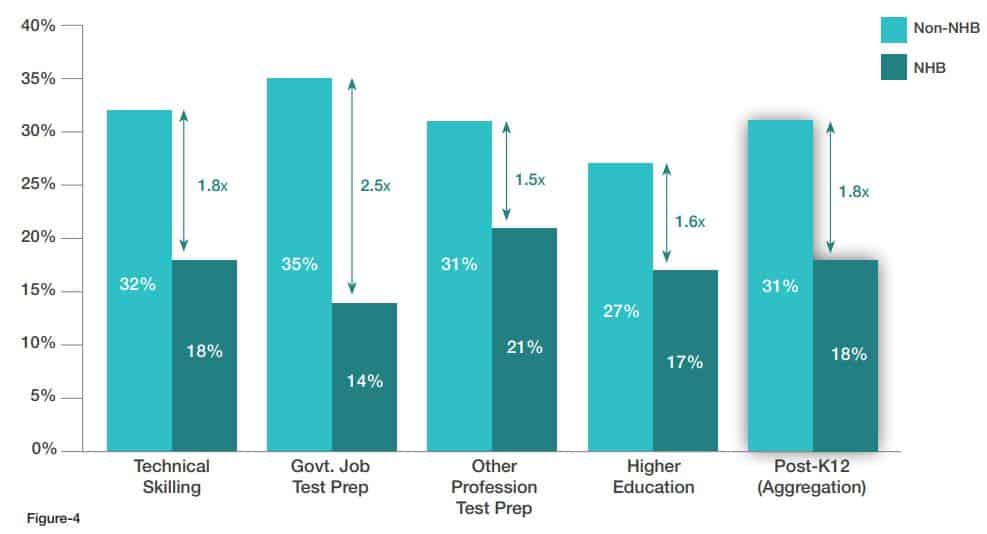 In the interests of India's workforce, increasing user satisfaction for all users will be imperative in the long run. For this to happen, key improvements must be implemented around the 4 pillars of online education: digital adoption, awareness, willingness to pay, and investments in online-learning companies. These pillars are a measure of the maturity and growth trajectory of K12 and Post-K12 EdTech in India.
The report covers the analysis of EdTech in supplementary education in the K12 and Post-K12 segments.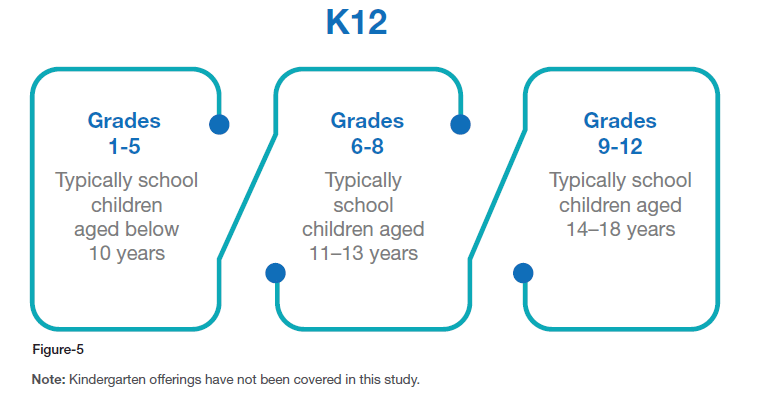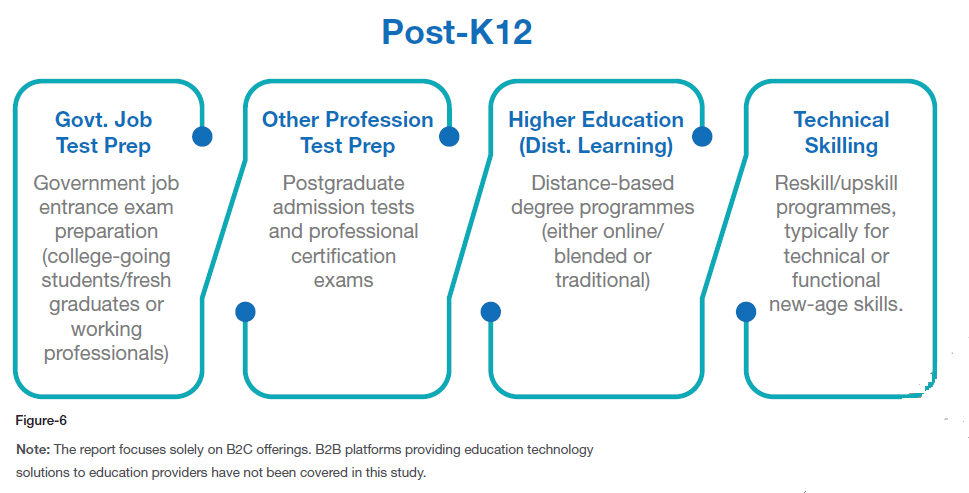 The report follows a two-part structure, listed down below, with key questions that are answered in each part.
Identifying the opportunity for EdTech: For K12 and Post-K12
What is the current state of education in India across K12 and Post-K12, and what are the key challenges ?

Why is EdTech well-placed to tap into this opportunity over the




next few years?

What is the size of the opportunity/prize at stake for EdTech




players over the next few years?
Unlocking this EdTech opportunity for K12 and Post-K12 
Based on large-scale research, recommendations are generated along the customer journey, which leads to a set of suggestions for entrepreneurs on sales, marketing, and product design.
Research and Analysis Methodology
The research methodology followed a quasi-consulting approach, obtaining inputs from the key stakeholders in the EdTech space – entrepreneurs, investors and customers.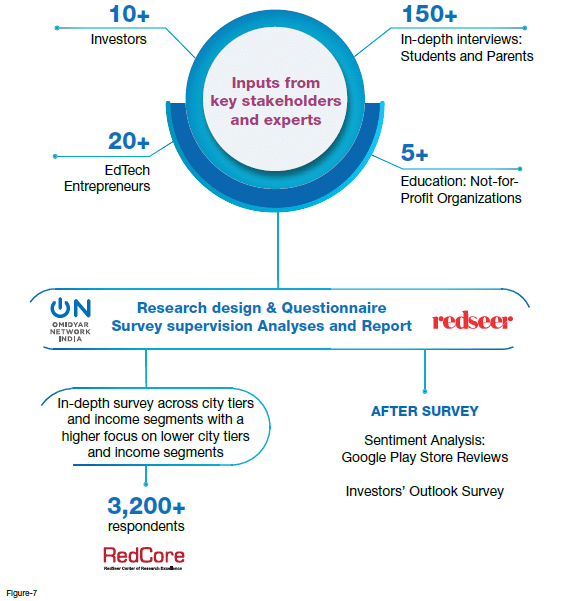 Key Insights from The K12 and Post-K12 EdTech Market
India's existing K12 and Post-K12 education ecosystem is ineffective, and it has long been in need of disruption. Increasingly, parents and students have started relying on supplementary education to make up for any gaps in the classroom. In Post-K12, areas such as automation and macroeconomics undergo constant change, which consequently affects employment prospects. Thus, the need for adult education is now being felt more acutely than ever before. Most frequently, such ancillary education comes in the form of offline tuitions.
The data revolution in the past 2 years and the rise of India's 'aspirers'—who form the most ambitious and populous income demographic but are severely underserved—has led to the rise of a number of entrepreneurs in education technology, i.e. EdTech. It is here that the next wave of growth will take place, as more and more innovations focus on the 'aspirers.
Creating multiple winners in the online education market
India's large EdTech-addressable population of 150 million students cuts across city tiers, income groups, language proficiencies, and curricula. The multiple subsegments make it essential for EdTech companies to make differentiations based on syllabi, language, pricing, pedagogy, offline support, and teacher training
Reimagining pricing strategies
About 60% of users who are aware of EdTech are willing to pay for a product. However, the current pricing does not meet the product requirement. Users face several hurdles in adopting EdTech as the main source of supplementary education. Only 18% of current users have replaced offline support with EdTech. By offering trials for paid services, EdTech companies can help parents and children understand if and how their product or service is better suited to their needs than offline tuitions. A fulloffering product can charge up to 70–80% of offline tuitions. For modular offerings, the pricing can be further lowered.
Leveraging teachers for trust, adoption, engagement, and outcomes
Teachers are the gatekeepers of education-related decisions taken by parents, starting from needs-realization and awareness to purchase decision and experience. Moreover, the 'human element' is essential for EdTech to bypass offline tuition. Teachers have remained underutilized by EdTech players, who must leverage them in two ways: as delivery partners and as promoters. Assisted-learning models have a better NPS of 44 compared to 31 for self-paced learning models. About 31% of parents of children in grades 1–5 were disinclined to purchase EdTech due to the lack of teacher and peer interaction.
Offering vernacular language content
Children are more comfortable communicating in their mother tongue or their local language, even if they study in English-medium schools. On some of India's biggest content platforms, the active users are largely from non-metros and prefer vernacular content. Companies must tailor their solution and incorporate language nuances for effective delivery and user engagement.
Focusing on cognitive learning and long-term outcomes for younger audiences
Grade 1–5 EdTech users (currently with a low base of ~5 MN users) are going to leapfrog the offline supplementary adoption, growing at CAGR of 93% over 2019–22 to ~36 MN users. The tendency for EdTech companies to be exam- or resultsfocused is a deterrent for parents of young children. Most companies are yet to mine opportunities in cognitive development rather than academic performance. EdTech has the opportunity to take an edge over offline tuition which do not serve the primary demands of people raising young children i.e. logic building and habit formation.
Reinventing high-value sales
Most EdTech companies with a large number of users have relied on a feet-on-street8 sales team and demos to convince people to pay for their products. To ensure affordability for the Next Half Billion (NHB), K12 companies will need to keep sales costs low, by driving efficient digital sales in order to both grow more rapidly and have better unit economics.
Driving engagement, particularly among paid users
The NPS (Net Promoter Score) stands at 45 among paid EdTech users. This is amuch higher score when compared to other tech-based industries such as food and wellness, mobility and e-tailing. This is a promising sign for EdTech and should create a ripple effect on product adoption and customer loyalty. It can also be used in wordof-mouth campaigns and testimonials to foster trust among non-paying users.
Increasing trust through brand building, engagement, and outcomes
Entrepreneurs have a unique opportunity to utilize student outcomes to build a brand, e.g. school exam results, college admissions, or learning proficiency. Entrepreneurs should focus on demonstrating student outcomes and utilizing these outcomes for building trust and brand. Among active users, over 55% cite digital ads as their primary source of awareness. The effectiveness of digital ads in creating awareness is equally impressive among non-users, with 45% non-users indicating they became aware of EdTech through online ads. NHB digital usage and habits are evolving.Companies should use digital channels effectively keeping that in mind.
The adult-learning market in India is diverse, especially considering the evolving requirements of its customers. While the willingness to pay is not a primary bottleneck in Post-K12, EdTech companies must establish trust, align on incentives, and focus on tangible career outcomes to succeed in the market.
Ensuring assistance and social interaction in adult learning
Learning is a social exercise, underpinned by interactions between those who impart education and those who imbibe it. This is true across K12 and Post-K12 segments. Around 40% of those in Post-K12 who are inclined to use EdTech for technical skills specifically look for assisted-learning models, and 90% of paying EdTech users rated interactivity as a key engagement driver. EdTech must incorporate tools that enable customers to communicate with peers and teachers to help adults achieve learning outcomes.
Providing multilingual content and modular offerings for effective monetization in the government job test prep segment
There is a great demand for government jobs in India. In this segment, 75% of the students surveyed expressed an inclination to pay for unbundled or monthly test preparation series, and 55% prefer to sign up for bilingual courses. EdTech must ensure that their content offerings are available in multiple languages and that users can purchase relevant modules separately.
Utilizing the high willingness to pay for technical skilling that culminates in career development 
With the rise in automation comes changing skills requirements, which has fuelled the aspiration for reskilling for career improvement. More than 80% of mid-level whitecollar respondents were willing to pay for technical skilling courses to advance their career development. By 2022, the paid userbase is set to increase 2.5 times to ~1.5 MN users from ~600K in 2019. About 76% of respondents rated career support as a must-have in technical skilling products. EdTech should focus on ensuring career development and will benefit from models such as the Income-Sharing Model, wherein a student pays to the education provider only when they achieve a minimum threshold
of outcome.
Building trust by making student testimonials widely available across relevant content platforms
Learners conduct extensive research across platforms before purchasing EdTech products and are proactive in scouting for options. About 68% of the respondents said they conduct research even after word-of-mouth referrals or personal recommendations. Nearly 77% use job portals, 30% use Google and 25% use YouTube as search avenues for career opportunities. Quora and Reddit are other viable yet under-leveraged platforms. Almost 50% of those researching for test-prep products use these two platforms for learning about course pedagogy and benefits.
Integrating life-skills training with curriculum to enhance employability and outcomes
The 'India Skills Report' outlines that employers prefer candidates who have
better communication skills and are ready to learn and adapt to changing business environments. EdTech companies must focus on imparting these soft skills, in addition to providing technical know-how. This will help provide the required skill set for the workforce of the future to succeed.
Over the years, India has made tremendous progress in terms of improving literacy rates. However, in both the K12 and Post-K12 market, accessibility and affordability to quality education remain significant barriers in unlocking the youth's potential. This has created a significant market for EdTech offerings, which are poised to disrupt the status quo and change the education delivery
landscape. By 2022, the K12 EdTech market is expected to be worth $1.7 BN and the Post-K12 EdTech market worth $1.8 BN, a growth of 6.3 times and 3.7 times, respectively, compared to 2019. For EdTech companies who seek to capitalize on this opportunity, this report provides detailed insights and recommendations, which are briefly discussed in the sections above.
This is a turning point for EdTech in India, with digital offerings leading the democratization of education, bridging gaps in access to quality education and addressing key student pain points. For incumbent players, the time is opportune to seize the market.
INSIGHTS
Talk To Our Expert