Mar, 2019
| By Anil Kumar, Ujjwal Chaudhry, and Abhyudaya Ranglani
Evolving Landscape for the $3Bn Digital Ad Industry
Digital advertising is likely to be a ~$7 Bn opportunity By 2021
---
The Indian digital content story has evolved through three stages:
Desktop Phase (2000-2007): 95%+ of content consumption happened through desktop. Google was the first mover in the industry with search and later, YouTube while Facebook started gaining popularity in early 2009.
Mobile Phase – Early Growth (2007-2016): As smartphones came into the market, people started consuming content on the early smartphones like Blackberry and Nokia but the launch of low-cost Android phones in 2008 gave initial momentum to the market. The market was still fairly concentrated in Metros and driven by English-speaking population.
The 'Content Explosion' Phase (2016-Present): As the data costs reduced significantly in late 2016 with the entry of Jio, the content consumption became much more democratized. This led to fast growth of platforms which were focused on non-English speaking audiences. While it took Facebook 8-10 years to reach 100 Mn+ MAU, the new platforms (like Dailyhunt and Hotstar) have been able to reach that number much faster.
New age digital platforms have scaled faster in India.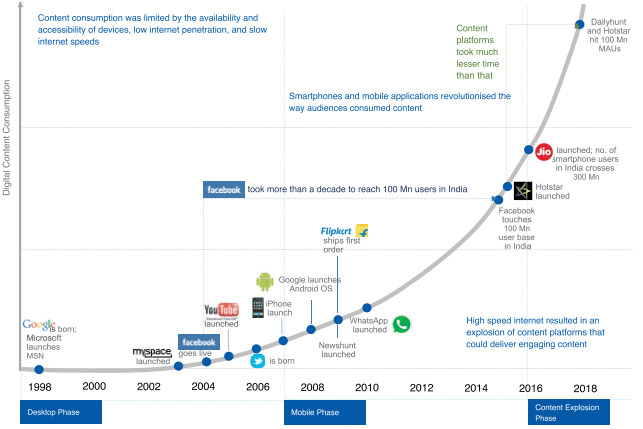 Digital ad spend growing 3X faster than overall ad spend. Advertising has evolved in the last few years as peoples' content consumption preferences has changed. It has evolved from print to television (starting from 1990s) to digital platforms (from 2008 onwards). Advertising has typically lagged the user interest by a few years as advertisers wait for the medium to reach a critical mass before using it for advertising.
Over $14 Bn were spent on advertising in 2018, which is growing with ~10% CAGR. Digital advertising, which was 12-15% of overall ad spend in 2015 is growing at 3 X pace (~30%) accounting for 20-25% in 2018. Digital ad spend is expected to account for 32-35% of overall ad spend by 2021, which will create an additional ~$3.3 Bn spend on digital. There are multiple drivers of growth for the digital ad industry:
Growth Drivers
• Ever-growing engaged user-base
• Ability to target specific segments
• Low entry barrier for advertisers compared to TV
These growth drivers are likely to propel the digital ads industry to become a ~$7 Bn opportunity by 2021.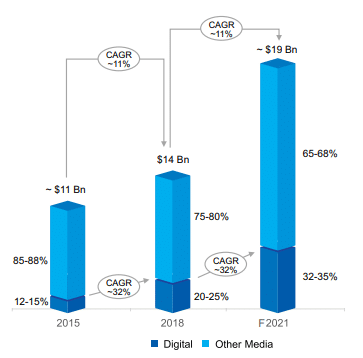 INSIGHTS
Talk To Our Expert