Dec, 2013
| By Anil Kumar, Ujjwal Chaudhry
Home Automation in India – Deep dive into the future trends of the market
The home automation market in India is expected to reach INR 8800 crore by 2017
---
The home automation market in India is expected to reach INR 8800 crore by 2017, with the residential segment accounting for nearly 60% of the industry. Home automation in India today consists of four functional segments – Lighting, Security, Audio/Video and HVAC (Heating,Ventilation and Air Conditioning). Lighting is the largest component of residential market while security is the largest component of Commercial market.
1. Leading markets in India
The market is currently concentrated in top-10 cities and few smaller cities; companies are looking at tier-2 cities for their next level of growth.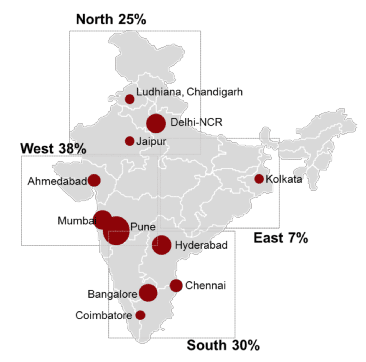 It can be observed that certain areas have shown 
higher growth and this can largely attributed to 
two factors – growth of IT Hubs and HNIs (high 
net-worth individuals). HNIs are concentrated in 
NCR, Punjab and Gujarat and IT Hubs are located 
in Pune, Hyderabad, Bangalore, Noida and 
Coimbatore. 
Pune currently is the biggest market for home 
automation in India. The market shares for key 
markets are as follows: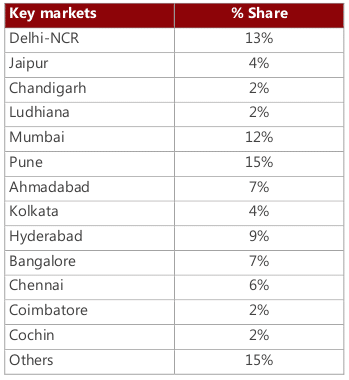 2. Market Analysis by product segments
The lighting market makes for 39% of the home automation market thus being the second largest segment in the market (the first being the security market at 45%).The lighting market is highly fragmented with 60% of the market captured by the organised players and the rest by unorganised players. Legrand leads the market followed by the next 25 players. The unorganised market largely constitutes of local players who import sensors, switches, control boxes and remotes from other markets such as China.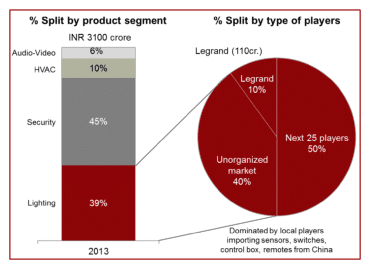 The security systems market is the largest product segment in India's home automation market. The market is dominated by organised players; nearly 70% of the market is made up of organised players. Zicom, Honeywell and Bosch lead the market this segment. The unorganised market includes players who sell CCTVs, alarm systems, door sensors and video phones imported from China.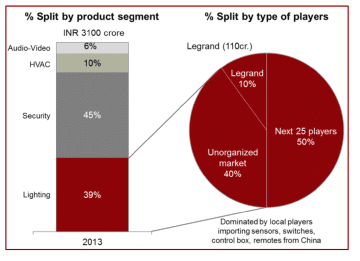 3. Market trends – technology
Some of the key problem areas in India are issues with wired systems and foreign players. Some of the main pain points with wired systems are as follows: 
Difficult to retro-fit

Lack of inter-operability between different




products

Lack of remote management from outside

Settings to be configured only by company




engineers

Lack of flexibility for adding new products

High installation time
 Although foreign players are entering the market, the process of purchasing and maintaining a system sold by a foreign player is still not smooth. Some of the drawbacks of foreign players in India are as follows:
Product replacement times are as high as 4 weeks

Lack of service infrastructure as 1 service 

engineer services up to 400 clients

Lack of support for 'India-models' of products 

as codes are written for US models

 

Lack of support for system integrators
Unsuccessful wireless solutions by MNCs is leading to system integrators creating their own protocols or switching to open source products. This in turn leads to higher margins for the integrators.
4. Wired Vs. Wireless systems
The home automation market  worldwide is making a shift from wired to wireless systems. Some of the key features of both systems are listed on the chart below: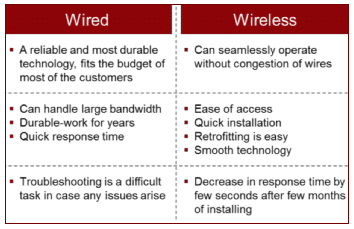 Key insights for both systems across important factors:
Installation – Installation time for a wired system is less than a day, in some cases it could get up to a week`s time. A wireless system requires fewer hours of installation time and is very convenient to install
Warranty – Warranty of 2 years is provided by most home automation brands. Some system integrators do provide additional warranty on services
After sales services – AMC of 8-10% of total project cost is common in the market. Many customers are not very much concerned about hardware and do not feel the need of AMC.
Brand importance – Brand is a very important parameter for end users, especially in the security domain. However, brand is not a very important factor for builders as price is the most important consideration for builders.
INSIGHTS
Talk To Our Expert