Feb, 2020
| By Sandeep Ganediwalla, Anuj Kumar, and Rajat B
Home delivery of Food-tainment
UAE's internet penetration rose to 99% in 2019, while for KSA it touched 99% in 2019.
---
I. Consumers spending more time on internet
Penetration of internet has witnessed robust growth globally in the past few years. Global internet penetration, which stood at 42% in 2015, increased to 67% in 2019. UAE and KSA, the two key countries of the GCC have also witnessed exponential rise in their internet penetration. UAE's internet penetration increased from 92% in 2015 to 99% in 2019, one of the highest globally. Similarly, KSA's internet penetration increased from 58% in 2015 to 90% in 2019.
Furthermore, UAE and KSA have also witnessed significant increase in the number of screens a person gets exposed to as consumers are spending significant time on laptops, smartphones, tablets and smart-tvs. The share of people using multiple screens in KSA and UAE was close to 60% in 2012, this number has increased to 80%+ at present. Increasing internet penetration and screen exposure are the key drivers for the increasing time spent using internet. On average, the daily time spent using internet has increased by 2.5+ hours in the last 4 years – approximately a 60% increase.
UAE's internet penetration rose to 99% in 2019, while for KSA it touched 99% in 2019.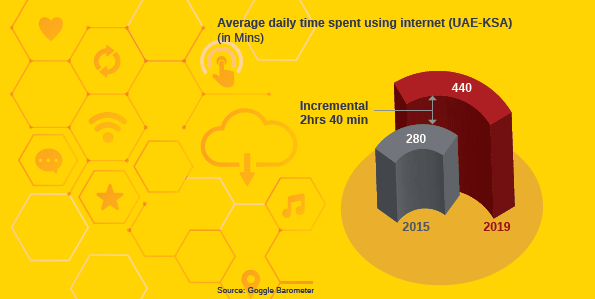 II. Online streaming and TV equally sharing the consumer attention.
One of the key beneficiaries of increased time spent on internet are Over-the-Top (OTT) platforms. OTT platforms are on-demand media streaming services that are offered directly to viewers over the internet. Popular OTT platforms offering their services in the MENA region are Netflix, Amazon Prime Video, YouTube, Hotstar, Starz Play, Shahid.net among others. We spoke to digitally active consumers in UAE and KSA to understand their consumption pattern of OTT platforms. Some key insights on consumption patterns:
• Almost 90% of the respondents used video streaming platforms
• Netflix emerged as the most preferred OTT platform followed by YouTube
• Other key OTT platforms that consumers prefer are Amazon's Prime Video, Shahid. net and Hotstar.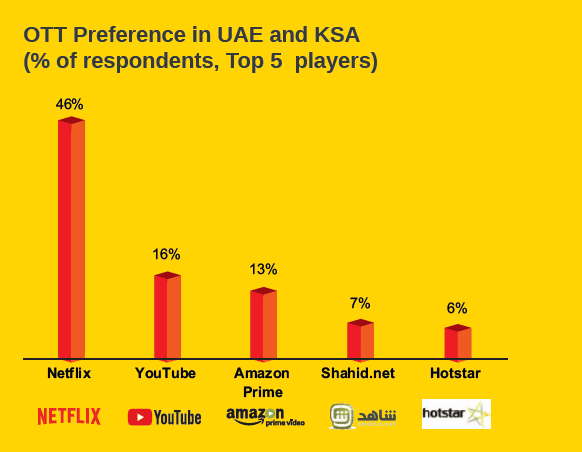 TV viewing time shrinks to 90 minutes in 2019
Considering the growing consumption of OTT platforms, many of these platforms are investing heavily in generation of localised content to cater to the demands of local population. For instance, Netflix, in the beginning of 2019, streamed its first Emirati TV series 'Justice'. Apart from localising content, online streaming platforms have also been forging partnerships with regional players to expand their reach among consumers. In 2018, Netflix partnered with Dubai based Pay-TV (OSN) and telecom operator (Du) to give their subscribers access to Netflix content (OSN partnership was discontinued as OSN wanted to focus on their own WAVO platform).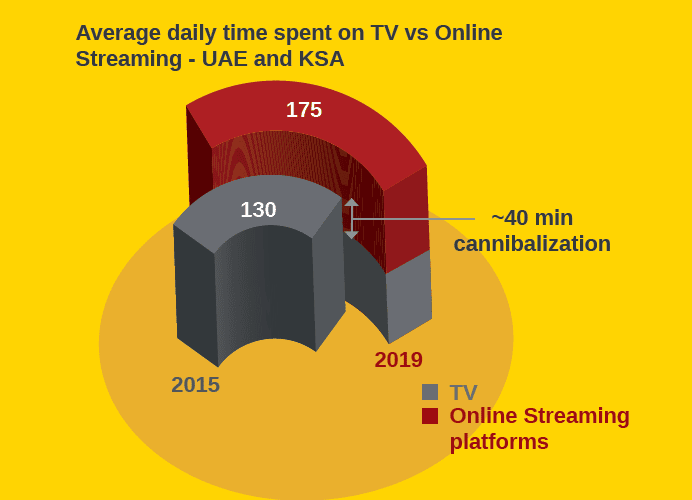 The increase in time spent on OTT platforms has come at the expense of time spent on viewing TV. Average time spent on viewing TV reduced from ~130 minutes in 2015 to under 90 minutes in 2019, while time spent on viewing OTT platforms stand at the same value. 
III. OTT platforms to drive online food delivery
One of the key trends that emerged during interactions with digitally active consumers was that of snacking while streaming. Almost 95% of the respondents preferred snacking while streaming videos with home meals being the most preferred food type.
Apart from home meals, healthy snacks such as fruits and salads emerged as the second most preferred food option while streaming. One key observation from our interactions with digitally active consumers was their preference for low involvement and high convenience foods while streaming videos. Therefore, food items like pizza, burger, desserts, nachos, popcorn and chips find hightraction among consumers who prefer ordering food while streaming online videos.
We expect online streaming platforms to be driver for online food delivery platform in the region which currently stands at ~ $ 2 Bn+ in UAE and KSA.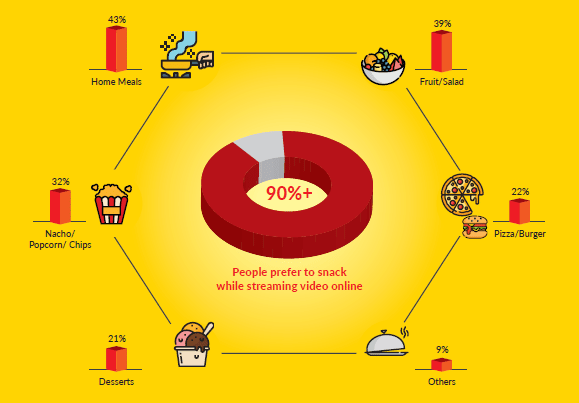 Delivery Hero which owns food delivery platforms Hungerstation, Talabat, Zomato and Carriage accounted for 70%+ of the overall food delivery market in UAE and KSA. Other key players in this space are Deliveroo, Uber Eats and Careem, taking away the remaining share of the market. Given the synergies between online streaming platforms players and food delivery players, we expect to see collaboration between them in the coming years. This is already visible in other markets – for example, in March 2019 during the IPL season, Hotstar, a premium streaming platform in India, partnered with Swiggy to allow its consumers to order their favourite meal from Swiggy and experience pleasurable viewing as well as food ordering experience.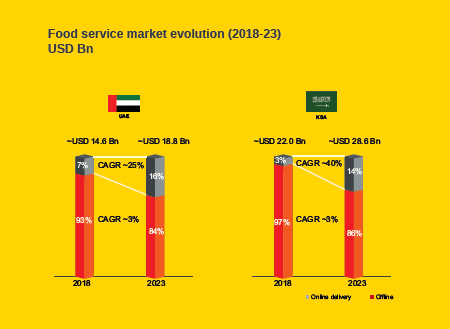 We expect to see collaboration between – Online streaming players and Food delivery players in coming days.
IV. Cinema players join the party
The amount of online video that we as a region consume has been increasing at a rapid pace, where an average consumer is spending ~5 hours per week on paid online streaming platforms. Consumers watch on an average 50+ movies (equivalent) annually on paid online streaming platforms compared to around 4 movies annually in cinemas. i.e. online streaming consumption is already ~15 times higher than that of cinema consumption.
The growing traction of online streaming platforms and consumers' propensity to snack while watching video streaming is likely to open opportunities for cinema operators, online food delivery players and online streaming players. Cinema operators already realise the importance of food services to their business model, which contribute as much as 35% to their revenues in UAE and even higher share in KSA.
Cinema operators in the region have increased its focus on food services by launching various food service offerings across formats – QSR, Café, Dine-in. Recognising the importance of the home-snacking market, VOX and Reel cinemas have already put their food offerings on online food aggregator platforms such as Zomato, UberEats and Talabat to target the online streaming food service demand.
UAE is home to 450+ cinema screens which is expected to double in coming five years. Leisure and entertainment is the fastest growing sector in KSA which recently lifted the ban from cinemas. Within a year of ban upliftment, the country is home to 70+ cinema screens which is expected to grow multi fold to reach ~1,000 screens in next five years. Vox, Muvi, AMC, Cinepolis and Empire has already shown aggressive growth plans in the country.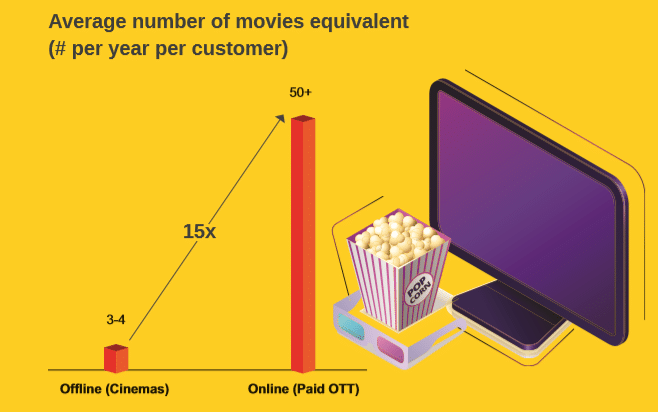 INSIGHTS
Talk To Our Expert