Feb, 2020
| By Sandeep Ganediwalla, Anuj Kumar, and Rajat B
Home delivery of Food-tainment
UAE's internet penetration rose to 99% in 2019, while for KSA it touched 99% in 2019.
---
UAE and KSA have witnessed exponential rise in their internet penetration recently. Internet penetration in UAE increased from 92% in 2015 to 99% in 2019, one of the highest globally. Similarly, internet penetration in KSA increased from 58% to 90% over the same period.
Furthermore, as consumers are spending significant time on laptops, smartphones, tablets and smart-tvs, UAE and KSA have also witnessed significant increase in the number of screens to which a person gets exposed. Increasing internet penetration and screen exposure are the key drivers for the increasing time spent using the internet. 
One of the key beneficiaries of increased time spent on the internet are Over-the-Top (OTT) platforms. Popular OTT platforms offering their services in the MENA region are Netflix, Amazon Prime Video, YouTube, Hotstar, Starz Play, Shahid.net, among others.
The increase in time spent on OTT platforms has come at the expense of time spent on viewing TV. Average time spent on viewing TV reduced from ~130 minutes in 2015 to under 90 minutes in 2019, while time spent on viewing OTT platforms stands at the same value. 
One of the key trends that emerged during interactions with digitally active consumers was that of snacking while streaming. We expect online streaming platforms to be a driver for online food delivery platforms in the region which currently stands at ~ $2 Bn+ in UAE and KSA.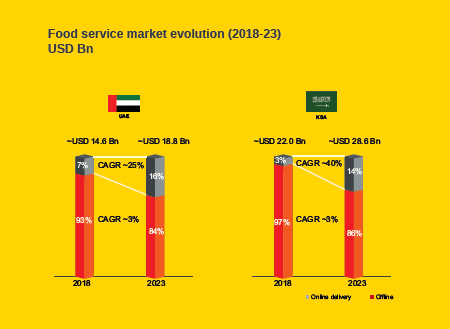 INSIGHTS
Talk To Our Expert