Apr, 2020
| By Sandeep Ganediwalla, Anuj Kumar, and Soumya Jain
How will MENA order online post COVID-19?
UAE's internet penetration rose to 99% in 2019, while for KSA it touched 99% in 2019.
---
I. Crystal-ball gazing into the future of MENA post Covid-19- powered by RedSeer IP + custom primary research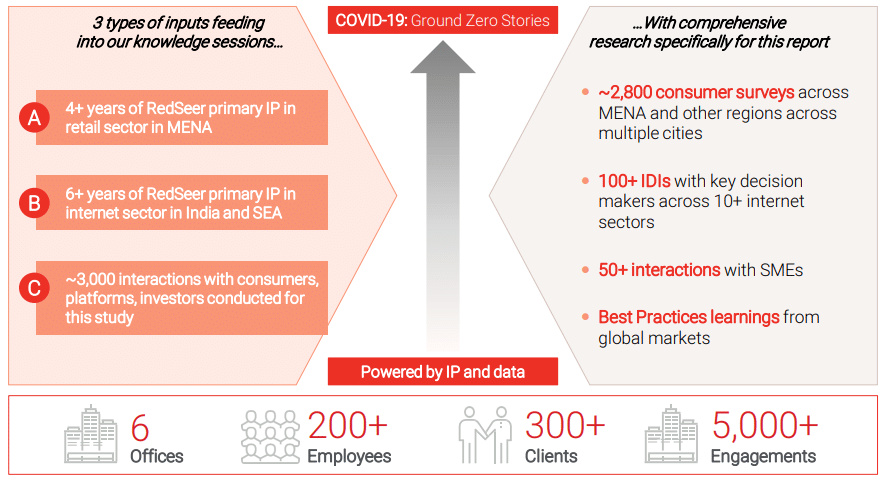 II.We will discuss on the below themes/questions in this session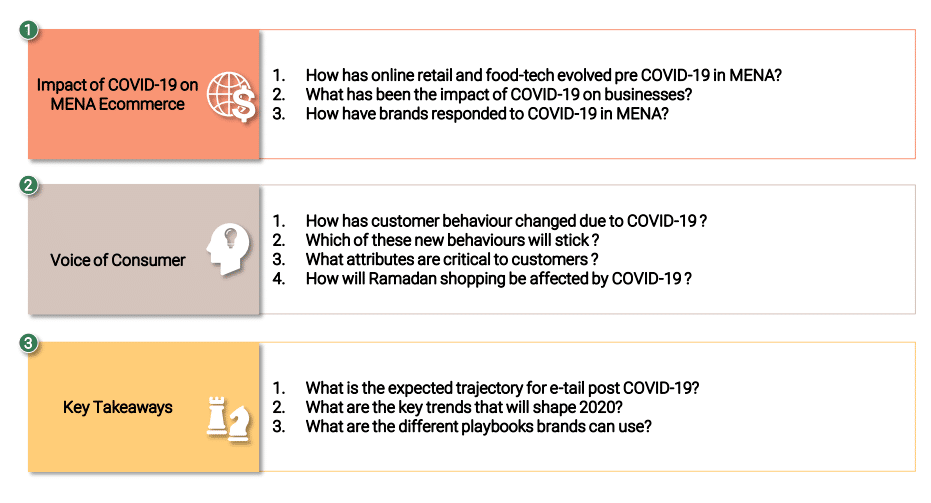 III.MENA E-tail is $10Bn sector led by UAE and KSA, expected to touch $35 Bn by 2023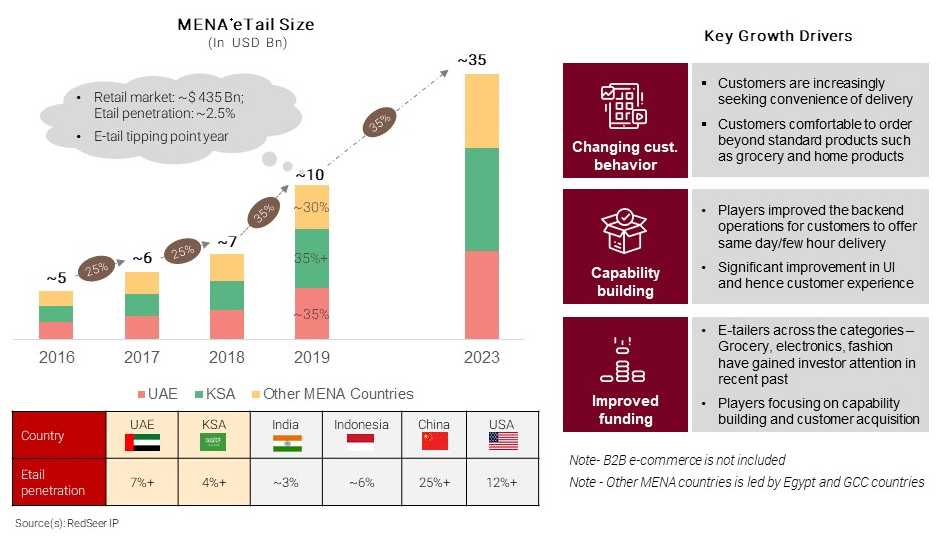 IV. Online food delivery is also gaining popularity fast; changing customer behaviour and internet kitchens are driving this growth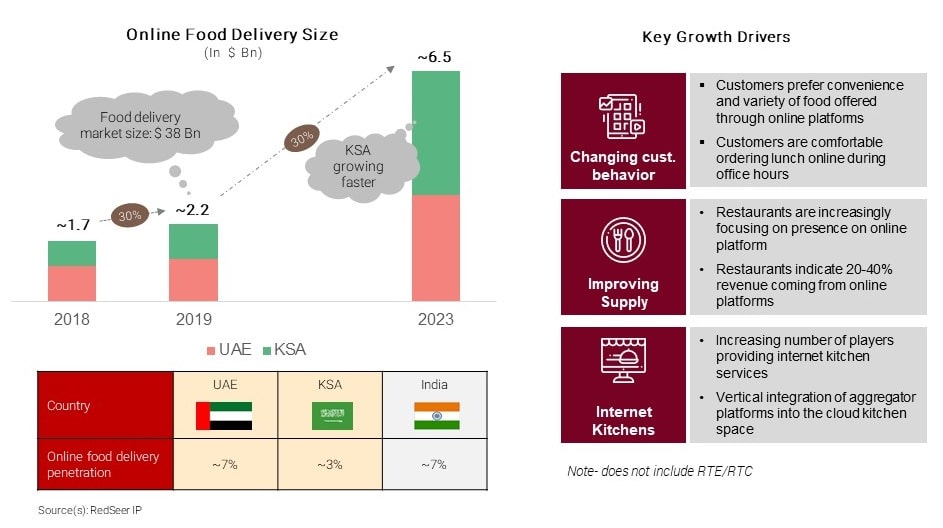 V. Retail is stressed in MENA and expected to miss the Ramadan month sale if not develop the digital assets already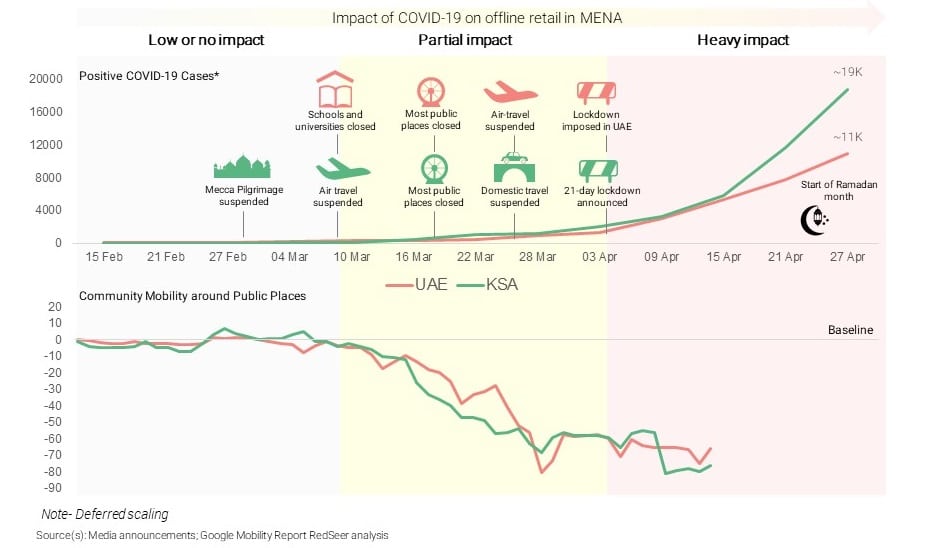 VI.Lockdown measures have segregated ecommerce into beneficiaries vs. strugglers - at least in short term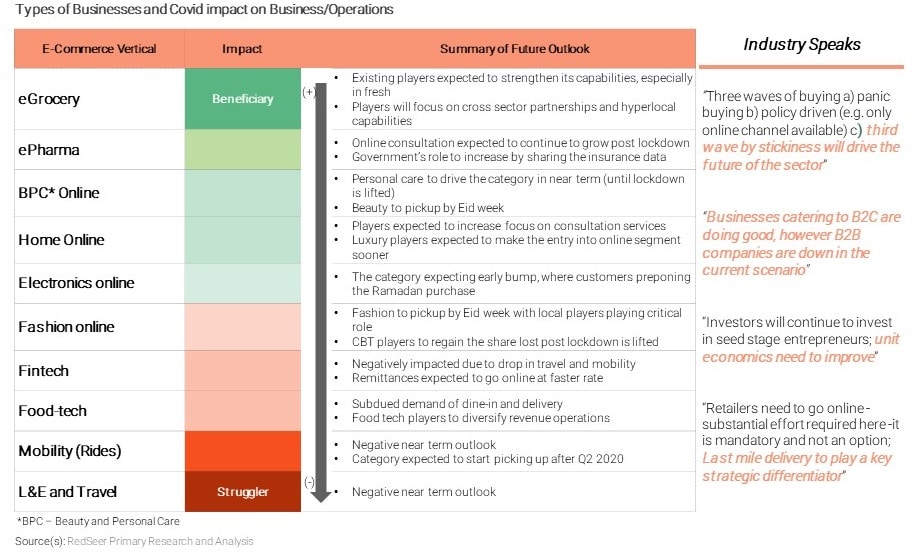 VII. E-tail is the lifeline in current situation with local players' daily online orders are ~100% up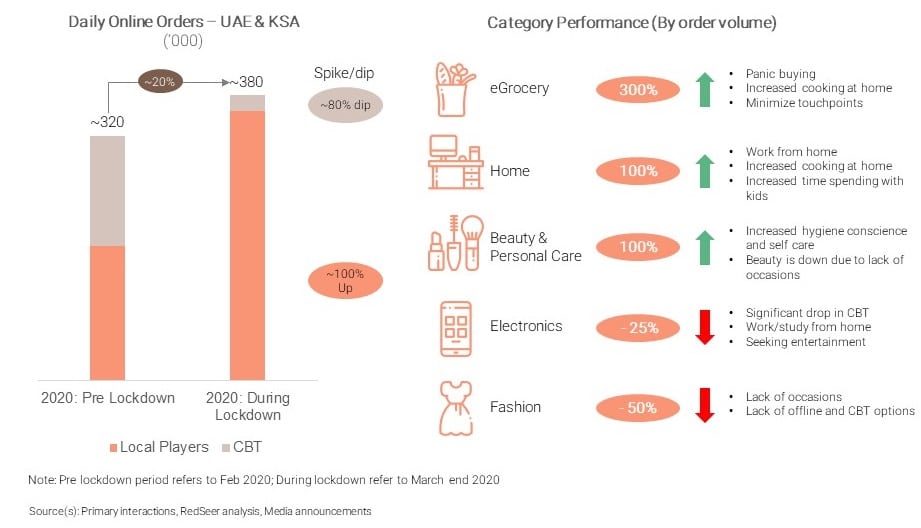 VIII. Overall the sector has grown by ~40% by value with eGrocery being the biggest gainer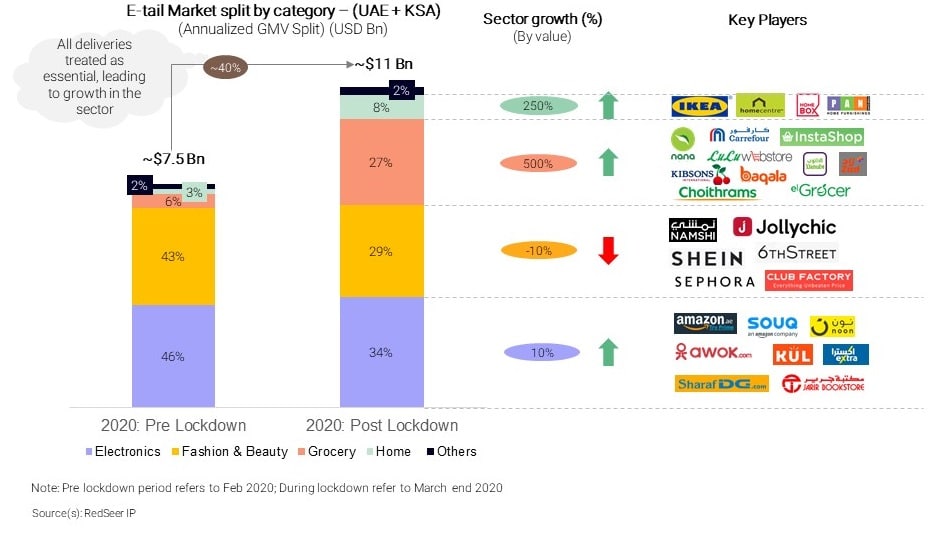 IX. Online food deliveries are taking a hit, stressed from all directions – supply, demand and government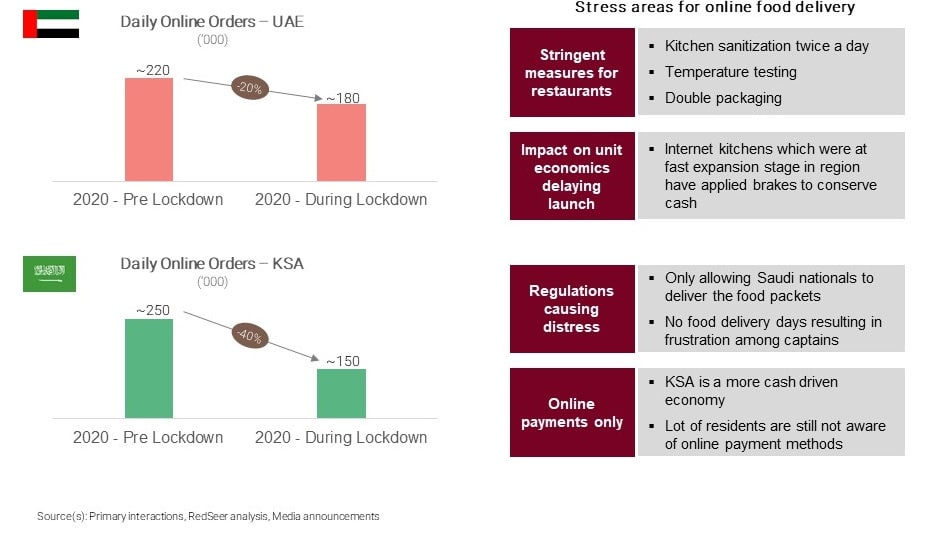 X. E-tailers are facing supply constraints leading to increased prices and stock-outs; focus needs to be on improving supply and customer experience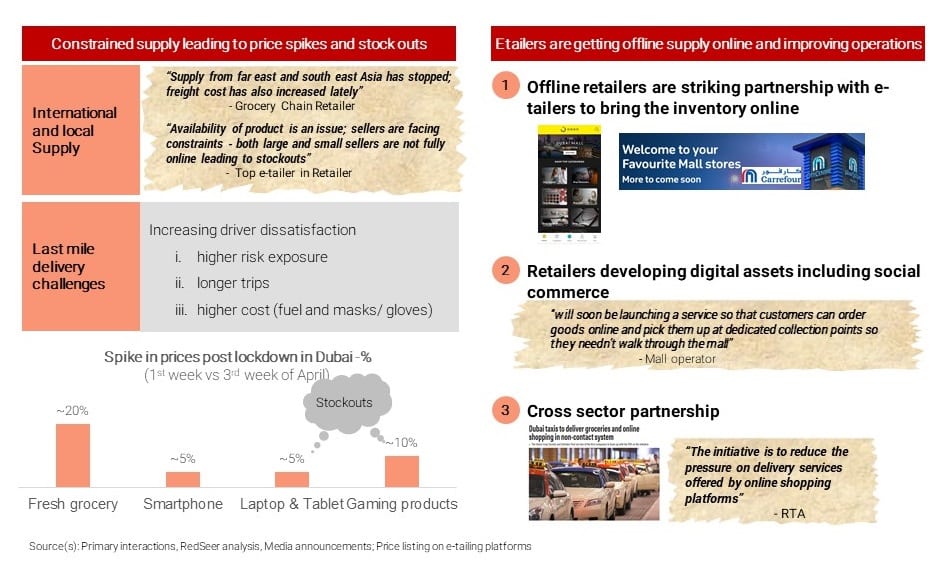 XI. eGrocery, the biggest beneficiary, is seeing entry of new players and cross sector partnerships; new players are mainly online food delivery players…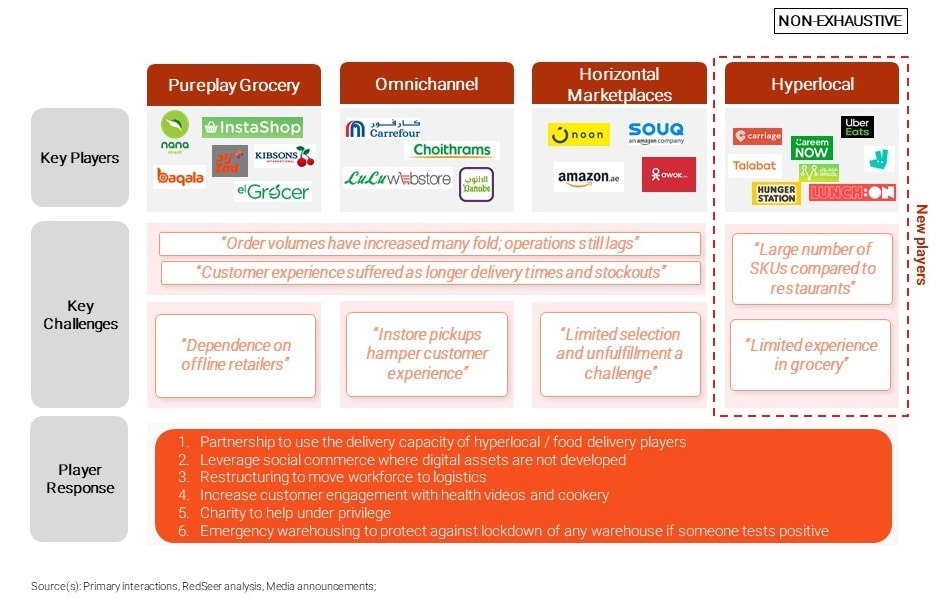 XII. …who are expanding their scope to become sustainable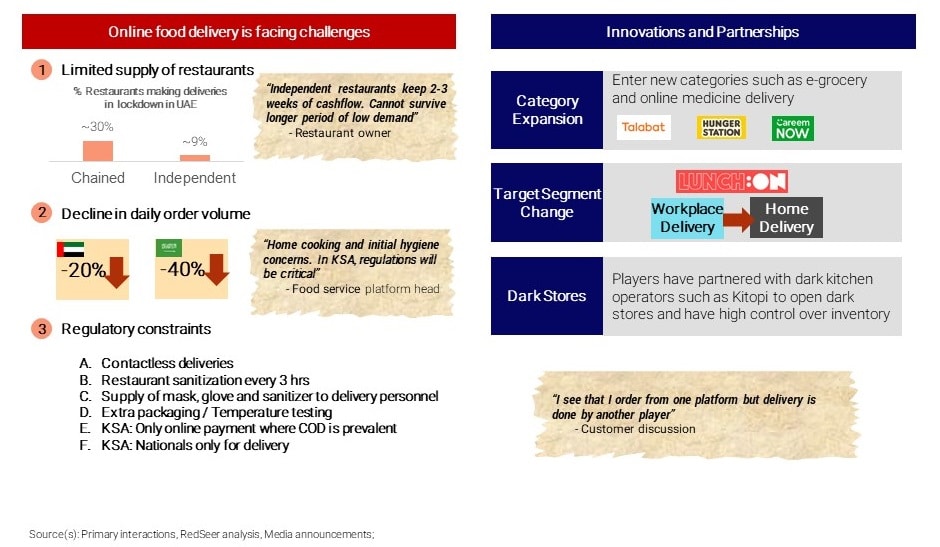 XIII. Summary – E-tail has seen a spike; what would be its impact?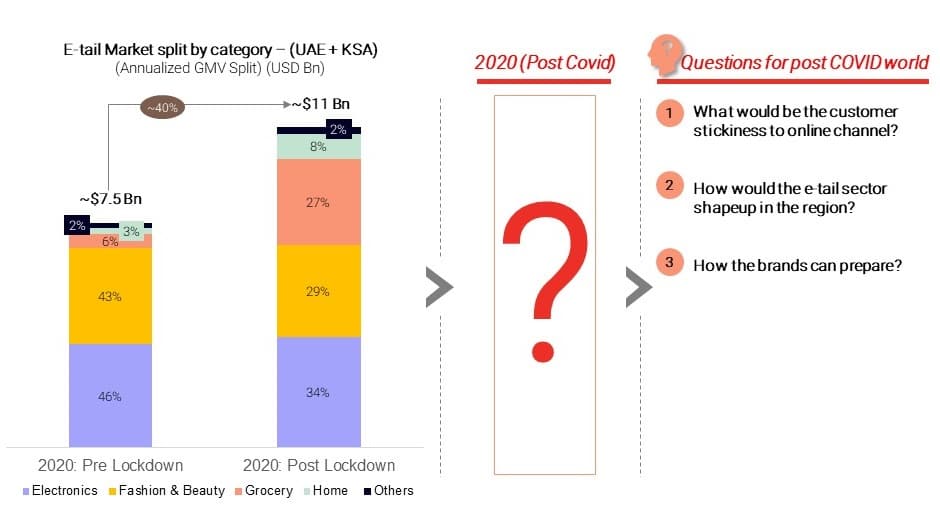 XIV. Since the COVID–19 related lockdown started in MENA, we have observed significant changes in customer behavior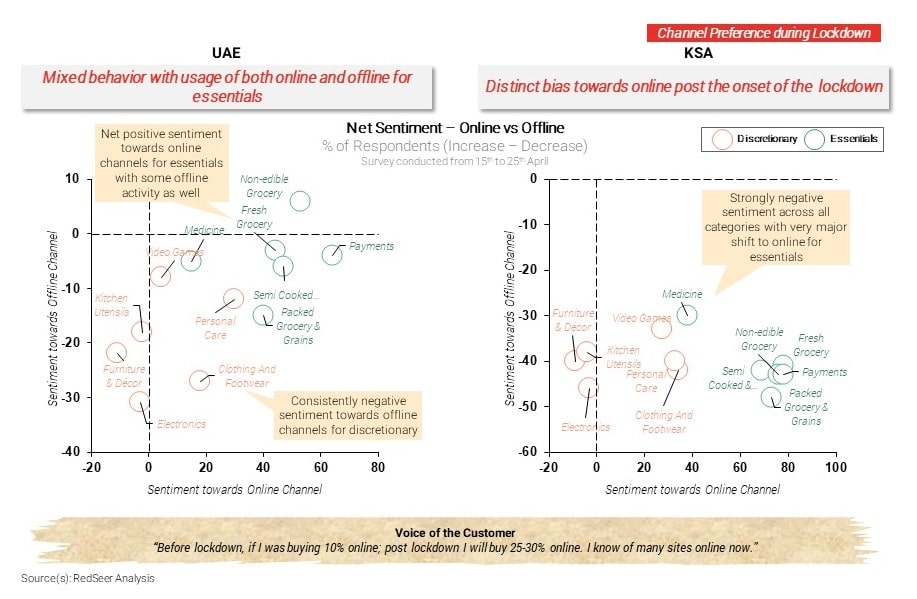 XV. Digital has gained traction across the board especially in essential categories of grocery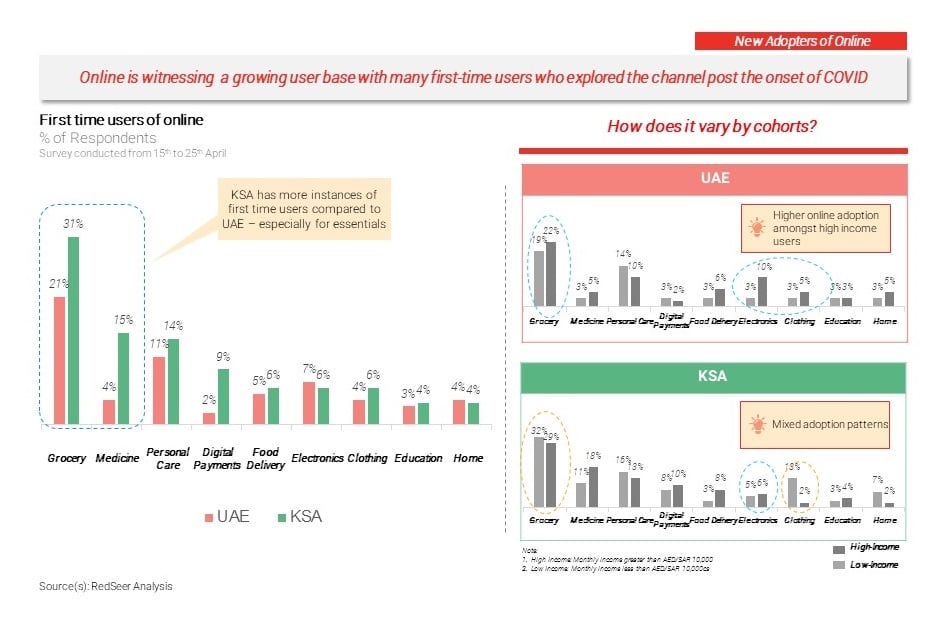 XVI. However, levels of optimism for the future vary across the two regions raising uncertainty about possible spending behaviors
XVII. Despite large numbers of first-time online users, lesser stickiness is observed in KSA compared to UAE for all categories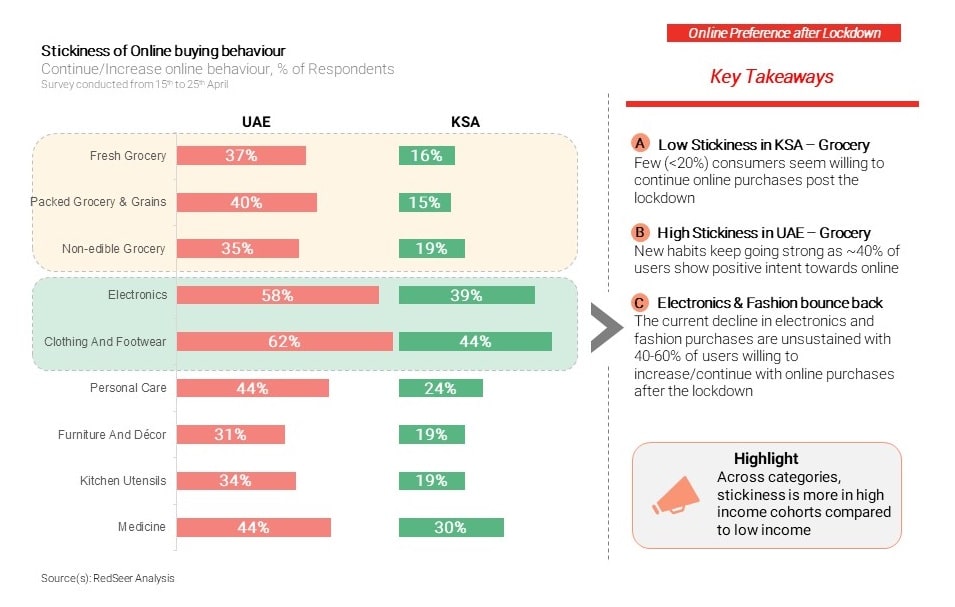 XVIII. Consumers are factoring in their increased awareness about COVID-19 precautions while picking online platforms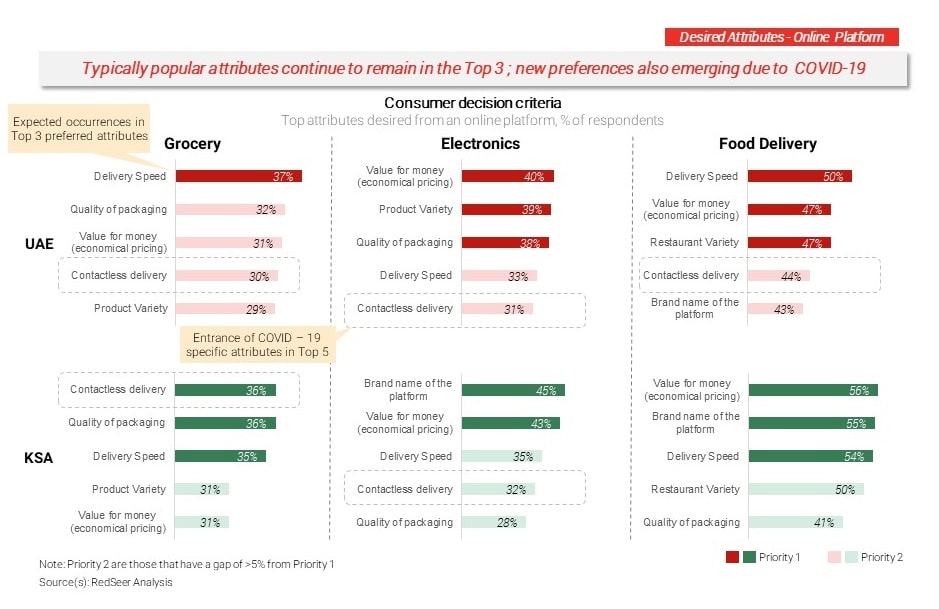 XIX. UAE excitement levels for Ramadan shopping have gone up since the onset of the pandemic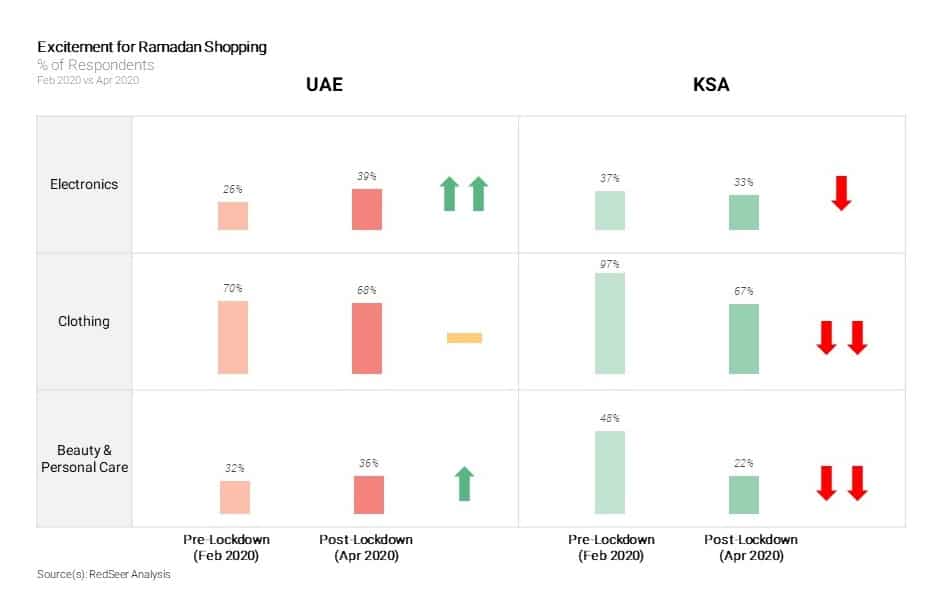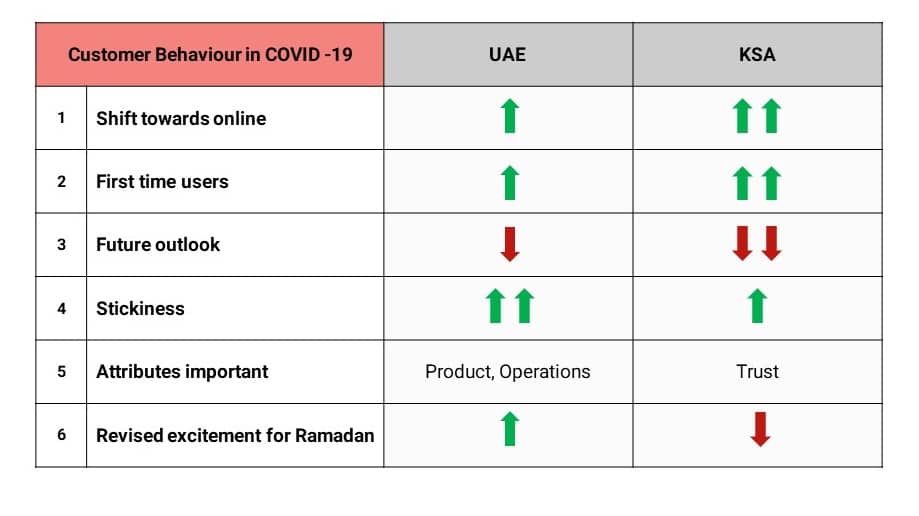 I. We expect e-tailing GMV to be 11% higher than our earlier forecasts…
II. …as validated from supply and demand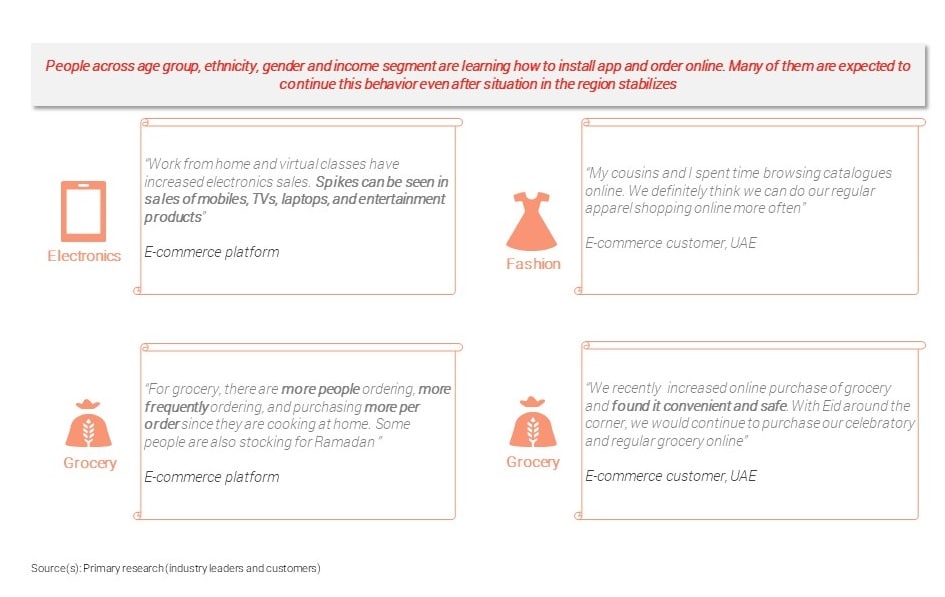 III. Online sales of electronics has moderate traction during lockdown; we expect around 4% upside compared to our base case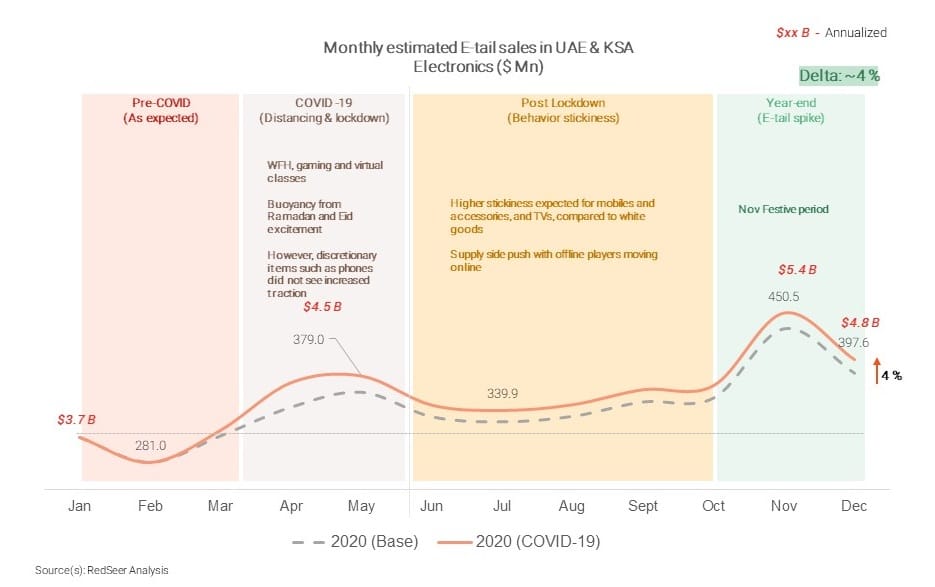 IV. Cross-border-trade bottlenecks and lack of social occasions have been pulling the sales down; however, we expect overall demand to recover
V. eGrocery has been the biggest gainer during this period, but this spike will have a more lasting impact in UAE than in KSA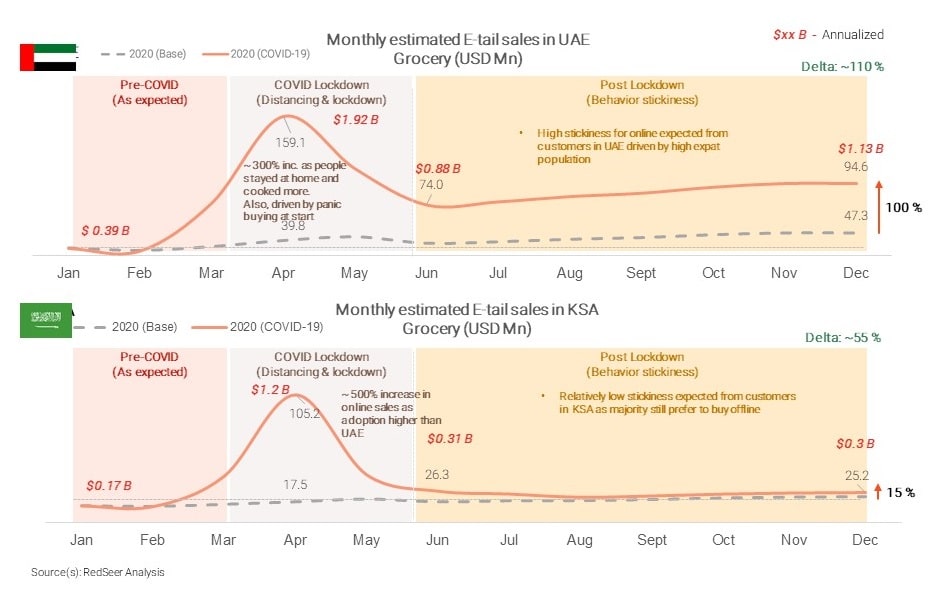 VI. In summary, the opportunity in e-tailing is large but is not without challenges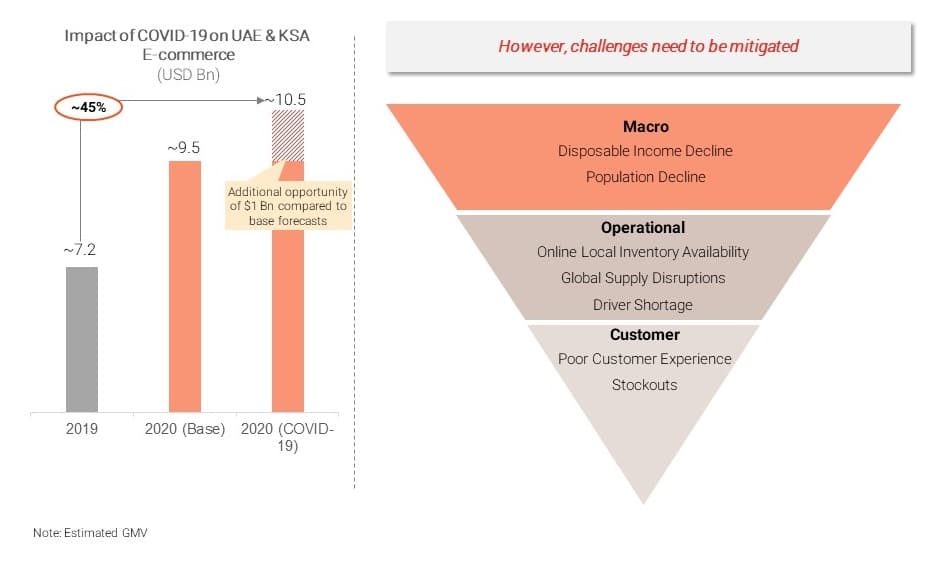 VII. Meaningful changes to play out for eCommerce sector in a post COVID-19 world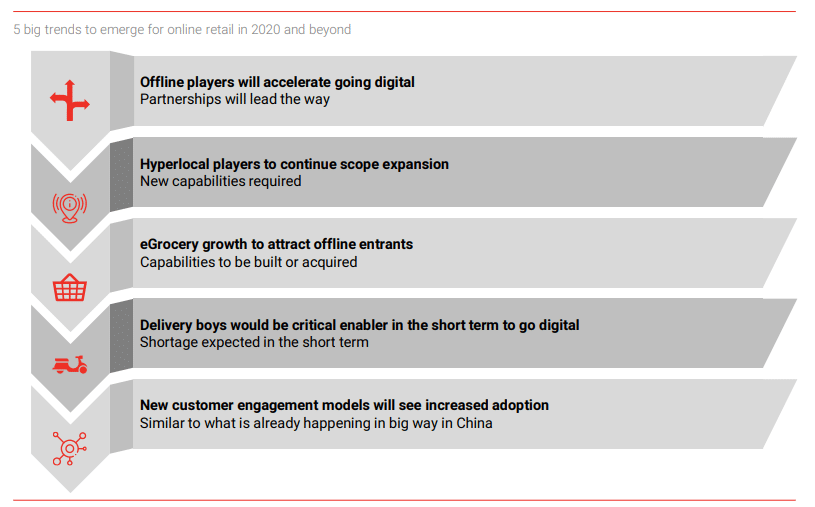 VIII. Offline players will accelerate going digital Partnerships will lead the way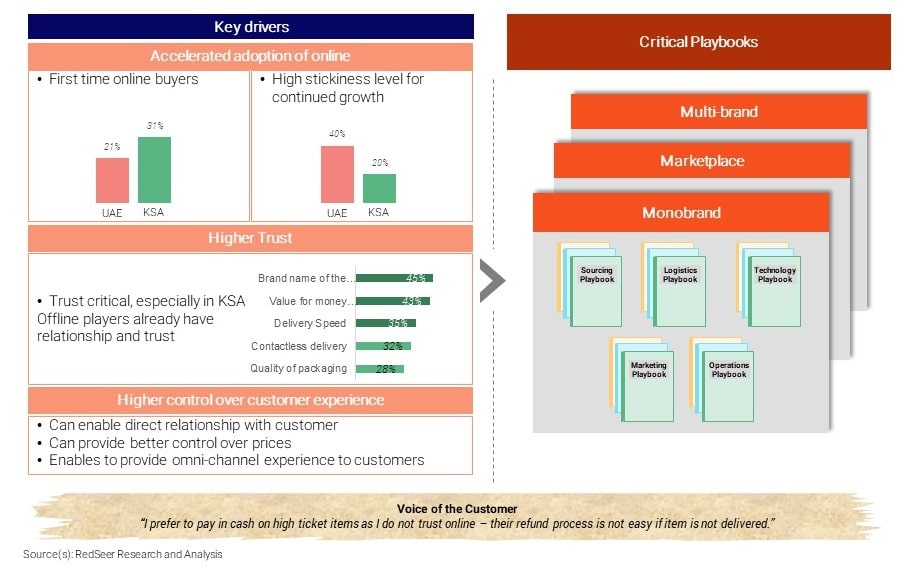 IX. Partnership building will be key for players to transition to omnichannel…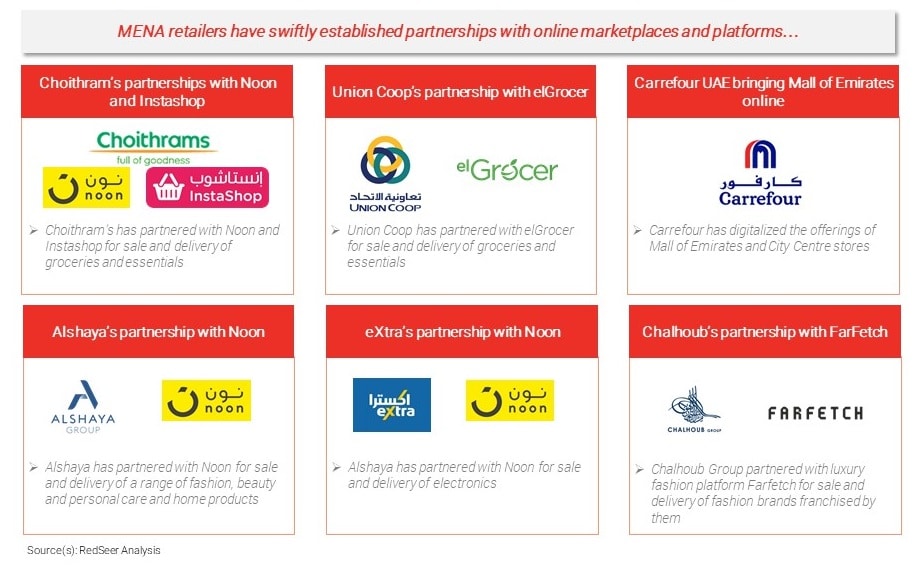 X. …in order to maximize customer touchpoints for higher sales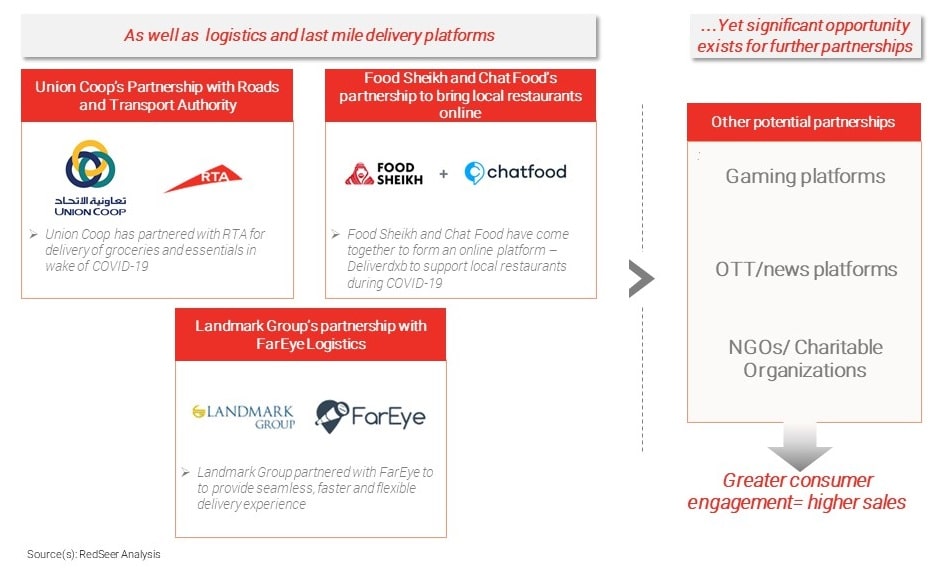 XI. Hyperlocal players to continue scope expansion New capabilities required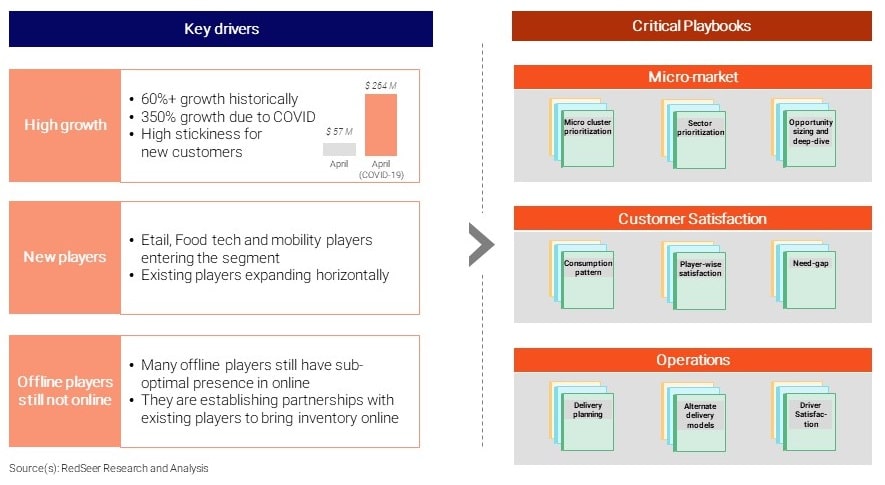 XII. eGrocery growth to attract offline entrants Partnerships will lead the way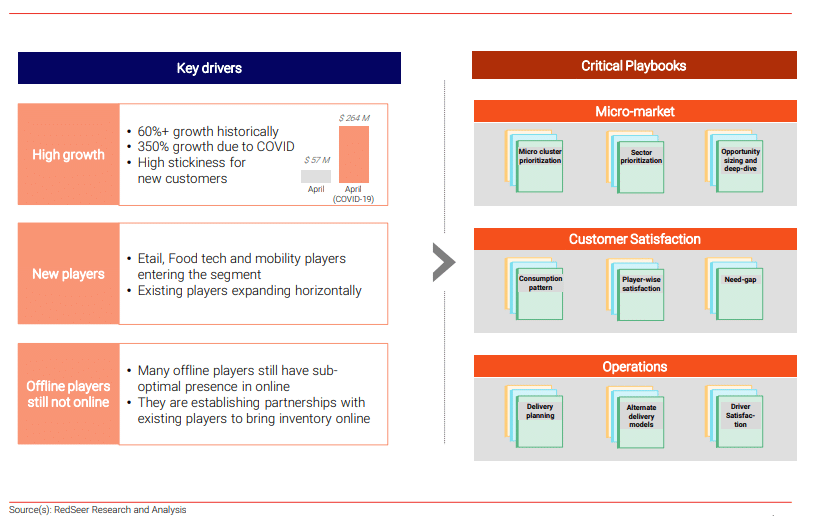 XIII. Delivery boys would be critical enabler in the short term to go digital Shortage expected in the short term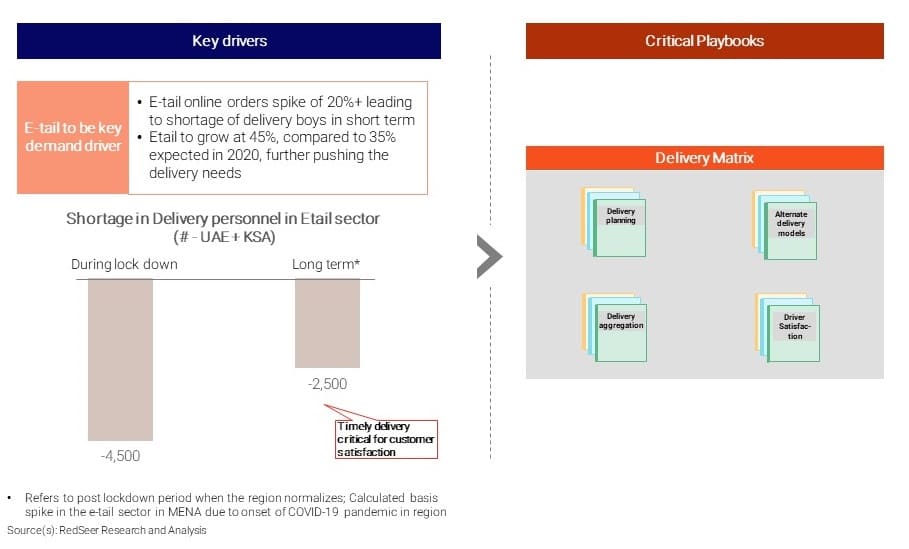 XIV. Rise of new customer engagement models is imminent from both platforms and brand side- similar to what is already happening in big way in China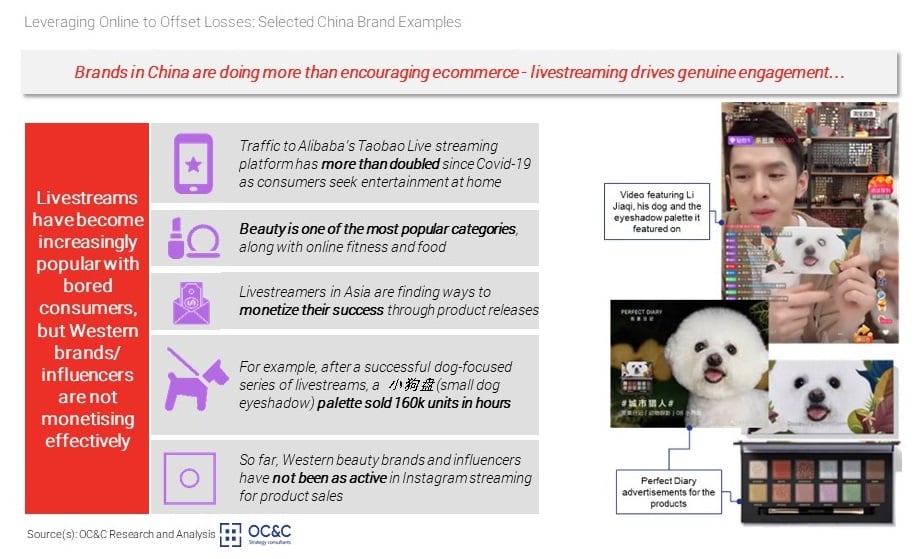 INSIGHTS
Talk To Our Expert