Feb, 2019
Impact of changes in regulation and policy stand with respect to internet retail
REPORT CONTEXT – POLICY EVOLUTION
Policy then
Indian law permits

100% foreign ownership of "single-brand" retailers, e.g. Ikea, but limits foreign ownership to 51% in "multi-brand" retail
100% foreign ownership of multi-brand wholesalers i.e. selling to businesses, but not to retailers i.e. selling to individuals

In 2016, Indian government clarified the rules relating to foreign ownership in e-commerce retail.

It allowed foreign-backed companies to operate internet-based marketplaces i.e. connect independent sellers with customers
It, however, did not allow these foreign backed companies to keep inventory or sell products directly to consumers
Capped total sales originating from a group company or one vendor at 25%

Foreign backed internet retailers, most prominently Amazon India (owned by Amazon Inc.) and Flipkart (owned by Walmart Inc.) had already anticipated government action and restructured their operations to thinly comply with broad guidelines:

Amazon set up a JV (with 49% ownership) that owns Cloudtail – the largest seller on Amazon India
Flipkart set up a wholesale distributor and retailer, WS Retail that pushed sales on marketplace through multiple sellers
Policy now (effective 1st February 2019)
The new rules do not allow foreign funded online retailers to

source more than 25% of its inventory from a wholesaler linked to the marketplace, or
have any of the wholesaler's equity owned by the marketplace
restricts marketplace to keep inventory or sell directly to consumers

Implementation of sudden changes and rules restricting foreign but not domestic players is likely to have multiple short term and long terms effects on the Indian e-tailing scenario
---
WHY IS THIS IMPORTANT ?
India has ~600 mn internet users, 20% of which are active online shoppers
Indian online retail is a $24 BN industry (2018) and is set to cross $100 BN by 2023
Recently policy changes effective 1st February saw following market reactions from major e-tailing players:

Amazon Inc. lowered its sales guidance for the first quarter due to the new rules, sending its shares down by more than 4% on Friday, 1 Feb.
Walmart shares also came under selling pressure on Friday, 1 Feb down 2.1%

Other internet industry players are likely to be impacted as well with the policy changes causing them to rethink their supply chain and operational strategies to comply with rules
---
OBJECTIVE OF THE UPCOMING REDSEER REPORT
The above policy changes as implemented on 1st February 2019, forced foreign funded e-commerce platforms to restructure their operations and supply chains. With the internet retail in India sized at USD 24 BN in CY18, the changes are likely to have far reaching consequences to not just internet retail but also to overall retail, business and consumer sentiment, employment, GDP, and beyond.
RedSeer, through its deep market understanding of the Indian e-commerce is set to unveil a detailed report on the implications of the new e-commerce retail regulation and policy stand. The key aspects that report will cover are: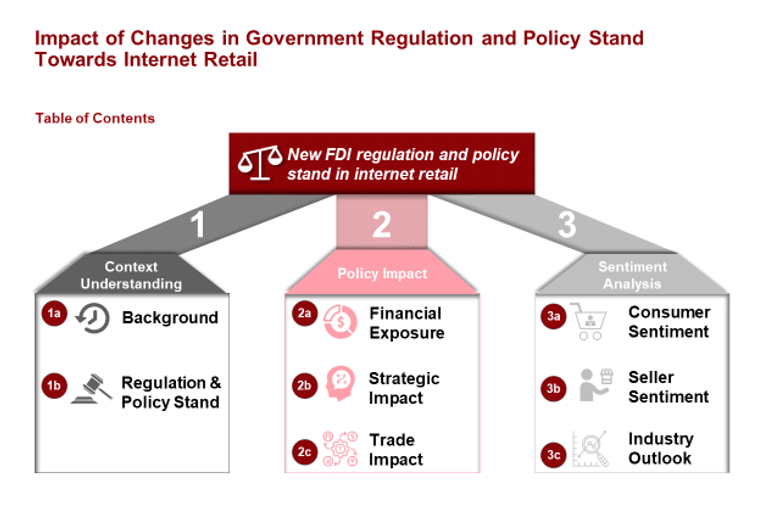 ---
Table of Contents[1]
Context Understanding

Background
Origin and Evolution of the Issue
Regulation and Policy Stand

Overall Retail
Internet Retail
Participation by e-tailers.

Policy Impact (as experienced after 1st February 2019)

Trade and financial exposure

Wholesale affiliate sales vs marketplace sales of e-tailers
Cut by platform and category
Mitigation strategies

Sales Impact (estimates for Feb Week 1)

SKUs affected by category and platform
Delta in discounts to customers
Short term impact on online traffic, usage, and orders
Short term impact on GMV, incl by category and platform
Annual impact on the GMV, incl by category and platform

Supply Chain Impact

Impact on sourcing from brands and sellers
Impact on delivery timelines and operations

Sentiment Analysis 

Customer view

Awareness of policy changes
View on discounts and perceived changes in the same
Change in buying sentiment – willingness to buy, buying consideration set, where are shifting to buying instead if not online
Challenges faced amongst platform users/buyers post the new rules (if any)

Seller View

Perceived implications of the new changes
Short term impact seen on business
Sentiment in working with platform- has the midterm outlook improved
Challenges and opportunities in long term\

Industry Practioners view

How are the incumbents managing the policy changes?
How will the industry evolve? – supply chain, market shares, and profitability
How will it impact small retailers? How real is threat faced by incumbents from for big Indian retailers e.g. Reliance?
What are the key challenges and opportunities?
---
METHODOLOGY
The study has been conducted using RedSeer's trademark integrated research approach, which involves the following:
Consumer surveys: 150+ surveys of regular shoppers on internet marketplaces, both the large horizontals and top 4-5 smaller ones
Seller interviews: 30+ seller interviews to understand their perspective on the policy changes
Industry veterans and experts: 10-20 interviews from industry participants[2] to understand their outlook and approach for navigating the policy changes
RedSeer will synthesise inputs from the above research studies and leverage its deep internet industry understanding, and proprietary knowledge to provide a holistic view on the impact of changes in regulation and policy stand towards internet retail in India.
---
REPORT AUTHORS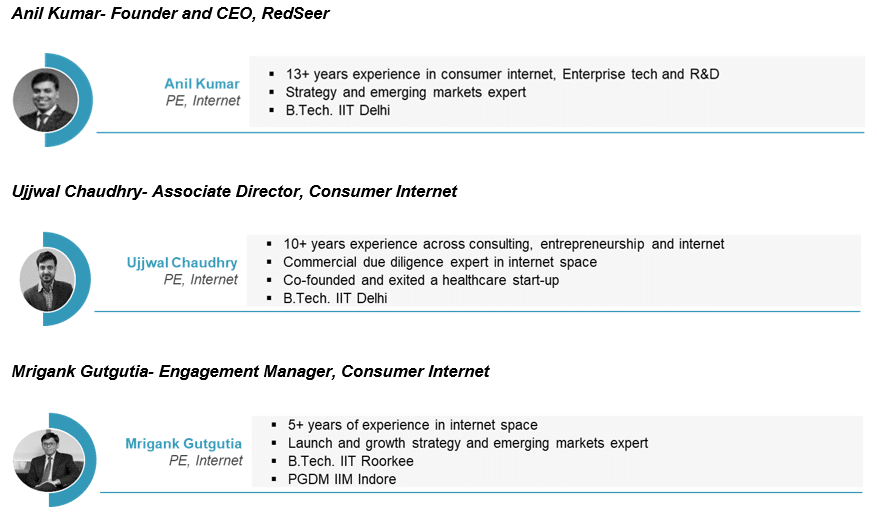 For further details on this report, feel free to reach out to us at query@redseer.com
---
[1]illustration
[2] Industry participants includes marketplaces, participating brands, sellers, and industry experts from e-tailing and other affected internet verticals e.g. e-grocery, others
INSIGHTS
Talk To Our Expert