Feb, 2019
| By Anil Kumar, Ujjwal Chaudhry, and Pankaj Singh Bhati
LEVELUP | Online Gaming in 2022: A USD 5 billion opportunity and 4X of growth
USD 450-500 Mn Mobile App based Gaming industry is expected to grow at 40-45% CAGR to reach USD 1.8-2 Bn
---
Indian Digital economy overview
1. India has the fastest growing internet population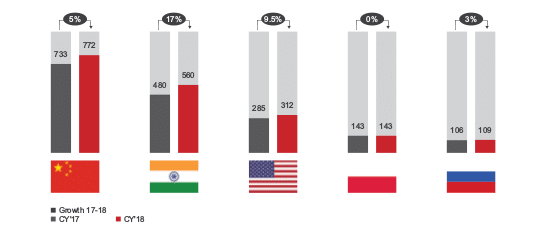 India's digital story has evolved in three stages:
Dial-up modem stage (Pre-2000 era): The penetration of desktops was fairly low and computers were mostly used in workplaces. The concept of personal computer was non-existent, while the internet speeds were fairly low.
The launch of broadband (2000 onwards): Launch of broadband in India introduced higher speeds for Indian 
users and personal computers started becoming more prevalent in homes and workplace alike.
Smartphone era (2007 onwards): Launch of affordable smartphones brought an increasing number of people 
online for the first time. India still has a very large number of 'mobile-first' internet users. 
The growth story of Indian internet continues to evolve faster than most developed countries as internet 
penetrates deeper into the Indian rural area

2. Smartphone penetration is growing...
2.1 Smartphone penetration is growing
Smartphone penetration in India continues to grow at a breakneck speed. In CY18, there were 478 Mn smartphone users in India, up from 389 Mn in CY17 (growth at ~22%). The fundamental driver of the growth is availability of high-performance and high-specs phones at cheaper prices.
Smartphones have been a great leveller for the small city and rural India population who have traditionally 
faced multiple challenges in the form of information asymmetry and meeting their aspirational needs. 
Smartphones have empowered these users by providing them information and giving them platforms to voice 
their opinions so they can have a larger contribution in the economy.
Higher smartphone adoption powered by high specification budget models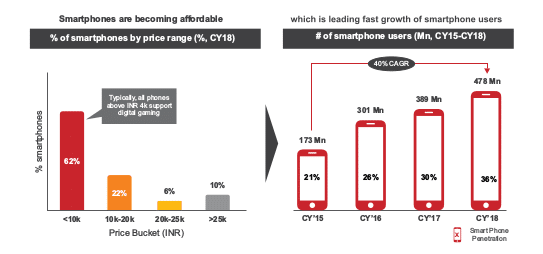 3. ...and data is getting cheaper
Since the launch of mobile internet in India, the cost of internet has been fairly high for a regular user (~INR 250+/USD 3.8+) which led to a high number of users using data only intermittently. This has a high implication on their online experience and ease of using digital channels to their full extent.
The cost of data in the last couple of years has fallen significantly in the last couple of years. This has led to a significant change in how the data is consumed by an average Indian user. This has especially impacted the entertainment consumption patterns in the form of digital content, social media and gaming, which have seen a very high growth spurt both in terms of users as well as their engagement.
Competitive market forces has ensured affordable data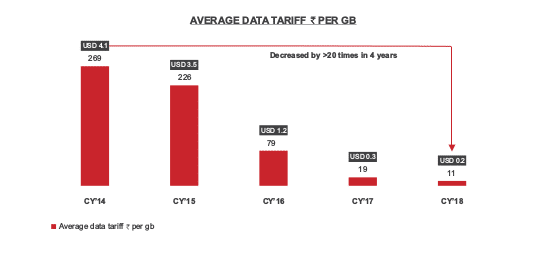 4. ...which is leading to a rapidly growing top of the funnel for digital economy
By CY22, it is expected that >60% of the Indian population (~780 Mn) will have access to internet out of which, nearly 64% people will be active internet users (while others will use internet intermittently). The growth of the top-of-the-funnel has a great implication for all players in the digital economy.
While the overall mobile gaming userbase is expected to grow by 1.5X in the next 4 years, this will also have 
a trickle down effect on the console gaming as more people become hard core gamers and invest in gaming 
hardware and software. This growth is attracting both Indian and foreign players to increase their attention 
on the Indian population which will lead to  offerings more suited to Indian users and hence, will lead to further 
growth of the industry
Digital Maturity of Indian Population (In Millions of Users)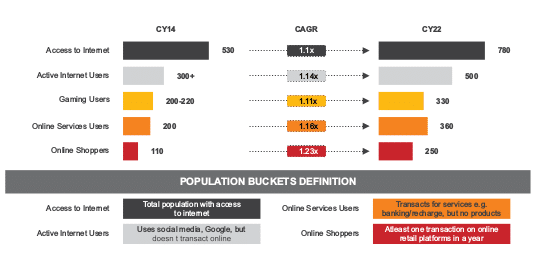 Indian Digital Gaming Landscape

1. Digital Gaming is the fastest growing sector in global entertainment industry
Globally, the entertainment industry is growing by <3% annually. While TV and Video, one of the largest 
sectors in entertainment industry is growing by nearly same growth rate, print media has actually become 
nearly constant due to digital content consumption becoming a norm globally. Gaming, as a sector, continues 
to grow the fastest and is expected to take a larger market share globally in the years to come.
The growth of gaming will lead to larger opportunities for the players in this space, and a greater chance for 
innovation. There are a lot of countries globally, which are looking at this opportunity in a very systemic way-
some of the examples being Canada and Denmark. The policy intervention and better coordination between 
stakeholders has shown impact on their revenues
Global Entertainmnet Industry Stream-wise Revenue and Growth
(USD Bn)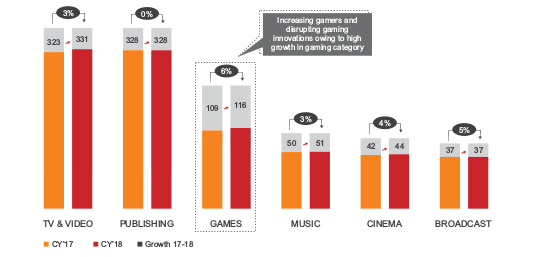 2. Structure of Indian Digital Gaming Industry
Structure of Indian Digital Gaming Industry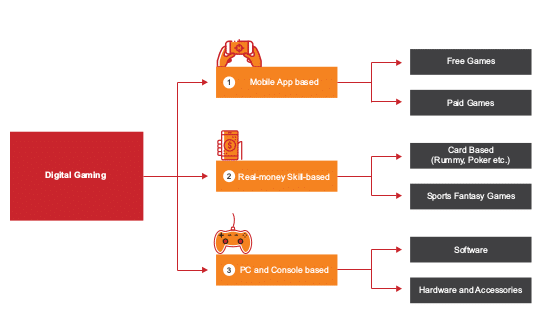 There are broadly 3 segments within the larger scope of digital gaming: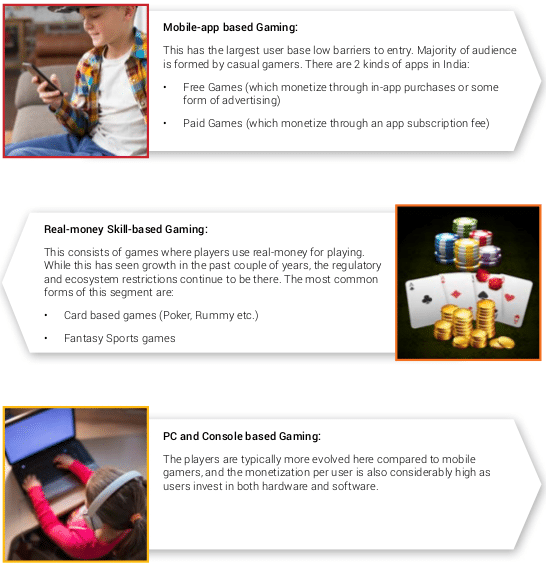 1. Mobile App Based Gaming
USD 450-500 Mn Mobile App based Gaming industry is expected to grow at 40-45% CAGR to reach USD 1.8-2 Bn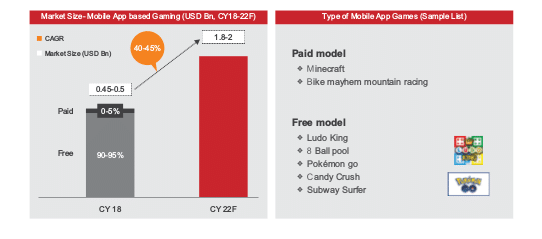 Mobile App-based Gaming is a USD 450-500 Mn industry expected to grow at 40-45% for the next 4 years to 
become a ~USD 2 Bn industry. The free games continue to dominate the market with a very small percentage 
of gamers opting for a paid app. The industry has a ~200 Mn user base which translates to a USD 2-3 ARPU, 
which is significantly lower compared to global benchmarks.
While the Free games will continue to drive the industry in the next few years, we expect better monetization 
as in-app purchases and better advertising models evolve. Also, as publishers continue to gain better 
understanding of Indian user mind-set of game playing habits, the engagement will continue to increase 
which in-turn will lead to better monetization.

1. Mobile App Based Gaming
Key Trends: Free games continue to be driven by advertising model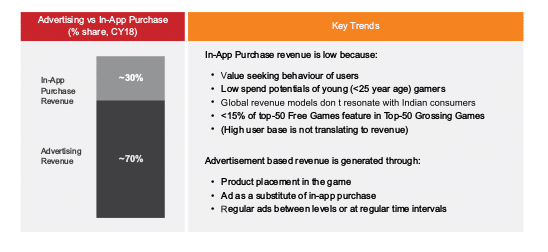 Freemium games are the fast-growing sub-category in the app-based game, as due to the free-to-play nature 
product trial becomes very easy and user starts spending in in-app purchases after gaining enough interest in 
and engagement from the game.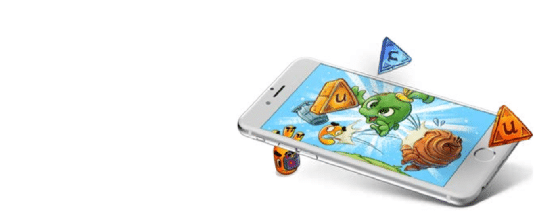 Key Trends: Free games continue to be driven by advertising model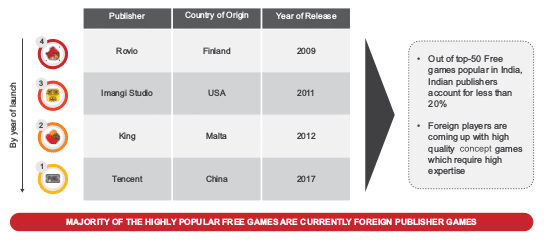 There have been a slew of games which have gained immense popularity with Indian users. Majority of high-popularity games have been developed by foreign publishers (some examples in the graphics). Foreign publishers continue to innovate in the 'conceptual' games which need a very high amount of expertise and talent.
Indian publishers have mostly concentrated on 'Evergreen' games (eg. Ludo), with a more localized content. Since the gaming rules and features are hard-wired, the need for expertise is relatively low. There is an increasing need for Indian publishers to capitalize on knowledge they have gained through outsourcing for foreign publishers, to start moving towards IP creation.
Key Trends: Demographic dividend will lead to better monetization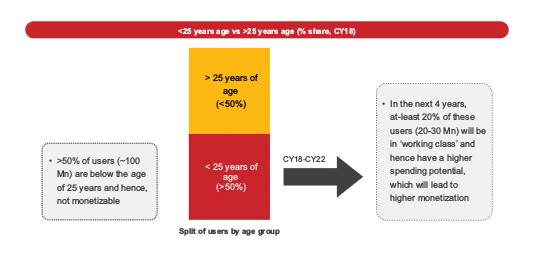 According to industry experts, ~50% of digital gaming users continue to be <25 years of age. Majority of these users do not have a high discretionary income or spend capacity. Due to this, these users gravitate towards free-games and do not spend money on the in-app purchases. Due to low spend capacity, they are not highly monetizable for the advertisers as well.
In the next few years, as these users become 'young earners', they will become highly monetizable for both advertisers and in-app purchase models. This is expected to lead to almost doubling of ARPU for the industry. While the new users will continue to be young/ less monetizable, as the users evolve through the funnel- the industry will continue to have a highly monetizable user base.
Key Trends: Growth in Digital infrastructure will lead to higher in-app purchases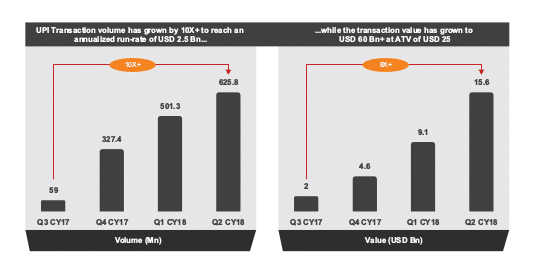 As India is a largely cash-based economy, the trust on digital channels of payments have been traditionally low. Credit card penetration, for example, in India has not reached the levels of developed economies. A large number of digital wallet and payments companies have evolved in the last few years to fill this gap. The continued focus of Indian Government on creating a 'Digital Bharat' has been a welcome move in this regard.
One of the success stories of 'Digital India' has been the UPI platform. In the last 1 year, number of UPI transactions has grown by ~10X+ which signals an inflection point in the country's use of digital payment channels. As the penetration of digital channels continue to increase, this will remove the payment barrier for Indian user on the gaming platforms
2. Real-money Skill-based Gaming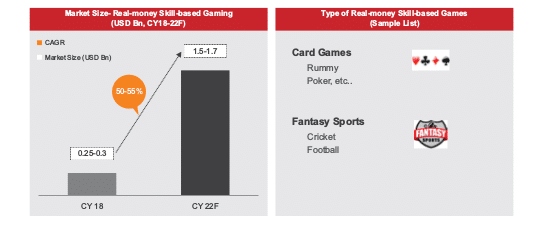 Card Based Games:
Playing card games for money is traditionally seen in India during festivals. These are mostly games like Teen Patti and Rummy. There is also an increasing awareness of Poker in India. The gaming companies provide a platform to play these games in a multi-player environment. The growth of these games is driven by need-gap for the players to find a group of similarly skilled players offline.

Fantasy Games:
The cricket fantasy games capitalize on the love of Indians for cricket. The platforms provide a way for people to use their knowledge and skills for the game to select teams and participate in competitions.

While, in the last few years, Indian courts have cleared the air on the 'skill-

based gaming' industry; majority of operating systems still pose restrictions 

on users for downloading these games
3. PC and Console based Gaming
USD 550-600 Mn PC and Console based Gaming industry is expected to grow at 18-20% CAGR to reach USD 1-1.3 Bn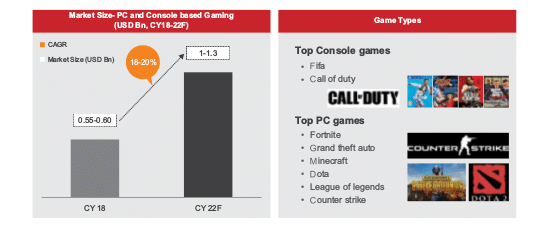 The earliest forms of console based gaming were started in early 1990s when companies like Sega and Nintendo introduced them in India. The industry has evolved to highly tech-driven ecosystem in the last 10 years with larger players introducing 'connected' devices and online multiplayer gaming.
While the ownership of hardware is growing, there is a larger segment who does not wish to invest in hardware and opts for PC gaming instead.
The Console/ PC Gaming industry accounts for USD 550-600 Mn today and expected to grow at 18-20% CAGR to cross USD 1 Bn revenue by CY22. With Indian ~60% of Indian population under 35 years of age, India is becoming an important market for global players

Key Trends: Gaming cafes play an important role in growing top-of-the-funnel for the industry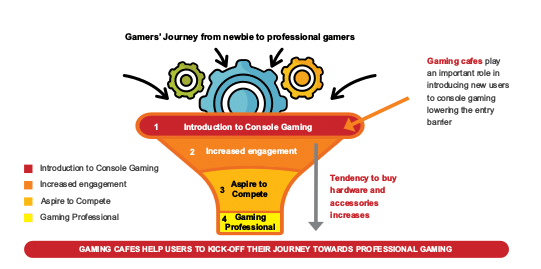 As the cost of owning the hardware is high, the typical first touch point for most gamers are gaming cafes. The fundamental growth of the gaming cafes is driven by availability of multiple skilled players as well as high-tech for gaming. These cafes play an important part of introducing beginners to the world of gaming who purchase consoles as they evolve and become hard core players
Key Trends: E-sports is expected to come up in a big way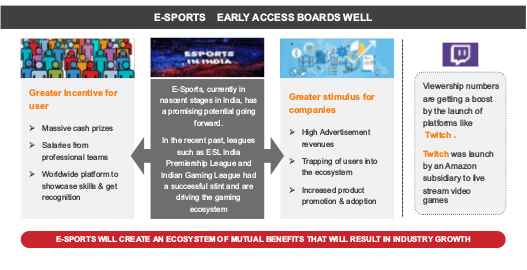 There has been a consistent growth in the world of professional gaming as more millennials aspire to become professional gamers. The e-sports industry typically monetizes through professional events where the prize money can reach a few crore rupees (~USD 200k).
Globally, the e-sports industry has seen new models emerge. For eg. Amazon acquired 'Twitch' which is an e-sports viewership platform where viewers can watch professional gamers compete. Multiple Indian players are keeping a constant watch on the category to understand the trends

2. Indian Digital Gaming market landscape summary
The Digital gaming industry in India is at an inflection point where it is becoming sizeable for both Indian as well as international players. The ~USD 1-1.2 Bn industry today is expected to reach USD 4.5-5 Bn by CY 22.
The impact of the industry is multi-fold on the economy in terms of revenue and skills spill-over as well as in terms of job creation and growth of ancillary industries (like design, payments etc.) To ensure this growth will require will require a co-ordinated effort from the industry and policymakers. We have attempted to create this roadmap in the next section.
India's digital gaming market – CY18-22F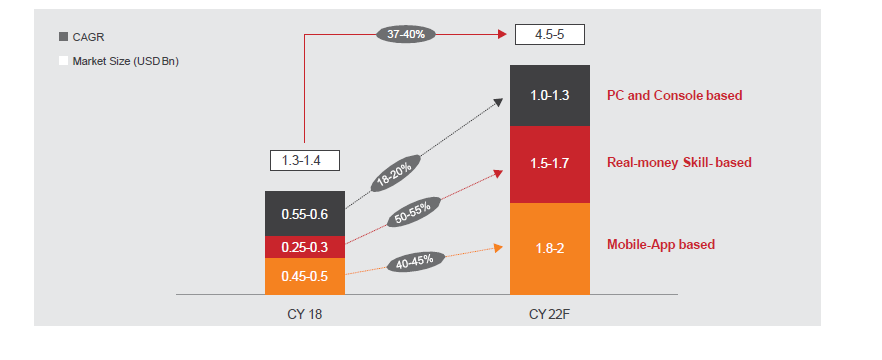 Roadmap for industry and policy stakeholders

Level 1: Growth through unlocking higher demand and increasing supply quality
Increasing demand and supply quality by focusing on some of the key factors

The growth of the industry will come from both growth in user base as well as increased monetization per user.
Growth in user base: While the industry is already serving a large user base, it needs to ensure a continuous flow into the top-of-funnel by understanding various segments and how to engage them
Increased monetization per user: Indian players have a unique advantage of better understanding of the user mindset and they should increasingly localize the content and context of the games to increase user engagement and potentially monetizability
On the supply side, there are large number of companies who are engaged in designing and development of games for foreign publishers. These companies should leverage their existing knowledge to move towards IP creation
1. Higher inclusion of under-served demographic segments (eg. Women)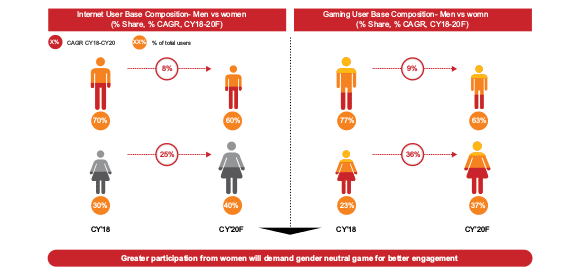 While the internet user base has a higher share of men compared to women, women are the faster growing segment. Effectively engaging the women in gaming ecosystem will require a more nuanced approach and better understanding of the segment
The behaviour of women in engaging with digital games can be very different in terms of motivation factors, triggers and preferences. Decoding their behaviour patterns will allow publishers to better serve them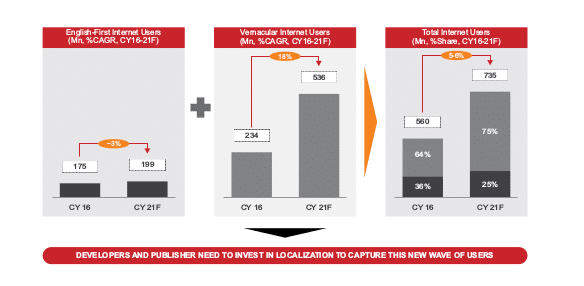 An average gaming user can feel very intimidated by the use of icons, language and graphics which do not resonate with his preferences. For eg. While a developed country user is fairly familiar with a 'cart' logo, an Indian user may not be as familiar and might prefer a 'shopping bag'.
There have already been success stories around Indian publishers tapping into the users' familiarity with games like Ludo and Carrom. This needs to be extended to high-complexity games which can lead to a much higher engagement and potentially monetizability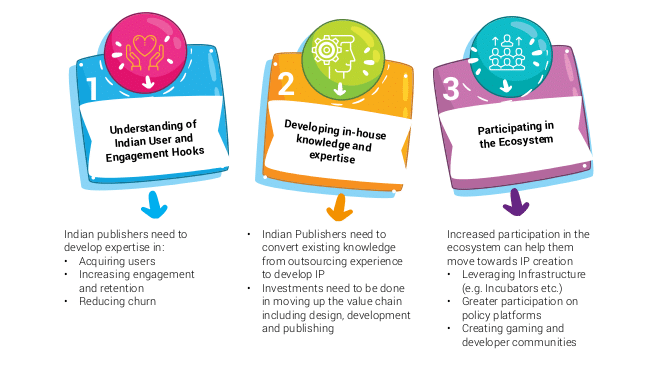 A large number of Indian companies are engaged in various parts of digital game creation such as designing, developing, animation etc. While this large pool of knowledge exists, it is not leveraged to create IP which can be highly valuable to the economy
Creating IP for Indian Digital Gaming will entail better understanding of the Indian user, creating in-house expertise and better participation in the ecosystem

Level 2: Growth through Policy intervention and Partnerships
Increasing Growth through Policy intervention and Partnerships
Unlocking of level 2 opportunities

While there is an opportunity to be unlocked through enhancement of demand and supply, policymakers can play an important role in unlocking an even larger opportunity. The policymakers should take a long-term view of the industry and the impact it can create to the larger economy through job creation, growth of ancillary industries and talent pool upskilling.
The industry wish-list includes better support to developers and publishers through policy interventions, showcasing India gaming opportunity on various platforms and using education institutions as grounds for imparting skills at an earlier age which can create a larger talent pool for the industry
1. Financial and community support for developers and publisher
Initiatives that can help in increasing the pool of developers & publishers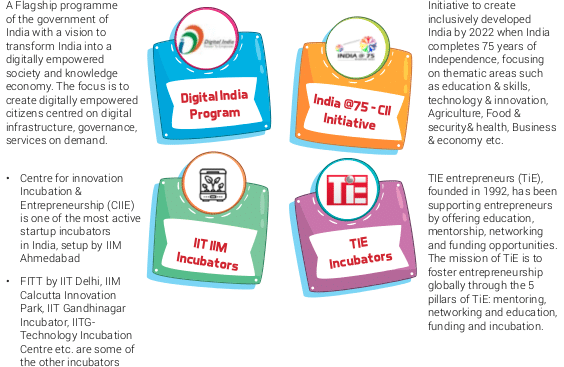 Some of the industry wish-list for policy support includes:
Better Access to capital
Majority of funding in the space is currently allocated to players serving the foreign market. The Government should use the platforms for showcasing Indian Gaming Opportunity. Additionally, provisions should be made  for easy loans for entrepreneurship in the sector
Creating Gaming Centres of Excellence
Creating centres of Excellence specific to gaming industry can help the industry create hotspots which can function as breeding grounds for innovation.
Vibrant Gaming community
Creating a robust platform for an engaged gaming community can help the industry get constant feedback from the users as well as gain better insights in their behaviour.
IP Protection
According to industry experts, Indian IP laws continue to lag behind the global benchmarks and need to be in sync with today's realities.
2. Partnering with Education institutions
Initiatives that can help introducing digital gaming in educational institute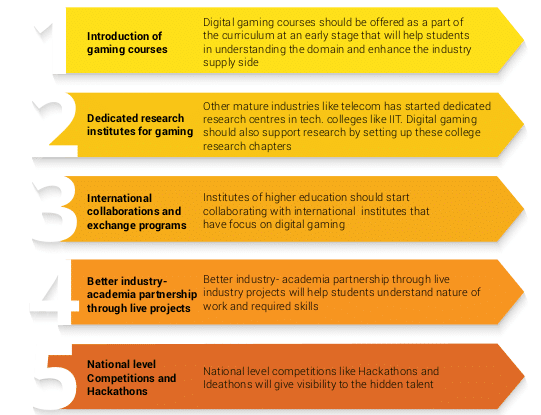 Industry is moving towards a better partnership with Education institutions. Some of the industry suggestions include:
Introduction of gaming courses

Dedicated research institutes for gaming

International collaborations and exchange programs

Better industry-academia partnership through live projects

National level Competitions and Hackathons
Some of the key policies that can be leveraged by Digital Gaming Industry to achieve high growth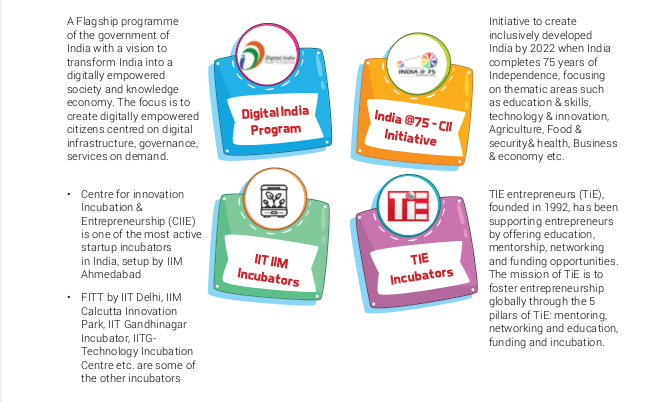 Some of the key policies that can be leveraged by Digital Gaming Industry to achieve high growth
Digital India Program

India @75 – CII Initiative

IIT IIM Incubators

TIE Incubators

International Case Studies
Government Initiatives that have made the sustainable growth possible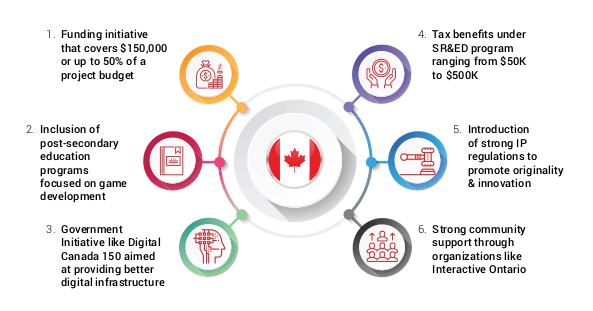 Canada digital gaming industry is a glowing example of how constructive community support and favourable government initiatives can help a nascent industry taking roots. Government and industry have launched a few initiatives to help small and medium gaming firms to gain access to capital as well as talent.
These initiatives have made the sustainable growth possible. Gaming industry's GDP contribution represents a 24% increase in past two years while, for context, Stats Canada reports that the Canadian economy grew by approximately 4% over the same period.
In other words, the video game industry has grown significantly faster than the wider economy.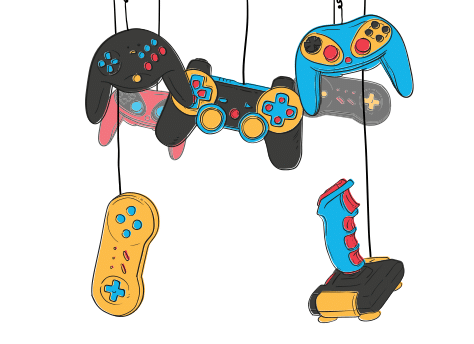 Denmark's Success Story support by robust policies and community support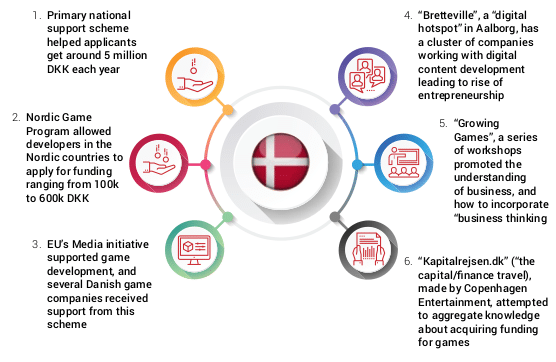 One hotly debated and frequently recurring topic among people within the industry, is the issue of securing funding for game development. Danish digital gaming industry seems to move towards the ultimate mix of healthy business models and easy access to capital through government and community schemes.

Job Creation
Digital Gaming industry will create new jobs across the value chain and help the employees tounderstand and learn the complete value chain. Some of new job categories would be:
Game & Sound Designing

Narrative Designing

Game & Story Animation
Growth of Ancillary Industries
Digital gaming is opening up the fertile grounds for its surrogate industries by providing good talent and helping in cross pollination of the knowledge. Some of the industries where technology spill over will be happening are:
Animation

Visual effects & Real time graphics

High definition displays

Augmented Reality

Virtual Reality

Game & Story Animation
Talent Pool Development
Development of Digital Gaming industry will help create the talent pool across the value chain and make the industry self sustainable in terms of needed skillset
For RedSeer Offerings please contact us at query@redseer.com​
INSIGHTS
Talk To Our Expert