Feb, 2019
| By Anil Kumar, Ujjwal Chaudhry, and Pankaj Singh Bhati
LEVELUP | Online Gaming in 2022: A USD 5 billion opportunity and 4X of growth
USD 450-500 Mn Mobile App based Gaming industry is expected to grow at 40-45% CAGR to reach USD 1.8-2 Bn
---
Indian Digital economy overview
1. India has the fastest growing internet population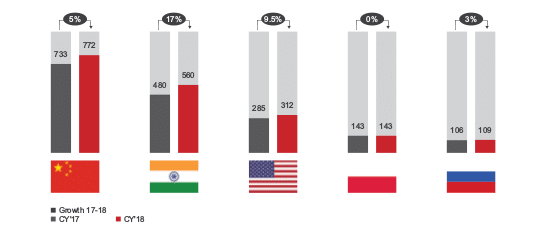 India's digital story has evolved in three stages:
Dial-up modem stage (Pre-2000 era): The penetration of desktops was fairly low and computers were mostly used in workplaces. The concept of personal computer was non-existent, while the internet speeds were fairly low.
The launch of broadband (2000 onwards): Launch of broadband in India introduced higher speeds for Indian 
users and personal computers started becoming more prevalent in homes and workplace alike.
Smartphone era (2007 onwards): Launch of affordable smartphones brought an increasing number of people 
online for the first time. India still has a very large number of 'mobile-first' internet users. 
The growth story of Indian internet continues to evolve faster than most developed countries as internet 
penetrates deeper into the Indian rural area

2. Smartphone penetration is growing...
2.1 Smartphone penetration is growing
Smartphone penetration in India continues to grow at a breakneck speed. In CY18, there were 478 Mn smartphone users in India, up from 389 Mn in CY17 (growth at ~22%). The fundamental driver of the growth is availability of high-performance and high-specs phones at cheaper prices.
Smartphones have been a great leveller for the small city and rural India population who have traditionally 
faced multiple challenges in the form of information asymmetry and meeting their aspirational needs. 
Smartphones have empowered these users by providing them information and giving them platforms to voice 
their opinions so they can have a larger contribution in the economy.
Higher smartphone adoption powered by high specification budget models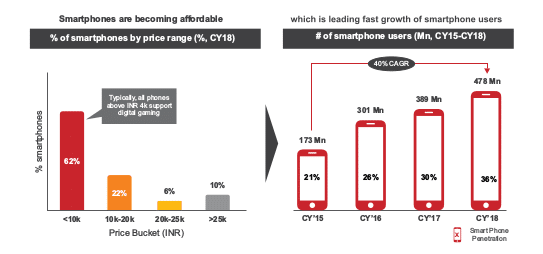 3. ...and data is getting cheaper
Since the launch of mobile internet in India, the cost of internet has been fairly high for a regular user (~INR 250+/USD 3.8+) which led to a high number of users using data only intermittently. This has a high implication on their online experience and ease of using digital channels to their full extent.
The cost of data in the last couple of years has fallen significantly in the last couple of years. This has led to a significant change in how the data is consumed by an average Indian user. This has especially impacted the entertainment consumption patterns in the form of digital content, social media and gaming, which have seen a very high growth spurt both in terms of users as well as their engagement.
Competitive market forces has ensured affordable data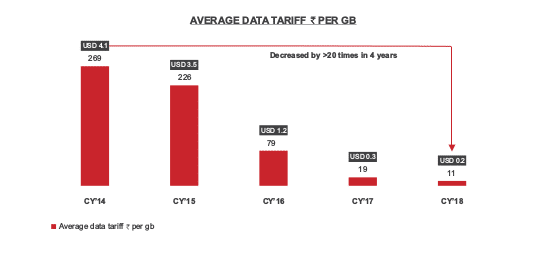 4. ...which is leading to a rapidly growing top of the funnel for digital economy
By CY22, it is expected that >60% of the Indian population (~780 Mn) will have access to internet out of which, nearly 64% people will be active internet users (while others will use internet intermittently). The growth of the top-of-the-funnel has a great implication for all players in the digital economy.
While the overall mobile gaming userbase is expected to grow by 1.5X in the next 4 years, this will also have 
a trickle down effect on the console gaming as more people become hard core gamers and invest in gaming 
hardware and software. This growth is attracting both Indian and foreign players to increase their attention 
on the Indian population which will lead to  offerings more suited to Indian users and hence, will lead to further 
growth of the industry
Digital Maturity of Indian Population (In Millions of Users)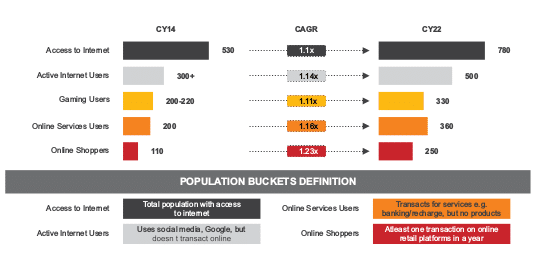 Indian Digital Gaming Landscape

1. Digital Gaming is the fastest growing sector in global entertainment industry
Globally, the entertainment industry is growing by <3% annually. While TV and Video, one of the largest 
sectors in entertainment industry is growing by nearly same growth rate, print media has actually become 
nearly constant due to digital content consumption becoming a norm globally. Gaming, as a sector, continues 
to grow the fastest and is expected to take a larger market share globally in the years to come.
The growth of gaming will lead to larger opportunities for the players in this space, and a greater chance for 
innovation. There are a lot of countries globally, which are looking at this opportunity in a very systemic way-
some of the examples being Canada and Denmark. The policy intervention and better coordination between 
stakeholders has shown impact on their revenues
Global Entertainmnet Industry Stream-wise Revenue and Growth
(USD Bn)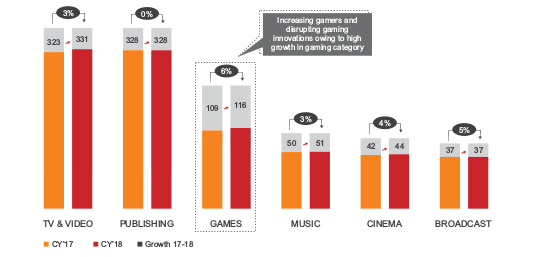 2. Structure of Indian Digital Gaming Industry
Structure of Indian Digital Gaming Industry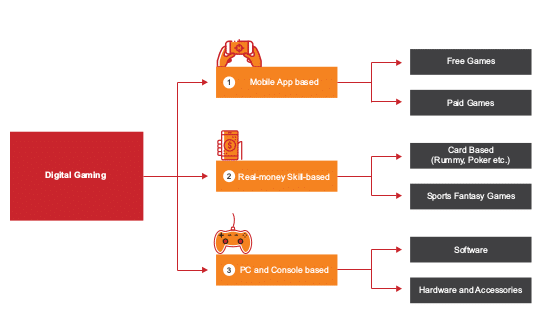 There are broadly 3 segments within the larger scope of digital gaming: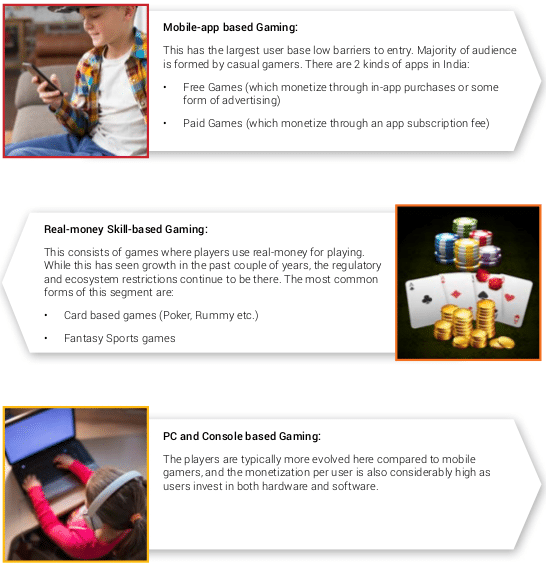 INSIGHTS
Talk To Our Expert