Aug, 2018
Middle East Facility Management Market – Going Smart to Sustain Growth
INTRODUCTION – Evolution of FM Service Facility Management (FM) has been one of the prominent sector longing for complete recognition over a long period of time. The evolution has started about couple of decade ago when end-users were considering the option of outsourcing the facility related operation, maintenance and other non-core activities to a … more
---
INTRODUCTION
– Evolution of FM Service
Facility Management (FM) has been one of the prominent sector longing for complete recognition over a long period of time. The evolution has started about couple of decade ago when end-users were considering the option of outsourcing the facility related operation, maintenance and other non-core activities to a professional firm which shaped into a new industry called FM. FM today has evolved as a customer delight giving way to handling facilities through use of sophisticated technologies and versatile building models suiting to different needs.
– Type of FM Services
FM Services are classified into two major types:
* Hard Services: Includes maintenance of Electrical, Mechanical, Plumbing, HVAC, Fire Safety, and other building related systems / solutions.
* Soft Services: Includes Cleaning, Security / Manned Guards, Landscaping, Waste Collections, Pest Control, Rope Access, Catering and other relevant.
– Type of Service Contracts
The structure of Facility Management is well defined based on the way the services are provided to the end customer. The three types of contracts in the FM industry are:
* Single Service: Contracts offered to FM companies to provide only one service.
* Bundled Service: Contracts awarded to FM companies with select set of two or more services bundled together.
* Integrated Service: Contracts with all FM service requirements awarded as a single integrated contract.
While the composition of IFM contracts are increasing over the recent past, bundled service is the most preferred type of contracts at the customers end.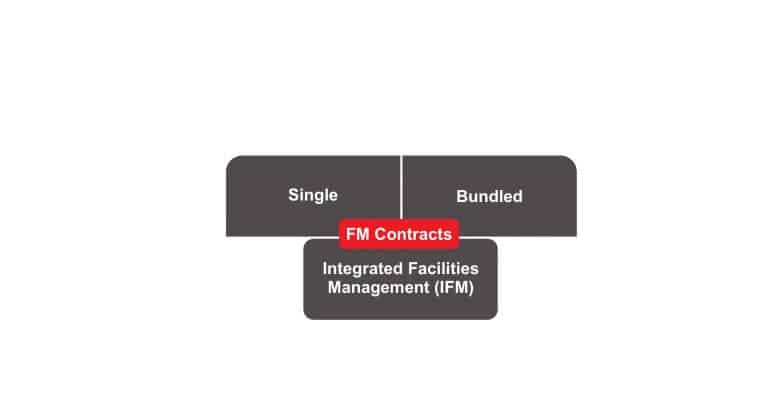 – FM Services Market – Potential & Addressable
With conventional in-house services still prevailing, FM services market has a long growth path ahead to increase its penetration and get closer to the potential market.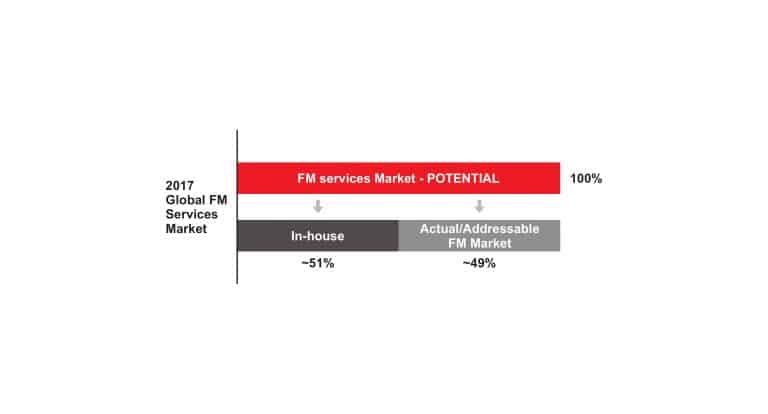 GCC CONSTRUCTION SECTOR
The construction sector has been the major driving force for the demand of FM Services. With Megaprojects planned in KSA, Expo 2020 in Dubai and FIFA World Cup 2022 in Qatar lined up, the GCC construction sector remains attractive with a robust project pipeline.
The GCC construction sector recorded a 30 per cent growth in 2017, showing relative resilience in its performance. With total GCC planned projects valued at around $2.5 trillion – equivalent to 160 per cent of GDP, the regional construction market presents enough growth opportunities for adjacent businesses like FM services. Saudi Arabia and UAE are amongst the major markets for construction leading with $114 Bn and $49 Bn market. Government remain the key drivers for successful implementation of the planned infrastructure, and most of the GCC government are firm on their plans and committed towards building a sustainable economy for the long term.
OVERVIEW OF THE FM SERVICES MARKET
The potential for FM Services globally was valued at USD 1,275 Bn in 2017. With a penetration rate of approximately 49 percent, the actual/addressable FM market was at USD 625 Bn. The market is expected to grow at a CAGR of 2 to 4 percent to reach a potential market of USD 1,550 Bn with the penetration rate going up to 55 percent by 2025.
The GCC FM services market which accounts close to 1.5 percent of the global market, had a potential market of USD 25 Bn in 2017. While UAE was quick in accepting FM as a professional service, other GCC countries showcased a relatively lower outsourcing trend. The cumulative penetration rate in GCC was estimated at 40 percent, which led to an addressable market of USD 10 Bn in 2017. The GCC FM services market is expected to reach USD 30 Bn by 2025 with a CAGR of approximately 15 percent.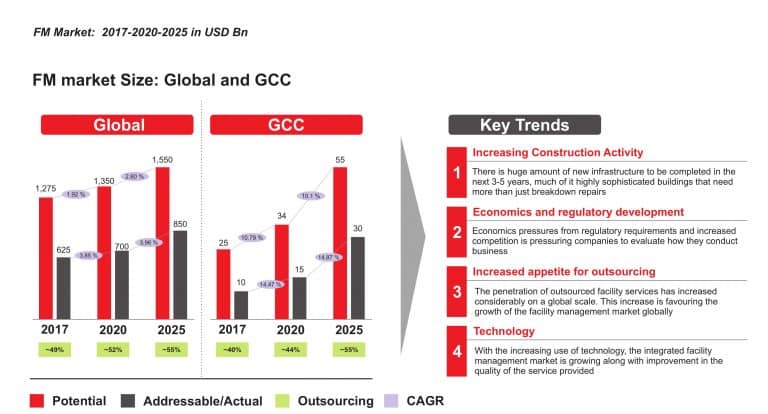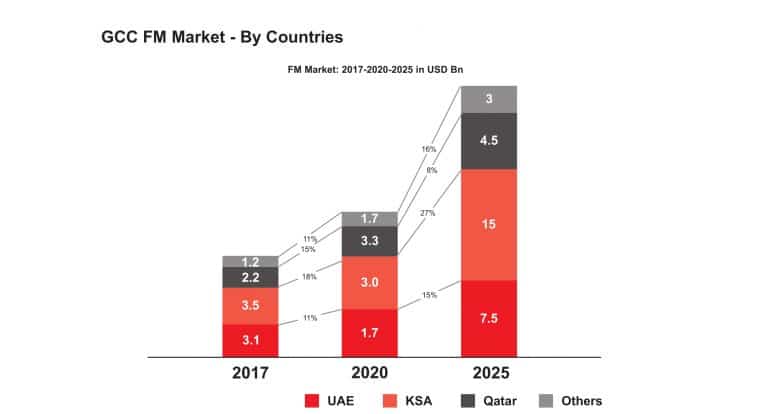 KSA is the most dominant country with almost 35 percent followed by UAE and Qatar with 31 percent and 22 percent shares respectively. The rest of GCC which includes Bahrain, Kuwait and Oman were accounting to 12 percent of the GCC FM Services market in 2017.  KSA's dominance in FM market will continue over the next few years and anticipated to gain almost 50 percent share of the GCC FM market in 2025. However, UAE will continue to hold its importance by becoming the home for FM related innovations as it is the pioneer for FM services in the region. The potential market is anticipated to grow at a CAGR of around 10% leading to 2025 while the addressable market is expected to grow at 15% during the same period – indicating a clear increase in the outsourcing trend.
INDUSTRY CHALLENGES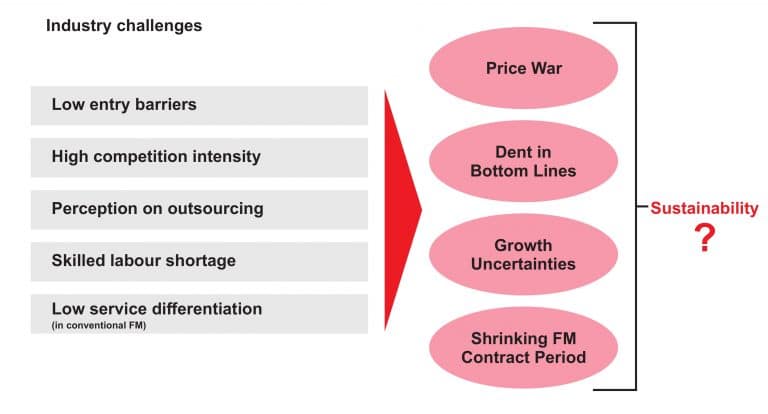 TECHNOLOGY DRIVING FM TO GO SMART
FM is no longer just an activity pertaining to managing few services in a facility necessary to smooth functioning of businesses. It has reshaped itself into a phenomenon offering sustainable solutions to customers with better experience and benefits. Integrating FM with technologies like IOT, remote monitoring, performance contracting, and other advanced core control system creates a service offering of highest value to the end-user.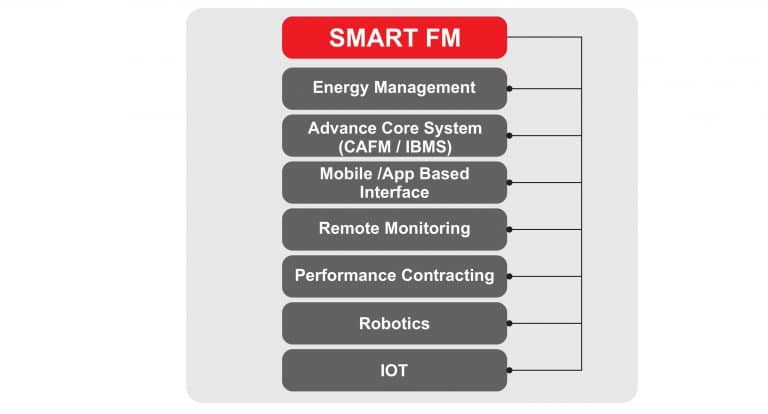 Advance Core Control Systems are the basic and most commonly accessible differentiators which are already being implemented by most service providers. Building Management Systems (BMS) and Computer Aided Facilities Management are the key elements (CAFM). BMS systems are being designed to monitor and control a building's processes and resources. These are involved in integrating Security Systems, Fire Systems, Power Systems, Temperature Control etc. leading to an effective and efficient way of maintaining facilities. CAFM Systems extend the reach of CMMS applications by broadening their scope into other areas and offering a complete integrated computerised FM solution.
IOT refers to integration of physical assets in building making with electrical circuits and sensors to enable an overall connectivity.
Robotics has also made tedious tasks smooth using huge automated self-propelled bots.
Mobile / App based interface is expected to improve transparency giving clients the confidence to move towards long-term relationship.
While all the above-mentioned are automatic elements of FM Services future road map, the interesting development which is gaining huge prominence is the focus on Energy management (EM). With almost all the GCC countries going serious on energy efficiency, integration of EM & FM soon becoming a mandate.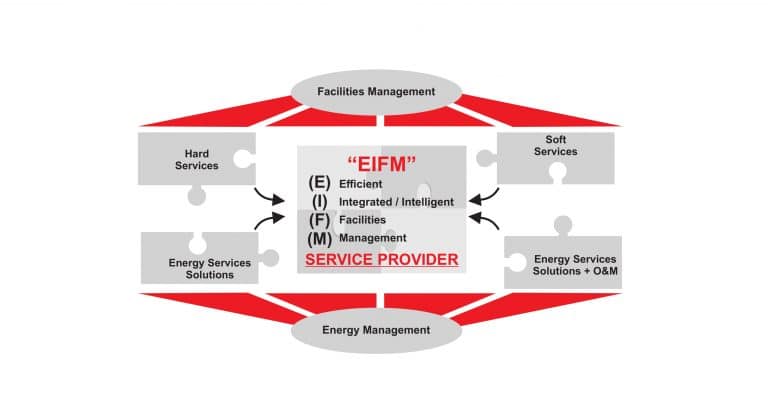 As contract are becoming more output-driven, FM companies are enhancing their value proposition by the inclusion of remote monitoring, performance contracting with guaranteed savings models – leading the competitive atmosphere to go increasingly organized with importance given to service quality and productivity.
SMART FM – The Way Forward
The FM industry in the GCC is moving towards productivity-driven business model, with longer and output-driven contracts. For now, these concepts are most pronounced in UAE, accelerating in Qatar, soon expected to take off in the KSA and Rest of GCC. The transparency afforded through technology has been a key enabler for FM service providers to go SMARTER, and the enhanced productivity possible through such offerings will make investment on technology a key differentiator in a highly competitive FM industry.
Today industry participants are in broad agreement that the greatest benefit comes from investment in CAFM, mobile solutions and remote monitoring. The FM Service providers are confident of bringing down the operating cost by at least 20 percent by using these smart FM solutions.
Recent developments in Mobile interface, Cloud Technologies, together with developments in IOT and Data Analytics are likely to dominate the future. While technology creates competitive advantage to FM companies that adopt it effectively, much of the long-term benefit accrues to the end customers. Perhaps it is going to be a huge transition phase for the FM companies to understand the requirements, identify existing gaps and build capabilities and implement them for a sustainable growth.
INSIGHTS
Talk To Our Expert