Nov, 2019
| By Anil Kumar ,Abishek Chauhan, Abhishek Gupta, and Vijay Kumar
Unlocking the Indian eB2B retail opportunity
The Indian retail market is expected to grow at ~10% CAGR to reach ~$ 1.6 TN by FY 25
---
Understanding the age old plight...
Being the owner of one of the four kirana stores within a radius of a kilometre has done no favours to 53 years old Umesh Chand. He owns a 250 square feet store in Kaithal, Haryana. When he started 25 years back, his was the only store in the neighbourhood. Business was good and margins were high. Cut to 2017, things took a drastic turn. The other stores run by a younger more tech savvy lot gave tough competition to Chand.
While one of the new stores was getting his supplies from a cash and carry, the other two relied on eB2B portals to get the best prices which helped them give better discounts.
Chand on the other hand preferred his old suppliers in the nearby wholesale market and made a fortnightly trip to buy goods in bulk, a decision for which he paid dearly a long time.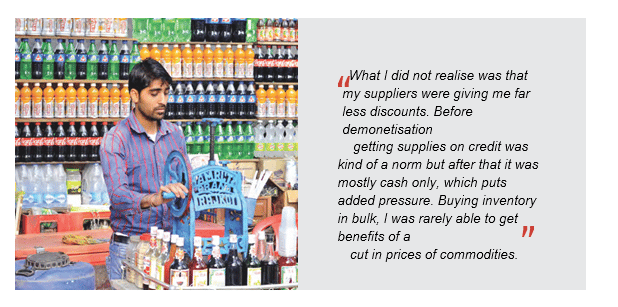 Things finally changed when his nephew heard his plight. He did a thorough market survey and spoke to two a few cash and carry companies as well as eB2B players.
Finally, they zeroed in on one eB2B player, who provided them with a one-stop modernization & digitization solution to improve margins, profitability, sourcing channels and compete with the modern retail landscape
They helped remodel his traditional closed format kirana store into an open format one to make it more modern and competitive. From getting the right set of inventory
management tools, credit line, delivery and logistics help to a robust point-of-sale (POS) system Chand business was made future proof. Further, his business also benefited from the consumer pull that the eB2B player enabled by providing more product choices and localized consumer promotions.
Just like Chand, India has north of 13 MN kirana store owners who are waiting to turn digital with the right ally. The country by all means is set to be the biggest eB2B market and the market size by 2025 could be over $60 BN. The opportunity is driven by the growing need to have a 'kosher' supply chain which is not marred by middlemen who create barriers which cause stress on the retail journey of a kirana store owner and end user- the customer.
Why is the Indian B2B Retail Industry 'the opportunity' to tap?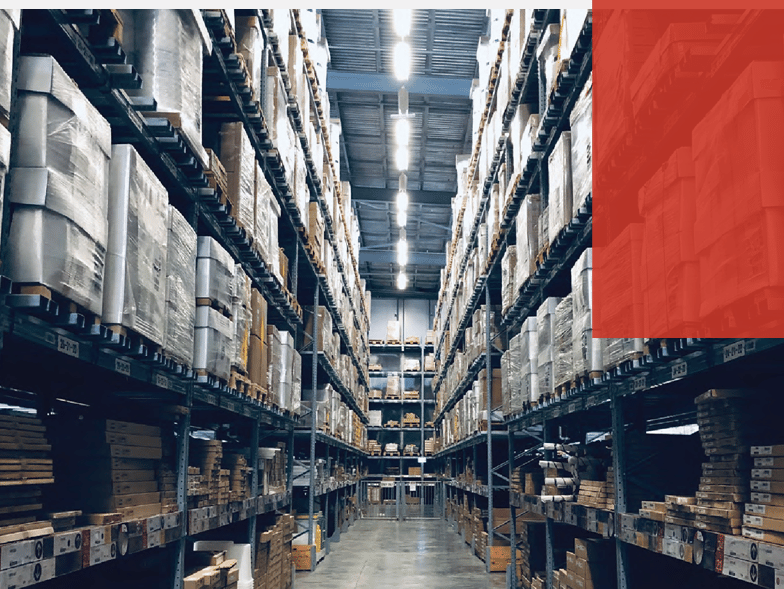 Driven by consistent expected increase in private consumption, the Indian retail market is expected to grow at ~10% CAGR to reach ~$ 1.6 TN by FY 25
Despite the current economic slowdown and our expected normalized real GDP forecast of 6 to 7%, we expect  the private consumption expenditure to continue driving ~60% of the nominal GDP. This is predominantly going to be driven by consumer retail consumption of goods, which is expected to continue driving ~50% of the private consumption. Driven by the same, the consumer retail market will grow at 10% YoY from nearly $900 BN today to reach $1.6 TN by FY 25.
 
B2C Retail market size = Nominal GDP x PFCE1% x Retail spend on goods%.
Forecasting has been done on the same assuming a real GDP growth of 6-7% in the wake of recent economy slow down. B2C Retail market size = Nominal GDP x PFCE 1% x Retail spend on goods%.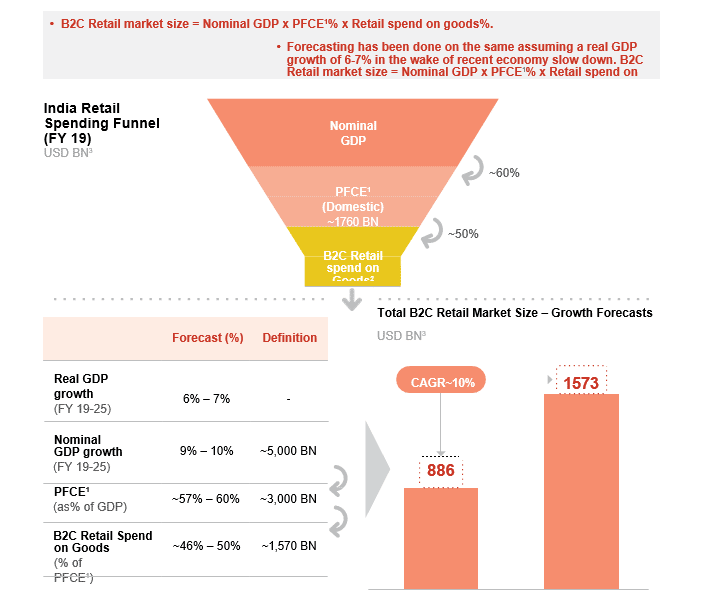 Note(s):
PFCE – Private Final Consumption Expenditure

Remaining PFCE (PFCE – B2C Retail Spend) includes spend on services such as transport, communication, education, restaurants, hotels, electricity and other miscellaneous services

1 USD = INR 70
Multiple intermediaries exist between the brand and end consumers
This huge retail market is facilitated through a long B2B retail supply chain between the brand / manufacturers, and the end consumer through multiple intermediaries. All these complexities bring in their own set of implications.
Mostly, there are as many as four to five layers of intermediaries starting from a forwarding agent, distributor, a sub distributor, a wholesaler to finally a retailer a brand / manufacturer needs to go through to get to the end user.
This traditional system of supply chain causes multiple bottlenecks that lead to longer timelines, losses in efficiency, issues with quality and most importantly, reduction in retailer margins.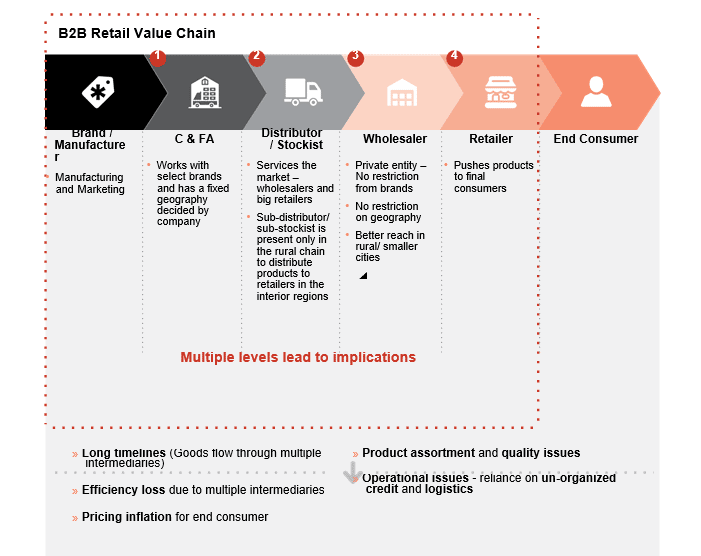 Despite varying personas for various intermediaries in the traditional retail value chain, they face challenges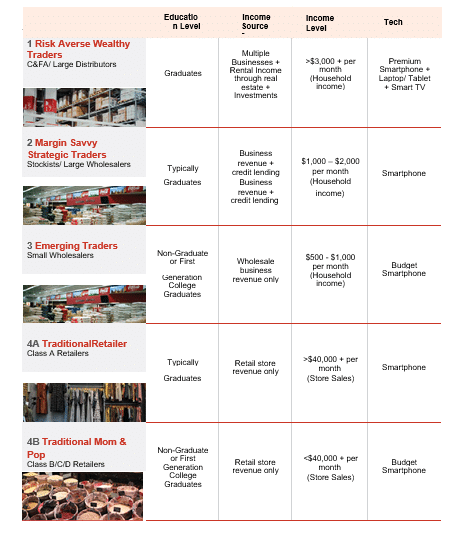 It is fascinating to see that the people involved in the retail value chain, while they are all working towards the same goal, face several issues in their day to day operations. These issues could be similar or diverse, basis the role they play in the entire process.
In this retail value chain, the 13 MN traditional mom & pop retailers are the big rollers for driving the retail consumption due to their deep penetration, especially in Bharat (Tier III cities and beyond). A Mom & Pop store owner is mostly a first generation college graduate who earns less than $40,000 a month in store sales. For them getting a credit line as well as reliable contacts for sourcing products is a major issue.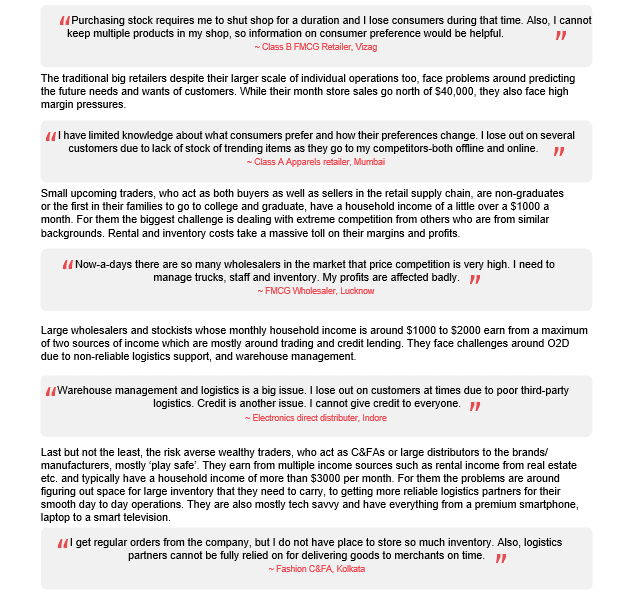 These intermediaries engage with each other through multiple models, with unorganized B2B driving bulk of the market (>70% by value)
This consumer retail market in India is largely un-organized, which drives 72% of the retail goods flow by value. The key stakeholders in this value chain are ~13 Mn class B/C/D retailers (turnover of less than USD 40K per month), who are largely under-served by brands and distributors. These retailers get on an average ~65-70% fill rates, even from brand distributors. Estimated 70% products reach retailers through wholesalers without formal credit, no service and limited selection. This high number of retail stores plus plethora of smaller wholesalers / stockists operating in the supply chain, create a challenge for demand consolidation for the brands / manufacturers.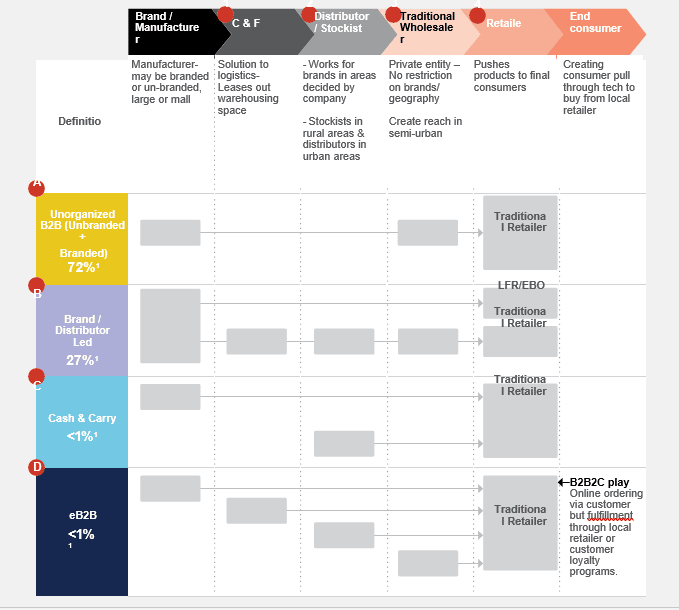 A broken retail chain causes nothing but pain to buyers and sellers
Various supply chain issues bog down everyone starting from brands / manufactures, distributors, wholesalers,    to retailers. Limited resources and non-availability of tech tools are just few of the problems they have to deal with on a daily basis.
Socio-Economic Segmentation of Internet Users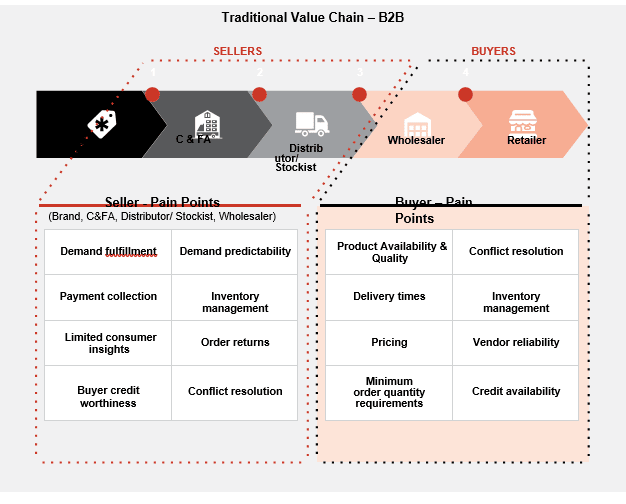 Issues are a plenty for buyers (Retailers and smaller wholesalers / stockists), mostly ranging from finding easily available quality products, right pricing, getting reliable vendors on-board, credit availability, minimum order quantity requirements to getting a consistently good pricing on products.
During our research, we also discovered several pain points that sellers face. Sellers in this supply chain include brands / manufacturers, C&FAs, Distributors, Wholesalers and Stockists. For them, the major challenges range from understanding end consumer trends and behaviour, availability of reliable logistics partners and a large geographic presence.
Un-organized channels leave a long line of dissatisfied buyers and sellers
Over the years, dealing with un-organized channels has given heart-burn to a host of buyers and sellers. During our research, we have found out that a buyer's experience through the whole process is mostly less than satisfactory or just bearable.
Satisfaction w.r.t to traditional sourcing channels for buyers
% of respondents, N = 970 (buyers)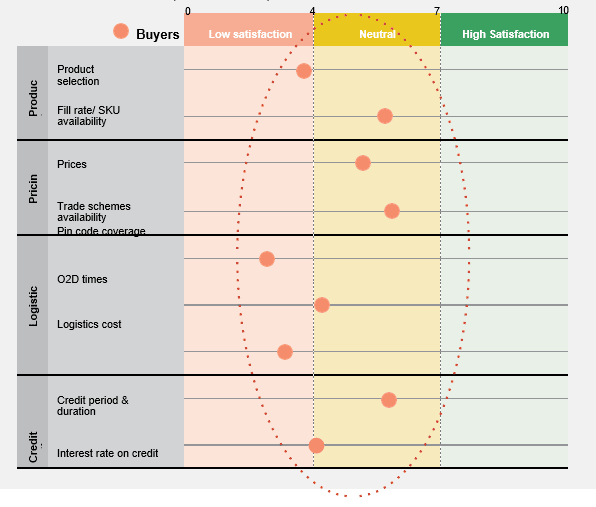 In most parameters starting from product selection, pricing, trade schemes availability, credit options and interest rates, 'Buyers' are mostly left wanting for more. Cost of logistics is high and the delivery footprint or the pin-codes covered is quite low. This creates major gaps in the supply chain for these players. On a scale of 0 to 10, most of the scores given by buyers on the said parameters is between a low 3 and 6.5.
'Sellers' too face massive issues around lack of good logistics options. Their satisfaction levels are even lower compared to buyers. Most of them face issues around predicting demand, discovering potential customer base and lack of credit to funding their working capital requirements. On a scale of 0 to 10, sellers mostly just gave between 3 to 5 points.
Satisfaction w.r.t to traditional sourcing channels for sellers
% of respondents, N = 300 (sellers)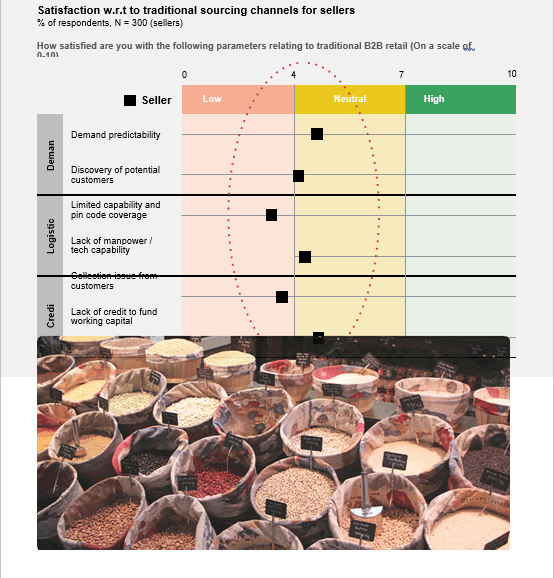 Seizing the $1.3 TN B2B retail opportunity - channels such as eB2B and Cash & Carry, are expected to take increasing share from the 'Un-organized' pie
We calculated the size of the B2B retail market in India, by subtracting the margins that retailers make across multiple retail product categories through multiple channels. Please refer to the graphic below, which explains the calculation clearly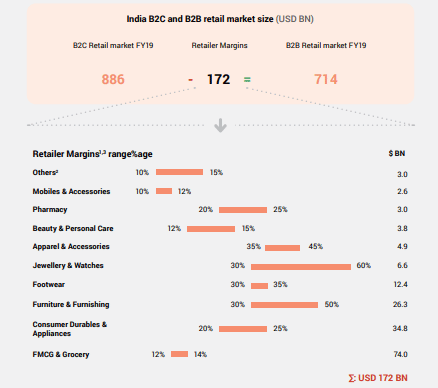 Note(s):
Absolute $ value amounts for retailer margins are calculated at median value of%age retailer margins

Others include stationery, sports & fitness, equipment, toys,

Retailer margins indicate lower limit and upper limit as% of MRP which the retailer earns when the good is sold to end-consumer

1 USD = INR 70 Source(s): RedSeer Analysis
This $714 BN Indian retail B2B market would grow at the same CAGR of 10% of the B2C retail market growth as highlighted earlier, to reach $1.3 TN by FY 25.
Largest chunk of this $714 BN B2B retail market in FY19 currently is driven by the un-organised B2B retail, where numerous smaller sellers such as wholesalers, stockists and sub-stockists operate, and supply branded as well as un-branded goods to the retailers.
According to our research, around 72.2% of all B2B retail is still un-organized.
Indian B2B Retail Market Growth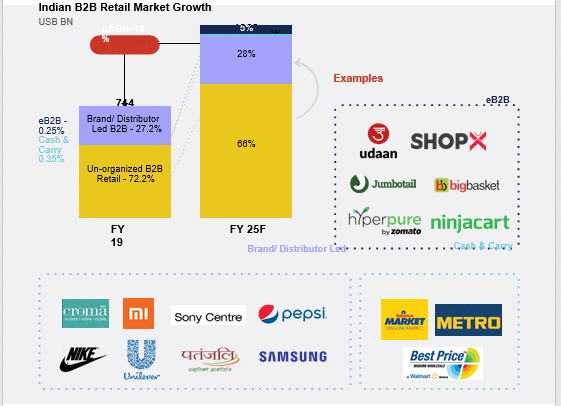 Driven by the challenges faced by the buyers and the sellers from the un-organized play as elaborated earlier, we expect that the share of the un-organized play will be challenged, and new models such as eB2B as well as Cash & Carry will grow faster by capturing more share from the un-organized pie driven by several merits.
eB2B specifically is expected to grow the fastest, at a CAGR of >80%, driven by its capability to connect everyone in the whole retail supply chain. It helps in connecting all the dots for a traditional retailer. A traditional retailer is able to jump over a lot of barriers as eB2B does the tough task for them of connecting to the right set of people to fulfil the requirements of a retailer.
Starting from handing delivery logistics, warehousing needs, getting right inventory from right set of distributors to taking orders online and getting them fulfilled by the retailer, eB2B has the capability to fill in the blanks. Driven by the same, eB2B will outpace all channels in terms of growth.
Note(s):
1 USD = INR 70
Source(s): RedSeer Analysis
Huge margin potential in the retail supply chain is available for new models such as eB2B to tap
At present in tier-I cities, on an average while C&FA has a maximum of 3% margin, organized cash and carry potentially have a margin between 7 – 9%. For direct distributors the margin ranges from 5 – 7%, and wholesalers who buy from them get a margin of around 3% when they sell to retailers.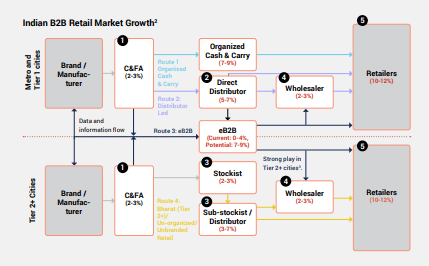 In the retailer supply chain in the tier-II and Bharat cities, there are additional intermediaries which affect the retailer as well as the end consumer. In Bharat cities, stockists, sub-stockists,distributors and wholesalers – most of them come into play and consume margins
Currently eB2B have margins of between 0 – 4%. But the potential to increase that almost two-fold is immense majorly due to direct procurement from brands, providing value added services such as tech. solutions and credit among other things. Going further, it can have a strong play in tier-II and beyond cities as it addresses the problems of fragmented supplies and inefficiencies in the traditional retail supply chain. We believe that eB2B certainly has the potential to make 7-9%, with room to make addition 3 to 5% through additional profit streams like marketing and new product launch services (for which brands have a separate trade marketing budget).
Note(s):
      1. Organized retailers procurement is similar to organized cash & carry
      2. The numbers indicated are mark-up on landing cost of the stakeholder                  as  a% of MRP
      3. Strong play in Tier 2+ citiesas it addresses fragmented supply                                   & inefficiencies Source(s): RedSeer Analysis
INSIGHTS
Talk To Our Expert