Nov, 2019
| By Anil Kumar ,Abishek Chauhan, Abhishek Gupta, and Vijay Kumar
Unlocking the Indian eB2B retail opportunity
The Indian retail market is expected to grow at ~10% CAGR to reach ~$ 1.6 TN by FY 25
---
Understanding the age old plight...
Being the owner of one of the four kirana stores within a radius of a kilometre has done no favours to 53 years old Umesh Chand. He owns a 250 square feet store in Kaithal, Haryana. When he started 25 years back, his was the only store in the neighbourhood. Business was good and margins were high. Cut to 2017, things took a drastic turn. The other stores run by a younger more tech savvy lot gave tough competition to Chand.
While one of the new stores was getting his supplies from a cash and carry, the other two relied on eB2B portals to get the best prices which helped them give better discounts.
Chand on the other hand preferred his old suppliers in the nearby wholesale market and made a fortnightly trip to buy goods in bulk, a decision for which he paid dearly a long time.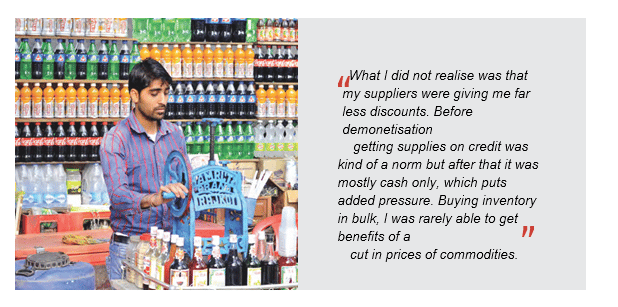 Things finally changed when his nephew heard his plight. He did a thorough market survey and spoke to two a few cash and carry companies as well as eB2B players.
Finally, they zeroed in on one eB2B player, who provided them with a one-stop modernization & digitization solution to improve margins, profitability, sourcing channels and compete with the modern retail landscape
They helped remodel his traditional closed format kirana store into an open format one to make it more modern and competitive. From getting the right set of inventory
management tools, credit line, delivery and logistics help to a robust point-of-sale (POS) system Chand business was made future proof. Further, his business also benefited from the consumer pull that the eB2B player enabled by providing more product choices and localized consumer promotions.
Just like Chand, India has north of 13 MN kirana store owners who are waiting to turn digital with the right ally. The country by all means is set to be the biggest eB2B market and the market size by 2025 could be over $60 BN. The opportunity is driven by the growing need to have a 'kosher' supply chain which is not marred by middlemen who create barriers which cause stress on the retail journey of a kirana store owner and end user- the customer.
Why is the Indian B2B Retail Industry 'the opportunity' to tap?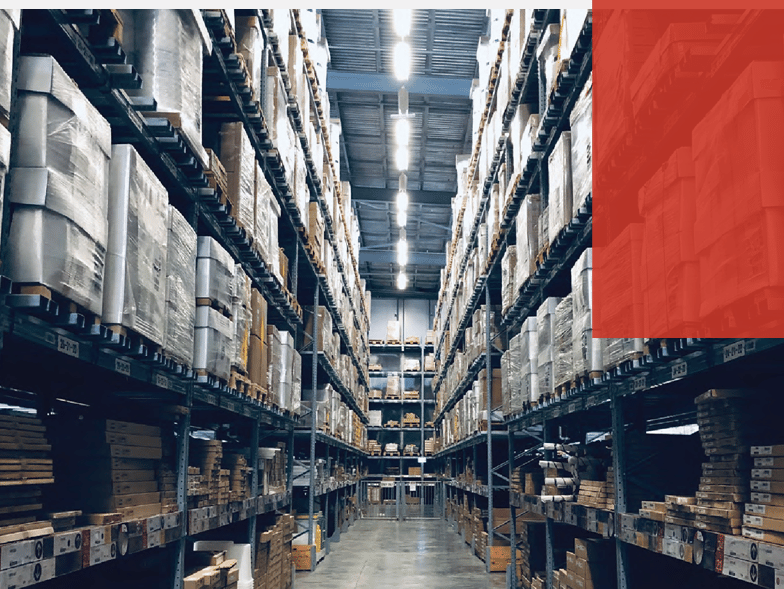 Driven by consistent expected increase in private consumption, the Indian retail market is expected to grow at ~10% CAGR to reach ~$ 1.6 TN by FY 25
Despite the current economic slowdown and our expected normalized real GDP forecast of 6 to 7%, we expect  the private consumption expenditure to continue driving ~60% of the nominal GDP. This is predominantly going to be driven by consumer retail consumption of goods, which is expected to continue driving ~50% of the private consumption. Driven by the same, the consumer retail market will grow at 10% YoY from nearly $900 BN today to reach $1.6 TN by FY 25.
 
B2C Retail market size = Nominal GDP x PFCE1% x Retail spend on goods%.
Forecasting has been done on the same assuming a real GDP growth of 6-7% in the wake of recent economy slow down. B2C Retail market size = Nominal GDP x PFCE 1% x Retail spend on goods%.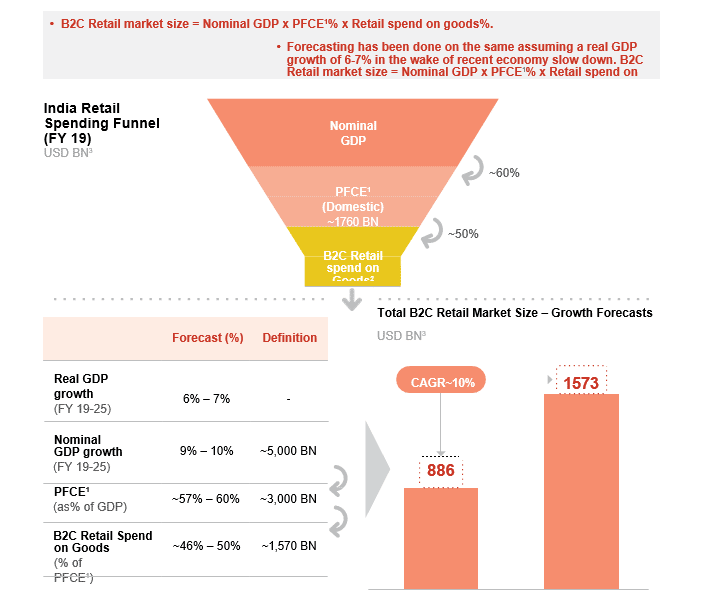 Note(s):
PFCE – Private Final Consumption Expenditure
Remaining PFCE (PFCE – B2C Retail Spend) includes spend on services such as transport, communication, education, restaurants, hotels, electricity and other miscellaneous services
1 USD = INR 70
Multiple intermediaries exist between the brand and end consumers
This huge retail market is facilitated through a long B2B retail supply chain between the brand / manufacturers, and the end consumer through multiple intermediaries. All these complexities bring in their own set of implications.
Mostly, there are as many as four to five layers of intermediaries starting from a forwarding agent, distributor, a sub distributor, a wholesaler to finally a retailer a brand / manufacturer needs to go through to get to the end user.
This traditional system of supply chain causes multiple bottlenecks that lead to longer timelines, losses in efficiency, issues with quality and most importantly, reduction in retailer margins.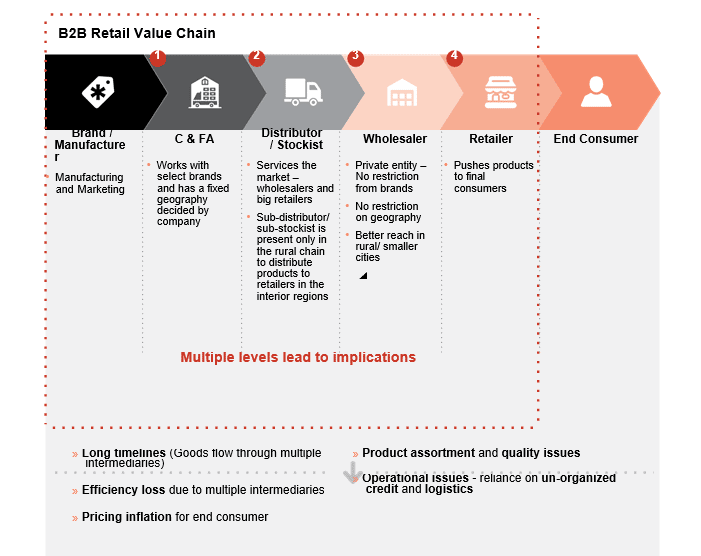 Despite varying personas for various intermediaries in the traditional retail value chain, they face challenges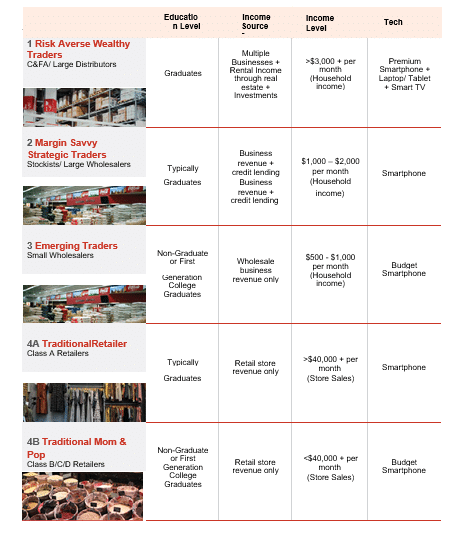 It is fascinating to see that the people involved in the retail value chain, while they are all working towards the same goal, face several issues in their day to day operations. These issues could be similar or diverse, basis the role they play in the entire process.
In this retail value chain, the 13 MN traditional mom & pop retailers are the big rollers for driving the retail consumption due to their deep penetration, especially in Bharat (Tier III cities and beyond). A Mom & Pop store owner is mostly a first generation college graduate who earns less than $40,000 a month in store sales. For them getting a credit line as well as reliable contacts for sourcing products is a major issue.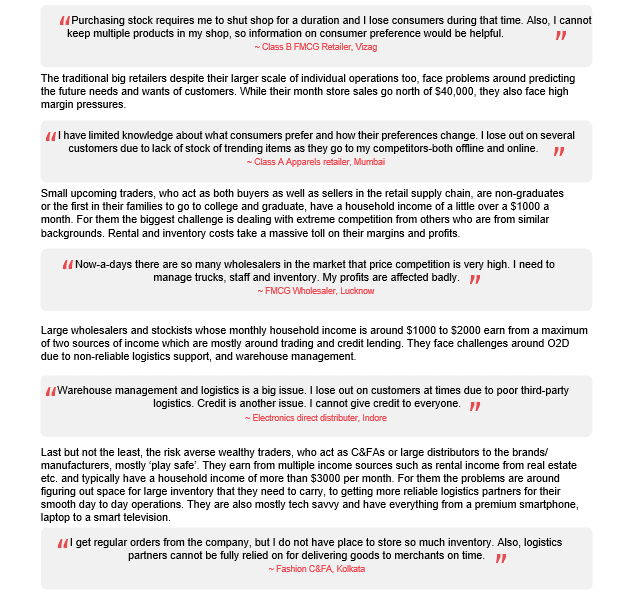 These intermediaries engage with each other through multiple models, with unorganized B2B driving bulk of the market (>70% by value)
This consumer retail market in India is largely un-organized, which drives 72% of the retail goods flow by value. The key stakeholders in this value chain are ~13 Mn class B/C/D retailers (turnover of less than USD 40K per month), who are largely under-served by brands and distributors. These retailers get on an average ~65-70% fill rates, even from brand distributors. Estimated 70% products reach retailers through wholesalers without formal credit, no service and limited selection. This high number of retail stores plus plethora of smaller wholesalers / stockists operating in the supply chain, create a challenge for demand consolidation for the brands / manufacturers.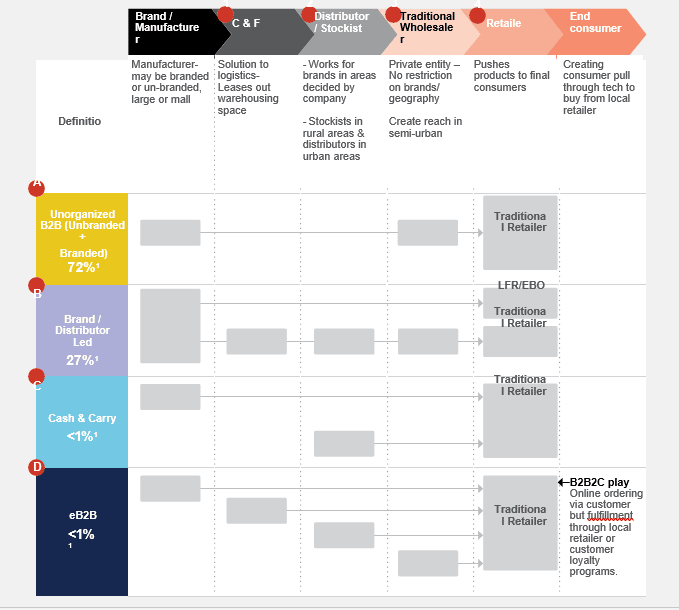 A broken retail chain causes nothing but pain to buyers and sellers
Various supply chain issues bog down everyone starting from brands / manufactures, distributors, wholesalers,    to retailers. Limited resources and non-availability of tech tools are just few of the problems they have to deal with on a daily basis.
Socio-Economic Segmentation of Internet Users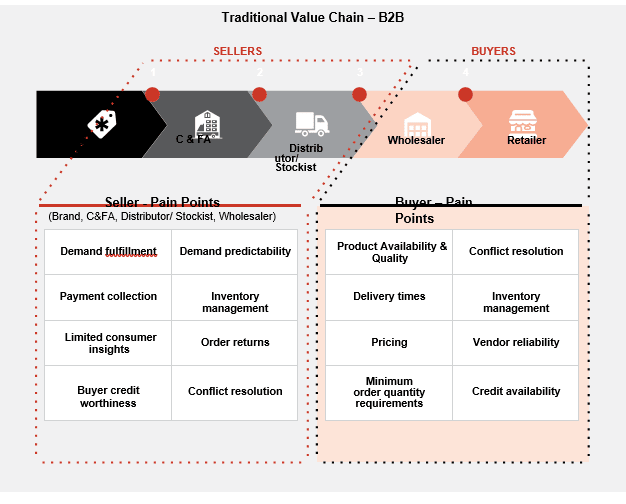 Issues are a plenty for buyers (Retailers and smaller wholesalers / stockists), mostly ranging from finding easily available quality products, right pricing, getting reliable vendors on-board, credit availability, minimum order quantity requirements to getting a consistently good pricing on products.
During our research, we also discovered several pain points that sellers face. Sellers in this supply chain include brands / manufacturers, C&FAs, Distributors, Wholesalers and Stockists. For them, the major challenges range from understanding end consumer trends and behaviour, availability of reliable logistics partners and a large geographic presence.
Un-organized channels leave a long line of dissatisfied buyers and sellers
Over the years, dealing with un-organized channels has given heart-burn to a host of buyers and sellers. During our research, we have found out that a buyer's experience through the whole process is mostly less than satisfactory or just bearable.
Satisfaction w.r.t to traditional sourcing channels for buyers
% of respondents, N = 970 (buyers)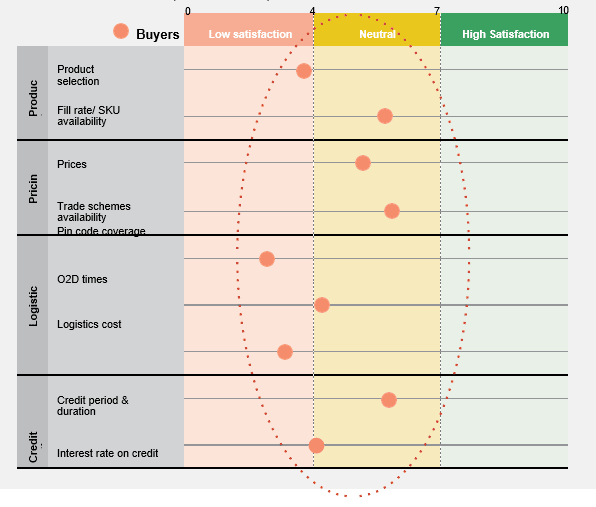 In most parameters starting from product selection, pricing, trade schemes availability, credit options and interest rates, 'Buyers' are mostly left wanting for more. Cost of logistics is high and the delivery footprint or the pin-codes covered is quite low. This creates major gaps in the supply chain for these players. On a scale of 0 to 10, most of the scores given by buyers on the said parameters is between a low 3 and 6.5.
'Sellers' too face massive issues around lack of good logistics options. Their satisfaction levels are even lower compared to buyers. Most of them face issues around predicting demand, discovering potential customer base and lack of credit to funding their working capital requirements. On a scale of 0 to 10, sellers mostly just gave between 3 to 5 points.
Satisfaction w.r.t to traditional sourcing channels for sellers
% of respondents, N = 300 (sellers)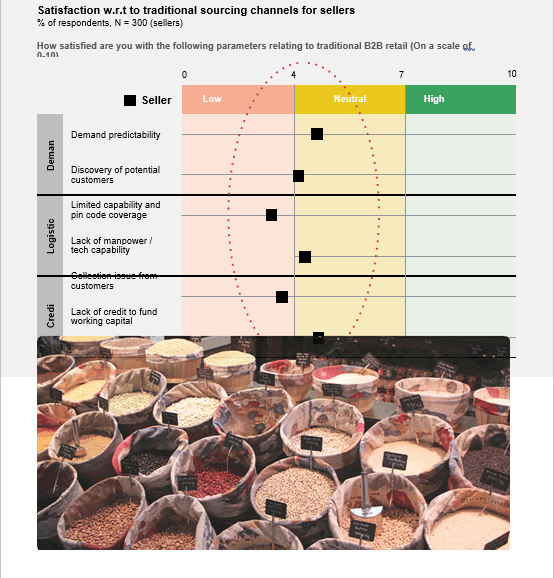 Seizing the $1.3 TN B2B retail opportunity - channels such as eB2B and Cash & Carry, are expected to take increasing share from the 'Un-organized' pie
We calculated the size of the B2B retail market in India, by subtracting the margins that retailers make across multiple retail product categories through multiple channels. Please refer to the graphic below, which explains the calculation clearly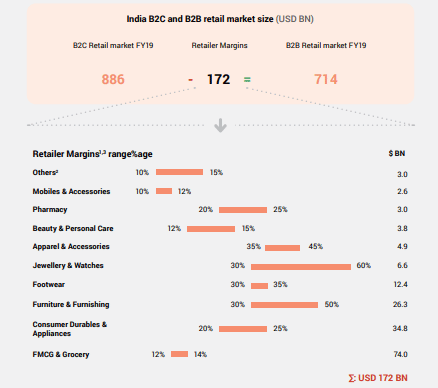 Note(s):
Absolute $ value amounts for retailer margins are calculated at median value of%age retailer margins
Others include stationery, sports & fitness, equipment, toys,
Retailer margins indicate lower limit and upper limit as% of MRP which the retailer earns when the good is sold to end-consumer
1 USD = INR 70 Source(s): RedSeer Analysis
This $714 BN Indian retail B2B market would grow at the same CAGR of 10% of the B2C retail market growth as highlighted earlier, to reach $1.3 TN by FY 25.
Largest chunk of this $714 BN B2B retail market in FY19 currently is driven by the un-organised B2B retail, where numerous smaller sellers such as wholesalers, stockists and sub-stockists operate, and supply branded as well as un-branded goods to the retailers.
According to our research, around 72.2% of all B2B retail is still un-organized.
Indian B2B Retail Market Growth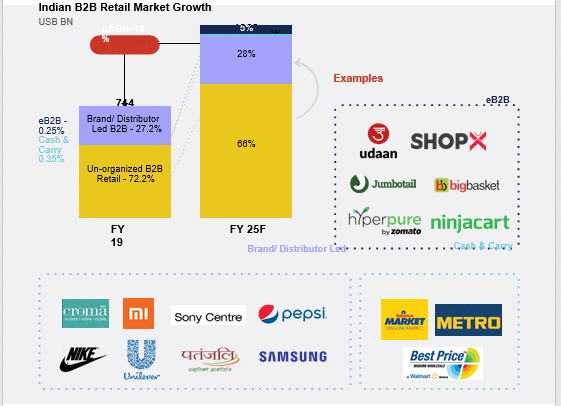 Driven by the challenges faced by the buyers and the sellers from the un-organized play as elaborated earlier, we expect that the share of the un-organized play will be challenged, and new models such as eB2B as well as Cash & Carry will grow faster by capturing more share from the un-organized pie driven by several merits.
eB2B specifically is expected to grow the fastest, at a CAGR of >80%, driven by its capability to connect everyone in the whole retail supply chain. It helps in connecting all the dots for a traditional retailer. A traditional retailer is able to jump over a lot of barriers as eB2B does the tough task for them of connecting to the right set of people to fulfil the requirements of a retailer.
Starting from handing delivery logistics, warehousing needs, getting right inventory from right set of distributors to taking orders online and getting them fulfilled by the retailer, eB2B has the capability to fill in the blanks. Driven by the same, eB2B will outpace all channels in terms of growth.
Note(s):
1 USD = INR 70
Source(s): RedSeer Analysis
Huge margin potential in the retail supply chain is available for new models such as eB2B to tap
At present in tier-I cities, on an average while C&FA has a maximum of 3% margin, organized cash and carry potentially have a margin between 7 – 9%. For direct distributors the margin ranges from 5 – 7%, and wholesalers who buy from them get a margin of around 3% when they sell to retailers.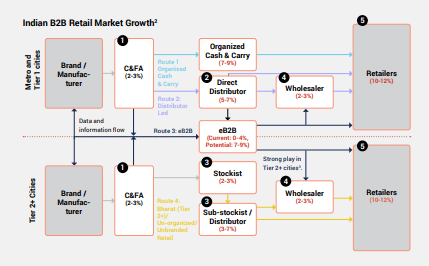 In the retailer supply chain in the tier-II and Bharat cities, there are additional intermediaries which affect the retailer as well as the end consumer. In Bharat cities, stockists, sub-stockists,distributors and wholesalers – most of them come into play and consume margins
Currently eB2B have margins of between 0 – 4%. But the potential to increase that almost two-fold is immense majorly due to direct procurement from brands, providing value added services such as tech. solutions and credit among other things. Going further, it can have a strong play in tier-II and beyond cities as it addresses the problems of fragmented supplies and inefficiencies in the traditional retail supply chain. We believe that eB2B certainly has the potential to make 7-9%, with room to make addition 3 to 5% through additional profit streams like marketing and new product launch services (for which brands have a separate trade marketing budget).
Note(s):
Organized retailers procurement is similar to organized cash & carry
The numbers indicated are mark-up on landing cost of the stakeholder as a% of MRP
Strong play in Tier 2+ citiesas it addresses fragmented supply & inefficiencies Source(s): RedSeer Analysis
Indian eB2B market opportunity - "The Juggernaut"!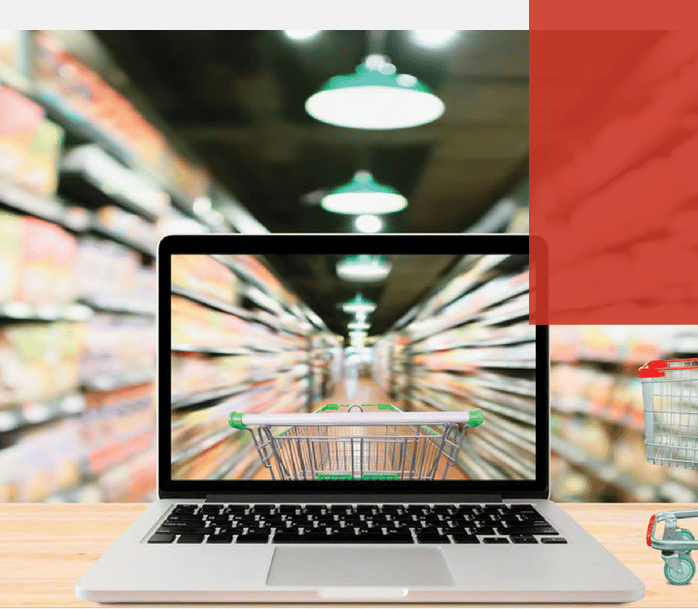 The eB2B retail value proposition works on channelizing the product flow across the traditional retail value chain from brands / manufacturers until retailers.
With the help of technology and manpower, eB2B retail helps brands reach to the end user. Companies such as Udaan, ShopX, Jumbotail and many more are connecting brands / manufacturers to different buyers and sellers through their technology platforms. In the process, they are also trying to address the numerous pain points  that these buyers and sellers face by working through the un-organized retail. In addition, few companies such as ShopX are also trying innovation around B2B2C, by enabling consumers place order through their app, but fullfilment happening through local retailers, thereby adding newer demand avenues for last mile retailers..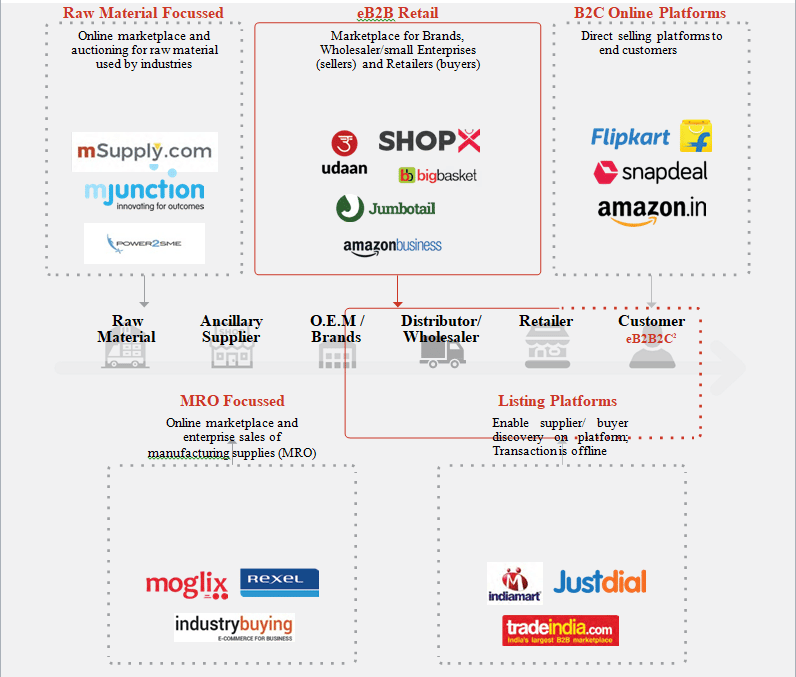 Note(s):
Selected companies have been included to illustrate the respective buckets basis RedSeer analysis
eB2B2C includes end consumer base initiative such as customer ordering via app but fulfillment through local retailers, customer loyalty programs
Source(s): Redseer Analysis
Traditional retail is all about wading through one challenge after another
During our conversations with various people in the whole retail chain, the pain points they faced dealing with the 'old school' system of traditional retail were clearly visible.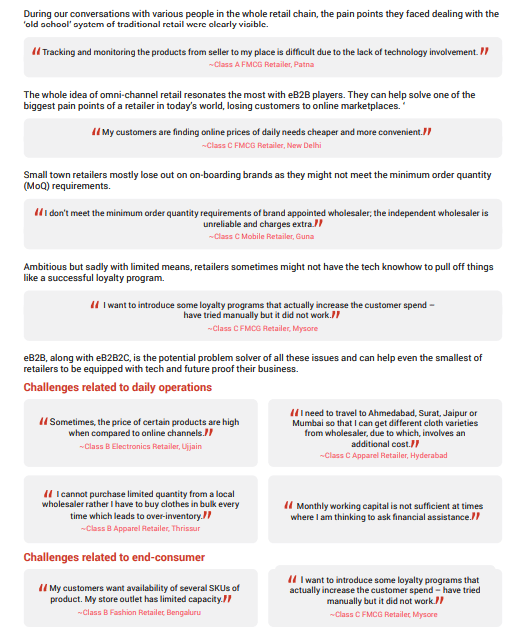 eB2B is resolving challenges compared to other channels including traditional retail for buyers
During our survey, most of the respondents showed higher satisfaction with eB2B retail in most of the parameters ranging from product selection, fill rate/SKU availability, prices, trade schemes availability, ease of logistics, interest rate on credit among other things.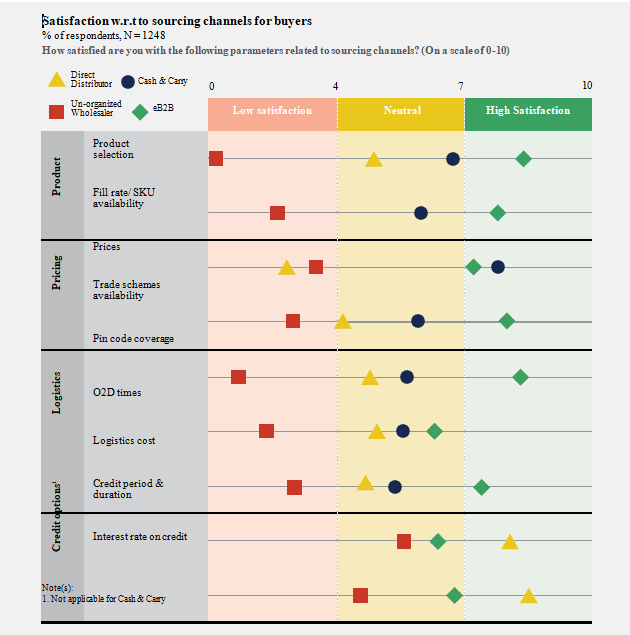 Awareness about eB2B platforms is helping convert a host of non-believers

More people are getting to know about eB2B platforms surprisingly on the back of positive word of mouth endorsements by users. A rise in awareness has helped in increasing the user base as everyone wants to experience the merits attached to dealing with an eB2B player.
Almost 62% of the respondents from tier-I and tier-II cities know about these platforms. Many who have heard about eB2B players are either willing to order from them or have already shifted to them as their primary supply channel.
The ease of ordering and having the option of not keeping their establishment closed for a supplies run is another factor which is pulling retailers towards eB2B players.
Driven by the merits, ~60% of non-users are willing to try eB2B.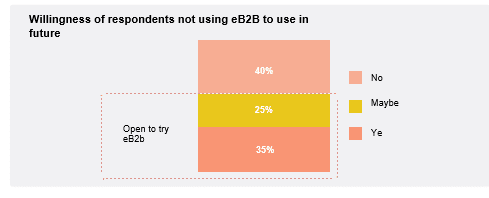 Sellers also give a big thumps up to eB2B's wider market reach, tech enablement and logistics support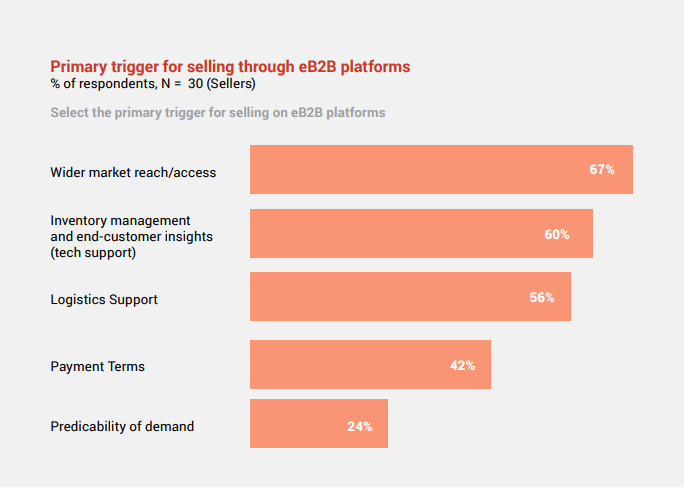 Moreover, eB2B will merit from increased digital appetite across buyers and sellers
In an age when ordering services, checking facts, discovering restaurants is all done in palm of the hand courtesy the ever evolving smartphone, both buyers (retailers, wholesalers) and sellers (distributers) want the convenience of a digitally connected life. The consumption of data, and further thanks to the Jio effect, has removed most of the socio-economic barriers around who uses the internet and who does not.
Many retailers after losing out to online players, are now trying to evolve, by leveraging some tech back up from eB2B players to fight back.
Post demonetisation and massive campaigning by the government digital payments for day to day buying has become a habit for a large chunk of people in the country. So many retailers are now trying to integrate it as part of the payments system.
In the age of digital living, ambition also flows seamlessly be it tier-I or Bharat cities. The hope to expand beyond their location has become a great pull for sellers to tie up with eB2B players.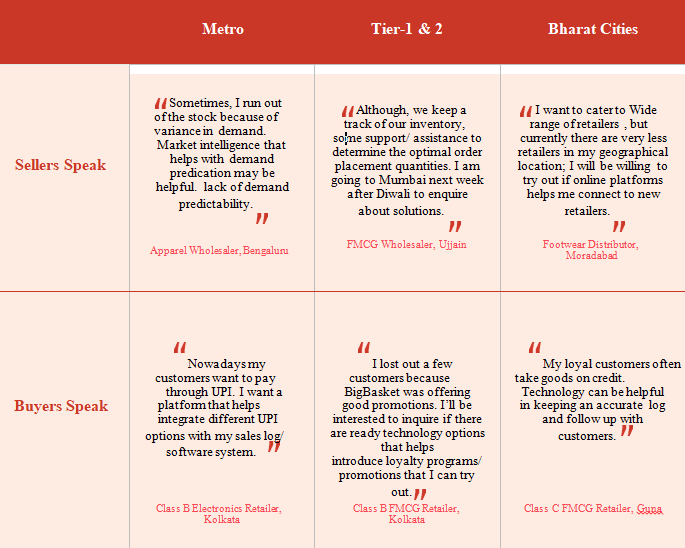 NPS for 'eB2B platforms' is the highest among available sourcing channels
Net Promoter Score (NPS) has come out to be the highest for eB2B platforms when compared to everyone ranging from brands, cash and carry stores as well as distributers. Retailers dealing with eB2B players have been able to grow and expand, thanks to the seamless and convenient flow of inventory, help with warehousing and logistics as well as credit options. More than 43% of respondents believe that eB2B is the sourcing channel that they would recommend to others. With more adoption, this %age would surely go up.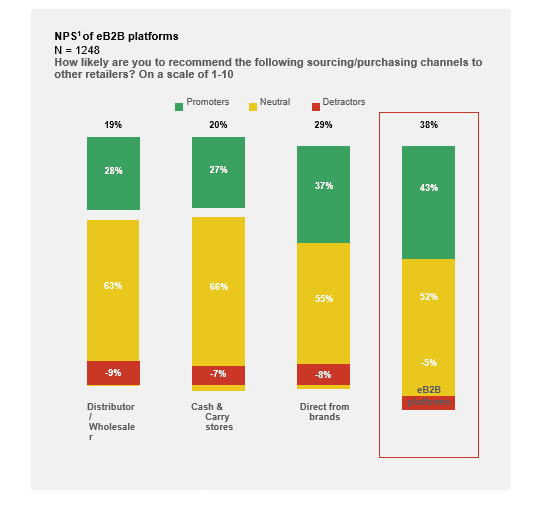 Note(s):
NPS =% Promoters (Score 9-10) -% Detractors (Score 1-5). Source(s): RedSeer Analysis)
Favoured by the government and over a BN dollar in investments, Indian eB2B retail is more lucrative than ever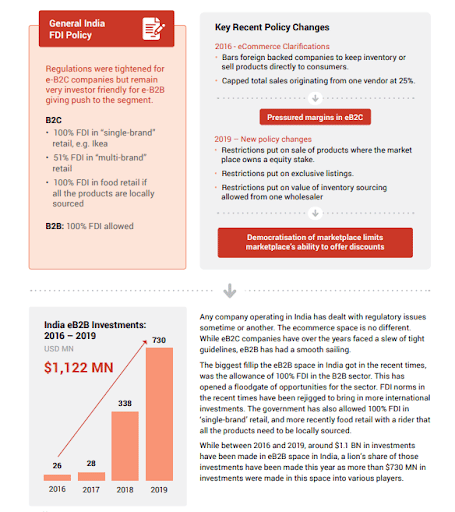 eB2B outpaces eB2C sectors proving to be much more capital efficient
Our research indicates that eB2B sector is growing at a much higher speed than the eB2C sector. Investments that have gone into eB2B space have been much better utilised vis-à-vis the eB2C space that has seen big dollar figure investments being made over the years, which is indicated by the GMV per investment dollar until FY 19 for both of these sectors. eB2B generated around $3.5 GMV for every dollar invested, almost 1.7 times when compared to eB2C.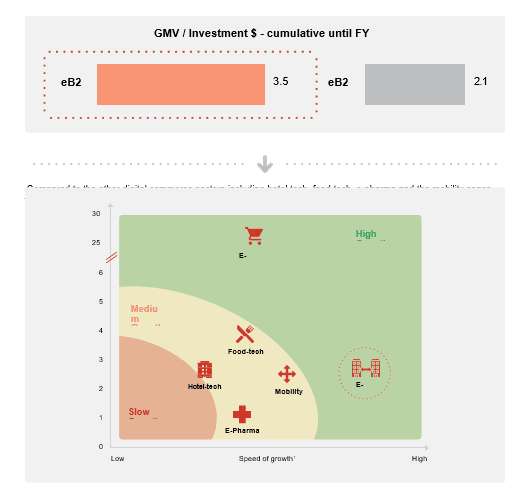 Note(s):
Measured by time in years to reach the GMV level. Higher the number of years taken, lower the speed of growthSource(s): RedSeer Analysis
eB2B will ride on the eB2C e-commerce wave
We believe that there is a direct and strong correlation between growth of eB2C and expansion of eB2B in the country. eB2B has been and is going to further benefit from the infrastructure, digital ecosystem and digital maturity (including habit formation) which eB2C growth will enable. This is the same phenomenon that struck China, UK and US among other mature markets.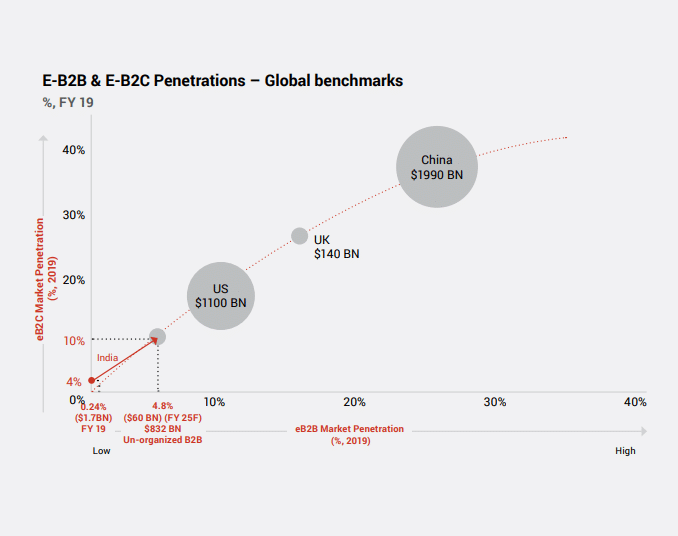 penetration is set to rise further.
Note(s):
1 USD = INR 70 Source(s): RedSeer Analysis
Driven by the growth drivers as elaborated above, eB2B market is expected to grow at 35x by FY 25, at a CAGR of >80%, with all categories expected to witness healthy growth
Over the next six years, tier-II and Bharat cities would be the real growth driver for the eB2B space. We estimate that in FY 25, eB2B will witness strong penetration in India in almost all categories ranging from fashion, consumer durables, FMCG and grocery.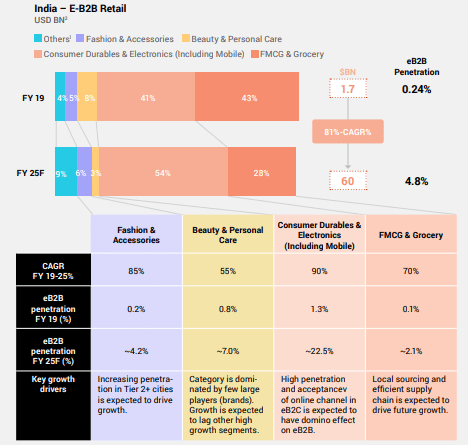 Note(s):
Others include Jewellery & Watches, Furniture & Furnishing, Pharmacy & other smaller categories such as Toys, Sports, Alcoholic Beverage & Tobacco, Stationery, Luggage
1 USD = INR 70
Thereby, eB2B will outpace eB2C
A host of growth drivers as detailed earlier, will help the eB2B sector pace ahead of eB2C. Amidst several supply chain issues that affect country's large un-organized retail market base, more people will continue shifting towards eB2B. Moreover, favourable government policies as well as high receptiveness of buyers and sellers towards eB2B will further enable the sector growth. The eB2B space will also continue cashing on the increasing penetration and influence of the eB2C space in the country.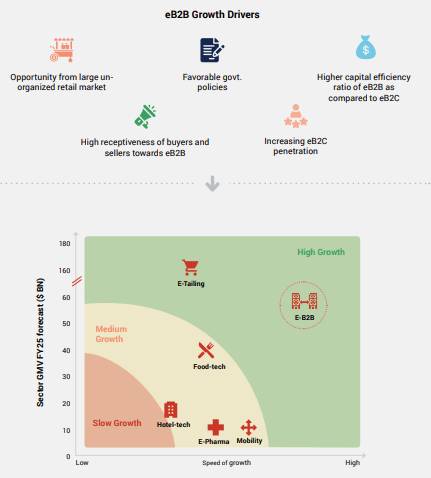 Current Indian eB2B business models - "What it takes to win"!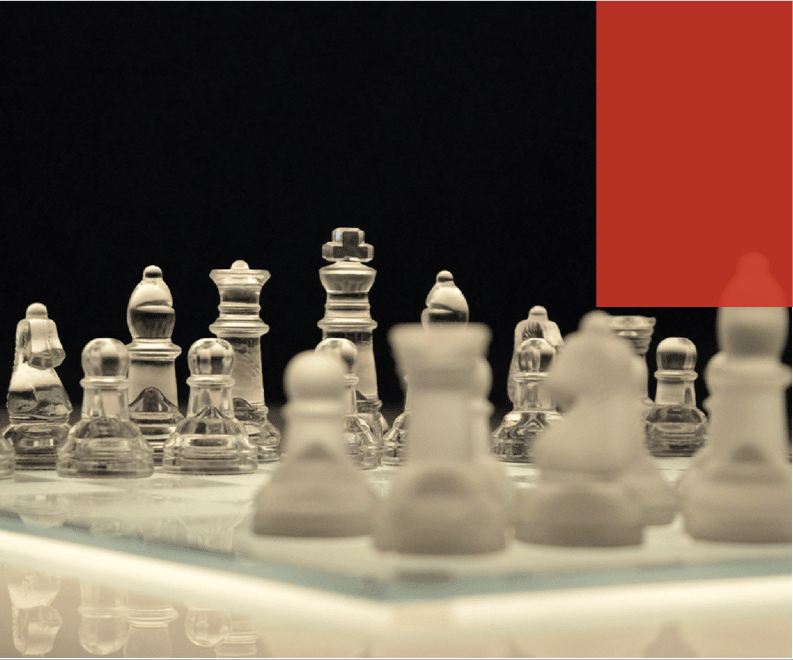 The varied models of eB2B players
Multiple business models have already come-up in this sector, driven by immense opportunity that everyone sees, as quantified earlier. While there could be multiple ways for classifying these models, we believe that these models try to differentiate on their operating model on 2 key axes.
The first axis is basis inventory ownership. Some companies want complete control on what is being sold on its platform and own the inventory stored in their centralized warehouses. Others prefer inventory fulfillment through managed tech led JIT inventory model.
The second axis is driven by tech led vs people led (FoS) demand generation.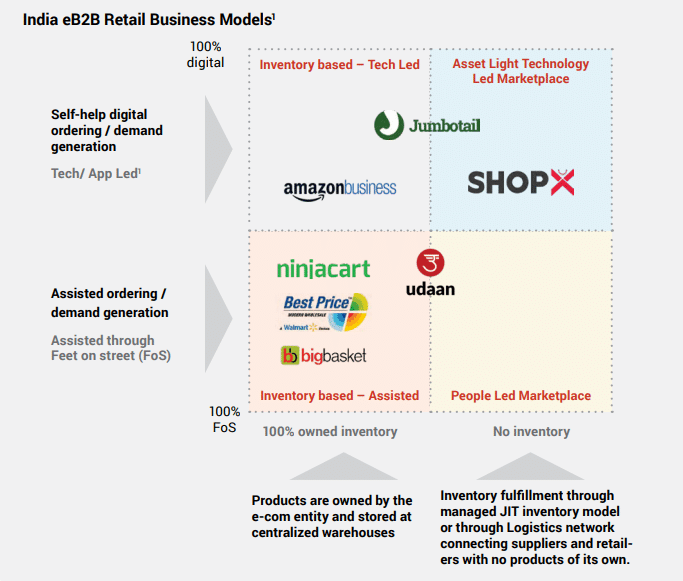 When we plot the various existing players on the 2 axes, 3 business models come out:
'Asset Light Technology Led' marketplace, which relies more on pure tech led demand generation, in addition to relying on JIT inventory.
'Inventory based – Tech led' players, who maintain their inventory, but rely more on tech led demand
'Inventory based – Assisted' players, who maintain their own inventory in their warehouses, plus they promote FoS assisted demand generation i.e. they have their sales force who visit the respective buyers for taking or- ders, in addition to also having app
Note(s):
Selected companies have been included to substantiate the business models basis RedSeer analysis Source(s): RedSeer Analysis
less is more for Asset Light Technology led marketplace
In an asset light technology based model, sales are majorly driven using digital marketing campaigns run on the technology led marketplace platform. Also they do not assign sales targets to their limited salesforce personnel. In an inventory based assisted model, sales are driven by in person interactions, bringing in a direct connect between the retailer and eB2B platform. It works on territorial sales model, with area sales managers assigned quarterly or annual GMV targets.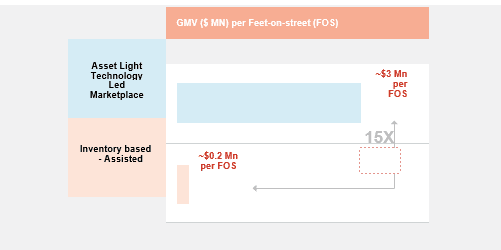 Different business models aim at the common goal of addressing buyer and seller pain points
While the business models might seem different, there are certain synergies in the way they address issues around demand fulfillment, availability and quality of a product, logistics, credit facility and pricing.
Both asset light technology led as well as inventory based tech marketplaces work through helping a retailer adapt to ordering online, rather than relying on seller's feet on street network. Product availability in both models is determined through the strength of seller partnerships.
When it comes to maintaining quality control of products, while an asset light technology marketplace has managed warehousing, strict SOPs and a highly controlled supplier network, inventory based eB2B players control warehousing and of course have robust SOPs.
Logistics for an asset light eB2B marketplace are all about close knit partnerships with third party logistics  players (3PL). While 3PL manage it, the eB2B keep a close watch on all warehousing and delivery operations. For an inventory based eB2B, logistics are mostly an in-house operation on the back of a controlled network to handle warehousing as well as delivery.
Pricing in these two models might vary a little bit as the parameters are different. An asset light eB2B has to factor in operational efficiency, strength of the network, exclusive partnerships, managed invoicing procedures and multiple monetization levers. For an inventory based eB2B model, effective demand forecasting and inventory management is extremely important for pricing.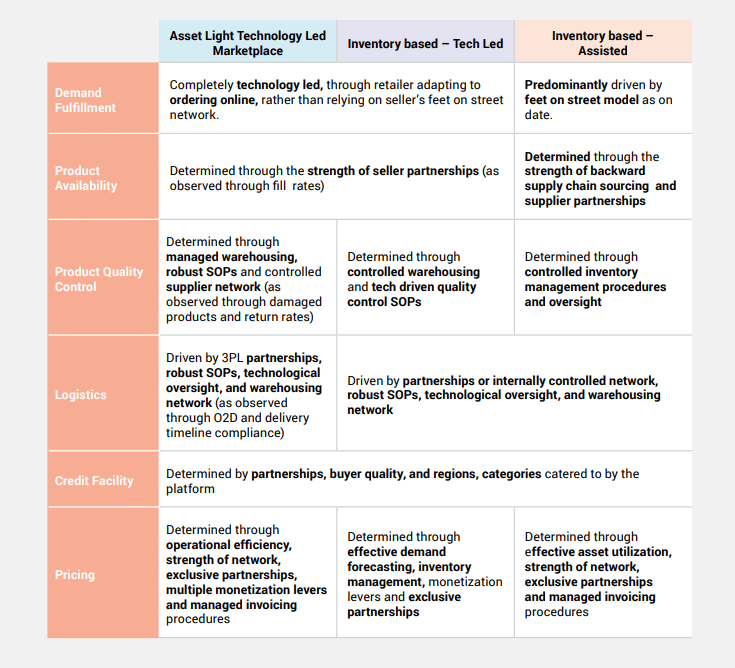 The third model inventory based assisted eB2B marketplace is much more personal in the way it creates and fulfils demand. Mostly driven by 'foot-soldiers', product availability is determined through the strength of the backward supply chain sourcing and supplier partnerships. For them pricing is all about effectively utilising assets, capitalising on the strength of network, exclusive partnerships and managed invoicing procedures.
For all the three models providing credit facility depends on partnerships, buyer quality, regions and categories catered by the platform.
Bridging gaps between sellers and buyers through tech, eB2B players are gaining traction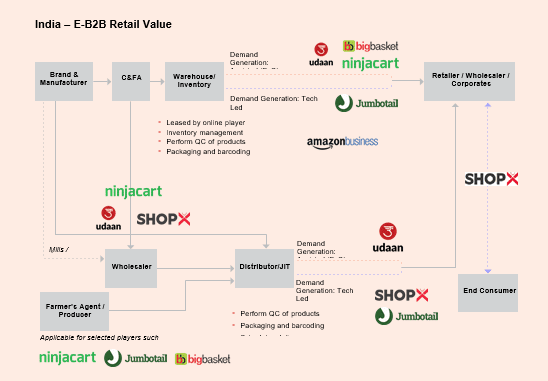 An almost' one stop shop solution providing a whole bouquet of services has made eB2B popular in a short span of time. What eB2Bs have successfully done is making both sellers and buyers realise that everything starting from brands / manufacturers, reliable warehousing and logistics, inventory management and payments solutions can be obtained on a single platform.
Most of the players in the eB2B space have been able to plug major gaps in the retail chain and made the process of buying and selling seamless.
Innovative ideas that address actual needs of sellers and buyers have proved an important factor in making eB2B successful. Efficiency of the entire supply chain is the key for a successful retail operation. eB2B players are constantly innovating, tweaking and bettering the tech to make retail operations smooth. During our research
we came across many such examples of tools and processes players use to make operations run smoother. Innovation on the back of technology can be seen at every step of the operational model be it planning, buying, moving, selling as well as managing.
Note(s):
Selected companies have been included to substantiate the business models basis RedSeer analysis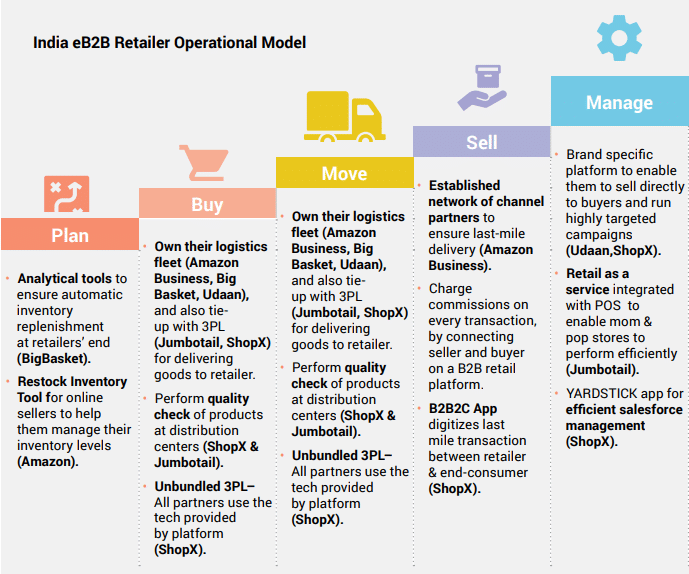 One of the youngest and fastest growing unicorns in the country, Udaan, has positioned its revenue model around charging on add-on services such as credit and advertising, keeping the core service (product portfolio and logistics) cost low.
Driven by solid tech and acute knowledge of on-ground bottlenecks in the retail space, ShopX has developed a unique just in time inventory (JIT) management system that boosts efficiency and reduces wastage of goods received. Not only that, it has created a B2B2C model which is enabled via its tech-based solution. Retailers working with ShopX are now selling offline as well as online and are becoming future ready.
Another player trying to make a difference is Jumbotail, which has been working on transforming kirana shops into convenience shops. Thousands of kirana store owners rely on its robust in-house supply chain and logistics for procuring staples and FMCG. It provides tech driven solutions which effectively is "Retail as a Service" platform, that helps sellers with everything starting from point of sale solution to inventory management systems to help them modernise their stores.
eB2B firms such as BigBasket have developed analytical tools that ensure automatic inventory replenishment at retailers' end. Farm-to-fork model which is a factor in running a successful fresh produce business is being perfected by players such as Ninjacart who directly procure from farmers.
Few of the largest logistics networks and delivery fleets are owned by companies such as Amazon Business, BigBasket and Udaan. Filling the gaps in the supply chain has also helped in coming up with varied revenue models. Some companies charge commissions on every transaction, by connecting seller and buyer on the B2B retail platform. Companies such as Udaan and ShopX enable brands to sell directly to buyers and run highly targeted campaigns.

Udaan's "secret sauce" for success
Country's one of the most successful and growing eB2B unicorn Udaan has in just three years managed to create a mix of captive and third party logistics partners, for an highly efficient last-mile delivery. It has helped it to reach out to a larger set of retailers across most pin-codes in the country.
The marketplace has been designed keeping in mind small and medium businesses in the country. It has been over the years bringing traders, wholesalers and manufacturers on to a single platform.
It has a network of 6,00,000 plus buyers and sellers across India which is one of the highest in the eB2B retail space. During our research, we found out that last year, Udaan picked up products from sellers across 80 to 100 cities and delivered it in 800 cities and towns across India. Its major product categories include fashion, electronics, mobile phones, food, grocery, beauty and personal care items.
Udaan has three major revenue sources. Its commissions on every transaction from a buyer are around 0-4%. At a nominal rate of 1.5% – 2%, it gives credit to buyers. Listings or advertisements are also one of the main sources of income for the company, and is earned from sellers on per category basis.
The company has started expanding its warehousing capabilities, and also launched a secure payments platform called UdaanPay. Thanks to the option of a personal and secure conversation in real-time in the multiple Indian regional languages, as well as the option of a user being able to directly negotiate the terms of credit with the seller, Udaan has been able to gain a massive following. It helps buyers and sellers expand their business through MyBiz, Feed, Share, Connections to grow market presence and creating brand interest. Also almost 75% of the logistics requirements are handled by the company in-house.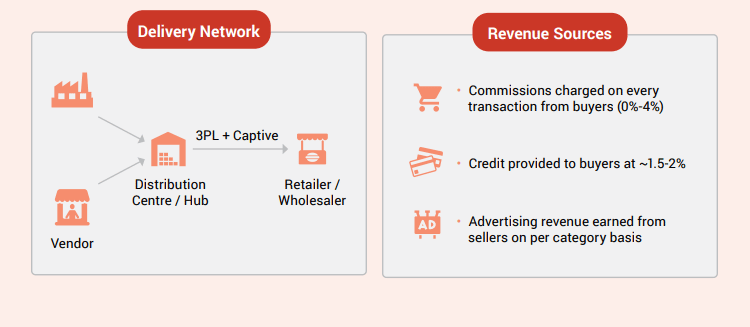 ShopX is giving small retailers the power of technology to dream big
For a small retailer in Bharat, expanding business beyond certain parameters is mostly an impossible dream. For them making compromises on sales and inadequate inventory is part of doing business. ShopX, since 2015 has been trying to change that. It has been helping these small retailers not only dream big, but is also making
them come true. Extensive market research, understanding ground realities and being in constant touch with the market has helped the company create a host of solutions specific to small retailers.
The company has given these small retailers access to premium brands, equipped them with robust POS systems, inventory management solutions, as well as given them access to online customers through its B2B2C app.
The company that has for the last four years future proofing one small retailer at a time, now has more than 150,000+ retailers in its network from across the country and approximately six MN end customers.
The company has created strong presence in the country, and is currently operating out of 440+ towns and cities. It has partnerships with 550 plus brands from more than 50 manufacturers.
Other than the usual categories such as FMCG, electronics and mobile phones, it also provides value-added services such as digital payments and recharges, which act as additional revenue streams for its retailer   partners. While it charges around 3-4% in dommissions from buyers, it also takes a one-time registration fees that costs around Rs 1,000.
ShopX retailer app suite includes a Retailer app, as well as a consumer app, which the retailers can activate for selected consumers. The consumer app creates an interesting B2B2C play, as consumers can use this app for placing orders, but the demand fulfillment happens through local retailers. On top, ShopX Suvidha, is alending platform that gives credit interest free through a partnership network of banks and NBFCs. In addition, ShopX  also offers tools such as Yardstick, which is a Salesforce management platform and SmartApp which simplifies retailer account for performance and order management. This comprehensive technology solution has resonated well with ShopX's user base.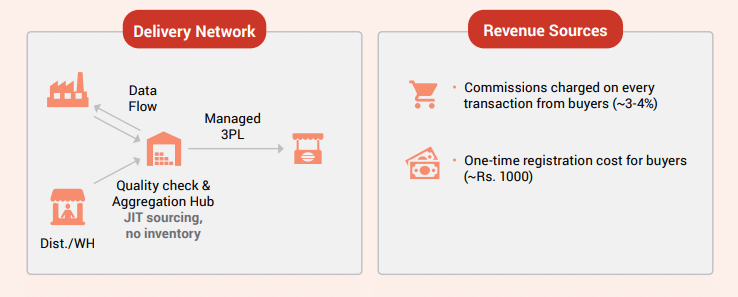 Jumbotail eases the mammoth task of connecting brands to Mom & Pop shops through it's in-house supply chain
Jumbotail which started operations in 2016 uses technology, data science and design as the three key levers for creating differentiation in the market and achieves competitive edge in the food and grocery segment.
The company is present in Bengaluru, Mysuru, Tumkur and Hyderabad. It has a total of 2 fulfillment Centers and 8 Distribution Centers in Bengaluru and 1 fulfillment Center in Hyderabad. It charges commissions of around 3% on every transaction.
The company offers Mom and Pop stores with wide range of high-quality staples, packaged foods, personal care and home care products from all the leading brands and staples producers. It also has its own set of private label brands.
The firm also provides credit and working capital facility to the potential buyers from their lending partners. The key differentiator for Jumbotail is providing Mom and Pop stores and tuck shops 'Retail as a Service'. It has fully integrated POS machines and softwares to run the store like modern convenience retail stores.
In addition, Jumbotail also provides in-store analytics, loyalty programs and O2O services to drive retailer stickiness.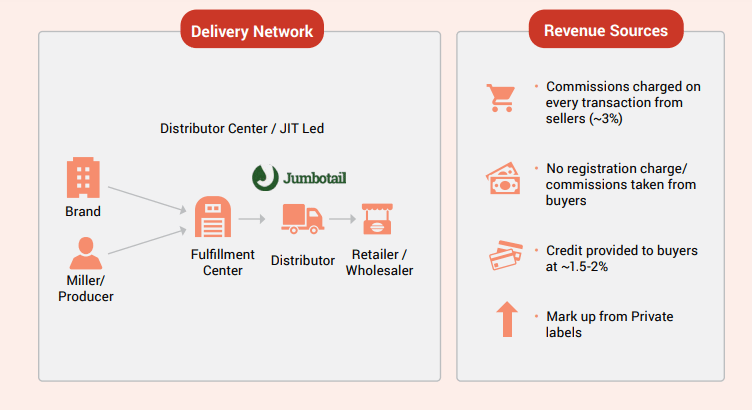 A fully integrated model, and strong inventory management, BigBasket has it all
One of the first e-grocers in the country, BigBasket started its eB2B operations in early 2016. Over the years, it has established a strong network of over 27,000 retailers across the country. It is doing well in the top four
metropolitan cities including Delhi NCR, Mumbai, Bengaluru and Hyderabad which make up for approximately 50% of its B2B GMV in FY19.
Its main product categories are food, grocery and FMCG products which contribute to around 80% of its B2B GMV. HoReCa customers contributed another 10% of total annual GMV in FY19. BigBasket earns around 6.5-7% on private labels and approximately 4.5% from general goods in commissions.
The company has set up large warehouses spanning over 25,000 square feet in 10 metros and Tier-I cities across India. It gives benefits to its retailers who are members on the platform and give an additional discount on basis of their order quantity. On the tech front it uses 'Flexi' app platform to process orders for bulk purchases by large retailers.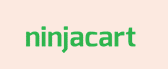 Ninjacart slashes farmer's biggest enemy, non-value adding middle-men
Eliminating unnecessary middlemen, who fleece hapless farmers, has been one of the biggest achievements of Ninjacart. A service which started as a fresh produce supply chain operation in 2015 has now gained a network of 13,000 plus farmers. With major presence in Southern India, Ninjacart now runs operations in seven cities.
It has at present around 60 collection centres for fresh produce from farmers across the country and almost half of those are in Karnataka.
A champion of the farm-to-fork model, its primary customer base includes major retailers, malls and restaurants. Fresh produce is a high margin game, and Ninjacart on every transaction charges anywhere between 18% and 27% commission.
Farmers are the real winners here as they get 20% more revenue than the existing market. They also ensure that farmers within 24 hours get payments for the supplies. Logistics of fresh produce need to be fast due to the limited shelf like, Ninjacart ensures delivery from farm to store happens within 12 hours.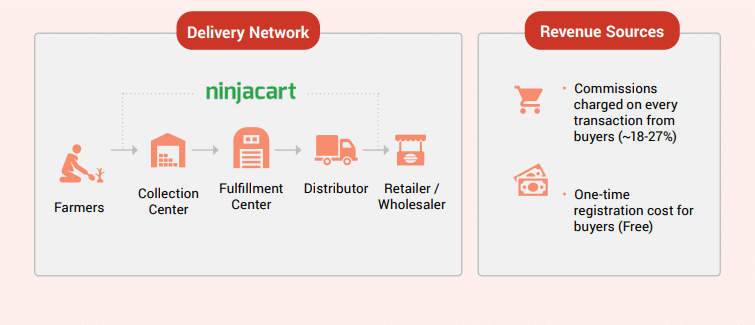 All players are perceived to have their own strengths
During our survey, we found out that respondents believe most of the eB2B players come with their own set of strengths and weaknesses. In general most of the respondents have shown high satisfaction levels with the services of these players.
While some have a better product selection, others offer better competitive pricing and trade schemes. Logistics and reach is something most of the players are working on and are improving.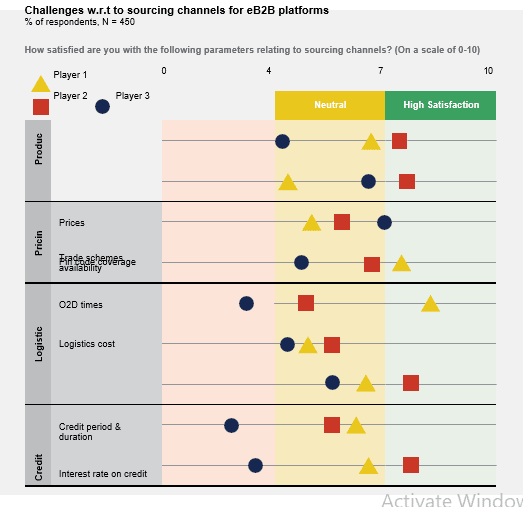 Over the years, the un-organized B2B market has created a lot of holes in the retail value chain. Pain points are a plenty for both the buyers and sellers in the retail value chain. For a single player to fill all these gaps is quite difficult. The country's eB2B players need to address all these issues that are currently affecting buyers and sellers, to win in this complex but interesting market
It is not like eB2B players have been able to address all pain points. There are a few pain points which if addressed can make these platforms much more user friendly and attractive for Bharat.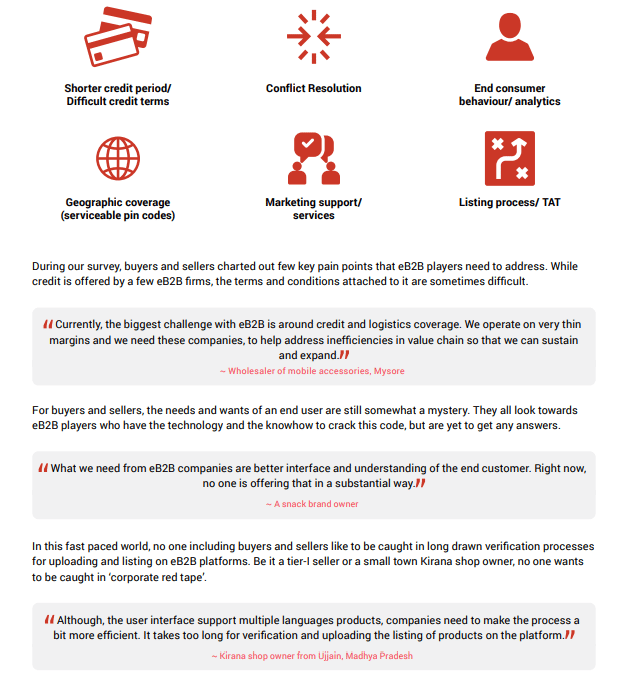 "The Path to Profitability"!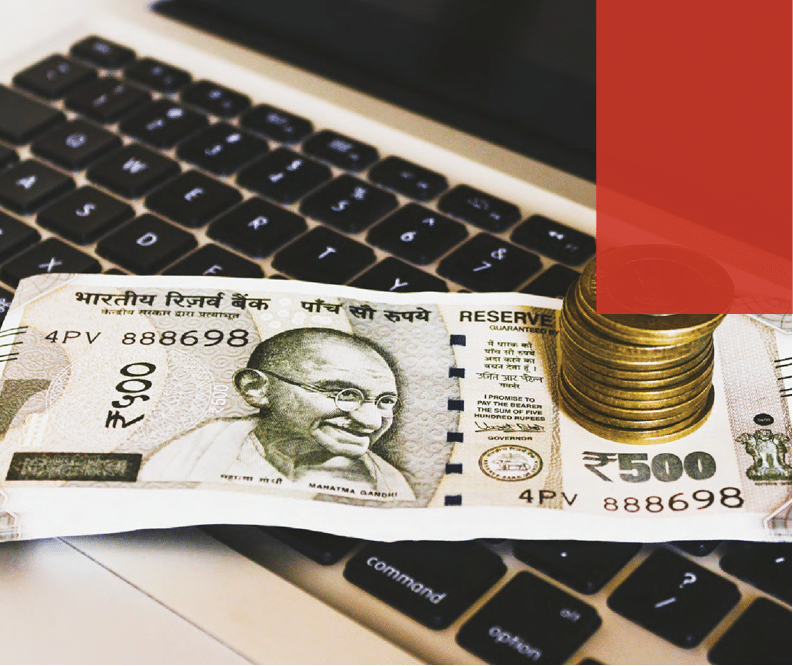 Four key levers will drive Indian eB2B players' 'Path to Profitability'!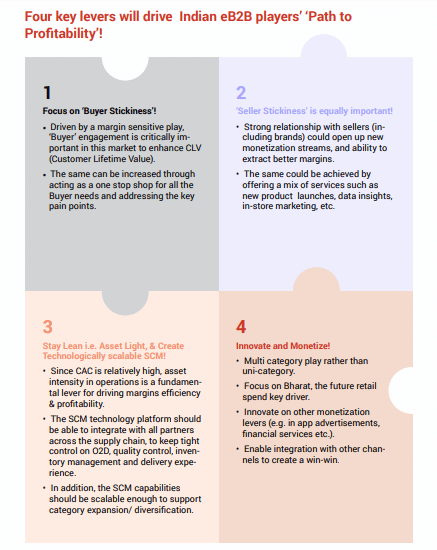 Lever 1
Acting as a one stop shop to address 'Buyer' pain points, and a bouquet of handpicked services will drive 'Buyer Stickiness'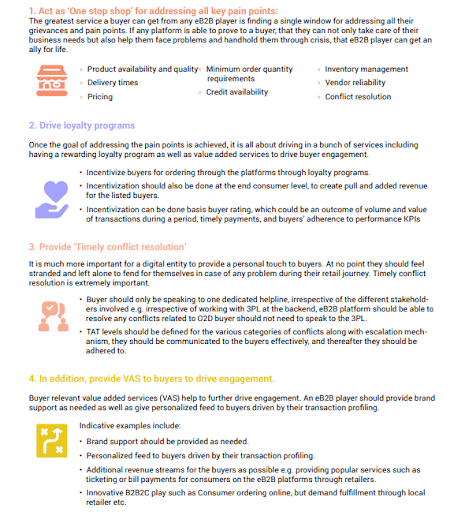 Lever 2
Great 'Seller' relationships, with better margins help in 'Seller Stickiness'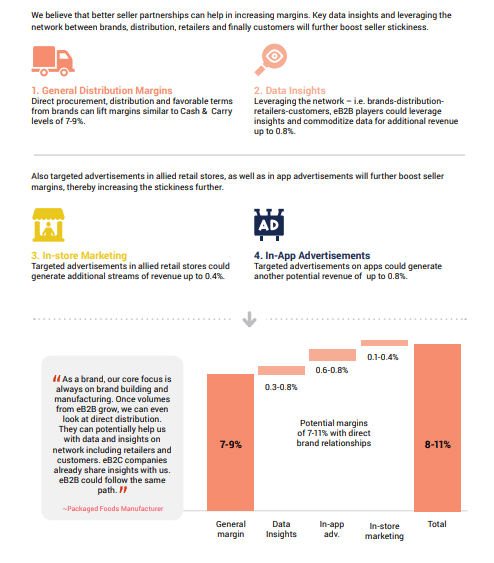 Lever 3
Asset Light technology led models are relatively efficient on contribution margins compared to other eB2B models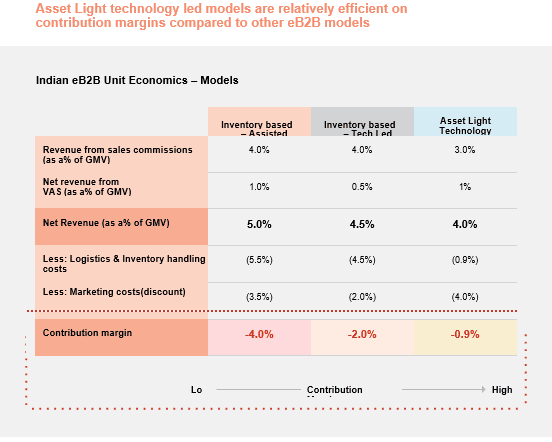 Lesser manpower requirements, no added costs on purchasing and maintaining inventory all help to keep the burn rate of asset light models much lower than that of an inventory based one. It should therefore come as no surprise that contributions are the highest when it comes to the asset light technology led marketplaces, vs. some of the other eB2B business models.
Note(s):
The numbers used here are indicative estimates basis our research, and can vary for different players.
Lever 4
Set sights on Bharat and innovate for them
1. Must focus on Bharat – the retail spend driver in coming years!
For any digital commerce company the next level of growth and expansion is set to come from Bharat. Internet penetration, rising literacy, a young population, cheaper smartphones are all helping in creating a whole new set of online consumers who want experience and use all sorts of ecommerce services. Tapping into this market for an eB2B player is extremely important.

2. Efficient multi category play rather than single category focus!
Ideally, a player catering to Bharat needs to cover all bases and create multiple category offerings. Global giant Alibaba.com is a perfect example of creating a one stop shop solution for all ecommerce needs.
Volume: Helps in achieving
Value: Efficient margins management through multiple categories
High utilisation
Creates a network

Example: Alibaba.com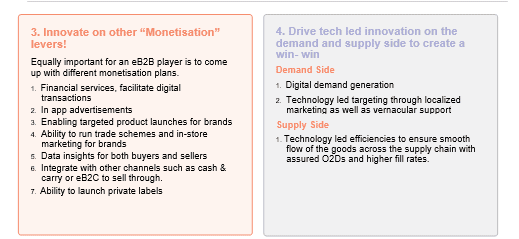 Alibaba's exemplary growth in this market is driven by its continued focus on the 4 key levers
Must focus on Rural areas and greater China – the key retail spend driver
» 150 MN registered members globally.
» High reach in rural areas and greater China.
Overall EBITDA Margin of around 18% as of year
~0.3 Mn Active Enquiries per
Methodology
 We spoke to ~1250 retailers & 40+ merchants pan India to map their pain points and digital appetite to identify the use case (Current/Potential) of eB2B retail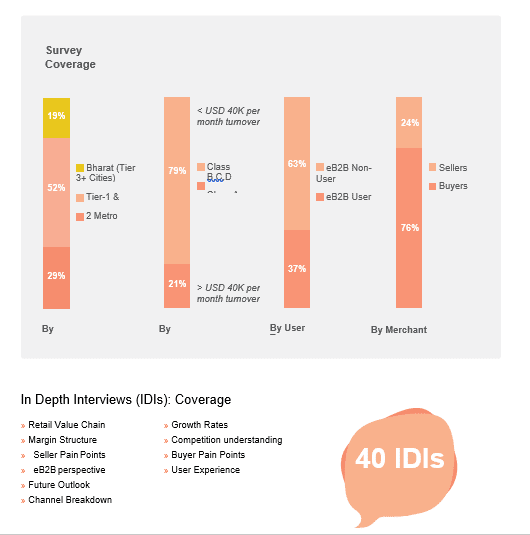 Glossary (1/2)
 Definitions and Classifications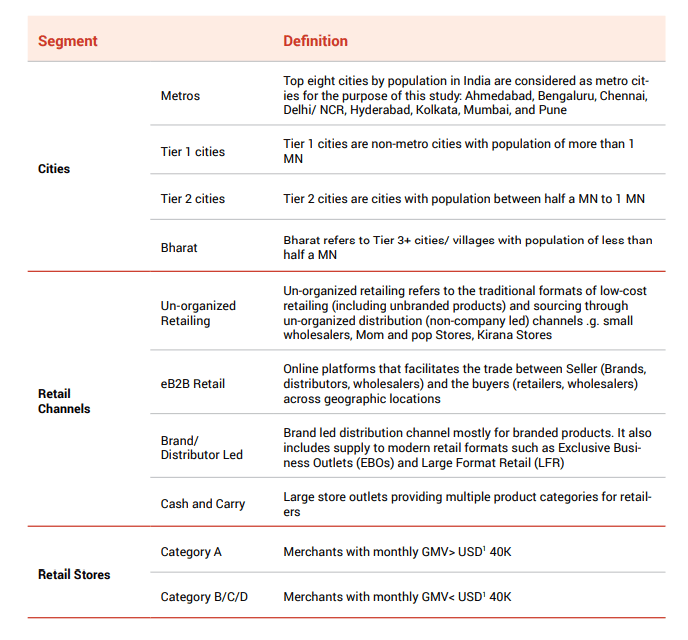 Glossary (2/2)
Product Category Definitions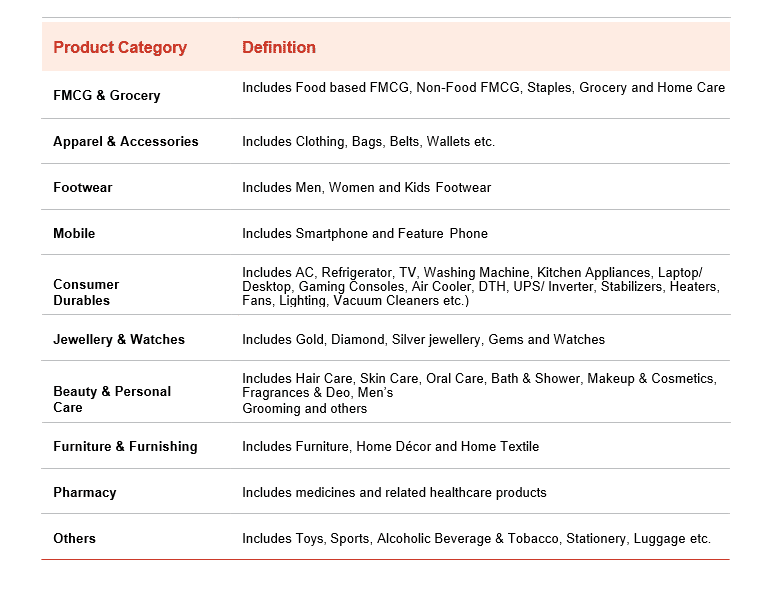 INSIGHTS
Talk To Our Expert