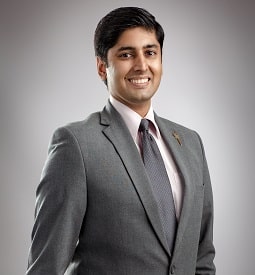 Jaladhi Surati
Jaladhi is an Engagement Manager; and has operated across a wide spectrum of sectors including FMCG, Retail, digital transformation & technology, NBFC-Finance and Public sectors. He holds extensive professional experience in consulting CXO-level teams with decision-making on Growth, Market entry, Diversification, Vision/Scenario planning, and other strategic themes. 
"India is the driving engine for several robust technology startups set to shape the future of the economy and society at large. RedSeer is poised to create a strong impact on the space, and I am perennially eager to be a part of that story"
Get to know Jaladhi
At RedSeer Consulting, Jaladhi is an Engagement Manager with the India practice and prefers to work in the consumer-tech space around sectors such as Platform businesses, Ecommerce & Retail, Mobility, and FinTech. He is responsible to drive projects and assist clients with issues ranging from strategy to diligence.
Previously, he was a Senior Consultant with Nomura, and assisted Japanese & Far-eastern megacorporations with expansion and strategic projects. Prior to which he worked on BigData and analytics projects with Fractal for US-based clients.
He has also briefly handled the Experience & Care vertical internationally for a mobility startup with operations in the MENA-P region; and understands the VUCA situations of startups well.
In his personal life, he is an avid reader, an auto-enthusiast and loves swimming.
Education:
MBA, Indian Institute of  Management, Bangalore
B.Tech , National Institute of Technology, Surat