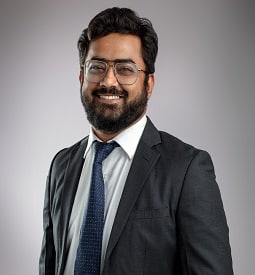 Kanishka Mohan
Kanishka Mohan is an Associate Partner with RedSeer. He leads client relations and engagements within the RedCore practice of RedSeer.
"RedSeer is the right place for the entrepreneurial consultant. Varied opportunities for exposure, couple with the freedom to implement independently has allowed for a lot of personal and professional growth."
Get to know Kanishka
Kanishka focuses on advising clients on planning and executing research that lead to actionable insights. His clientele includes consulting firms, funds, and corporates across sectors.
His consulting experience ranges from Consumer Internet to early-stage investment to process digitization for banks.
In his previous life, Kanishka has been a restaurateur, HR consultant, and a software developer.
In his spare time, he loves traveling and reading manga on trips (much to the chagrin of the SO). Sadly a trip to Japan is still on the bucket list.
Education:
PGDCM – Indian Institute of Management, Calcutta
B.Tech. – Indian Institute of Technology, Roorkee