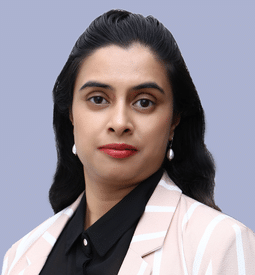 Pakhi Saxena
Associate Partner – Retail & CPG Practice
Bengaluru, India
Pakhi leads the Retail & CPG consulting practice for RedSeer Consulting. She has 18+ years of experience with thought leadership on lifestyle and retail Segment
"I have worked with a firm focused on consumer and stakeholder insights backed consulting and the RedSeer proposition leverages this further. Has been exciting to build the journey shaping the growth of retail & consumer space"
Get to know Pakhi
Pakhi is the Associate Partner – Retail & CPG Practice. She enjoys thought leadership in the lifestyle and retail segment with more than eighteen years of experience with clients across the geographies of Asia, North America and Europe
Pakhi has worked on management consulting mandates including GTM strategy for disruptive growth, business & brand diversification, market entry and investment diligence. The above engagements have been with consumer brands, larger retail formats, conglomerates and PE firms
Pakhi has adopted key strategy tools of sector analysis, customer segmentation, competition landscape, brand positioning, channel and retail format re-alignment, operating model and SCM analysis, merchandise portfolio and pricing grid, business revenue phasing and scenario building for strategy development
In her past roles, Pakhi has worked with operations roles over 8 years with leading conglomerates such as Aditya Birla Retail, Arvind Lifestyle Brands, Airtel, and successfully aimed at taking respective lifestyle brands to leadership positions in extremely competitive scenarios through focus on revenue growth and brand re-positioning. Hence, consulting experience was built after initial years of operations roles which helped shape the consulting approach and structuring. The recent management consulting work body was effective rounding off to the operations experience of the early years.
Over the last eight years, Pakhi was the Vice President at Technopak Advisors with sector focus on retail and consumer facing goods and has advised companies such as Emami, Swarovski, TCNS, Zivame, Claires's, Lacoste, Hanes, Raymond, Harley-Davidson, 24 Manta, Metro Shoes, Khadim's, D-Mart on strategies across disruptive growth, market entry, business diversification, channel assessment and re-alignment as well as investment diligence
Pakhi enjoys travelling and cooking and would like to pursue deep sea diving.
Education:
MBA, Marketing: Symbiosis Centre for Management & HRD
Economics (Hons): Delhi University