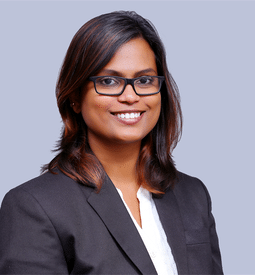 Rini Joshua
Rini has 7+ years of experience in managing operations and leading business processes towards efficiency.
"RedSeer taught me that keeping processes uncomplicated makes you cover half the distance in your striving for the endless pursuit that is the success!"
Get to know Rini
At RedSeer, Rini manages the business operations and supports the team in achieving efficiency. She has defined, implemented and streamlined various processes, policies and metrics across functions. Rini aids the team in keeping them on track and aligned with the organisational goals by working together to weed out inefficiencies and scale up operations. She acts as a liaison between various stakeholders-internal and external in solving business problems that stand in the way of progress.
Prior to joining RedSeer, Rini worked with Intelenet Global solutions, Chennai, managing the retail banking process cycle of a leading Financial institution. During her stint there, she has successfully overseen and driven the transition of processes between teams and countries.
In her free time, Rini likes to read, travel, write and bake.
Education:
MBA, Human Resource: Pondicherry University-Loyola College, Chennai
B.sc, Plant Biotechnology: Women's Christian College, Chennai