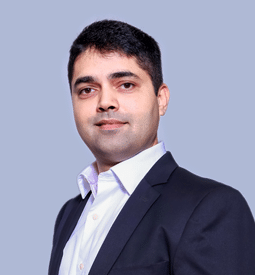 Shubham Anand
Associate Director – Retail & CPG Practice
Gurgaon, India
Shubham heads Retail-CPG vertical at RedSeer. He has an in-depth understanding of India`s changing retail landscape and has worked with brands and funds across fashion, lifestyle, & electronics domain along with big conglomerates with multi-industry focus in their growth journey.
"Awesome team with full of youth and exuberance, always ready to stretch limits beyond expectations with a `never say die attitude`. Perfect place for actualization of big dreams, desires & ambitions and getting 5X effectuation as compared to any other career opportunity"
Get to know Shubham
He has started his career with with Godrej & Boyce Mfg. Co. Ltd. and worked across businesses (both b2b & b2c), functions & geographies and got groomed into a senior leadership role & responsibilities. At Godrej, he managed retail, distribution channel, marketing, commercial operations, P&L, etc and got an exposure to brand building which helped him to understand and appreciate the finer nuances of the business and developed him into a strong executioner of strategies.
Prior to RedSeer, he was an Associate Director with Technopak Advisors, wherein he worked extensively in retail & consumer internet space, helping clients with their growth strategy, product & portfolio extension, new market entry (Indian & International),  feasibility assessment, etc to make them do better, become more efficient and face future challenges more effectively. In Strategy, he has also worked on commercial due diligence for several Indian companies in Fashion & Lifestyle Retail & Education space for top PE investors.
He loves to enjoy life & live it to the fullest. He is peoples` person and breeds on positive vibes and energies flowing in these interactions. He is a big-time foodie and keeps on exploring cuisines and ambiences around.
Education:
PGDM, Strategy & Marketing (Noida Campus) : Indian Institute of Management, Lucknow
B-Tech, Electrical & Electronics: College of Engineering, Roorkee