Nov, 2019
| By Anil Kumar and Ujjwal Chaudhry
Decoding key trends in logistics
The Indian consumer internet market comprising of products and services is likely to treble to USD 200 Bn by CY22
---
Overall online e-tailing growth is creating large demands for logistics; 11-11.5Mn daily shipments expected by CY22!
We recently launched our narrative on the fast-growing logistics sector in India, entitled "Decoding key trends in logistics'. Through this blog, we would like to build upon the key themes and insights covered in the report.
Indian Consumer Internet Market to grow at 30-35% CAGR to reach ~200Bn by CY22
The digital economy is set to reach USD 200 Bn by CY22 with a CAGR of 30-35%. While we expect the existing sectors to continue to grow, new sectors are also expected to emerge which will grow faster on a smaller base. For eg, Food-tech has seen an explosive growth in the last 2 years and is expected to grow at 150%+ in CY19 as well. Growth in consumer internet sector will also lead to new opportunities for ancillary businesses like logistics. The consumer internet market is split into products (accounting to ~USD26Bn) and services (~USD39Bn). Among the opportunities in first mile, mid mile and last mile opportunities for logistics platforms, this report focuses on the last mile opportunities.
With e-tailing GMV growing by 4x in the next 3 years, daily shipments will see a 5x jump
The e-tailing industry shipped ~ 800 Mn shipments in CY18. As the Shipped GMV grows at 33% CAGR for the next 4 years to reach USD 65-70 Bn, the shipments are expected to grow by 44% CAGR to reach reach 3.5 Bn annually. The faster growth of shipments compared to GMV is driven by slower growth of Mobiles and electronics (typically higher value) compared to other categories like Fashion and General Merchandise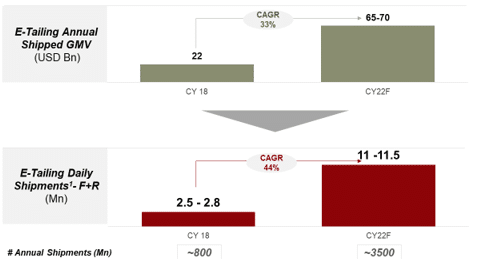 Even though large horizontal e-commerce platforms look to captive logistics solutions, the long tail in the e-commerce industry is set to grow and as such the 3PL would be a ~USD 2Bn opportunity by CY22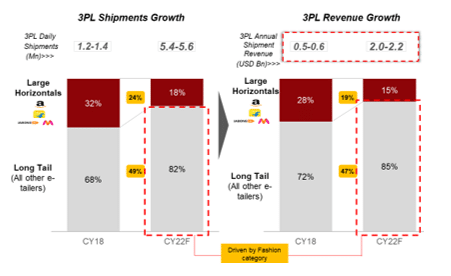 Hyperlocal is more than a USD2.7Bn market poised to grow at 70% CAGR till CY22
Food-Techs' foray into smaller cities will result in massive growth - ~10x GMV translating to ~11x daily shipments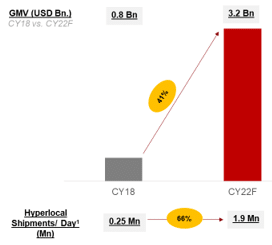 The growth of food tech has been a strong success story in consumer internet. While the first wave of growth has largely been metro driven, there is increasingly larger growth driven by smaller cities. Food tech has now penetrated 300+ cities and expected to grow to 500 cities by end of the year. There are other dimensions to the growth as well, as customers are finding new use cases in terms of breakfast, snacks and late-night meals, instead of just lunch and dinner. Single serve meals are also growing fast especially in cities where young migrant population is higher which does not always have fully functioning kitchen As the transactions grow, we expect AOVs to come down due to a) Lower costs in smaller towns and cities, b) More single serve meals; so, the orders/ shipments are expected to grow faster than GMV. The food tech market is expected to grow more than 75% to reach $20Bn GMV by 2022 and hence logistics will play a vital role in fulfilling the demand.
Online Grocery will grow by ~4X GMV and ~8X daily shipments; most of this growth will be driven by metros and Tier-1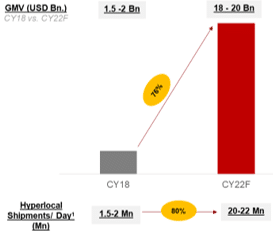 India's online grocery space has gone through a significant evolution in last few years- from explosive growth and funding in CY15 to growth challenges and funding winter in CY16 and then accelerated growth 2018 onwards. In this stop-start journey, many new business models have evolved, and many themes have been proven and disproven. Inspite of all these disruptions and changes, one thing that did not changed is the massive potential for online grocery- as indicated by India's USD 500+ Bn grocery market out of which a mere 0.2% is online (~USD 0.8 Bn considering only hyperlocal grocery). Given this massive potential, the online grocery market will continue chugging along at 50% growth rate for the next few years, which will be served by various models, including category specialists, narrow and wide supermarkets. Online grocery has been able to grow in double digit figures on the back of convenience- based levers like assortment, express delivery, and subscriptions. Unlike online-fashion where consumer reach was the key lever of growth strategy, here the market is still focused on large cities
INSIGHTS
Talk To Our Expert