May, 2017
Online Hotel Booking Consumer Journey
This document covers the journey of consumers with online hotel aggregators covering their source of awareness and split of online bookings. Increased usage of social media makes it a powerful tool for the discovery of new products/ services like Hotel OTA platforms ~67% of customers stated online/social media as the medium of awareness. This can … more
---
This document covers the journey of consumers with online hotel aggregators covering their source of awareness and split of online bookings.
Increased usage of social media makes it a powerful tool for the discovery of new products/ services like Hotel OTA platforms
~67% of customers stated online/social media as the medium of awareness. This can be attributed to an increasing amount of time spent on social media and a wider network of information flowing on social media platforms.
Also, frequent ads on these platforms help customers become aware of various products/ services
~21% of customers stated being aware of Hotel OTA's through word of mouth through friends/family. This number has reduced in recent years with the advent of more popular sources of information.
Physical modes of marketing like print media and pamphlets were less popular among customers as there is less visibility of uses and applications of the service through these modes of marketing.
Google search and word of mouth are the major sources of research for booking Hotel OTA's although other modes are seeing continued growth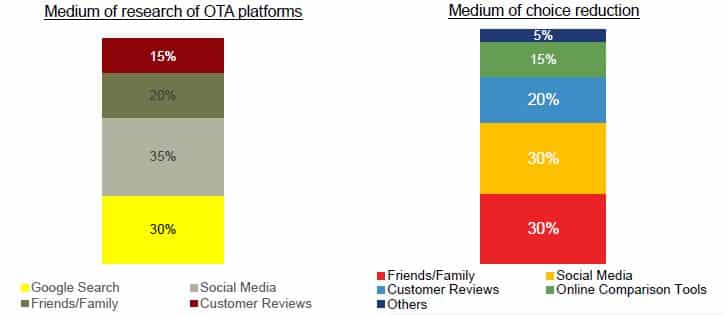 Google search still remains a popular mode of research for most people when it comes to searching for Hotel OTA's.
Except google search, other sources like social media and customer reviews have increasingly gained traction because of an increased flow of reliable information on these platforms
Word of mouth continues to have a sizeable share as a trusted mode of research
Finalizing the choice of Hotel OTA is still dominated by trusted sources like friends/family and social network
The advent of comparison tools/websites like Trivago and TripAdvisor has made it considerably easier for customers to pick their choice of Hotel OTA and is seeing high growth as a means of choice reduction
Customer Reviews are a reliable source of information for ~20% of the customers as first-hand experiences help customers make the right choice of portal
Of the hotels listed online, there is an equal split of bookings made online and offline with Makemytrip having the largest market share in online bookings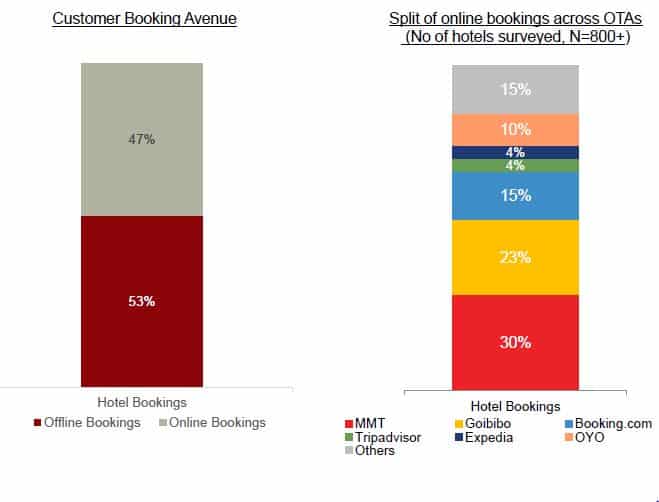 INSIGHTS
Talk To Our Expert