May, 2018
Ecommerce industry in India
With an online population of 500 mn in 2017, India has one of the fastest growing Internet population in the world. We believe a Compound Annual Growth Rate (CAGR) of 13% will take the number of online users to 720 mn, close to where China is currently. The CAGR of the Indian online user growth … more
---
With an online population of 500 mn in 2017, India has one of the fastest growing Internet population in the world. We believe a Compound Annual Growth Rate (CAGR) of 13% will take the number of online users to 720 mn, close to where China is currently. The CAGR of the Indian online user growth is nearly four times that of global rate. No wonder India currently has one of the largest pool of growing e-commerce startups. The key drivers of this growth are the growing online population and rapidly growing access to smartphones. Telecom providers like Jio has done a great job in bringing more and more people online by reducing the data price and providing good data connectivity. The consumer mind set is also changing; with higher disposable income more and more people have started to use smartphones.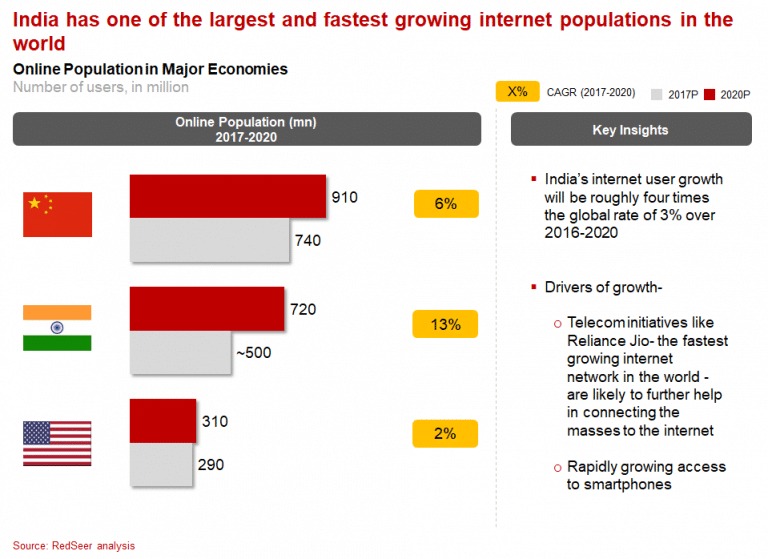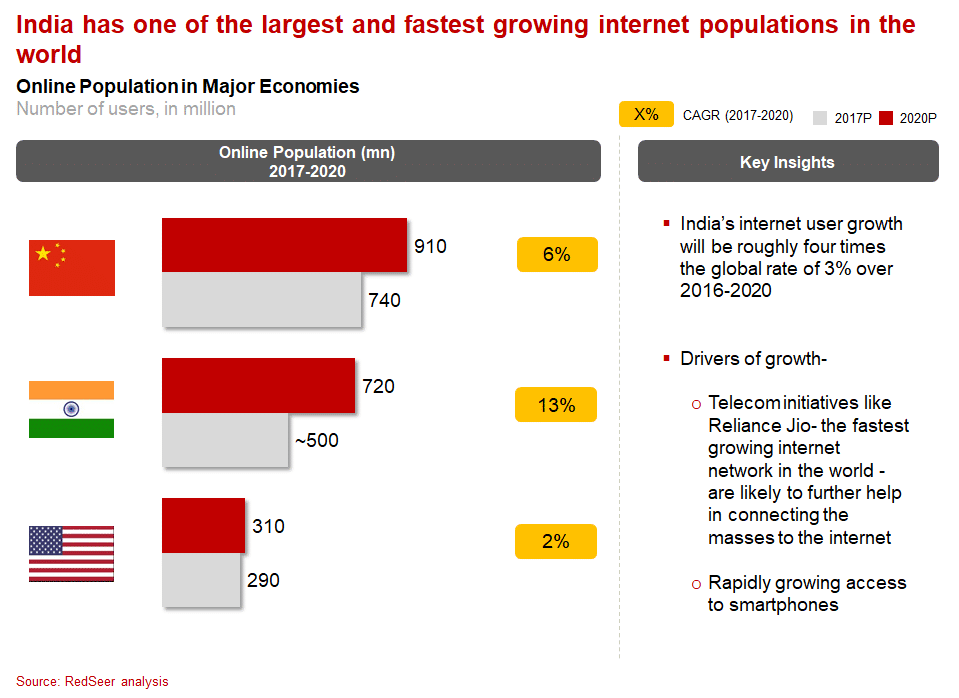 Of the 500 mn online population nearly 50% are using social media platforms while about 40% use mails and google. It is only the 10% marker of 50 mn online users who are buying some kind of products online. With the growing habit of online usage we feel there is huge headroom of growth for the e-commerce firms to increase the number of users in the near future.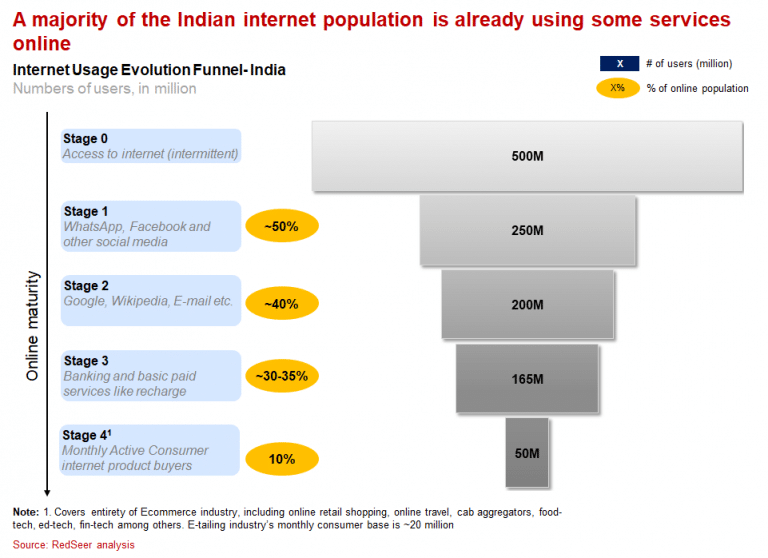 The number of online shoppers which is currently pegged at 50 mn is expected to grow at a CAGR of 28% to reach the 120 mn marker by 2020. Of these 50 mn online shoppers, there are just
20 mn monthly active e-tailing users
. Growing internet and smartphone penetration has driven a steady growth of e-commerce users but India is still under penetrated in comparison to other geographies. E-commerce users which are about 48% of internet users in US and about 22% in China; are just 10% of the total internet users in India.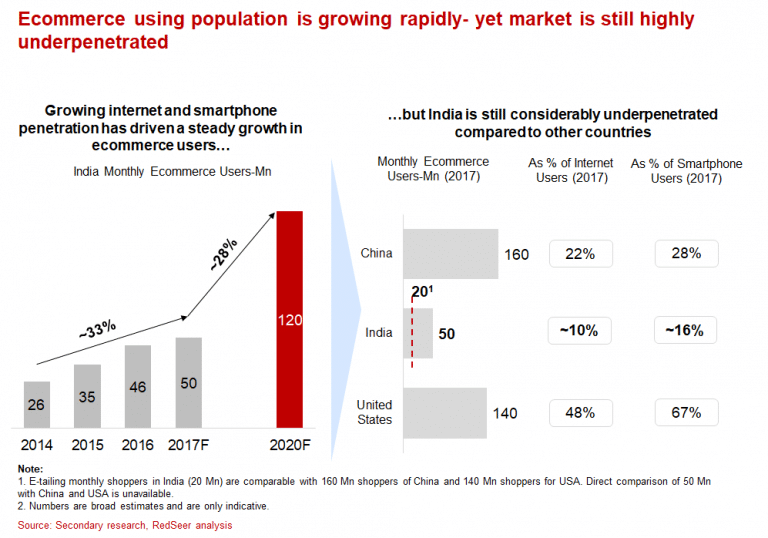 The Indian ecommerce has seen a steady growth over the years from 2014 and is currently pegged at $53 bn. We believe the growth of 25% would continue and the Indian ecommerce industry would cross $100 bn marker by 2020.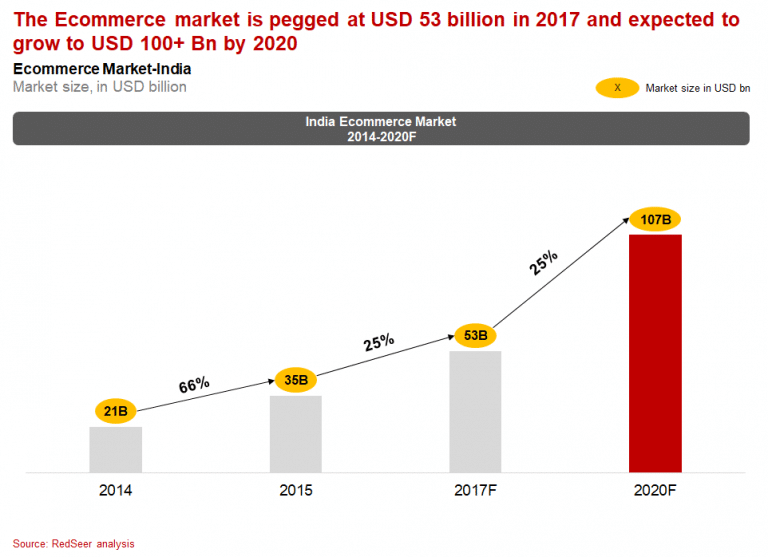 The $53 bn is split up between the larger and smaller sectors. E-tailing dominated by the giants Flipkart and Amazon is pegged at $ 18bn (including fashion). We expect the
e-tailing industry
to grow due to the rapid addition of online shoppers with online penetration increasing to 7-8%. Online cabs, on the other hand, is currently pegged at $2.1 bn and we expect this to grow much larger as currently, it is just 1-2% of the overall public transportation rides in India. Then there are these bunch of smaller sectors like online food delivery, e-pharmacy, groceries etc. which are currently less than $1 bn but have huge headroom for growth.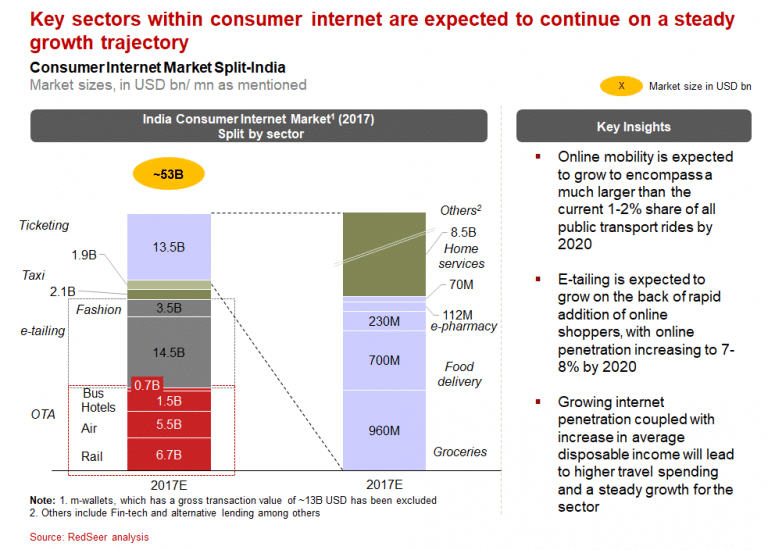 The various sectors of ecommerce can be categorized into four types basis the market size and online penetration. *Category 1 – Proven Value – These are sectors which have grown to a good market size with decent online penetration. We have OTAs, online ticketing, online food delivery and online cabs in this category. *Category 2 – Large Potential – These are sectors which have grown to a good market size but have very low online penetration. And hence there is huge growth expected here with growing online population. This category comprises online groceries, online fashion, and e-tailing. *Category 3 – Emerging – These are the new upcoming sectors which have low market size very low online penetration. These are hence growing at a much faster rate than the other sectors. Hyperlocal and online medicine delivery are key sectors in this category *Category 4 – Organic – These are sectors which have gained good online penetration and have achieved a good market size. And hence further growth in these can happen only organically. We have online matrimonial and online real estate classifieds in this category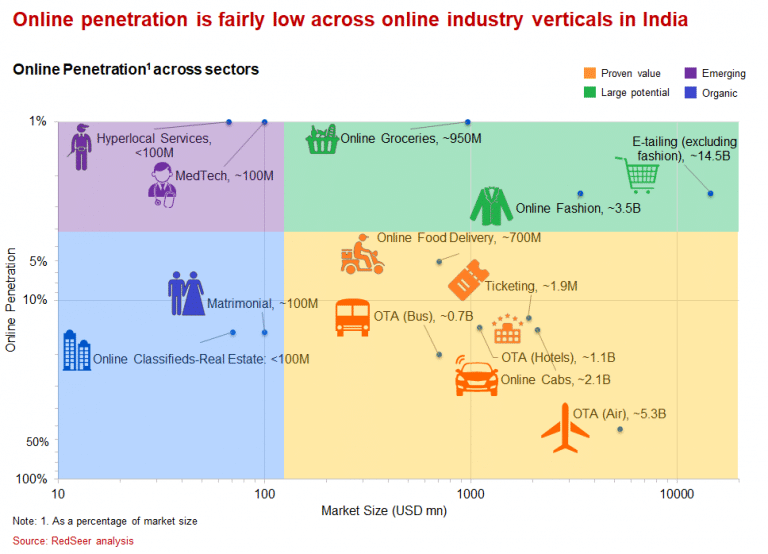 ---
INSIGHTS
Talk To Our Expert