Sep, 2018
Consumer Internet Insights | Middle-East
Online Retail: MENA's online retail market is riding a wave of growth and is poised to nearly triple by 2020, driven by online leaders UAE and KSA
Published on: Sep 2018
For long, MENA's online retailers have had to contend with myriad challenges that stunted online growth – be it poor transport and payment infrastructure, low customer awareness and trust or limited selection. However, funding from major investors recently is leading to a wave of infrastructure development and heavy investment on building a strong value prop for customer- all of which will drive rapid growth in online across the region.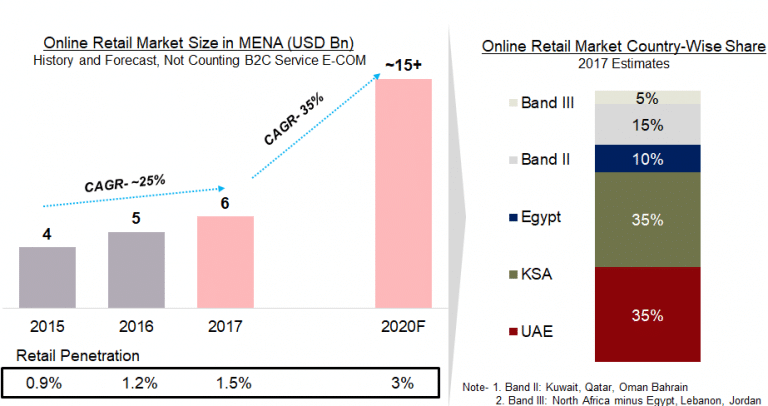 ---
Online Fashion: Fashion retailing is rapidly getting digitized in MENA; however, categories such as footwear and accessories are still nascent
Published on: Sep 2018
Compared to a more mature online market like India, in UAE/KSA, categories like footwear and accessories have had limited adoption online- pointing to possible selection and supply chain challenges to make these categories competitive with offline retail. This is a vast untapped opportunity and we expect the next wave of online fashion growth in the region to come from e-tailers who innovate to solve for the consumer experience in these categories.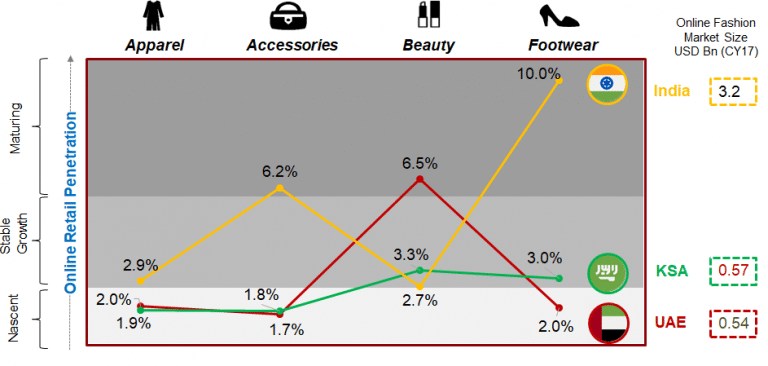 Cab: After a first wave of rapid growth, MENA's cab hailing market is ready for the next wave of expansion into smaller cities and realize its huge potential
Published on: Sep 2018
MENA region's online cabs market has grown rapidly to reach similar scale as its better funded regional peers in India and SE Asia in a short time. Yet, market is still heavily underpenetrated- as shown by current low penetration of cab usage amongst smartphone users. Players who seize the opportunity to deliver and improved driver/customer experience and also expand into smaller cities to solve for the creaking transport infrastructure will likely reap huge rewards.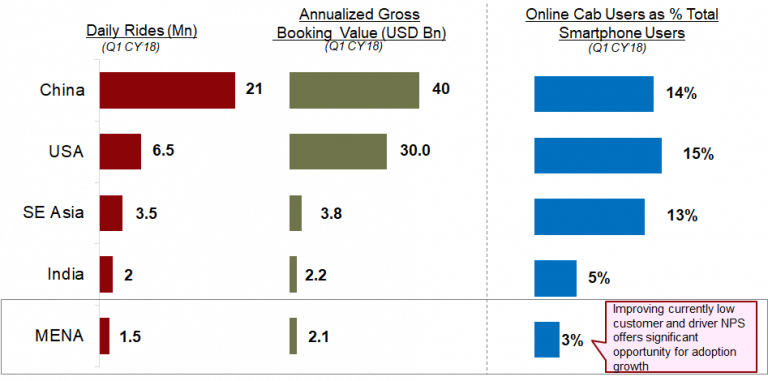 ---
Cab: Careem has been able to deploy capital more efficiently than peers; its funding needs are likely to grow due to planned diversification
Published on: Sep 2018
Till date, Careem has utilized its funding amounts more efficiently than its Asian peers such as Ola, Grab. However, Careem is increasingly looking to expand into near-core and beyond core sectors like its peers (for e.g. logistics and payments). Entry into these cash-hungry businesses will likely drive up its need for funding going forward.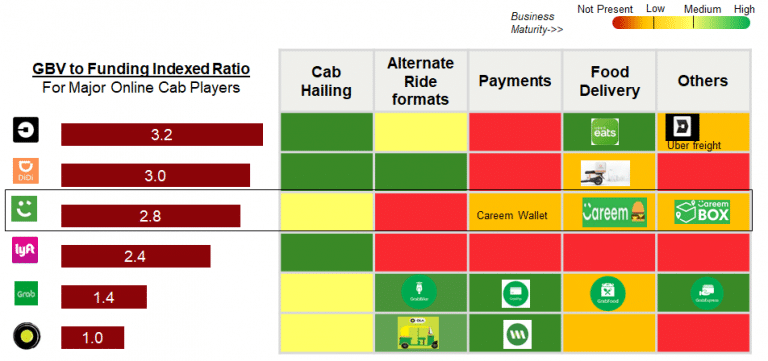 INSIGHTS
Talk To Our Expert