1. Core value prop of bike rentals is 'flexibility'- with many bike rental users also being vehicle owners
Published on: Oct 2019
The flexibility of route is a key-value prop of bike rentals, along with affordability- which allows targeting of a large addressable market

Notably, significant share of vehicle (2W/4W) owners are also using bike rentals for multiple use cases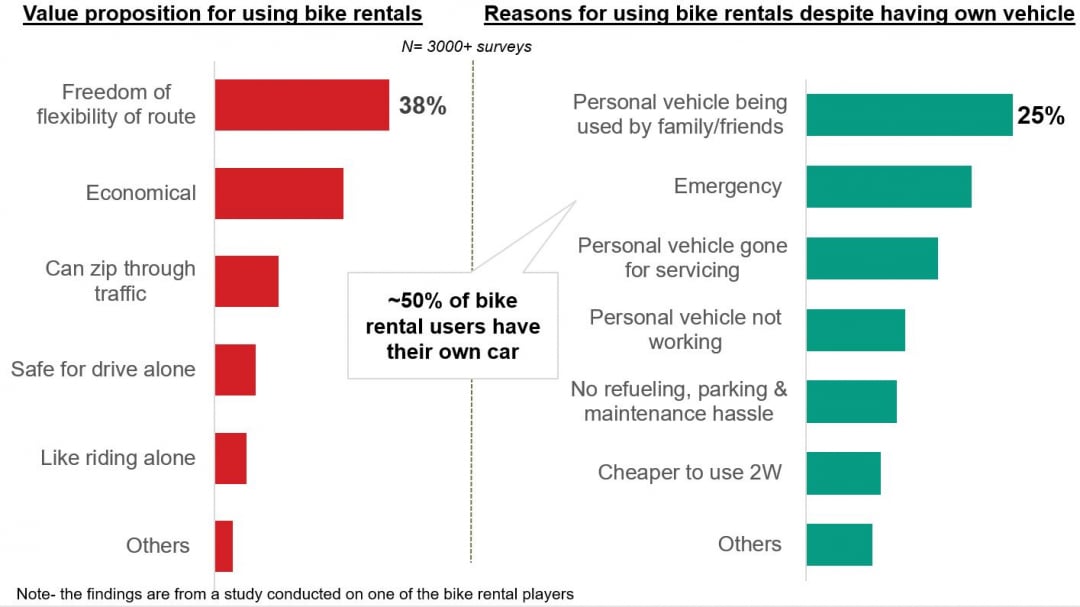 ---
2. Emerging categories within online mobility space growing rapidly
Published on: Jun 2019
For the longest while, India's ride-hailing space was dominated by 4W cabs, which were expensive and had low availability. However, our research shows that this is no longer the case. Autos market has grown to become significantly big in alternative mobility space and bike hailing is catching up rapidly as well. Other segments are much smaller but growing steadily and likely to continue accelerating going forward.
---
---
3. Is India's bike taxi space seeing strong growth momentum?
Published on: Apr 2019
In the era of booming shared economy, the urban mobility landscape is undergoing a subtle but important change, with the bike taxis space reporting a strong double-digit growth (albeit on a smaller base). Bike-taxis had seen a ~10% m-o-m growth from Nov'18 – Jan'19, but from Jan'19 – Feb'19, bike-taxis experienced a 30% growth in GBV owing to two primary reasons:
Players expanding their operations to additional cities

Increasing acceptance of bike taxis in NCR and Hyderabad region
Major reason for higher acceptance of bike taxis is that they are addressing multiple pain points relating to affordability (~26% of cost of Cabs), availability and convenience (ease of maneuvering traffic in congested metros).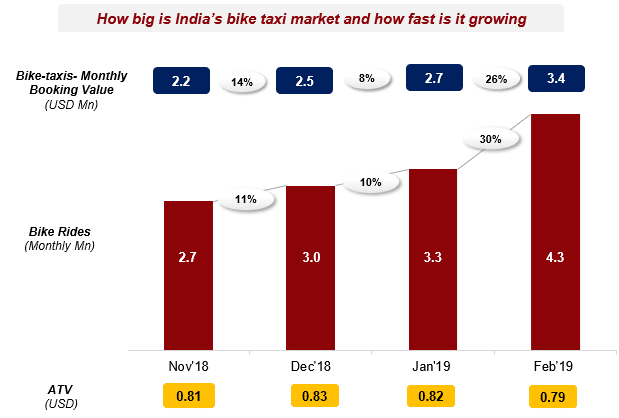 Challenges ahead- The biggest challenge for bike-taxis have been the regulatory hurdles. In many states, bike-taxis were banned/not allowed to run but companies hope to see favorable policy changes aiding greater width and depth in offering
---
4. Bike-rentals: Strong value proposition but long way to go for mass adoption
Published on: Feb 2019
1. Bike-rentals offer alternative to over-crowded/under-developed public transport
2. However, many issues need solving before it sees mass adoption
Bike Rentals is fast emerging as the new kid on the Online Mobility block. RSC believes strong and sustainable factors will drive the adoption rate of bike rentals in India over the coming years:
Existing users of public transport (Bus, Metro, Local trains, Shared Auto) are looking for greater convenience, flexibility of time/route, and are comfortable paying a marginal premium to their current transportation spend. Further, with the likely development of public transport in the forthcoming years, the use case skews towards first/last mile transportation
With ever-increasing traffic, customers are looking for solutions which help them save time and zip through the traffic. The price value proposition enables to create an appeal to a large professional segment (Delivery boys, Field sales executives etc.) who do not necessarily have the capital to invest in own vehicle
Varied models have emerged within bike-based mobility – Bike Rental (Bounce, DriveEasy, Rent on the Go) and Bike Taxi (Rapido) being the two largest segments. However, Bike rentals is expected to have a larger addressable market than Bike Taxi due to the former being economical, flexible (availability and route) and safer (particularly in case of women). Further, Bike Taxi use cases are limited to personal users as professional segment find their pricing prohibitive to their economics.Notwithstanding that these are early days for the industry, existing super users highlight the likely challenges in the business which could limit the penetration of the service. Important among these are maintenance of the vehicle and availability. We believe, with increased usage, time and customer data analytics, players would be able to judge consumption patterns and invest in locations/hubs judiciously, thereby improving availability and ensuring better upkeep.
There are challenges to be solved to drive mass adoption of bike rental services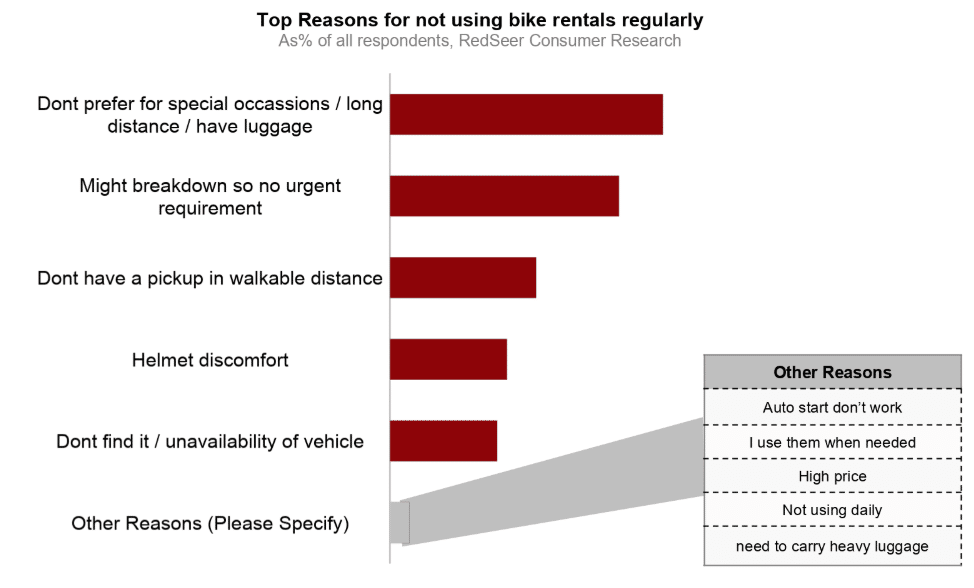 ---
5. Mobility: After regular tiffs in past, drivers-platform relationship is moving towards stability
Published on: Feb 2019
The online cabs category has historically been the one which has seen a high number of conflicts between driver-partners and the cab aggregators. From the honeymoon period of CY15-16 when driver incentives were sky high and drivers joined the platforms like no tomorrow, a lot has transpired in the interim- strike after strike in multiple cities, drivers leaving the platforms en-masse, incentives reducing very sharply etc.
However, after all these above tumultuous events, the sector finally seems to have settled into something resembling a steady state. The category seems to have significantly matured, driver incentives are stabilizing, and driver satisfaction seems to have become stable and aligned with the new normal, as reflected in the drop in the number and intensity of disputes in the recent past.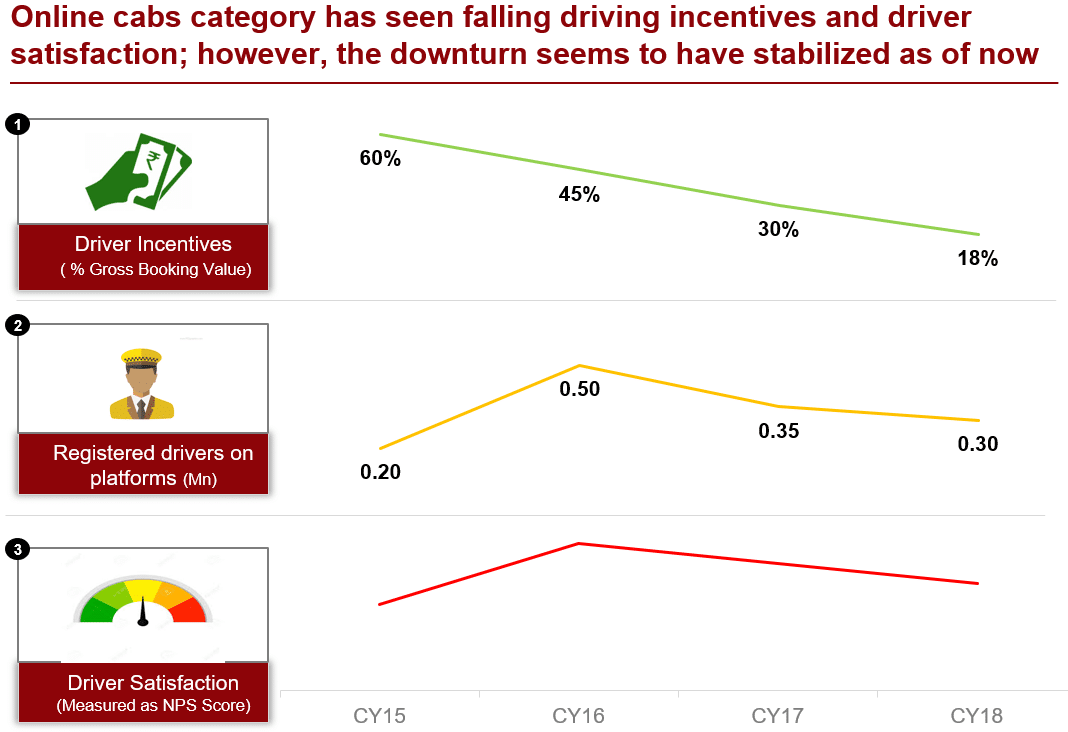 ---
6. Mobility: USD 3 Bn online mobility sector facing headwinds due to supply issues in core categories but new growth categories emerging
Published on: Dec 2018
---
7. E-Taxi: The online cab market has grown by 30% in the past 1 year with monthly bookings crossing 65 Mn and the emerging autos segment adding another 18 Mn rides
Published on: Aug 2018
With high demand for cabs especially in metros and tier 1 cities, the number of taxi rides per month has increased by 30% in a year with more than 65 Mn rides. Autos segment has clocked ~18 Mn rides in a month and has a high growth potential because the prices fall between the shared and the hatchback rides
8. The industry has drastically reduced the average fare of share rides to increase adoption
Published on: Apr 2018
The online cab aggregators are focusing big time on the pool/share category. As it is a category that is valuable to the consumers and provides better utilization of the fleet. The cab aggregators have hence slashed the prices of this category by more than 30% across the top cities in the last one year to increase the user adoption. The consumers, on the other hand, have started using the share/pool category for shorter distances thus bringing down the average fare levels.
9. Online cab aggregators see monthly auto rides grow 5X in one year
Published on: Apr 2018
The online cab aggregators witnessed a sharp increase in monthly auto rides in 2017. The number of monthly auto rides which was 2-3 mn in March 2016 grew to 14-16 mn in March 2017. Seeing such a steady growth now even Uber has got into this segment and is trying to lure customers with flat Rs. 25 for first four kms. We expect this category to grow further as consumers are rapidly adopting it seeing value.
---
10. Online Cab drivers take home 40% of the revenues earned
Published on: Mar 2018
An Online Cab driver who works around 25 days a month on an average makes nearly Rs.50K a month. A good 40-45% of which goes towards the fixed costs such as installments while another 20-25% goes towards the variable costs like fuel. Thus the driver take-home income is around Rs 18-20K per month. Since the online cab aggregators started focussing on profitability and reduced the incentives the take-home incomes of the drivers have dropped drastically. But they still continue to earn higher than the offline counterparts, who earn about 15-18k a month.
11. Cab Aggregators see a fall in driver cancellations in OND-17
Published on: Mar 2018
The online cab industry has saw high driver side cancellations in the first half of 2017. This led to a fall in the consumer booking experience. The online cab aggregators hence took strict actions on cancellations by imposing hefty fines on the drivers, which led to a decline in cancellations in Q4'17. This is good news for the industry as it will boost the consumer satisfaction.
12. Driver Incentives stabilize after the decline over the last few quarters
Published on: Mar 2018
The online cab industry saw a consistent fall in the driver incentives over the last few quarters. With the raised focus on profitability, the players slashed drivers' incentives resulting in non-serious drivers leaving the platform. The OND-quarter saw some stability affirming the closure of the cleansing period of the industry. The players have thus been able to provide value to the serious drivers in their platforms.
---
13. Online cab aggregators | Market outside top seven cities increase by 100%
Published on: Feb 2018
The market outside the top seven cities of online cab aggregators has grown by almost 100% in one year resulting in the fall of contribution of top seven cities from 88% in OND-16 to 81% in OND-17. This is good news for the industry as it is seeing good adoption outside its top markets. We feel the consumers in these cities are finding good value in the services of the online cab aggregators thus implying huge headroom of growth for the players.
14. Online cab rides is set to grow at a CAGR of 40% over the next 3 years
Published on: Feb 2018
The online cab industry currently has around 2mn daily rides. We expect this number to go up to 5.2 mn by 2020. The adoption of share category, which contributed nearly 25% to the overall rides towards the end of 2017, will contribute significantly to this growth.
15. OLA and Uber are now eyeing on the 40-45 mn daily auto rides for growth
Published on: Feb 2018
There are on an average 130-150 mn daily commuter trips in India and auto category constitutes nearly 30% of this, which roughly means 40-45 mn rides per day. The online cab aggregators are hence eyeing this category to fuel their India growth plans. The auto category of Ola has picked up well and now with Uber entering this segment, we feel a good growth story awaits them in 2018.
Distribution of Daily Commuter Trips
---
16. The industry sees a jump in consumer satisfaction from September-16
Published on: Jan 2018
Although the cab industry has grown by about 40-45% year on year, the players have been able to improve the consumer NPS significantly. This can be attributed to the better-trained drivers, improved app experience and improved offerings from the cab aggregators.
17. Autorickshaw category has grown to become a crucial part of online commute booking market
Published on: Jan 2018
While the online autorickshaw market has historically operated in stops and starts, the crippling driver strikes at the beginning of 2017 provided the right tipping point for this nascent category to evolve. Further enabled by lucrative offers (e.g. INR 29 fare for < 4km travel distance), this category has grown 3.5x in the last one year.
18. Online cab industry continues to promote car-pooling to increase ridership – but is it worth the effort?
Published on: Jan 2018
The online car-pooling increased by 22% as compared to the previous quarter. This is mostly driven by the huge discounts offered by the online players. But given the discounted fares of car-pooling as compared to normal rides, is it worth the effort? Well yes, because car-pooling helps to improve ride efficiency for drivers with more rides per trip and also helps to reduce the need for more drivers on the platforms. Overall, it's a win-win for all – customers get discounted fares and drivers & platform can handle more rides and hence earn better.
19. Unit economics continues to improve for online cab platforms, driven by a steep fall in driver incentives- but is it sustainable?
Published on: Jan 2018
Rationalisation of driver incentives spending has enabled better unit economics for the industry. However, RedSeer research shows that this has come at the cost of falling driver satisfaction with the players- also leading to many of them leaving the platforms and potentially threatening the industry growth.
20. Online cab players are punching bags for all and sundry. But what do consumers feel about them?
Published on: Jan 2018
Ever since they arrived on the big stage, online cabs players have come to signify all that is wrong with the sharing economy and have become the punching bag for drivers, journalists. But what about that other stakeholder- the consumer? Research by RedSeer indicates that even during the strike-ridden months of JFM'17, booking and ride experience satisfaction for Indian consumers remain broadly stable or only slightly declining- a clear indication of the high value attached by the consumers to these services.
21. Stuck in midst of a growth vs profitability battle?
Online cabs industry suffers a growth slowdown for the first time: After recording an unprecedented 250+% y-o-y growth in CY16, the industry came to a shuddering halt in the first quarter of CY17 and recorded a q-o-q fall in rides of ~5%
Supply crunch caused by striking drivers was the primary driver of the slowdown: As the incentives structure offered by the players became significantly less lucrative in JFM'17 (dropping to almost half vs CY16), frustrated drivers took to the streets. The resulting supply crunch turned out to be a major blow for the industry, clearly highlighting the growth vs profitability conundrum that the online cabs industry faces today.
The leasing program needs to succeed for the industry to find the delicate balance between growth and profitability: Players are focusing on expanding their cabs leasing program to reduce driver incentives cost burden while ensuring steady driver incomes. The success of the program will enable them to improve driver satisfaction and free up precious cash to deploy on customer acquisition and product innovation.
22. Facing existential threats?
Driver strikes had a limited effect on the app-based taxi market in Feb 2017: Inspite of persistent and extended strikes in multiple cities, total rides dropped only 4% m-o-m for the players, as customer demand remained high and the active drivers managed more than regular rides in absence of competition from other drivers.
However, Ola/Uber could now face a new era of regular driver strikes and competition from new players: With driver earnings dropping regularly in 2016 and new union-backed cab players entering the market to capitalise on driver dissatisfaction, the industry may be entering a new era of intense competition and supply challenges. The next few months will determine the seriousness of the threats to the future of the industry, from both the supply and competitive perspective.