May, 2018
Beauty personal care to grow at 9 Percent by 2020
Introduction to the Indian Beauty and Personal Care Market The Indian Beauty and Personal Care (BPC) market is expected to grow at a CAGR of 9%, from ~USD 14-15 billion in 2017 to ~USD 22-23 billion in 2022. The growth has been aided by rising disposable income which has grown over 35-45% from 2012-2017. … more
---
Introduction to the Indian Beauty and Personal Care Market
The Indian Beauty and Personal Care (BPC) market is expected to grow at a CAGR of 9%, from ~USD 14-15 billion in 2017 to ~USD 22-23 billion in 2022. The growth has been aided by rising disposable income which has grown over 35-45% from 2012-2017. With the rising disposable income, demand for enhanced products and increasing desire to look good of the Indian consumer, presents a golden opportunity for the beauty and personal care market to grow exponentially in India.
The industry is further categorized into seven major categories – cosmetics, fragrance, men's grooming, skin care, bath & shower, hair care and oral care. Specialized categories like cosmetics, fragrance, men's grooming and skin care are set to outpace the growth of generic categories and will hold ~40-45% of the overall market by 2022. Generic categories like bath & shower, hair care and oral care already enjoy a higher penetration and are mature categories because of which they will witness slow growth. These categories are dominated by multi-national giants like Hindustan Unilever, Proctor & Gamble etc. which have brands that offer functional benefits and value for money products.
Herbal cosmetics products are driving growth due to increasing adoption, and the segment alone is expected to grow at 15-20%, as people become more aware of the possible perils in consistently using chemical formulations switch to 'safer' herbal and Ayurvedic products like Himalaya, Biotique, Dabur, Lotus, Patanjali, etc. Many Indian & international brands have been trying to seize the established player position in this segment by launching multiple products across categories. With rising demand, super premium and luxury brands such as Shahnaz Hussain, Forest Essentials and Kama Ayurveda have also launched products in this space.
Evolving consumerism has played a significant role in shaping this market. Buying patterns and frequencies help identify consumers as loyalists or experimental. Consumer preference indicates that daily care products are purchased online predominantly due to product standardization, offers and discounts on various portals whereas mid-premium and premium+ products are purchased in the offline retail stores since the consumer mindset still believes in the 'touch & feel' of the product.
Fuelling this trend further is the investment of brands in training professionals who offer proper guidance and have knowledge of multiple products which enhances the consumer experience greatly.

The seven categories can be further divided into 3 positionings – mass, mid-premium and premium+ (includes premium, super premium and luxury brands like Sephora, Hugo Boss, Armani, L'Oreal etc). In the period 2012-2017, the market has moved towards premiumization with the mass category showing a significantly smaller growth than mid premium and premium+ categories. The premium+ category is set to grow at a 15%+ rate with the evolving mindset of the Indian consumer and increasing penetration of brands both online and through stores.
The mass category is dominated by regional and national brands like, Colgate, Axe and Himalaya whereas the mid-premium categories are dominated brands like Olay,  Fiama Di Wills, Biotique and Davidoff whereas the premium+ category is dominated by international luxury brands like Hugo Boss, L'Oreal, Armani and Sephora.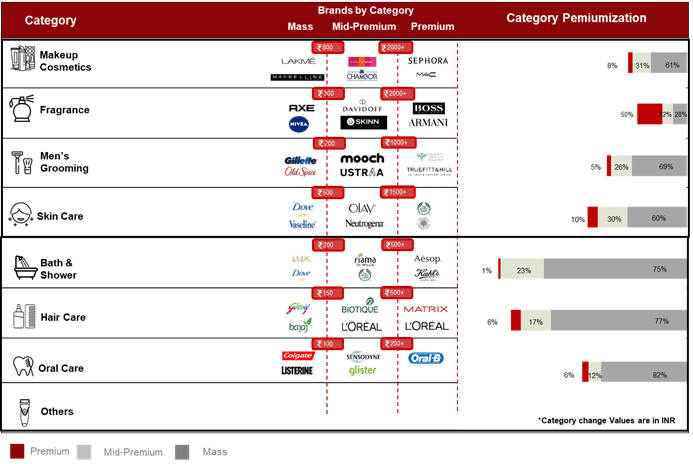 ---
Channel Overview
Channels have evolved greatly over the years with digital presence playing a major role in a company's/brand's sales. It has been observed that digital presence increases their sales by significantly. General trade still dominates the Indian beauty and personal care market with a share of 75%. This channel includes local kirana stores and is used by the Indian consumer for their daily care products like shampoos, deo, shaving kits etc. Modern trade which has been projected to grow at a 13-17% year on year rate is constituted by exclusive brand outlets, multi brand outlets, large format stores, chemists, saloons and spas.
The modern trade channel is also referred to as the organized market. With a higher variety of brands and products, conspicuous consumption and regular tracking-pitching to customers, the modern trade channel is expected to grow significantly. The online channel has sprung to life with increased internet penetration and the launch of super verticals (Nykaa and Purplle) which cater to cosmetics majorly. Major growth drivers of this channel are online ads, social media, DIY videos etc.
The modern trade channel constitutes large format stores(LFS), exclusive brand outlets(EBO), multi-brand outlets(MBO), saloons, spa, direct selling, chemists and pharmacies. LFS have a share of 25-30% in the category. Stores like Lifestyle are preferred for bundle shopping and brand discovery whereas an LFS like Big Bazaar is preferred for daily care products owing to the many deals and offers on them. Following LFS are EBOs and MBOs which combined have the same share as LFS.
Customers with an idea of which brand/product they want to purchase make up a bulk of the buyers from this store format. Hence this format has a high retention rate. Saloons and spas have also become effective channels to penetrate the market and are used to cater to the elite consumer. Further segregating these channels, the LFS store format type has a highly fragmented share.
The cosmetics and luxury part of this channel is dominated by Shoppers Stop and Lifestyle whereas the daily care needs are fulfilled through stores like Big Bazaar, DMart, Spar, Hypercity etc. Lifestyle and Shoppers Stop cater to the indulgent consumer as compared to daily care stores which have customers with a high purchase frequency. The EBO and MBO category comprises of Health and Glow (MBO), The Body Shop(EBO) and similar players like Lakme, MAC, Sephora etc. Lakme is India's largest brand in the cosmetics market with an annual revenue of ~US$150 million. This brand has great penetration in the Indian demographic and has one-fourth of its stores in Tier II+ cities.
The online channel has a share of 2-5% share overall and is segregated into horizontal (Amazon, Flipkart), fashion vertical (Myntra) and super vertical (Nykaa, Purplle) players. Fashion vertical players like Myntra bring up the tail in the online channel but are focusing on this category as a major revenue driver in the years to come.
Horizontal players like Amazon are giving stiff competition to Nykaa which started in 2012 and is the leader in the beauty and personal care online market. Whereas horizontal players like Amazon cater to daily care products more, super verticals like Nykaa sell cosmetics and fragarance which fall under the specialized categories. Horizontal players have close to ~19000 brands and 2 million SKUs whereas super vertical players like Nykaa have a smaller inventory of about ~700 brands and 80000 SKUs.
All players in the online channel have identified the importance of an omni-channel presence and  will soon be announcing the opening of stores in strategic locations pan-India. Nykaa has already opened 11 stores across India with 5 being Nykaa Luxe stores. The company aims to open close to 50 stores by 2020 claiming that it will help them increase visibility and fulfil orders placed on their online portal in a faster and better manner along with the ability to bring their private label to the Indian consumers. Fashion vertical players like Myntra have also launched stores to help them gain market share in the lucrative beauty and personal care segment.
Online players also tend to invest in the user experience of a consumer. They claim that a personalized experience for a user will increase their customer retention rate.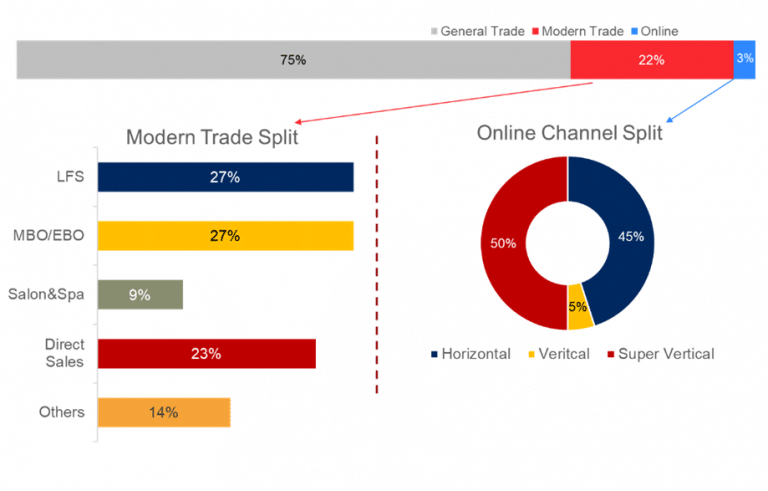 The beauty and personal care market has seen rapid growth in Tier II+ cities with two-fifth of sales coming from cities like Indore, Ludhiana, Nagpur etc. This consumer behaviour is attributed to increased internet penetration (social media, ads etc.) and the increasing image consciousness of the consumer. Growing demand for exclusive beauty products coupled with attractive offers, greater product authenticity and supply chain reliability should drive rapid growth in online beauty over the next few years.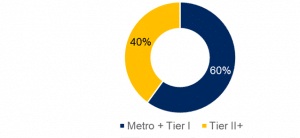 ---
Mapping Customer Touch-Points
Customers are the most important node in any market. It is no different in the beauty and personal care market with brands/companies strategizing aggressively on ways to gain new customers and maintain a high repeat rate as well. India as a demographic has utilized beautification and personal care products for a long time. The customer goes through a purchase journey which starts with the customer becoming aware of the product/brand and culminating with the customer using the product and providing reviews and ratings as a promoter or detractor.
The 4 steps identified in the purchase journey are awareness, engagement, conversion and delight. To achieve awareness, brands/companies aggressively spend on marketing both online and offline. L'Oreal is a great example of this strategy. For a brand which has ~1% of its sales coming from the online channel L'Oreal has spent 20% of its marketing budget on digital marketing in FY 17-18.
A similar example is the penetration achieved by Lakme. It is owned by Hindustan Unilever and is the biggest cosmetic brand in India in terms of sales. The high sales are ably driven by the presence of 25% of its stores in Tier II+ cities. Indian customer mindset still tends towards 'touch & feel' and hence it is very important to have an offline presence to increase awareness as well as engage the customers with demos and trials at various stores.
Online platforms have picked up on this and are trying to create a personalized customer experience where the first step is to get to know the customer well through questionnaires asking skin tones, issues etc. and various other methods following which products are displayed on the screen which the customer can digitally try on their image. This whole engagement strategy is a great way to create a personalized customer experience. The better the experience the more is the opportunity to convert the customer into a buyer.
There is a vivid difference in terms of age for customers buying online and customers buying offline wherein for a customer aged between 18-25 years, the awareness is achieved through online sources (Facebook, Instagram etc) and ads. The same for a customer aged above 35 years is achieved by word of mouth and prefer 'touch & feel' of the product. The final step in the purchase journey is the consumption phase where the customer uses the product and based on his/her review, becomes a promoter or detractor. For buyers online, customer support, speed of delivery, quality of packaging, offers and discounts etc plays a big role in making the buyer a repeat customer whereas for buyers offline, proximity of the store, deals and discounts, store ambience, variety of products etc play a big role.
One of the reasons why a major chunk of customers still prefer offline retails for beauty products is because of the recommendations that they receive from the customer service executives and the ability to self-examine the products. This behaviour is generally followed for mid – premium and premium categories, whereas the customer is comfortable purchasing mass products online. Online companies could close the gap between offline-online by enhancing the recommendation – trial process thus increasing the confidence level and comfortability of the target audience.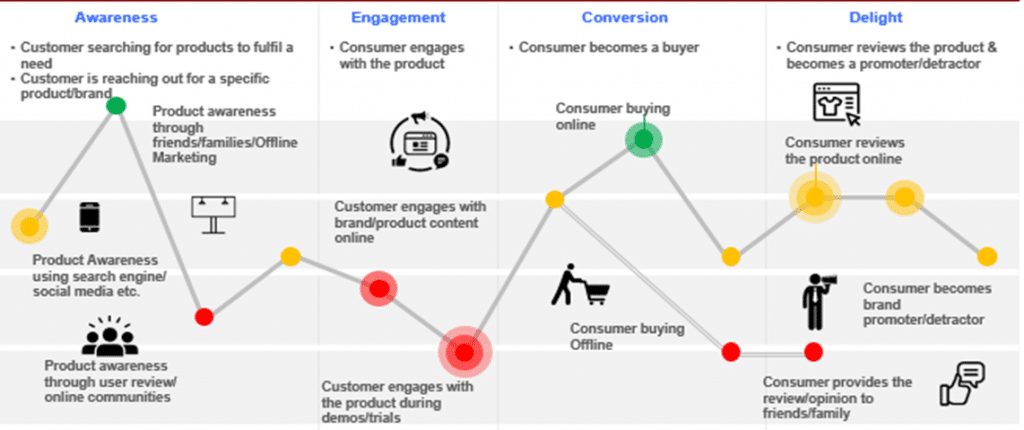 ---
Ingredients SOUTH ASIA:  Beauty, personal care to grow at 9% by 2020
---
Online Beauty and Personal Care — A super vertical play  Buy Full Report
Premiumisation: The Game Changer for the Online Makeup Industry   Buy Full Report
INSIGHTS
Talk To Our Expert