Jan, 2018
Outsourcing in Financial Services: Challenges and the Way Forward
Introduction The financial crisis of 2008/2009 created several problems for the financial services clients. On one hand, there was a renewed quest of efficiency savings or cost reductions, on the other hand, the seemingly tough regulations started creating problems for increased outsourcing. Many vendors started searching for ways to increase their value proposition so that … more
---
Introduction
The financial crisis of 2008/2009 created several problems for the financial services clients. On one hand, there was a renewed quest of efficiency savings or cost reductions, on the other hand, the seemingly tough regulations started creating problems for increased outsourcing. Many vendors started searching for ways to increase their value proposition so that their clients are not only able to gain on efficiency savings but are also able to differentiate in the market place.
The overall market for BFSI outsourcing, which includes both IT outsourcing and Process outsourcing is pegged at about US$ 85 billion growing annually at the rate of around 5.5%. IT outsourcing which includes outsourcing of application development, hardware maintenance related activities comprise the bulk of this spending with financial services clients being eager to outsource many of their IT related requirements. Process outsourcing or BPO comprises about 39% of this spending or US$ 34 billion and is expected to grow annually at around 6.4%.[1]
In this paper, we evaluate process outsourcing in financial services and find out the key challenges faced by the BPOs due to the rapidly changing scenario in financial services outsourcing.
Outsourcing by BFSI – Has it paid?
Financial Services and Insurance providers have traditionally been a very high growth segment for the global BPO providers. So much so, that around 55% of the overall global BPO market is comprised of servicing Banking, Financial Services and Insurance (BFSI) clients. This figure however comprises of both horizontal processes (offered across each verticals such as Finance and Accounting, Human Resources, Customer Interaction and Services etc) and vertical processes (offered selectively to specific verticals). According to estimates, the vertical specific processes market is about 25% of the overall BPO market. If we combine the two, global market for financial services specific processes was around US$ 8.5 billion in 2010
The bigger question remains what BPO providers with more focus on financial services will obtain by moving up the value chain and offering improved, differentiated and customized vertical specific services.  We examined some data and found out that firms which have a greater specialization in the financial services sector, on average have greater operating profitability (Exhibit 1). Firms such as Genpact, TCS where large part of their BPO revenues come from BFSI clients have on-average performed well on profitability. On the other hand, firms which have low BFSI reliability have low to medium average profitability. These include firms such as Infosys, eXL Services and Wipro.
Some of the findings may be attributed to different factors such as contract price, capacity utilization of resources and the processes that are being outsourced. Moreover, vertical specific processes tend to be more specialized and command a special premium from the BFSI clients on the basis of the domain expertise that vendors bring.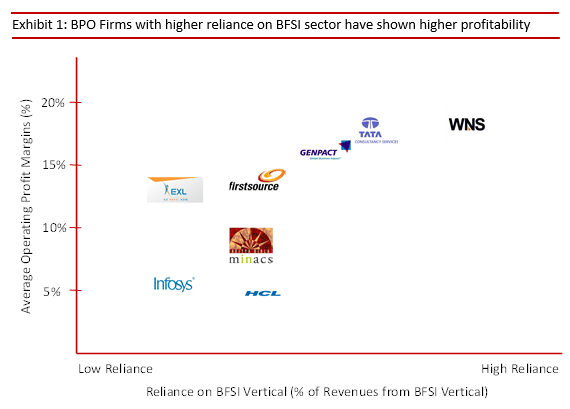 Similarly, if we analyze the revenues per employee of these BPO firms (exhibit 2) the findings remain much the same. Indeed, firms such as Genpact, TCS and WNS have done better than their counterparts. Both these factors are indicative of the value that BPO firms can add to their own kitty by focussing on providing value added services to financial services clients.
Key Challenges faced by BPOs
In their quest for moving up the value chain, there are many challenges being faced by BPOs today. These challenges range from attrition issues to rising manpower costs and from inadequate knowledge management to decreasing operational efficiencies.
1. Rising Attrition: Attrition is by far the biggest challenge being faced by the BPOs, especially in India. The industry attrition has been close to 50% over the last five years with several measures for reduced attrition failing to take effect. Due to higher attrition, there are rising hiring costs and decreased productivity – two key reasons for reduced profitability. In fact, attrition is fast becoming a key criterion on the basis of which BFSI clients are deciding their BPO vendor.
2. Lack of domain knowledge: Financial services industry is a very unique industry with a wide set of firms operating in different ways to earn their profits. The basic knowledge about how firms operate, how a credit card operation is different from a mortgage operation is missing not only amongst junior level but also among mid management level.
3. Inadequate Knowledge Management: Knowledge is crucial in the financial services industry, however BPOs have failed to incorporate proper knowledge management channels and policies. Some firms have full-fledged knowledge management systems but do not have the process discipline to create a knowledge driven atmosphere.
4. Archaic Technology Infrastructure: Many of the BPO providers still work on legacy IT systems and network infrastructure. These systems form the core to any BPO operations and are in a need for an overhaul. Much of the technology infrastructure and CRM systems can also be utilized to create meaningful information that can be of use to the clients.
5. Improper Hiring Policies: The current crop of BPO firms is inadequate for firms, which are focussing to move up the value chain. It is high time now, that the industry repositions itself to hire smart, driven and innovative middle management layer. People who understand the domain and can think of ways to increase value to their clients will be crucial to ensure that all these talks about moving up the value chain can materialize.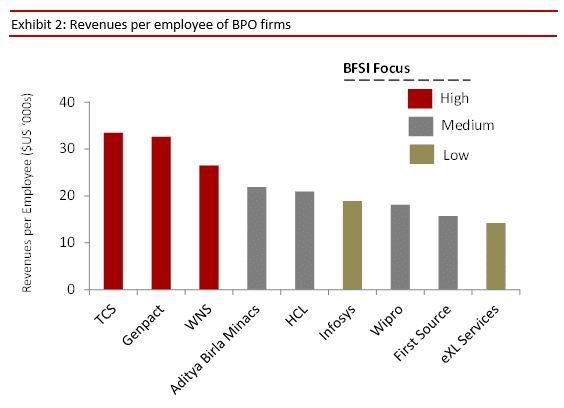 From Vendors to Partners – Future Approach
We feel that BPO providers need a shift in mentality in becoming long-term partners for their BFSI clients. They need to build an eco-system that reinforces the belief that their firms are not vendors but partners to clients. With the increased competition and fight for market share, the billing rate is only going to go down unless the firms can actually differentiate in coming up with new and differentiated service offerings that can provide additional value to their clients.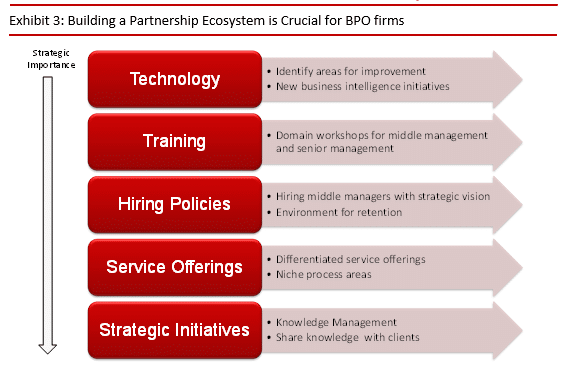 Financial services and insurance firms require a very different mind-set from the vendors as the times are uncertain and regulatory demands are at an all-time high. Instead of just cost-cutting solutions, they are looking for long-term strategic partners who can support them and provide them value added services at affordable prices. This kind of approach might demand investments in the initial period, but the benefits from this approach will outweigh the costs in the longer run.
INSIGHTS
Talk To Our Expert