FACTORDAILY: After nearly a year, drivers on online cab-hailing platforms Ola and Uber in India are seeing incomes reverse their plunge. At the receiving end of the companies pulling back on driver incentives over the past few quarters, the drivers now see incomes rising thanks to better fares and demand for rides.
This also allows Ola and Uber to improve the profitability of their operations.
Uber described the development as the result of a "tipping point" in Indian market where demand from riders and supply of drivers are resulting in fares that don't need subsidising. Ola drivers are seeing a sharp increase in ride times and, as a result, better earnings helping the platform reduce incentives.
He had to complete 43 trips to receive an incentive bonus of Rs 350. That is a drastic change from a year ago.
Prasad would have earned Rs 3,000 in incentives after completing six trips (incentives were higher during peak hours) and up to Rs 12,000 for 15-17 rides. Today, in the best case scenario, Prasad will get Rs 500-600 as incentive to drive longer hours. Market research and advisory firm RedSeer Consulting estimates that incentives as a percentage of gross booking value have reduced from 52% in January 2017 to some 20% at the end of the year.
The fares they're a-changin'
The cab fare itself is changing – anything between 20% to 100%, going by some customer experiences – resulting in better driver incomes from two-three quarters ago.
Mohammed Shakeel, an Ola driver in Bengaluru, says, "Ola pays similar incentives like Uber… it may be marginally different. Income had gone down a lot for drivers, mine had halved." Shakeel used to earn up to Rs 100,000 a month at the peak – there was an incentive on almost every ride. When the incentives were slowly pulled back by Ola, his income dropped by almost three-fourths and he even contemplated selling his car.
"Then the fare started going up as incentives were gradually coming down," says Shakeel, adding that some fares are as much as double compared to last year. "That has helped us grow our income… More people are also using Uber and Ola than they were earlier." He says his earnings have grown 15-20% in recent months.
The demand is such that Shakeel easily completes 40-45 trips in three days, he says. Earlier, it was difficult to complete six to seven trips in a day. RedSeer estimates daily rides on Ola and Uber grew 60% to nearly two million in 2017 from the year before.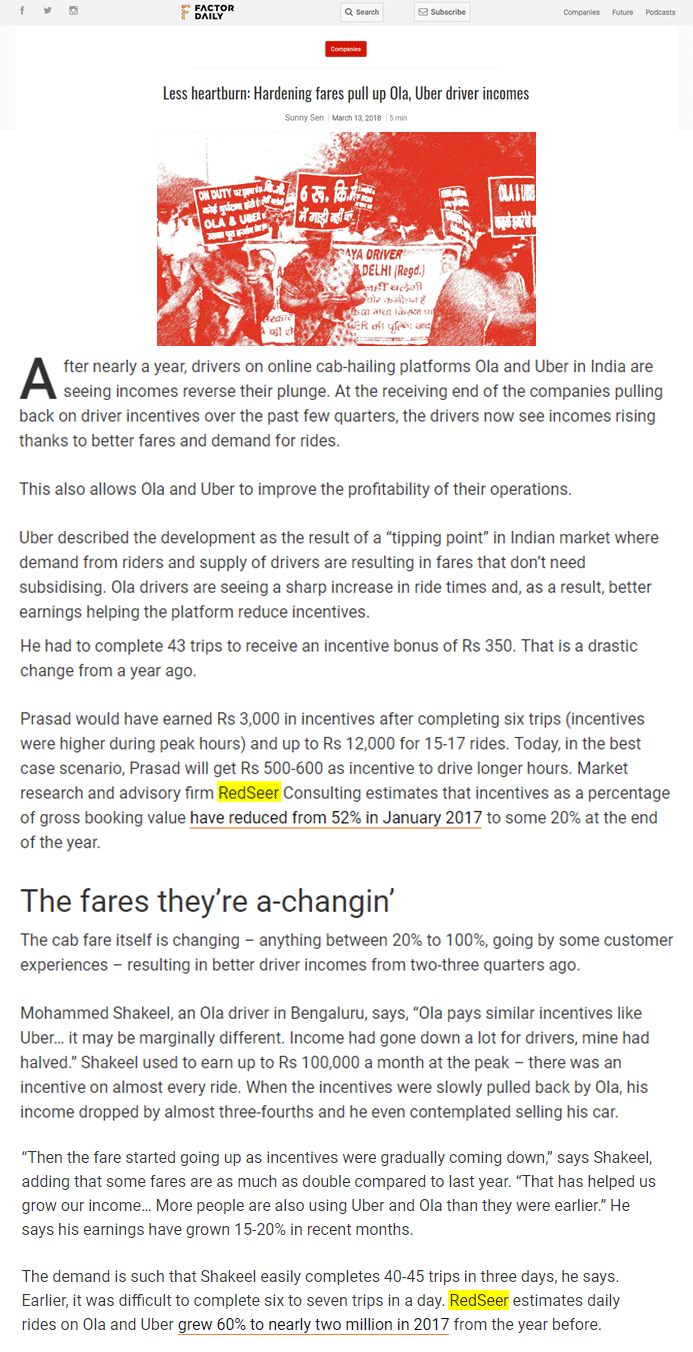 Click Here for the complete Article.