FINANCIAL EXPRESS: As mobile wallet companies face the heat of Reserve Bank of India's KYC norms, instant messaging apps have been leveraging their popularity and stickiness to expand into payments. Facebook-owned WhatsApp recently launched its UPI-based payment feature and a separate WhatsApp Business app. It is not the only player to tread this path; last year we saw Hike and Truecaller joining the UPI bandwagon with P2P (peer-to-peer) offerings, with Hike also offering services such as Ola Cab and Auto, bus tickets and bill payments. Conversely, Google has also announced a chat feature for its UPI-based payment app, Tez, to take on Whatsapp.
The closer payments is to your engagement platform, the higher the possibility of adoption. Messaging apps have very high engagement levels. For example, WhatsApp currently has over 200 million monthly active users in India. "WhatsApp is the most integrated solution on smartphones. Data suggests as many as 80% of Indian SMEs think that WhatsApp helps them communicate with customers. With payment features being added, WhatsApp has the potential to disrupt the mobile pay market," says Shrenik Gandhi, co-founder, White Rivers Media.
The entry of messenger apps will benefit by customer education done by the incumbents, mostly mobile wallet players. "Within four-five months of the launch, Google Tez has overtaken Paytm in terms of total payment value. Wallets are going to face difficult times as consumers get more comfortable with UPI," says Ujjwal Chaudhry, engagement manager, RedSeer Consulting. Furthermore, there is a difference of four-five times in the average transaction value of the wallet versus UPI payment.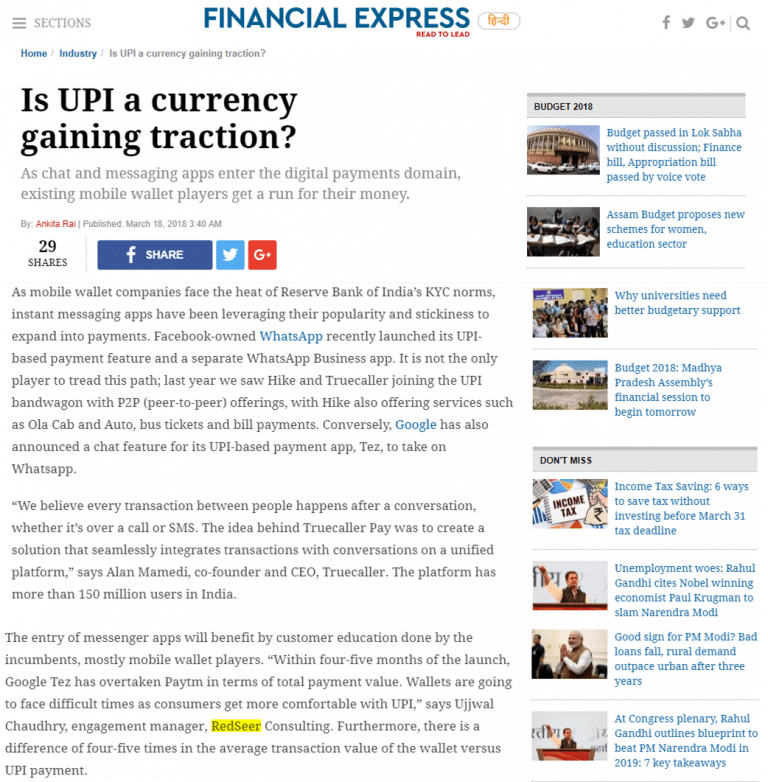 Click Here for the complete Article.